Although some may argue there is only one way to drink tea – sweet and hot – there are some must-try iced and fruity variations. There is nothing better than a tall glass of cold iced tea on a hot summer day. Each sip of ice tea not only brings relief from summer heat but it is a healthy drink too, provided you use natural fruits or flavours to make it. You can choose your own flavour for making ice tea like you can go for peach, rose, lemon, apple, hibiscus, raspberry or any other flavour of your liking. The citric acid and vitamin C in that squeeze of lemon, lime or orange which help preserve the flavonoids. Iced tea can be made up to 5 days ahead of time. Don't add the honey and lemon juice until you're ready to serve it.
We're still sipping on this iced tea because it's comforting, easy to make, and, don't tell the coffee pot, but a nice change of pace from cup after cup of coffee. Here are our favourite iced tea recipes.
Very Berry Iced Tea with Honey Mint Syrup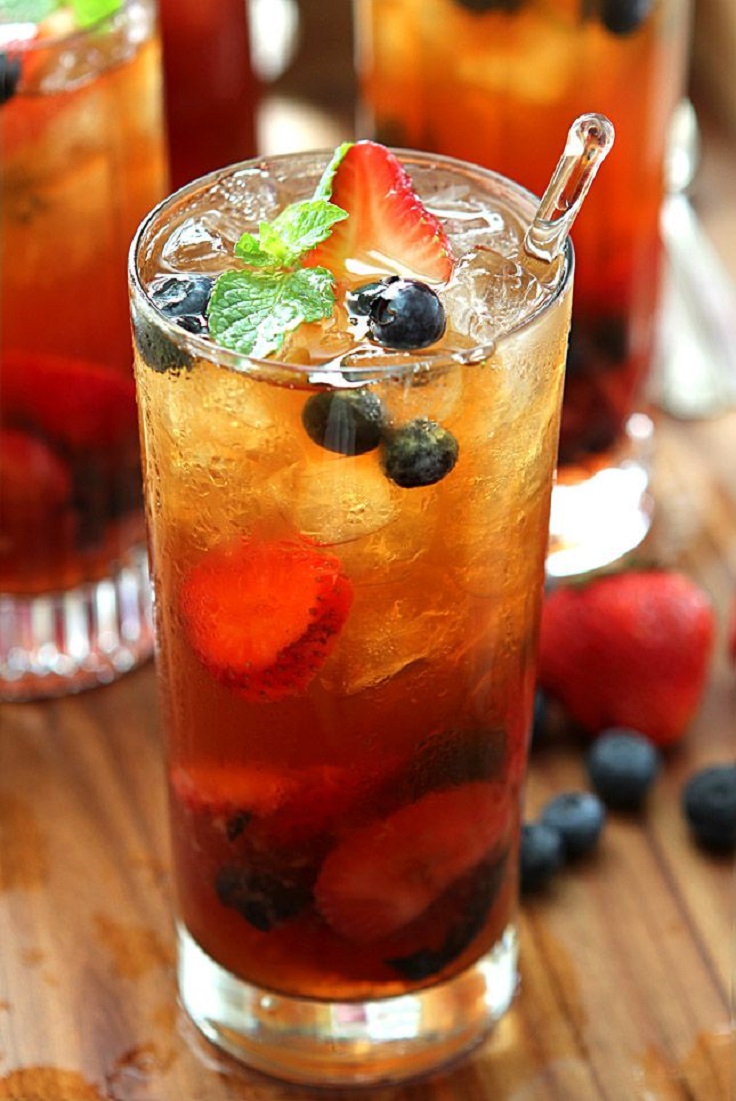 There are three steps to this recipe and it's helpful to make both the tea and syrup ahead of time and allow it to cool. We've included a little tip that we've used for years to insure your resulting tea will be clear. Has anyone heard of using a small amount of baking soda in your iced tea to keep it clear? It is a very small amount that in no way affects flavour but the resulting tea is so much more appealing. Whether making this recipe or any other; simply adding it to the tea bags and hot water makes for a miracle!
Hibiscus Iced Tea Sparkler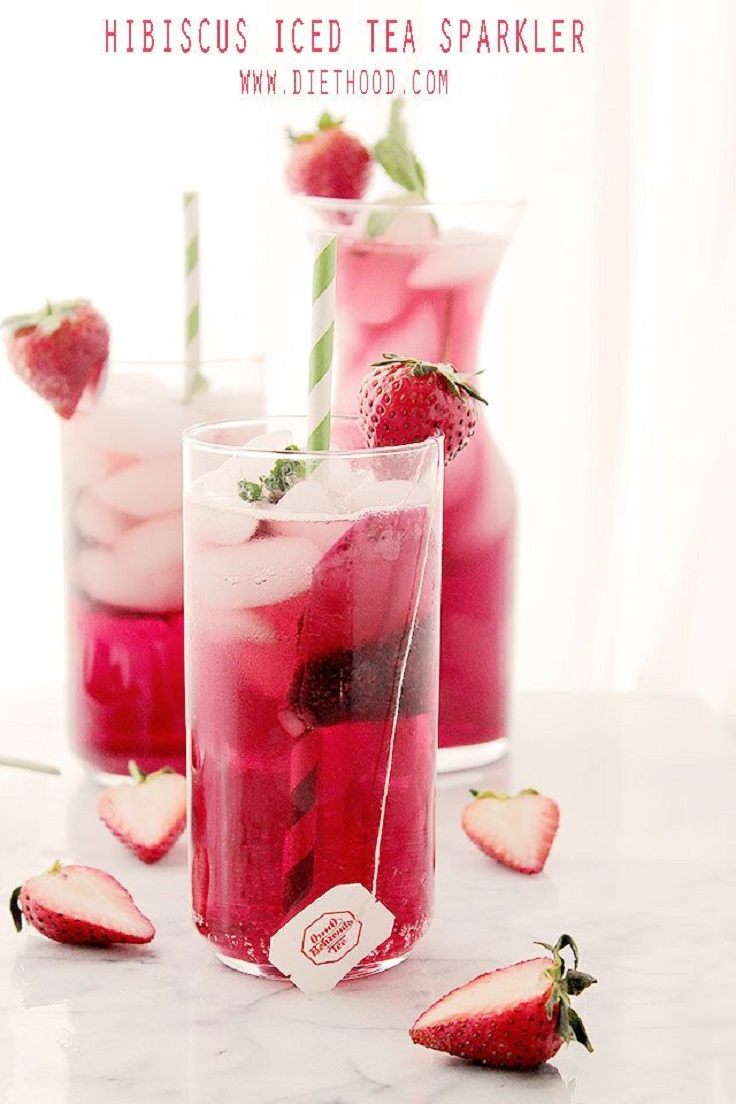 via diethood.com
Hibiscus Iced Tea Sparkler is a very refreshing and delicious spring or summer-drink made with hibiscus tea and sparkling water. If you're up for something more adventurous, add a shot of rum into your glass, we hear it's marvellous!
Green Tea Lemonade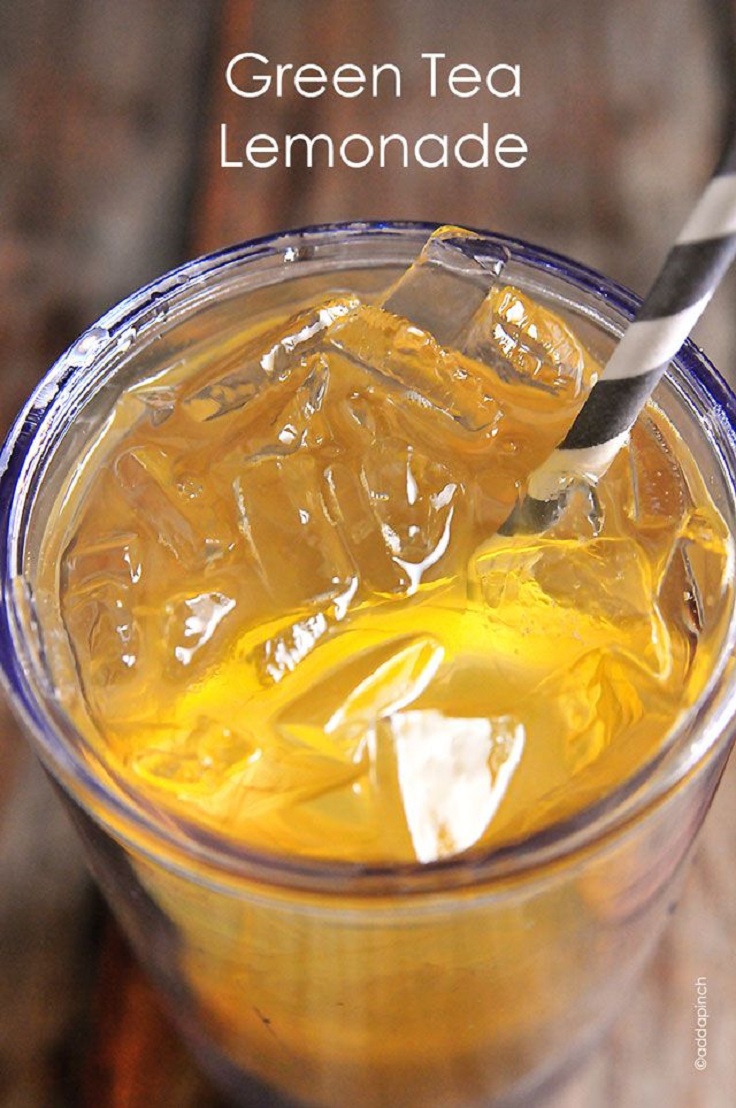 via addapinch.com
We're trying to watch our sugar intake lately as well, so we've used stevia in place of the sugar in the lemonade and some days didn't add any sweetener at all. You can totally use whatever you prefer. Honey would also be great and add even another layer of flavour to this drink. Here's our Green Tea Lemonade recipe. Hope you love it as much as we do.
Ginger Mint Green Iced Tea
This slightly sweet ginger mint green iced tea is with lots of Vitamin C and antioxidants. Just before serving, add 1/3 cup of the honey and 1 tablespoon of the lemon juice and stir to combine. Taste and add more honey if you want it sweeter and more lemon juice if you want it more sour or less sweet. Serve in tall glasses over ice cubes and add more mint leaves to garnish.
Meyer Lemon & Jasmine Iced Tea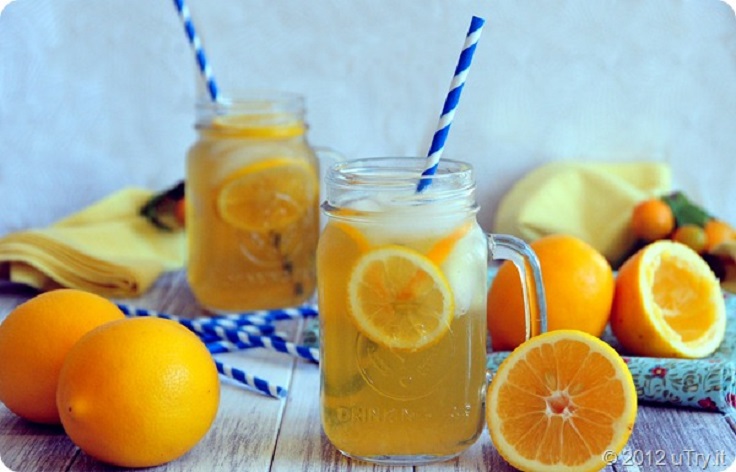 via utry.it
Meyer Lemons reminds us of sunshine and happiness. What's not to love? Plus, we're getting the Vitamin C that we needed. So, what's your favourite way to get your daily dose of Vitamin C? From fruit, vegetable, vitamin pills or any other creative way?
Chamomile Iced Tea with Apple and Passion Fruit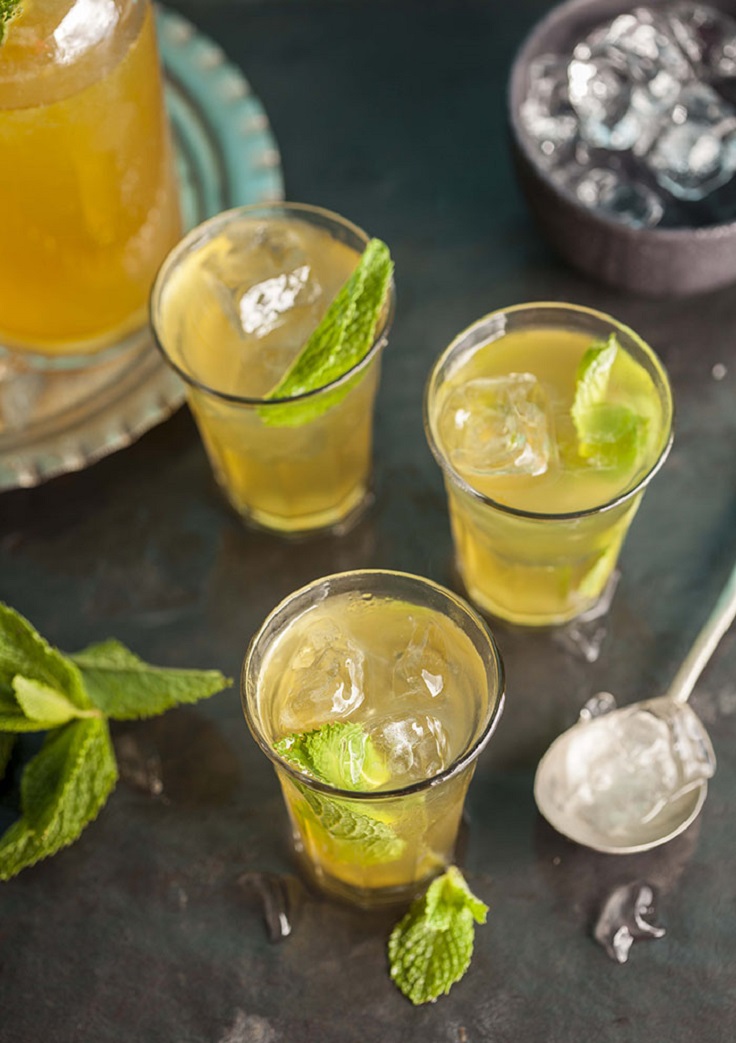 You can adjust the amount of apple juice you add according to your taste, we used around 350 ml of clear apple juice to 750 ml of chamomile tea. Keep adding or subtracting until you are happy with the level of sweetness. If you have a very sweet tooth, you could add sugar too. We used dried chamomile flowers to brew my chamomile tea. Its the best quality you can get. We love the slightly floral flavour of the tea with the fruit. If you wanted to get more of the mint flavour coming through, muddle this in with the drink before putting it in the fridge.
Raspberry Rose-hip Iced Tea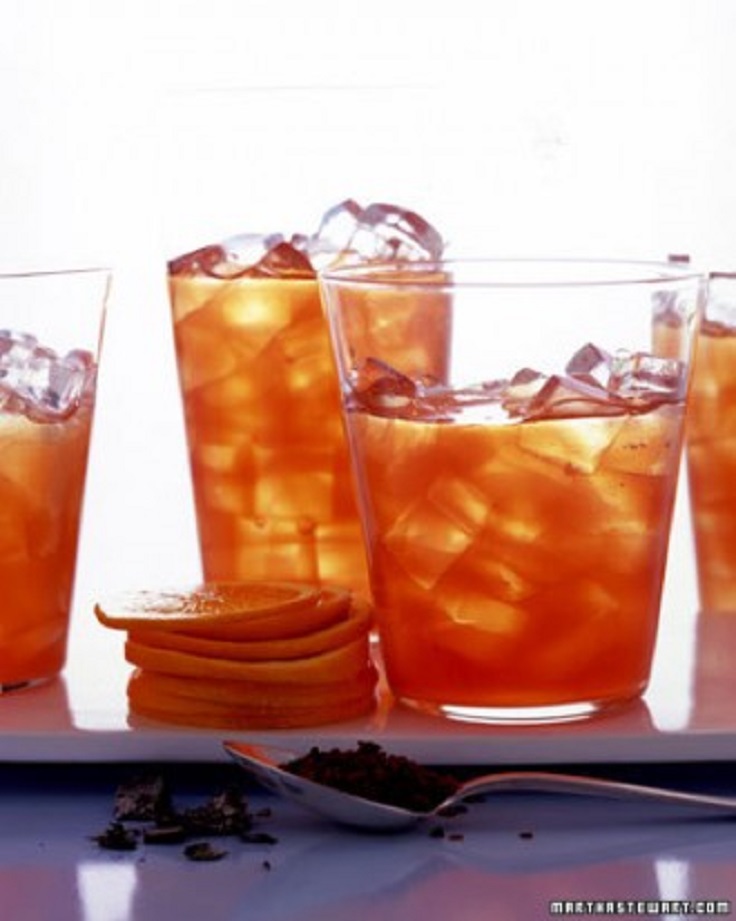 Fruit juice is a great way to sweeten iced tea brews naturally. The raisins in this recipe also add a natural sweetness. If you can't find raspberry juice, substitute cherry juice. For an easy berry variation, try blackberry leaves with blueberry juice.
Watermelon-Mint Iced Tea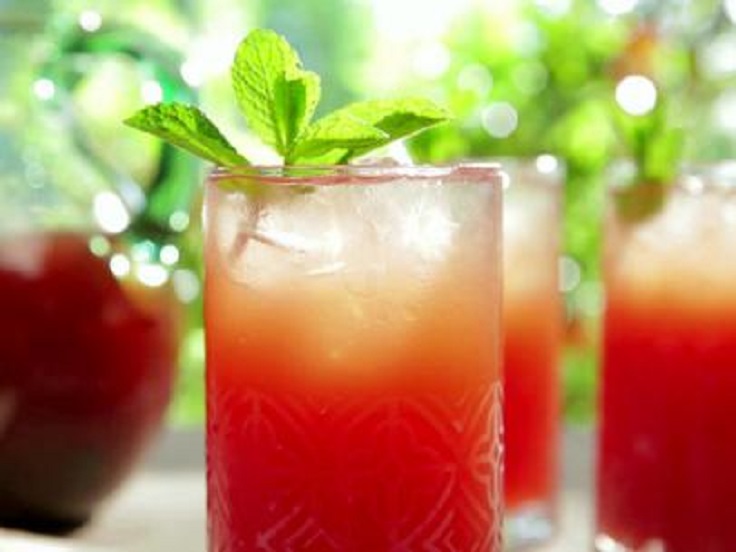 via foodnetwork.com
Summer means actually watermelons, a lot of watermelons. So use it on different way. In this case make watermelon iced tea. Puree the watermelon in batches until smooth, then strain into a pitcher. Cover and refrigerate until very cold.
Mango Iced Tea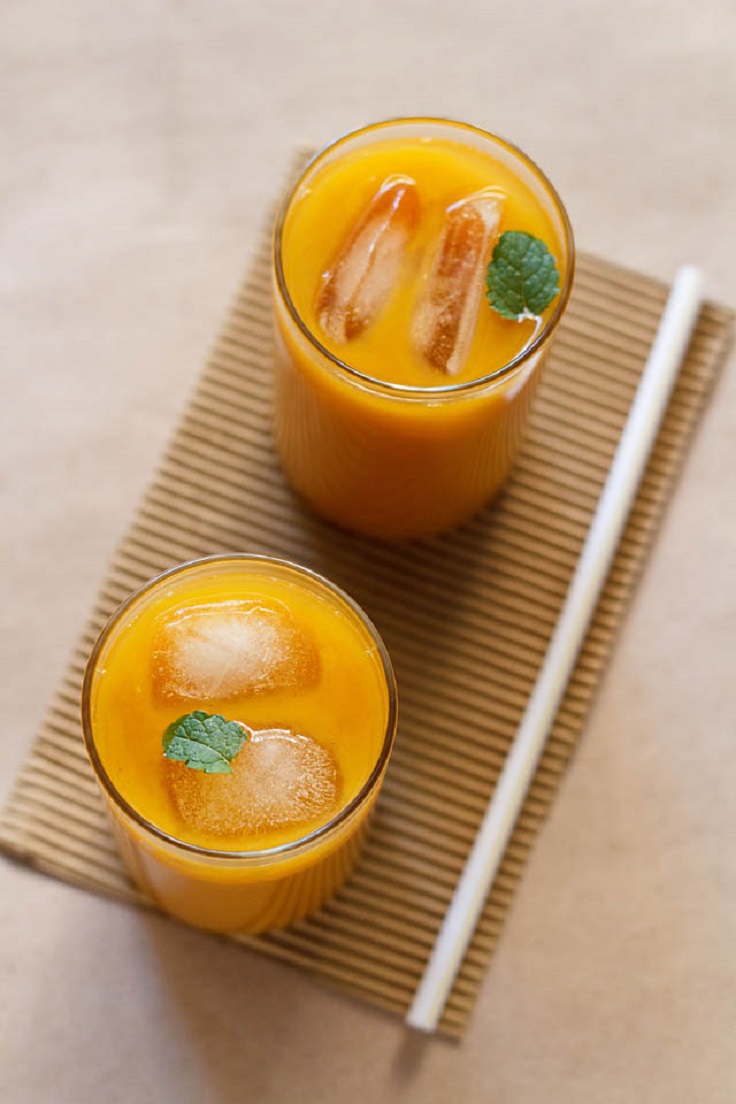 We used fresh alphonso mangoes for making the mango pulp. Black tea has gone into making the tea brew. The tea just needs to be steeped in hot water and later chilled. Add sugar or sweetener of your choice and the tea is ready.
Strawberry-Basil Iced Tea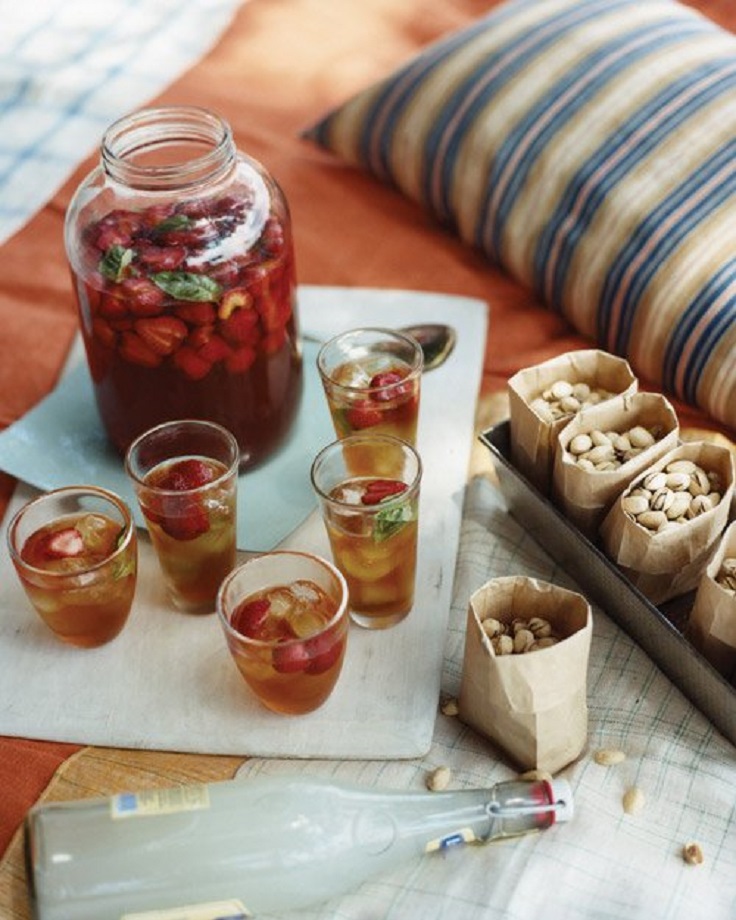 Strawberries and basil give nuance to iced tea. The drink is toted in an old-fashioned glass jar, with ice added just before serving. Small bags of pistachios are the perfect accompaniment.