Independence Day is commonly associated with fireworks, parades, barbecue, carnivals, fairs, picnics, concerts, baseball games, family reunions, and political speeches and ceremonies, in addition to various other public and private events celebrating the history, governments, and traditions of the United States.
Celebrate the stars and stripes with 4th of July recipes. Searching for recipes to go with a red, white, and blue Fourth of July colour scheme? Prepare for a festive Independence Day party with these grilled recipes, potluck sides and salads, patriotic desserts and more favorite July 4th recipes. This time we dedicate out attention on the most creative desserts that are remarkable for this day. Take a look on these 10 all-American patriotic desserts and have the most excited celebration of the day!
Red White Blue Popsicles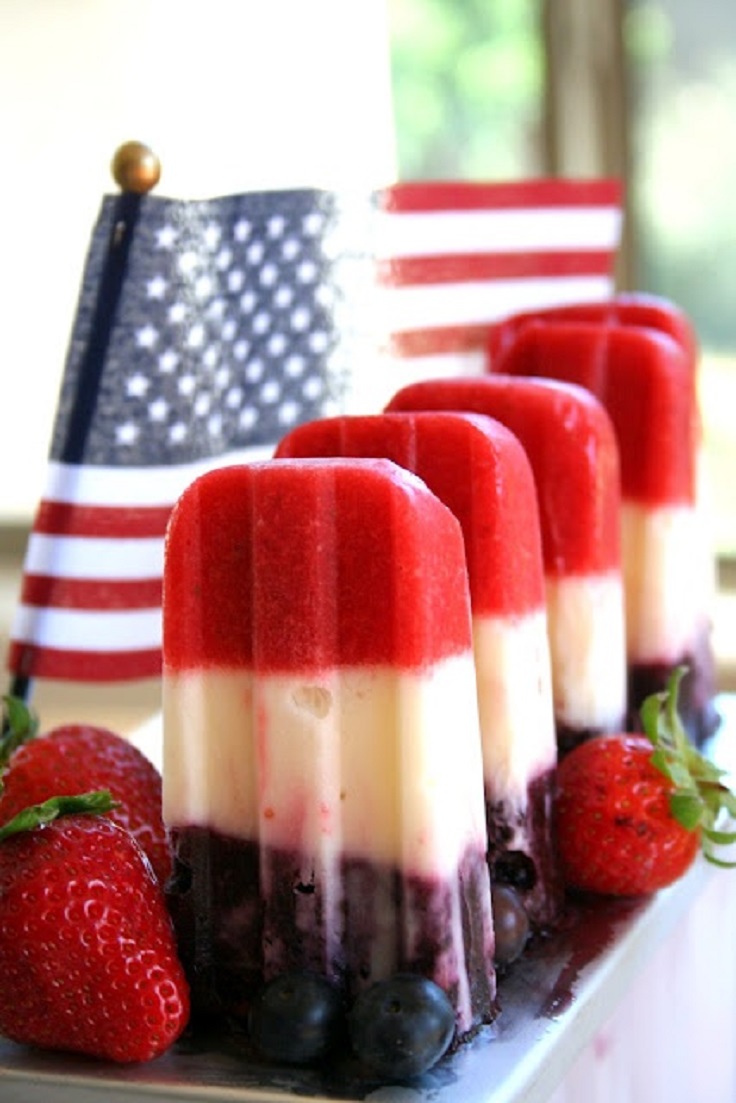 These red, white and blue popsicles aka bomp pops or 4th of July pops are a little bit of work but so worth it. The red is watermelon, we used fresh watermelons pulsed in a blender, the white is coconut, we used coconut milk and McCormick® Imitation Coconut Extract to kick up the coconut flavour and the blue is blue raspberry using McCormick® Raspberry Extract and blue food colour.
Vanilla-Raspberry Sundaes with Spoon-Shaped Cookies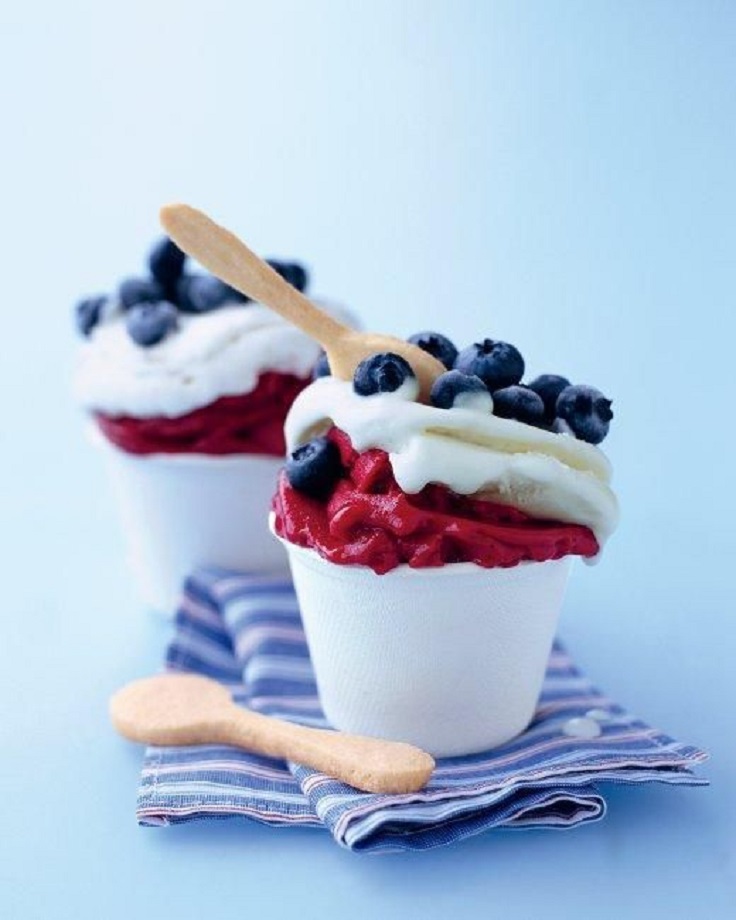 The dough yields plenty of extra cookie "spoons," which can be served with tea or any dessert. If you'd prefer to bake a single batch, use one disk of dough and freeze the rest (up to one month).
Patriotic Pancake Stacks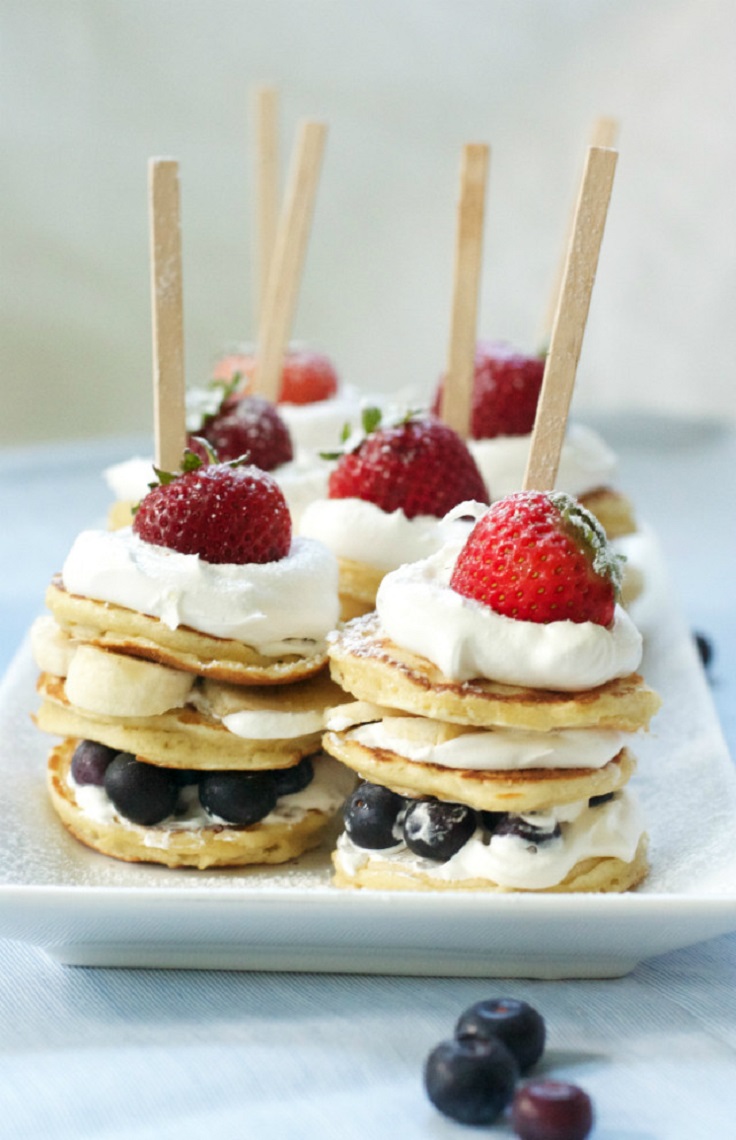 via modernparentsmessykids.com
If you want to make this into a dessert, you can substitute sugar cookies for the pancakes, let them chill in the fridge for a bit and then and take them along to your afternoon barbecue or get-together. Aren't these just the perfect little bites?
Raspberry, White Chocolate and Blueberry Tart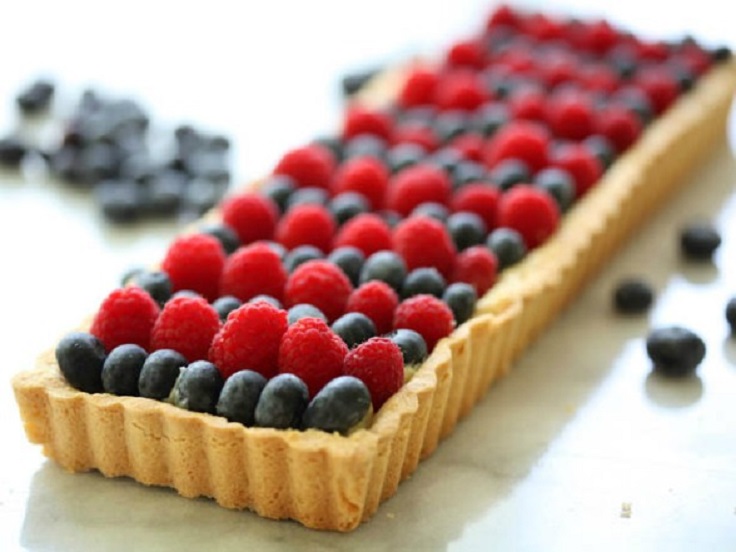 via zoebakes.com
The patriotic colours and summery flavours combine to make this the perfect 4th of July dessert.  Red raspberries, white chocolate pastry cream and blueberries top an almond shortbread crust. Add a dusting of confectioners' sugar and you have an easy, yet elegant pastry.
Stars & Stripes Cheesecake Shots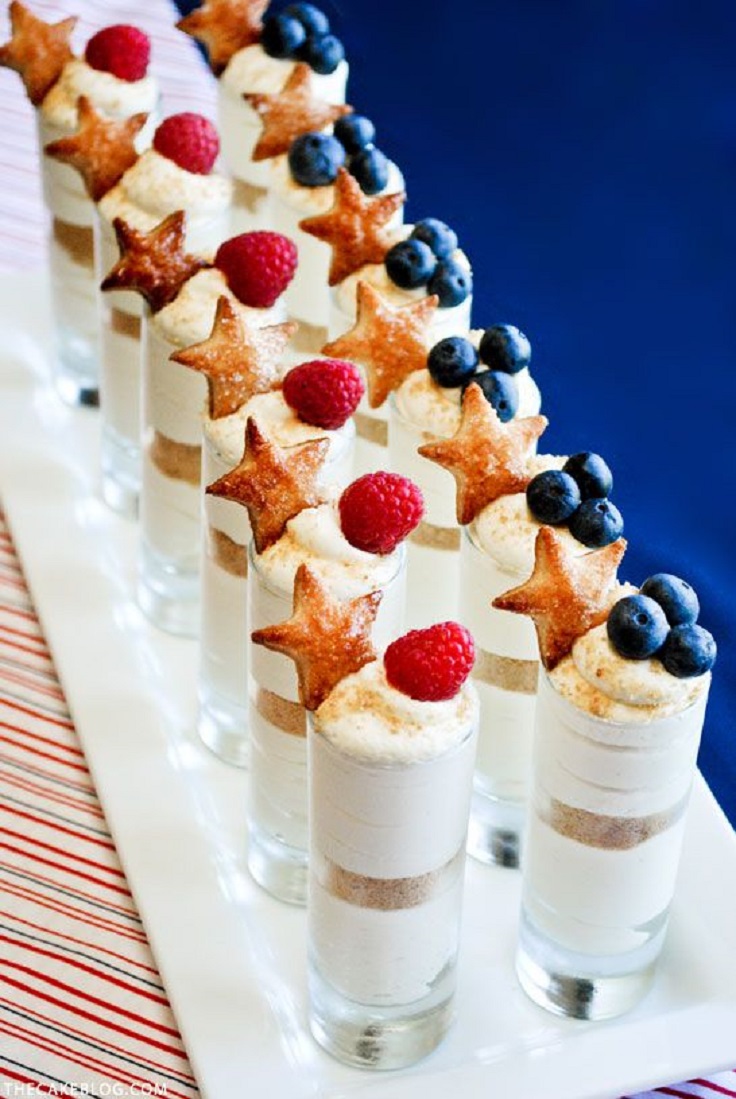 via thecakeblog.com
Cold shot glasses filled with creamy cheesecake filling, graham cracker crumbs and topped with berries. These little treats have become a staple at our events over the last year.  To give it an extra special touch for the 4th of July, you can add small puff pastry stars.
Red, White and Blue Ombre Cake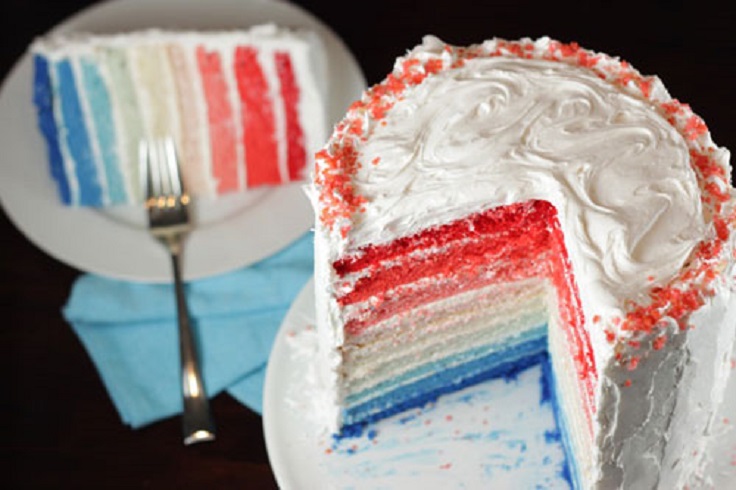 via brit.co
This is a very tall cake and takes a little time to assemble and bake. If you want to make it easier, use two boxes cake mix and divide batter into five bowls for five layers. Tint two layers shades of blue, leave one layer white, and tint the other two shades of red.
Patriotic Cake Pops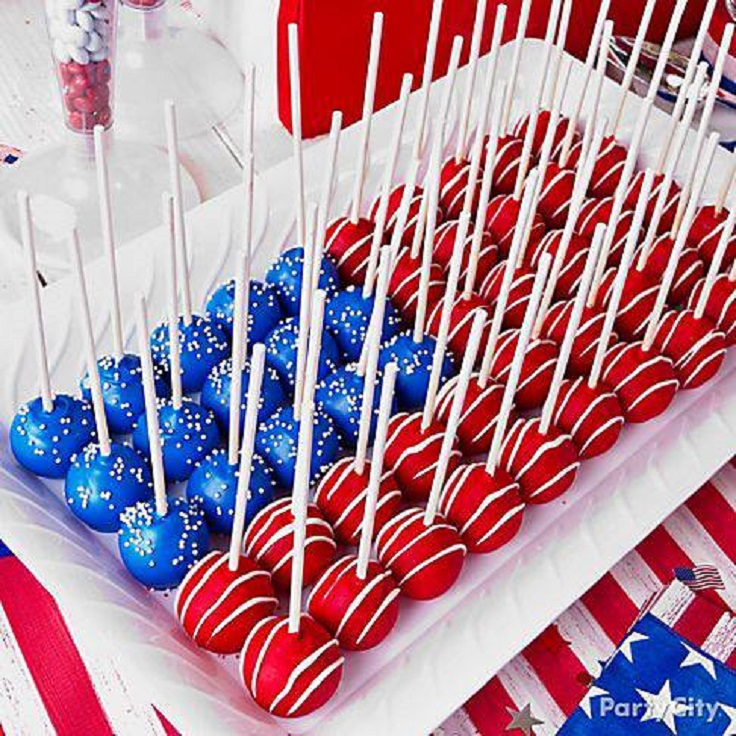 via partycity.com
These adorable Patriotic Cake Pops are a fun and easy way to celebrate the stars and stripes this Independence Day! Your guests will have trouble deciding which pop they like better – the thrilling burst of fireworks or another bite of this all-American treat!
Vanilla Bean Doughnuts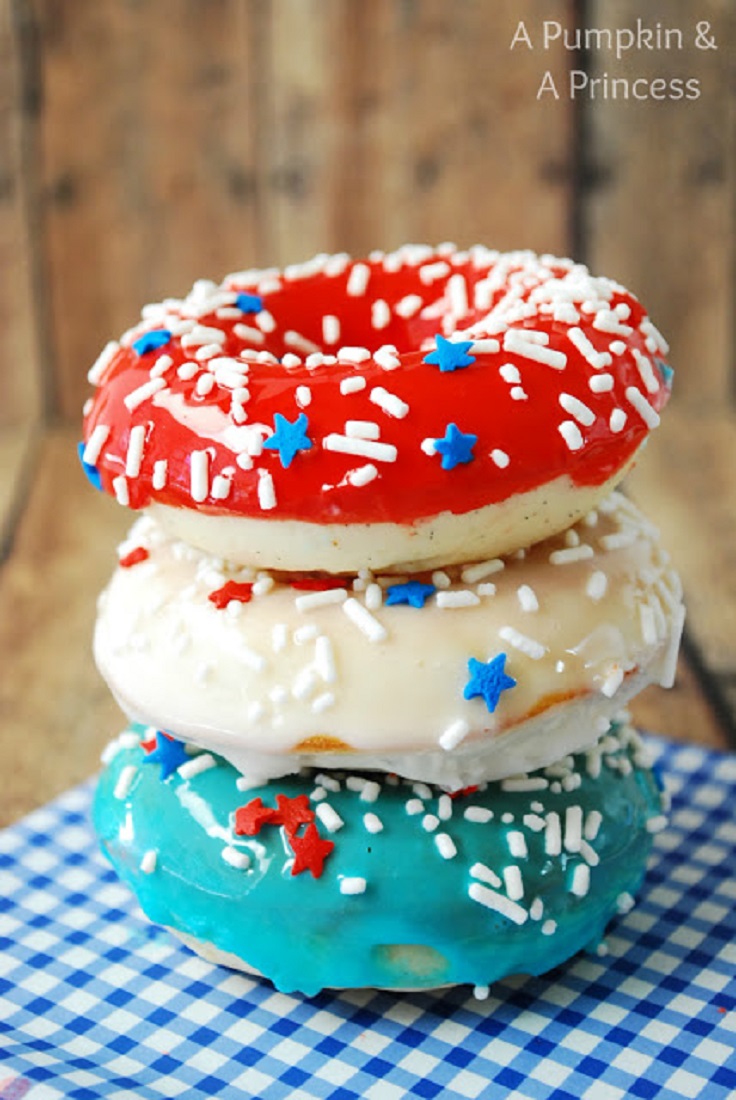 via apumpkinandaprincess.com
In a large bowl sift together flour, sugar, baking power, and salt. In a small bowl lightly beat eggs, then add buttermilk, butter, vanilla extract, and seeds from one vanilla bean. Combine with flour mixture. Fill each doughnut pan 2/3 of the way full. Bake for 7-9 minutes then allow doughnuts to cool 5 minutes before removing them. Once cooled, dip doughnuts into the vanilla glaze and add sprinkles if desired.
Uncle Sam Moustache Pops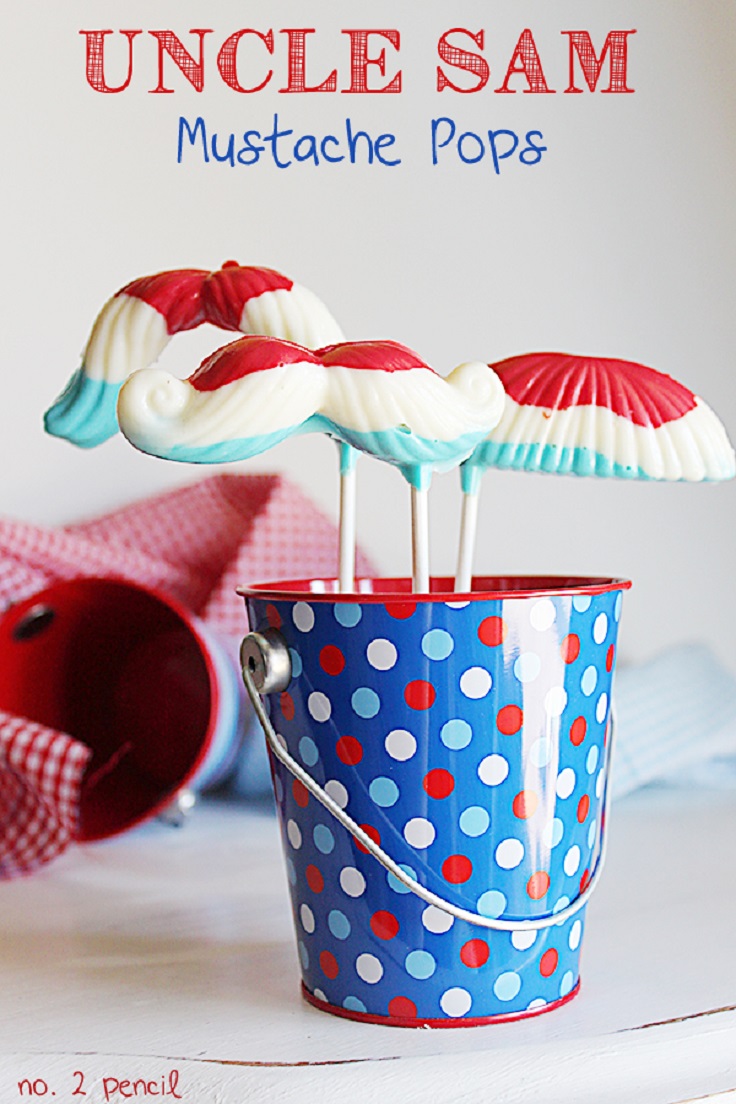 We thought a cute Uncle Sam inspired candy mustache pops would be fun. Choose one member from the family that has moustache and named the pops by him. We  think these red, white and blue mustaches are totally adorable.
Snow Cone Cupcakes
via bakerella.com
These cupcakes are definitely a work of art! Don't they look just like mini snow cones? We just want to take a spoon and dig right in. They would be fun for just about any summer party, but are especially fitting for a Fourth of July get-together.