Turn your favorite fairy tale into your own reality by spending a vacation in a romantic castle hotel. Even one night spent in these lavish venues will make you feel like royalty. In Europe, many old romantic castles have been turned into luxury hotels that offer once in a lifetime experience. Each of these century old estates offers something different – from green sprawling parks, stone archways, vaulted ceilings, to regal four-post beds and stunning views. Whether you want to bring back a little romance into your relationship, go on a honeymoon, start a new relationship or simply get away from everything choosing to spend your vacation in a romantic castle hotel is the thing to do. These 10 romantic vacation castles around Europe we have chosen to share with you today offer it all: solitude, privacy, intimacy, seclusion, passion and most of all – romance!
1. Amberley Castle, West Sussex, UK-England
via hotelsthatwerenot.com / tripadvisor.co.uk
Peace and tranquility is what you'll find in Amberley Castle located in West Sussex in the UK. You will be mesmerized by the medieval architecture and the beautifully landscaped gardens. The castle was kept a secret for 900 years, hidden at the foot of the South Downs, beside the River Arun. The accommodation offered by this castle hotel is in no way old-fashioned. There are 19 uniquely decorated bedrooms that will satisfy your need for luxury. As for an even bigger romantic experience the two nearby lakes provide an unforgettable setting for your castle getaway.
2. Hôtel de la Cité, Carcassonne, France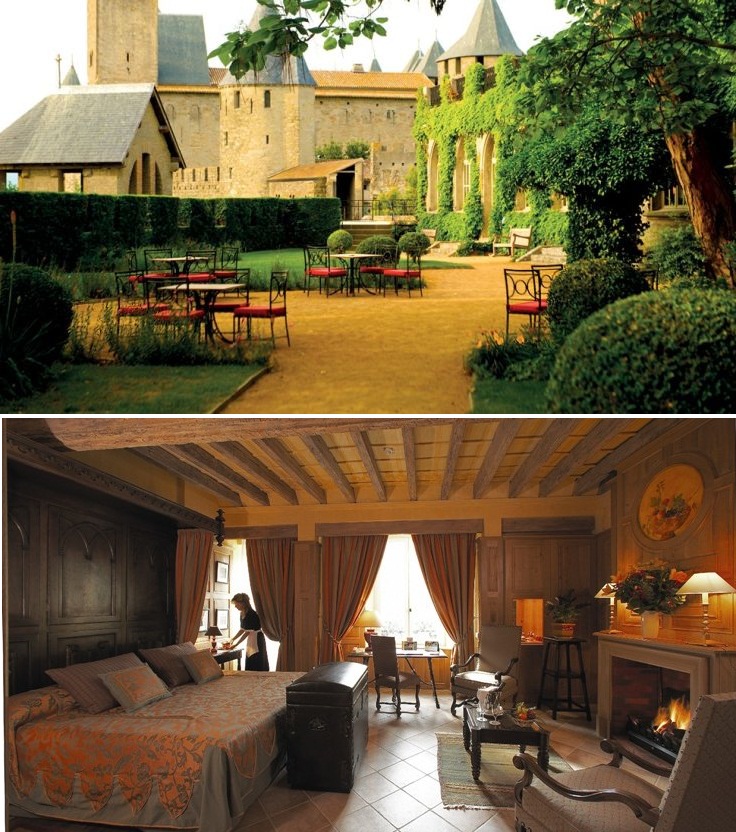 via blogs-images.forbes.com / tootlafrance.ie
One thing is for sure – no one does romance like the French! One of the best castle hotels in the country is definitely Hôtel de la Cité, located in the fairy tale old town of Carcassonne which is basically a giant walled castle the size of a small village. Staying here and exploring the town is a magical experience. You can wonder the Medieval streets, dine in the Michelin-starred restaurant and of course – enjoy some French wine.
3.Adare Manor Hotel & Golf Resort, Co Limerick, Ireland
via plus.google.com
This 5 star luxury hotel is the perfect place for the ultimate romantic getaway. For the past 5 years, Adare Manor has earned a coveted spot on Conde Nast Traveler Magazine's "Gold List of Best Places to Stay in the World" which says lots about the quality of the accommodation. It doesn't offer just deluxe accommodations, but also luxurious spa treatment rooms, world-class dining facilities, fishing, shopping, sightseeing, and a host of other estate activities which will intrigue even the most experienced of travelers.
4. Swinton Park, Masham, England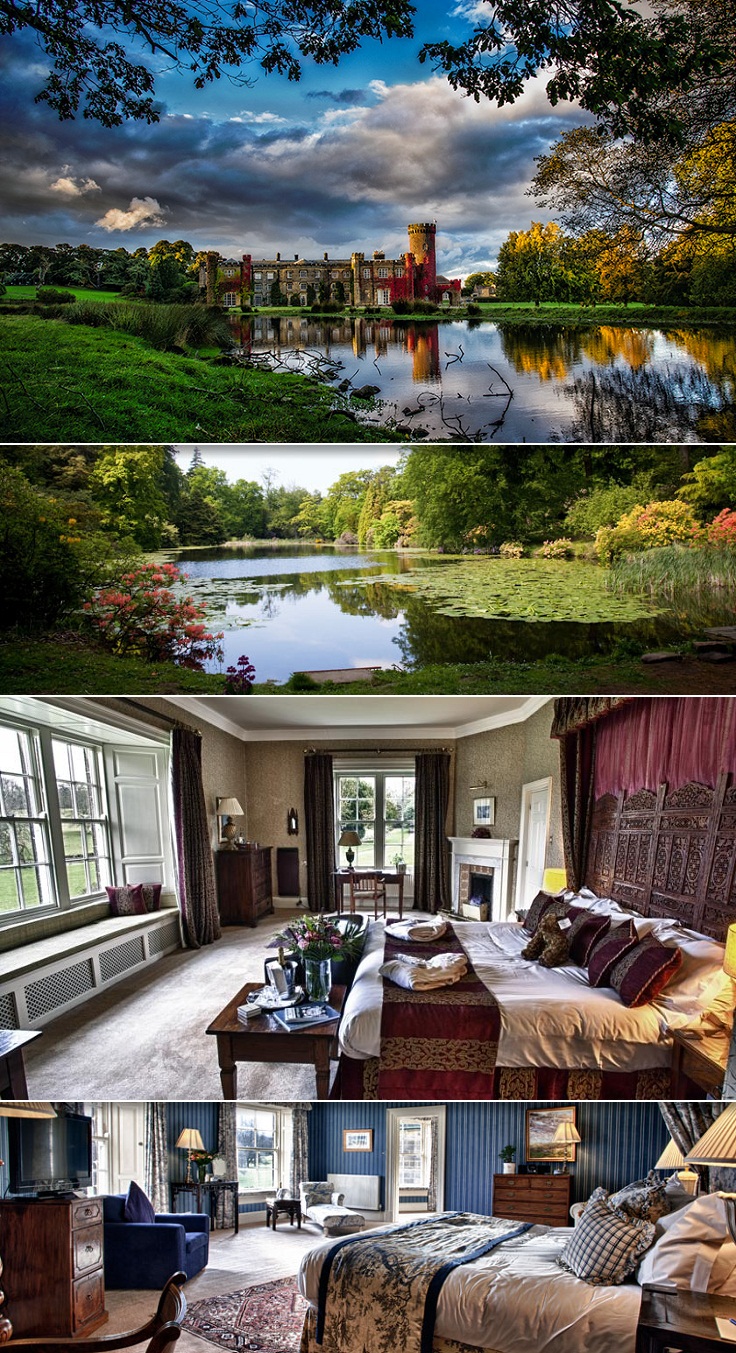 via swintonpark.com / booking.com / bristophotography.com
Swinton Park is the ancestral home of the Cunliffe-Lister family, and has been transformed into a 30-bedroom luxury castle hotel. Beautiful gardens, fine dining, a spa, cooking classes and flawless accommodation – staying at Swinton Park Hotel is experiencing English country living at its finest.
5. Dornröschenschloss Sababurg, Germany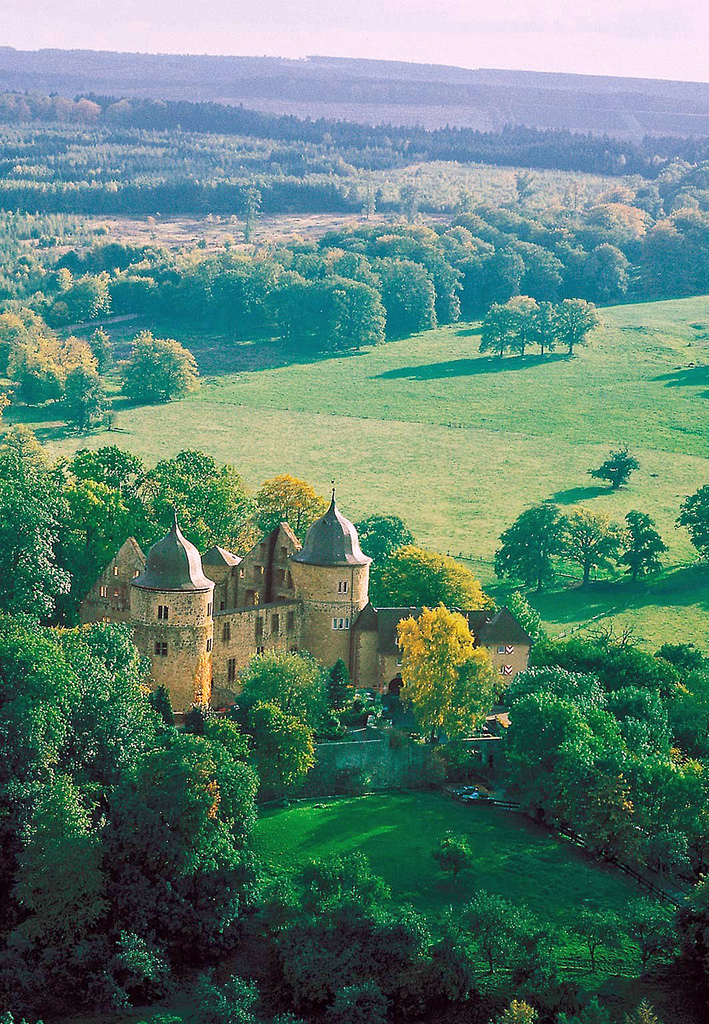 Set in the heart of the Reinhardswald Forest, this 650-years-old castle was actually the setting for the legend of the Sleeping Beauty. According to the legend the beautiful princess have slept here for 100 years before the prince came to kiss her and wake her up. You too can sleep in the castle as it has been turned into a dreamy hotel.
6. Airth Castle Hotel & Spa, Sterlingshire, Scotland
via easy-breaks.com / airthcastlehotel.com
This beautiful award winning hotel is set in 14 acres of wooded parkland and landscaped gardens which make it a perfect romantic retreat. All of the 125 rooms at the hotel offer luxury and breathtaking countryside views. You can also enjoy in the indoor heated swimming pool, Jacuzzi, treatment rooms and state-of-the-art gym. What a perfect mix of the ancient and the modern!
7. Manoir de Lebioles, Belgium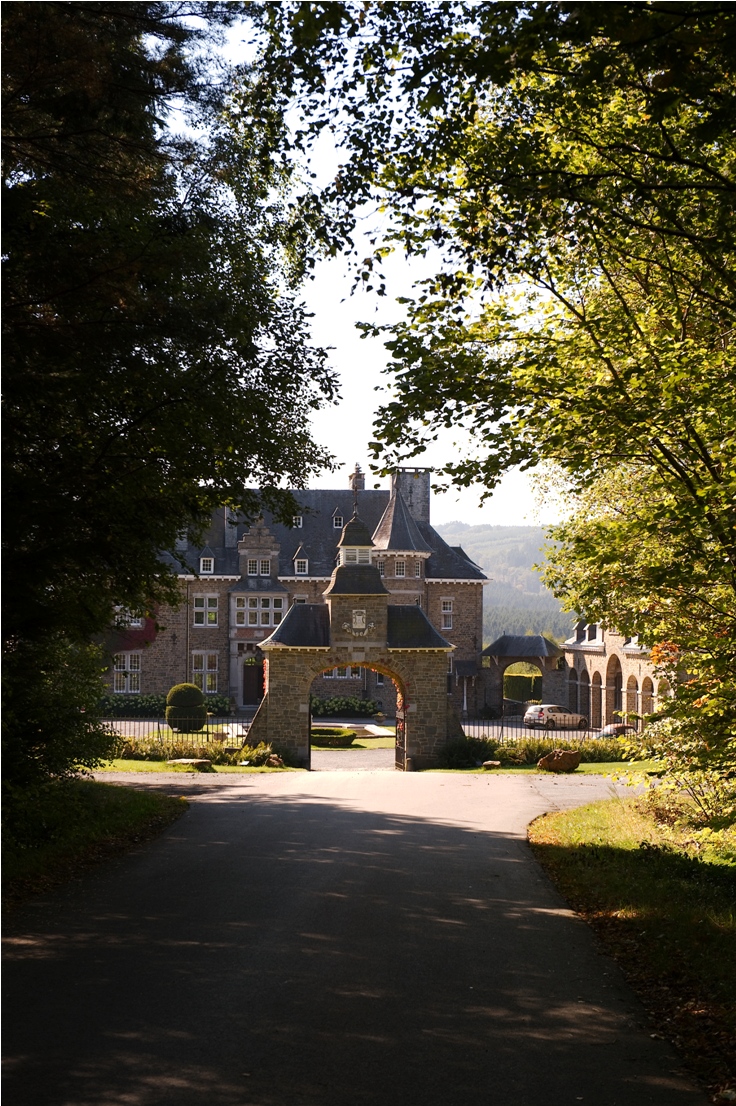 via lucnix.be
Welcome to Belgium's Versailles! This stunning castle is situated in the Ardennes region which offers refined luxury in a private and secluded surrounding offering excellent service and exquisite attention to detail. The architectural team that turned the castle into a modern hotel managed to keep its old soul and charm. This is why Manoir de Lebioles is the perfect place for a romantic getaway.
8. Castel Porrona, Tuscany, Italy
via hotelyouwant.com / theplunge.com
Tuscany is always a popular choice for romantic getaways, offering vast vineyards, sunflower fields and olive groves. Among this romantic setting, lies Castle Porrona. This stunning vacation castle has 22 rooms, all with a view of the 11th century village that spreads beneath. Choose this castle as your romantic getaway destination in summer and enjoy drinking Tuscan wine on the hotel's flower-bedecked terrace.
9. Hotel Bernstein Castle, Burgenland, Austria
High above the Hungarian lowlands lies the romantic hotel Bernstein Castle. It was  once home to Count László Almásy who served as the title figure in Michael Ondaatje's award-winning novel "The English Patient". The hotel offers stunning views, but most importantly much needed tranquility and by this we mean no traffic noise and even no telephones in the rooms. However, the rooms have magnificent fireplaces, brocade curtains and captivating antiques. A truly romantic setting!
10. The Bussaco Palace Hotel, Portugal
This royal fairy tale hotel, built in 1885 for the last Kings of Portugal is located in the middle of the Bussaco National Forest and it is one of the most beautiful and historic hotels in the world. The architect of this romantic palace was Italian Luigi Manini. It is not only the architecture that stuns, but also the lush gardens surrounding the castle. They were built to represent Earthly Paradise.