Sweet or savory, who can ever resist pancakes? They are cheap and easy to make and yet they offer us hundreds of recipes on how to make them even more delicious. Even though when someone mentions pancakes we instantly think of Nutella and bananas, the savory ones are also the real deal! You can combine them with plenty of delicious things including crispy bacon, soft cream cheese, boiled or fried eggs – long story short, the savory pancakes recipes bellow are very easy and tasty, and that's why they can be the perfect breakfast for you, and for your family too. Such a delicious way to start the day, aren't they?
1. Oat Pancakes
A recipe that is going to take away only 30 minutes from your time and is going to give you delicious, savory pancakes combined with fresh vegetables such as zucchini and green onions, and homemade basil pesto. You can also add other ingredients such as eggs or greens they make a very tasty combination of each other.
2. Bacon & Cream Cheese Pancakes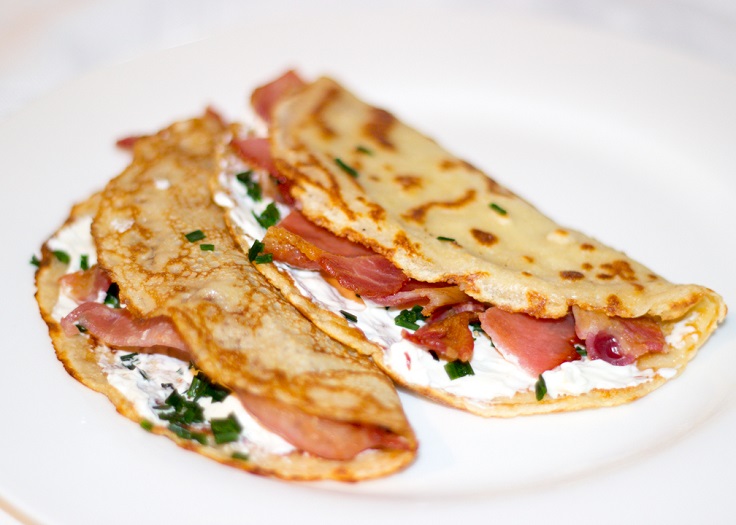 via kitchenmason.com
If you haven't tried before, you should know that bacon goes very well with savory pancakes, especially if it's crispy. So, bacon lovers you should definitely tried this one out. The good thing about this recipe is that you only need five ingredients for making the pancakes. If you want to make them more tastier, try adding cream cheese, as in the recipe.
3. Tuna Pepper & Sweetcorn Pancake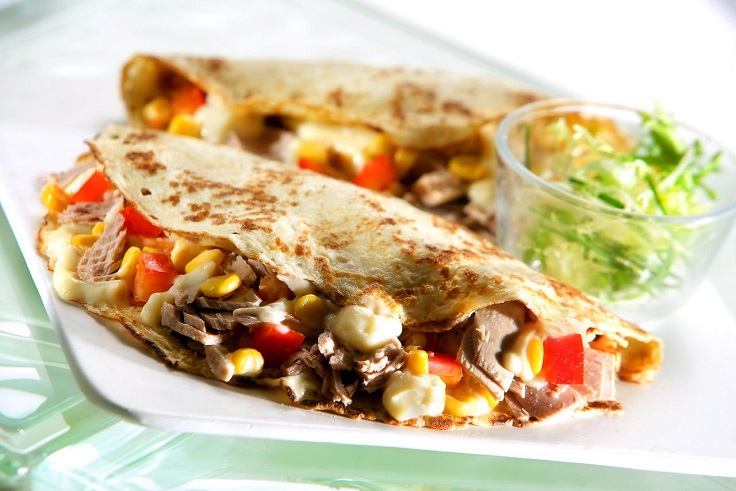 via recipes4us.co.uk
Tuna is very healthy choice because it is low in saturated fats and it's also a good source of proteins. The best part about the tuna, except for having it's own benefits, is that it tastes simply amazing and it's one of the cheap fish you can get on the market. Adding tuna in your pancakes is going to make them super tasty, plus you can add something else too, such as sweet corn, cheese sauce and sweet pepper. Delicious, isn't it?
4. Pancakes With Spinach, Leeks, Ham & Cheese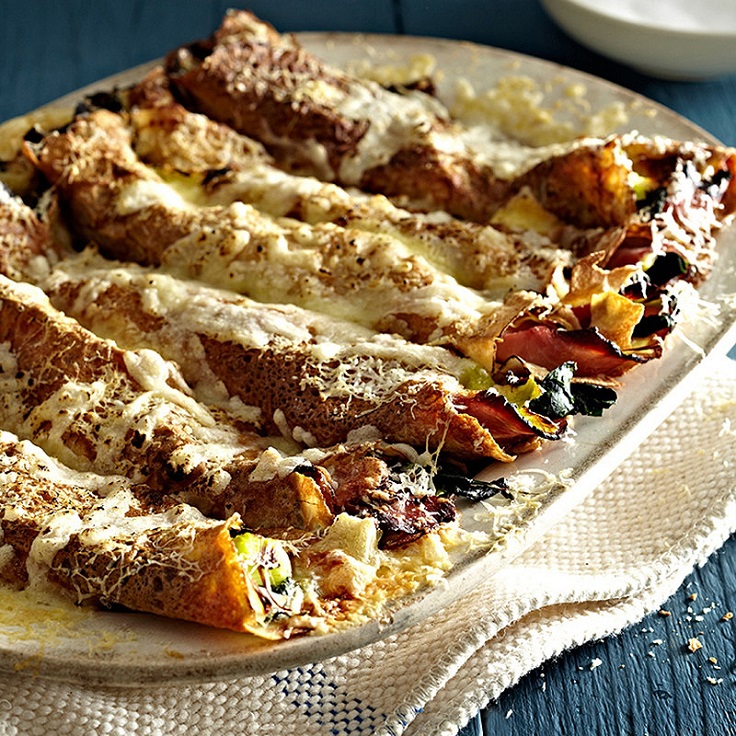 via lakeland.co.uk
This recipe serves four, so if you have a family here's how to surprise them with a delicious breakfast during the weekends. It is the perfect day to start off the day with healthy and tasty food such as the spinach, but you can spoil yourself with a little bit ham and cheese too. The grated cheese on top will melt your heart as well!
5. Pancakes With Spinach & Fried Egg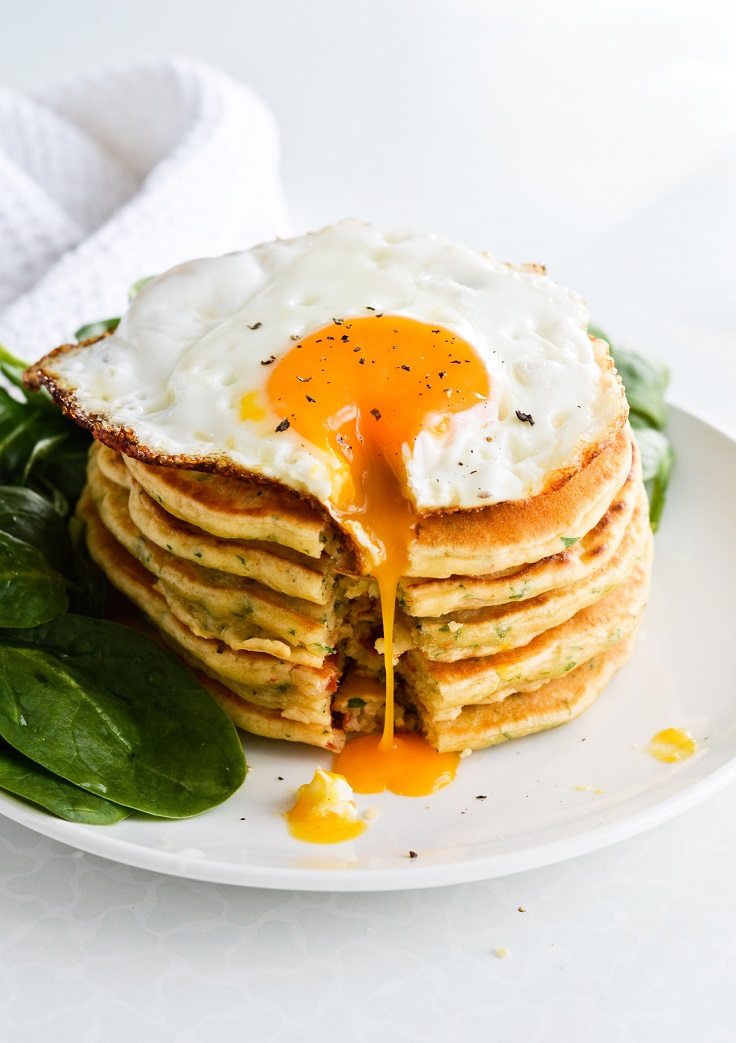 via mitzyathome.com
Pancakes with fried, crispy egg on top and with parsley and sun – dried tomatoes. Who can "say" no to such simple, yet amazing breakfast? The recipe serves 8 – 10 pancakes and according to it, eating spinach with the pancakes is also something worth to try. And also, you can add make things a little bit spicy by adding some spice to your egg.
6. Creamy Chicken & Spinach Pancakes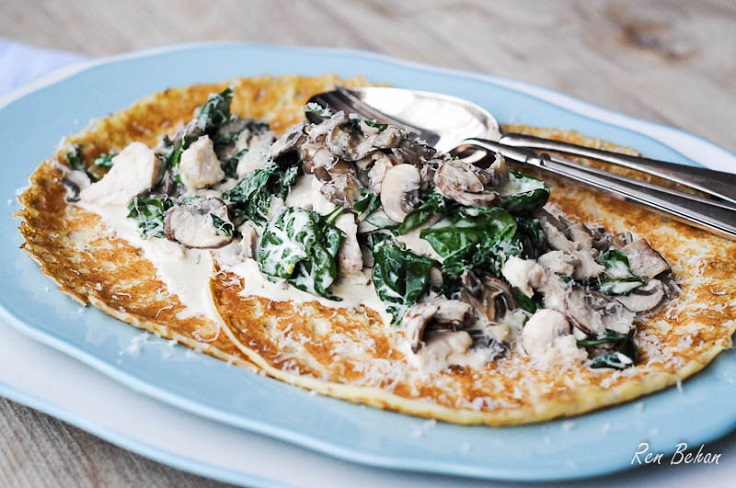 via renbehan.com
As you can notice, spinach goes great when it comes to savory pancakes. In this recipe, the healthy spinach is combined with chicken in creamy sauce with mushrooms. If you think it can't get any more delicious than this, then try adding grated Parmesan on top of the pancake. You won't regret it, definitely.
7. Gluten – Free Savory Pancakes
via momtastic.com
Don't have plenty of time to prepare anything special for breakfast? Well, this recipe will take you only 20 minutes to prepare gluten – free pancakes. In order to make them, you need ingredients such as olive oil, grated cauliflower and carrots and zucchini. Don't forget to add grated cheddar cheese on top!
8. Bacon, Cheddar & Green Onion Pancake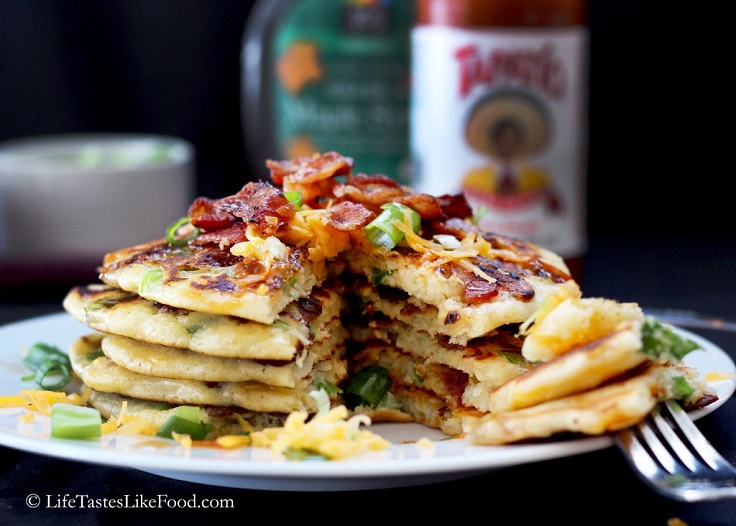 Layers of bacon, cheddar, onions. Crispy, shredded and chopped. In about thirty minutes you are going to have the perfect breakfast meal for a fresh morning start.  If you want to, you can serve them with maple syrup or with some hot sauce too.
9. Bread Pancakes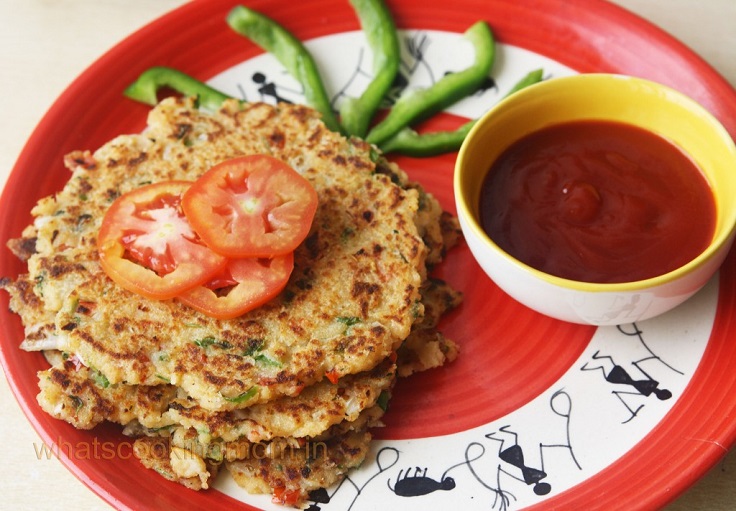 The bread pancakes are a good idea for a kid's lunch box. It will take you about less then thirty minutes to get around 8 pancakes. Made of bread slices, you can add any vegetable that you would like to combine with these pancakes. The recipe is quite simple, so you might just found out the perfect one for lazy weekends and Mondays.
10. Gluten Free + Vegan Pancake
If you are looking for a gluten free, dairy free, vegan and low carb option, this one is for you. the pancakes are filled with a fridge – raid version of ratatouille, but instead of aubergines, you can add mushrooms according to the recipe. It will keep you full until dinner time, for sure!