The kitchen is the soul of the home many will say. It is where food is prepared, where the family gathers and it should be taken care for as the rest of the rooms in the home. There are many ways to re-organize and decorate your kitchen, we have gathered the simplest and cheapest ways to do so. You don't need a new kitchen, just new details, a famous quote says "the devil is in the detail". If you don't have a big budget for decorating this is the perfect way to add a sparkle in your kitchen without spending a huge amount of money. You will be amazed of how a little detail can change the appearance of the entire room, focus on that and comment about the results bellow.
1. Frame a Recipe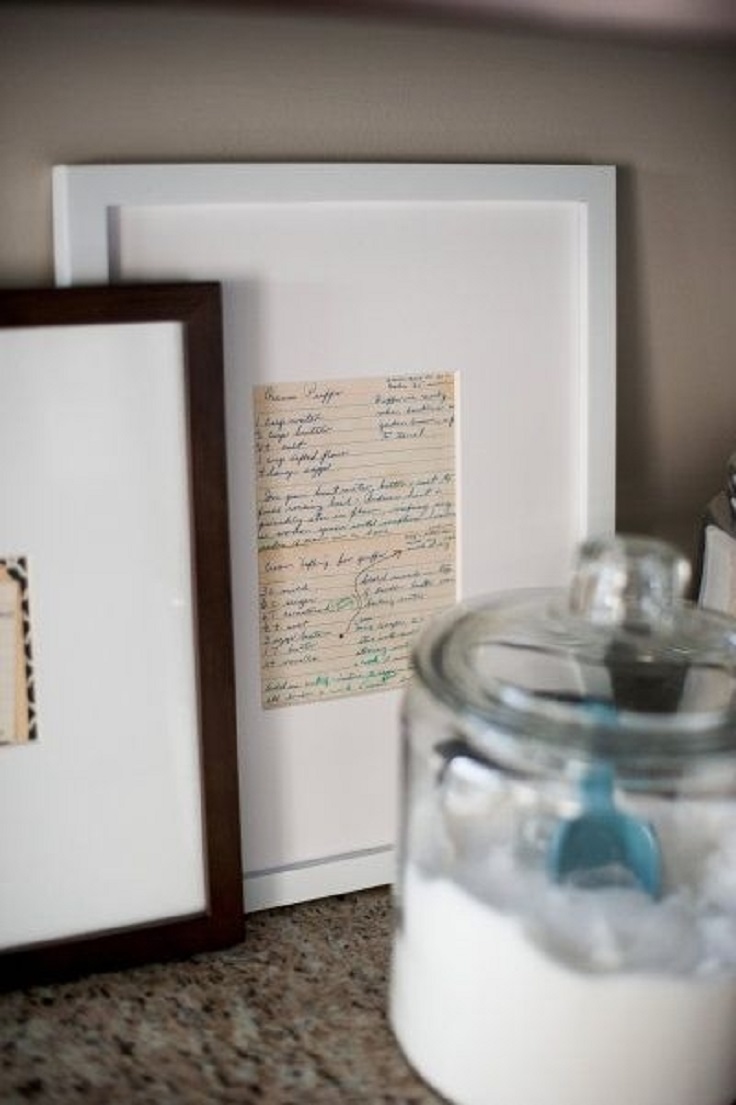 If you have a favorite recipe, or a dear card from you grandmother why not frame it and look at it every time you prepare something in the kitchen. This is the perfect way to preserve your recipe, use it and make it loo like art.
2. Hot Handles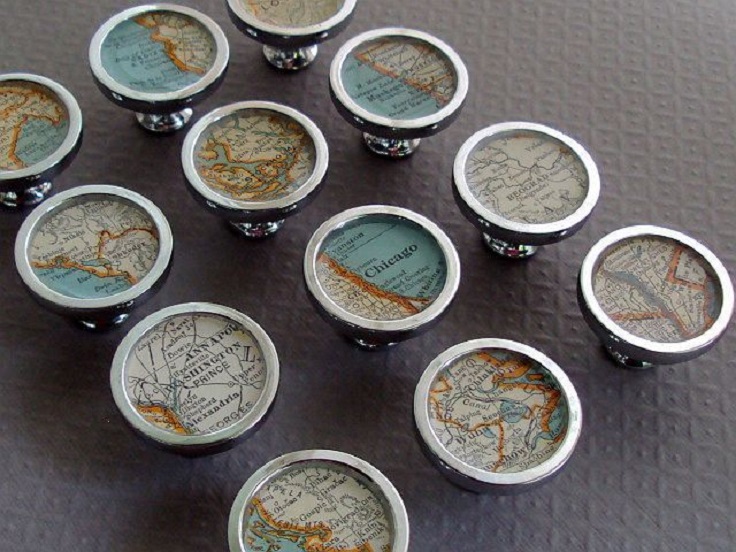 via sherrytruitt.bigcartel.com
You can find cheap cabinet knobs in every store, second-hand shop etc. Choose something that is eye-catchy and noticeable. Hundreds of shapes and finishes are available, you can choose from modern knobs to vintage knobs, make sure they match your kitchen style.
3. New Curtain
via bravacasa.rs
A new curtain can be really refreshing to your kitchen. Choose a bright color to let the sunshine in. Play with patterns and with textures, the curtain complements the wall color, choosing a contrast color will look really nice. If you are unable to buy new curtains add some ribbons, rickrack or buttons to your old one.
4. Expose Platter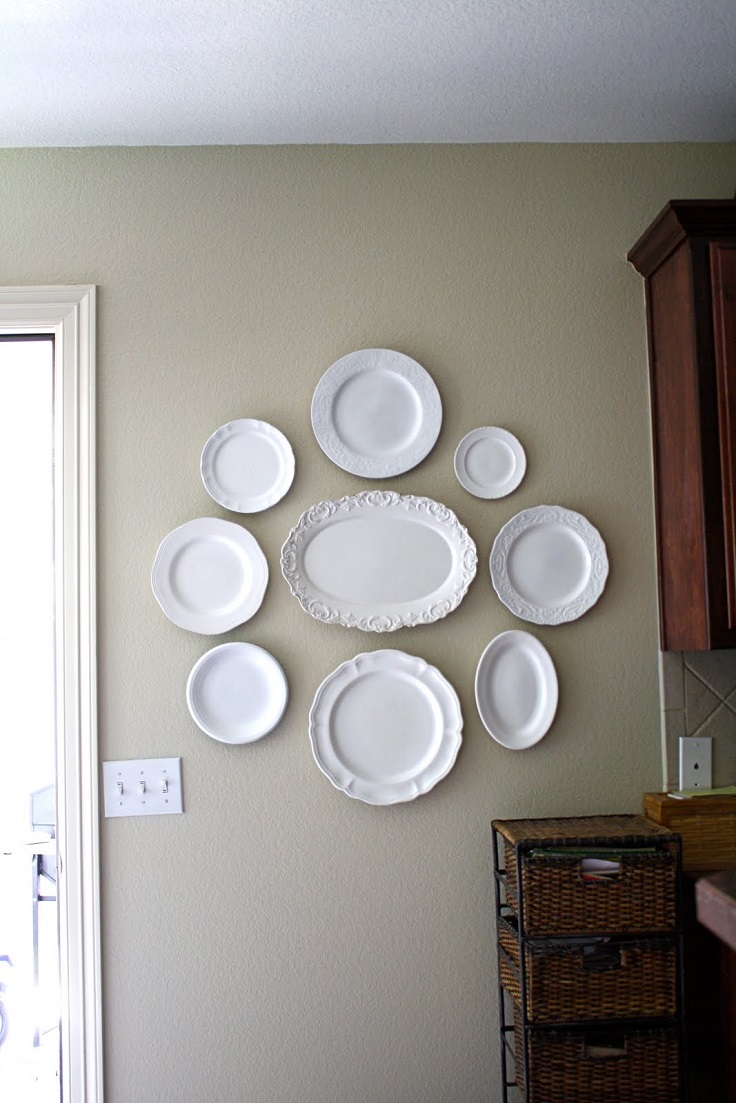 Why seeing your favorite dining platter only on special occasions? Place your favorite platter on shelves or hang them on the wall, they will add style and vintage to your kitchen and will make it look more warm and welcoming. Don't miss out on yard sales or antique stores, you can find pretty inexpensive but worthy things.
5. Get Refrigerator Magnets

via shelterness.com
Don't let your fridge to be a boring ice box, decorate it using simple and cheap magnets! They can be found anywhere, they can be wooden or steel. Place reminders, recipes, love notes on your fridge and surprise your loved ones every time they head for the kitchen.
6. Repaint Cabinets
If you have some free time and want to dedicate it to improving your kitchen then do this. Get an awesome new color, like blue or yellow and repaint the kitchen cabinets. Remove all the hardware before doing so and make sure you paint not one but couple of layers of the paint.
7. New Lighting
via paonde.com
New lighting can change the look of the entire room, no doubt. If you have a high ceiling get a chandelier or multiple small chandeliers combined in one. If you have a low ceiling you can always look for lamps for the counters. Dim light can make a very soothing atmosphere.
8. Plant Your Kitchen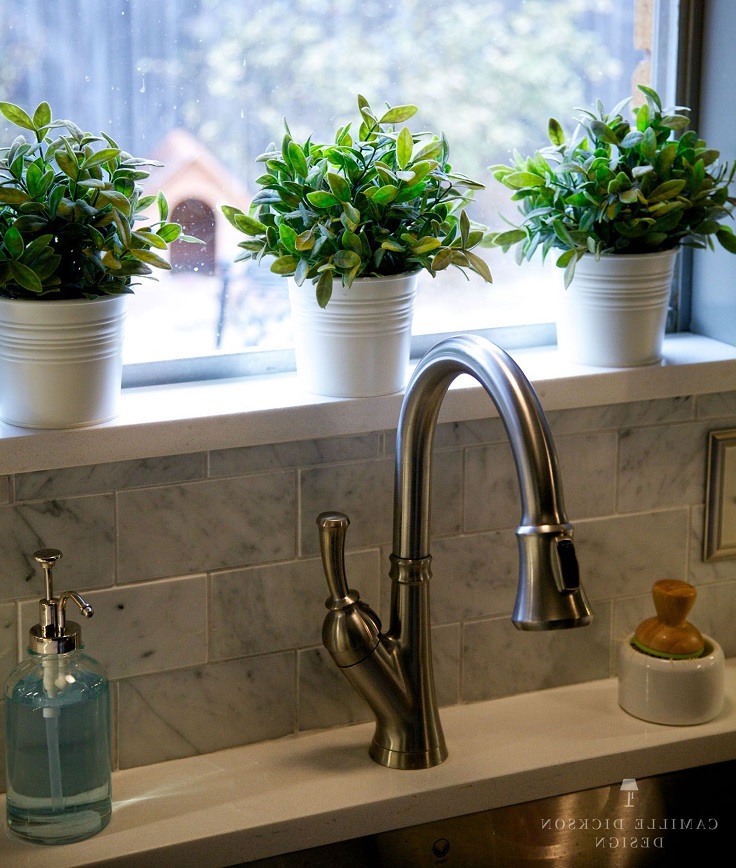 via plusroom.net
Pop colors using flowers like tulips or lilies. If you are more of the "plant person" get yourself some nice, green plants and place them near the sink, or near the window if they require sunlight. You can always get a fragrant herb and use it while cooking, not so bad?
9. Go Beyond Removing Doors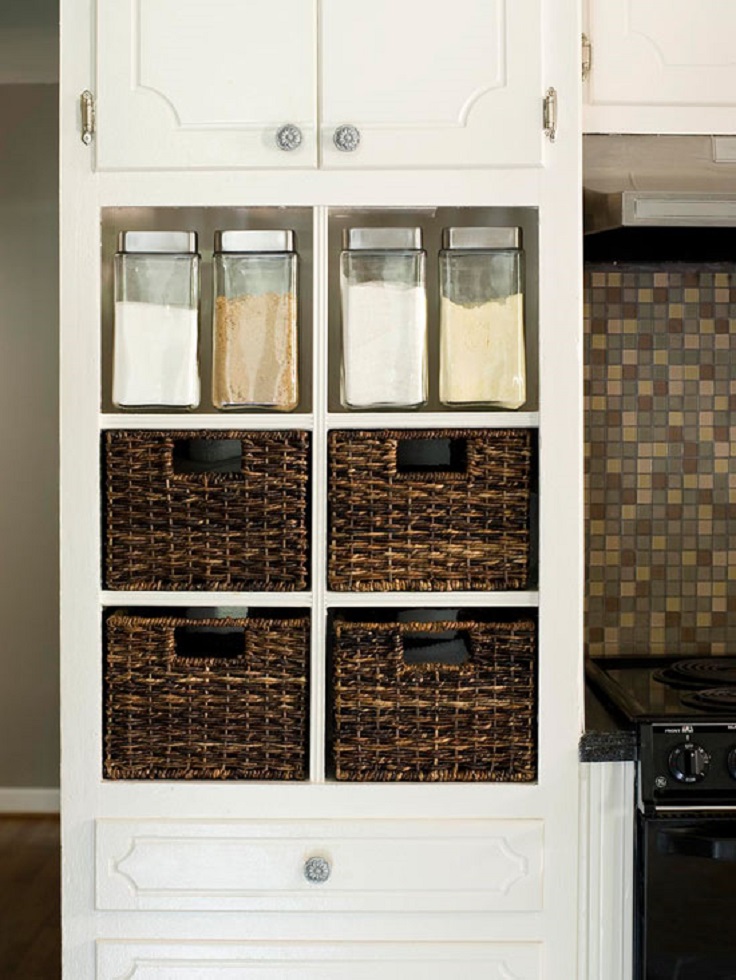 via bhg.com
If the cabinet doors are too rusty and can't be painted or repaired just take them off. Instead of placing products in the empty space, place some boxes and jar supplies. The cabinets will look and will be more organized and sophisticated.
10. Choose Colorful Stools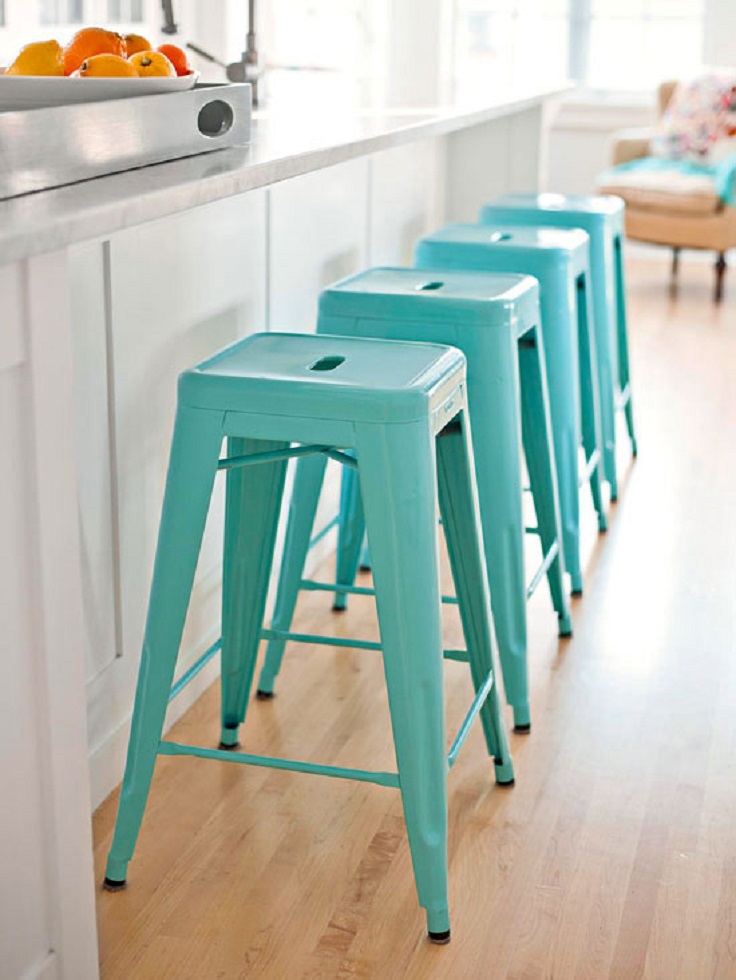 via bhg.com
Stools are a great component of your kitchen, especially if you dine in there. Get new stools or paint the old ones with a new fun color. A pop of color always distracts the eye and it makes the room more interesting and adventurous. Experiment with colors and designs, don't hesitate.