Table runner is an easy and pretty way to add decoration on your table. The best thing is that they are so easy to make that you can have as much as you want, for any occasion. This means you can change them so your table will always look amazing.
A table runner usually is a length of cloth about 12 inches wide and 4 or more feet long and it can be in array of colors and patterns.
It lays on top of the table as a decoration, you usually add a centerpiece and make it look perfect, like from an elite restaurant in just few moments.
So, because spring is here it is the right time to create your own table runners because they are so easy and inexpensive to be made.
You can also read our choice of Top 10 DIY Rug Ideas That Will Transform Your Home
Rainbow Felt Table Runner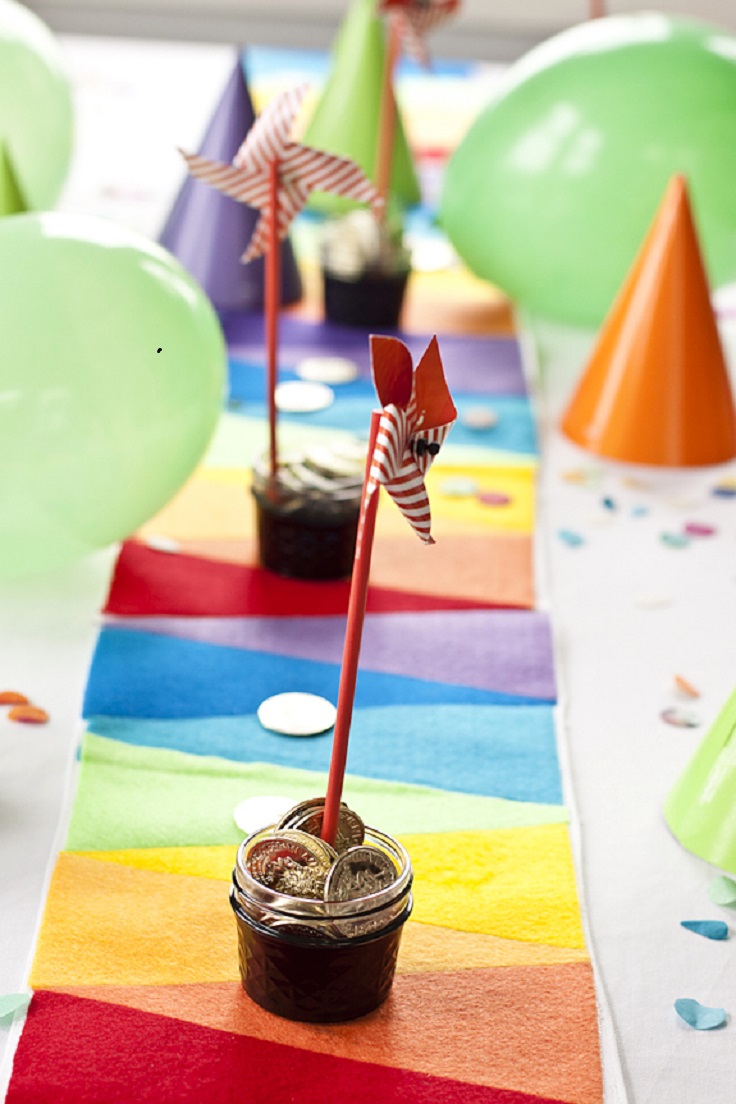 via sayyes.com
Get some craft felt in the colors of the rainbow and start preparing this beautiful rainbow table runner. It is a great spring craft project and it will make your table look fabulous. Have in mind that this table runner requiers sewing.
Watercolor Popsicle Stick Table Runner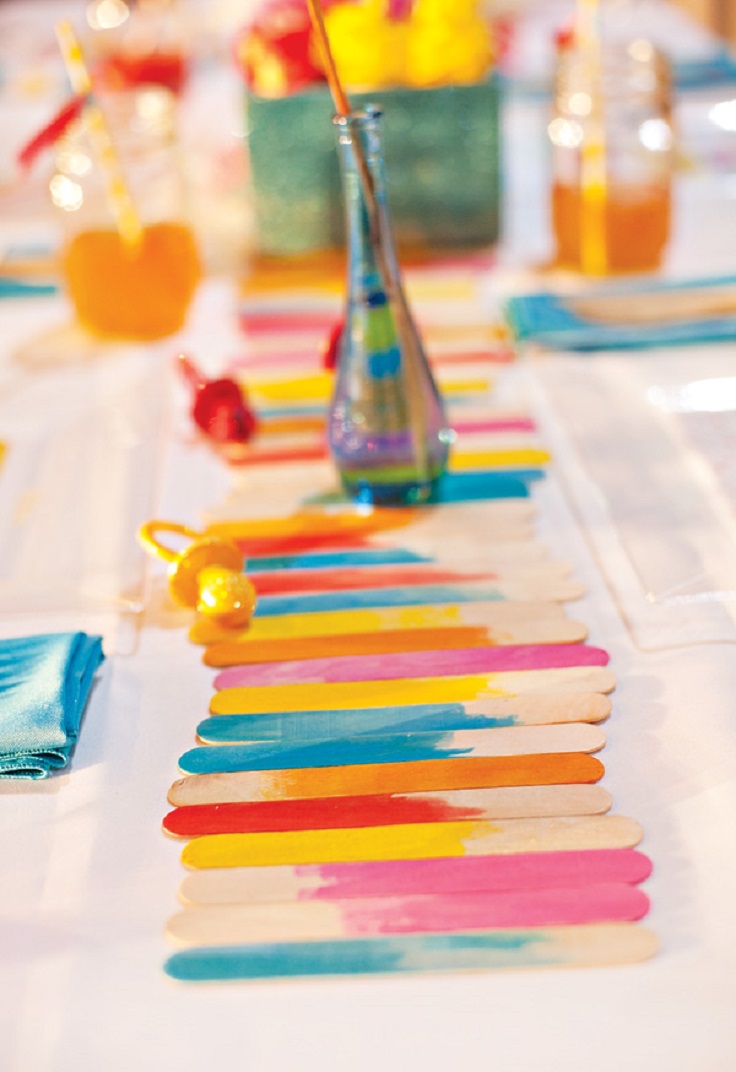 via blog.hwtm.com
What a splendid idea! Can this table runner be any cuter, easier to make or cheaper? To make this colorful table runner you will need watercolor paints, paint brushes, large popsicle sticks, painters tape and a cup of water. Don't wait for a party or a special occasion to create this table runner – place it on your table now and enjoy spring.
Burlap Pom Pom Table Runner in Spring Colors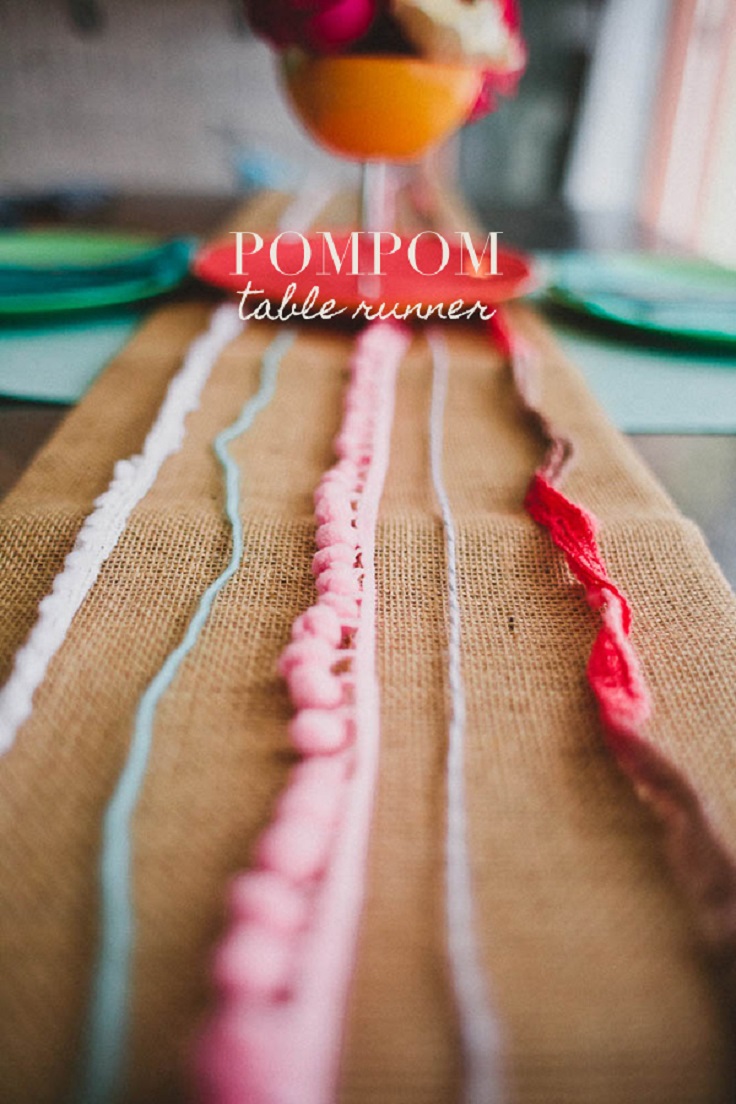 via ruffledblog.com
For making this pretty table runner you need burlap and five rad yarns that go with your color scheme. It is so easy to be made and very affordable, yet effective. We recommend gluing the yarn on the burlap and of course – choosing colorful yarn just like spring is!
Fake Grass and Flowers Table Runner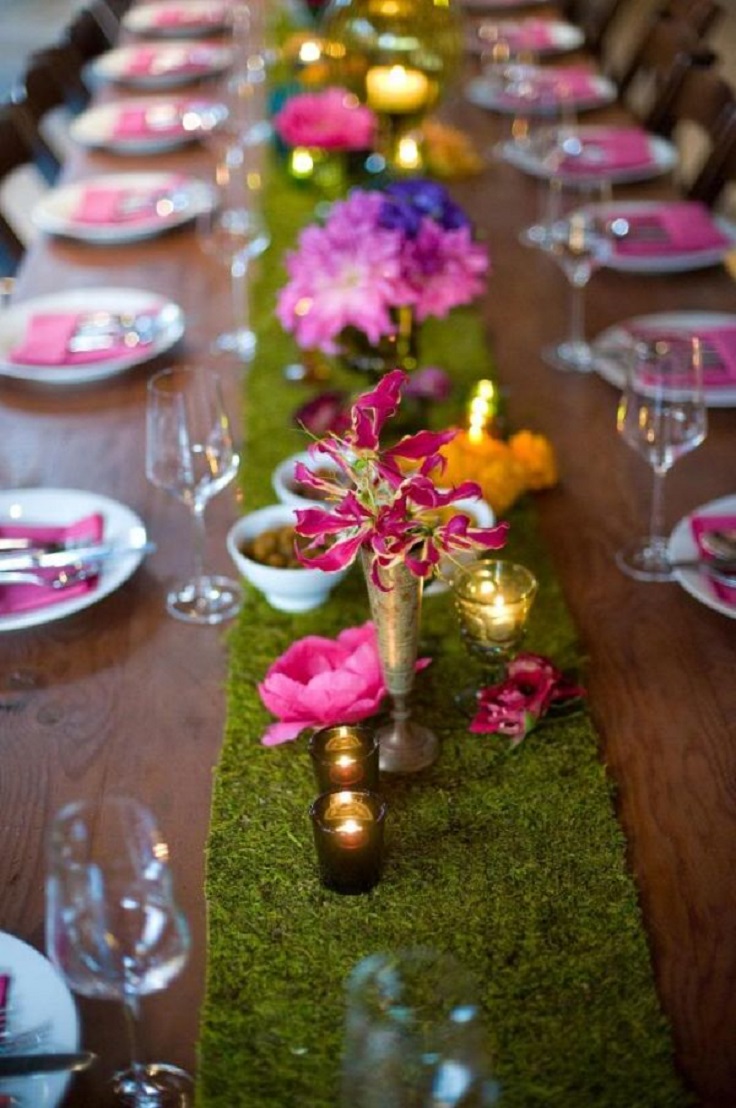 via homedit.com
Like a small garden with flowers on your table, a lovely spring decoration that will blow your guests mind. So create a  beautiful mix of bold colors and a green design with a fake grass table runner. You will need fake grass and artificial flowers. Now let your creativity flow.
Spring Paper Table Runner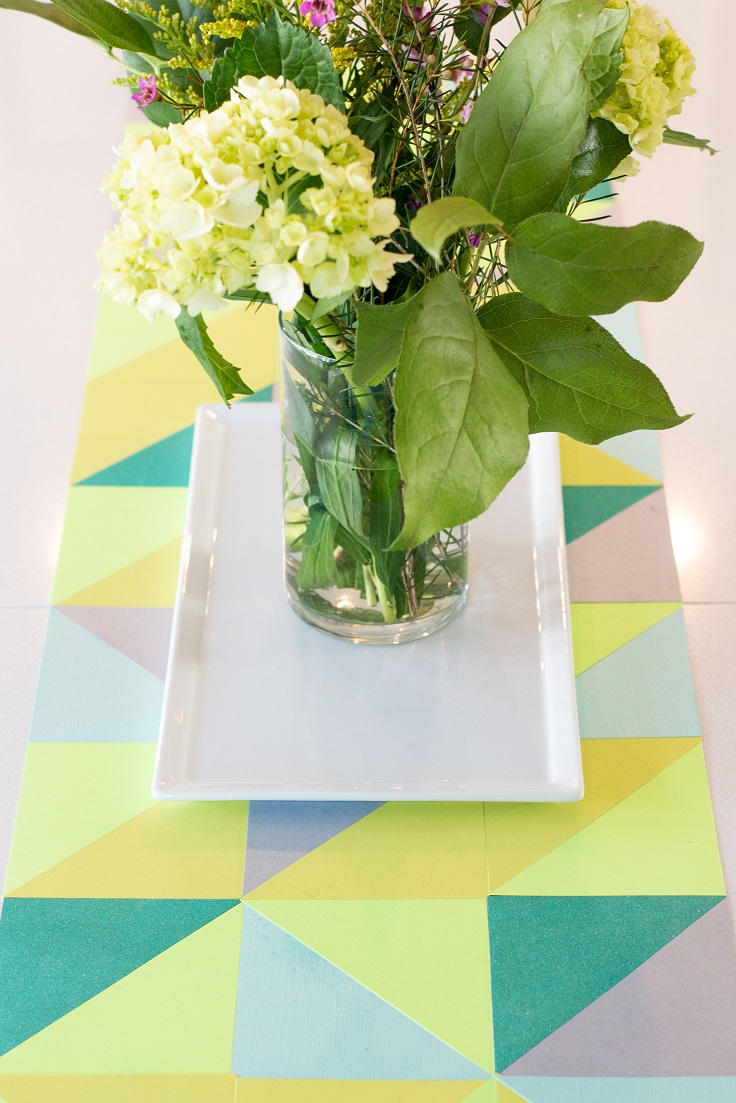 How about making a cute, colorful, spring inspired table runner out of paper? Get some heavy-weight paper or cardstock in the color scheme you prefer and cut it into little triangles. You will also need a roll of paper for the base. Cut the paper for the base in the desired size and glue the triangles on it making beautiful colorful patterns.
Ombre Paper Table Runner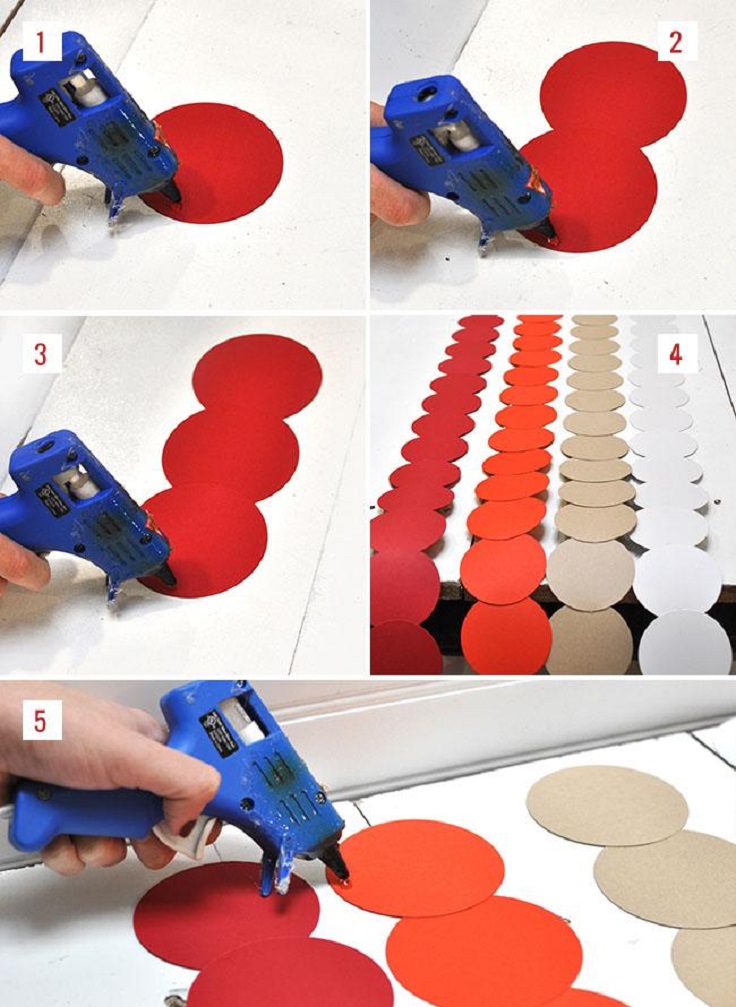 via weddbook.com
We just love this easy-to-do and cheap tutorial for a cute ombre table runner. If you don't like these colors you can always choose your favorite ones. Try bolder colors that are perfect for spring. We would totally go with shades of pink!
Tea Towels Table Runner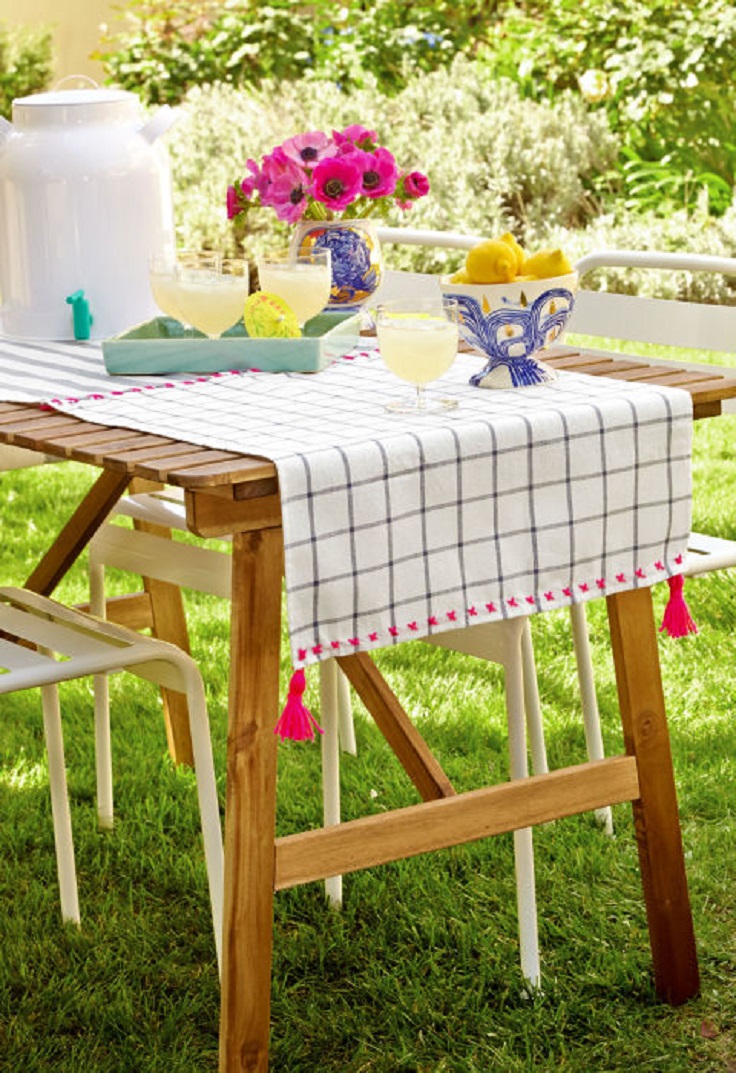 via redbookmag.com
Such a splendid idea! Just get a couple of tea towels and sew them together using a bright colored yarn. The result is a very effective table runner that is great for an outdoor party. Just choose your favorite patterns and colors and have fun.
Pretty Table Runner with Flowers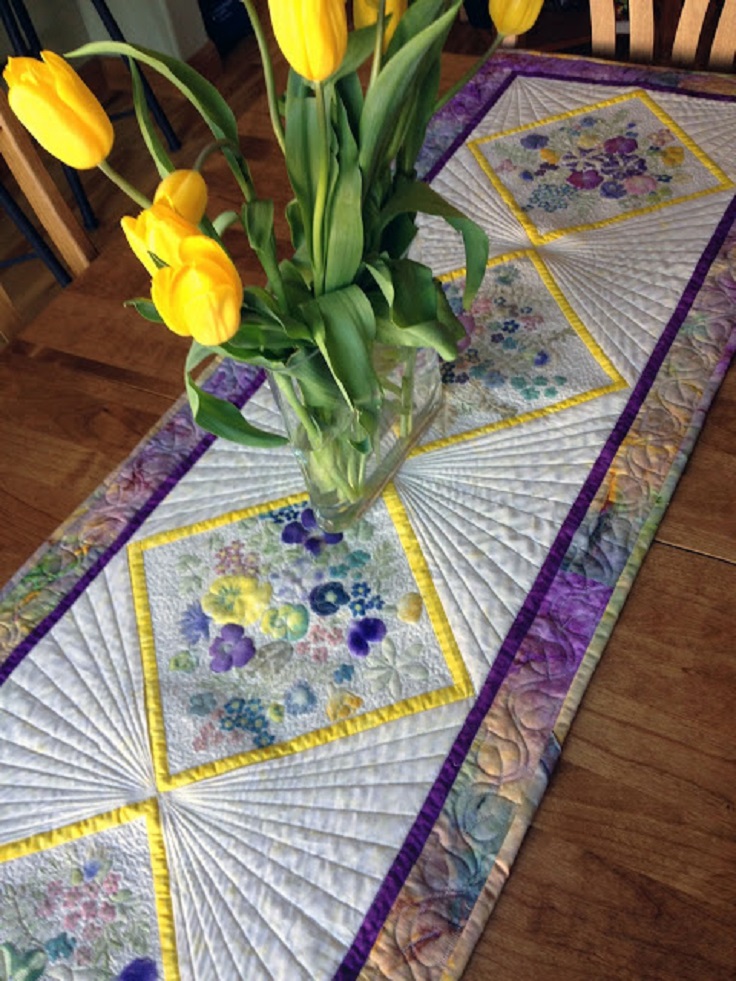 Did you know you can pound the color of flowers and leaves into fabric to create your own fabric designs? If you want to try this unique technique just follow this tutorial and create a pretty table runner with lots of spring flowers. Don't forget to add a vase with fresh spring flowers on top.
Rustic Twig Table Runner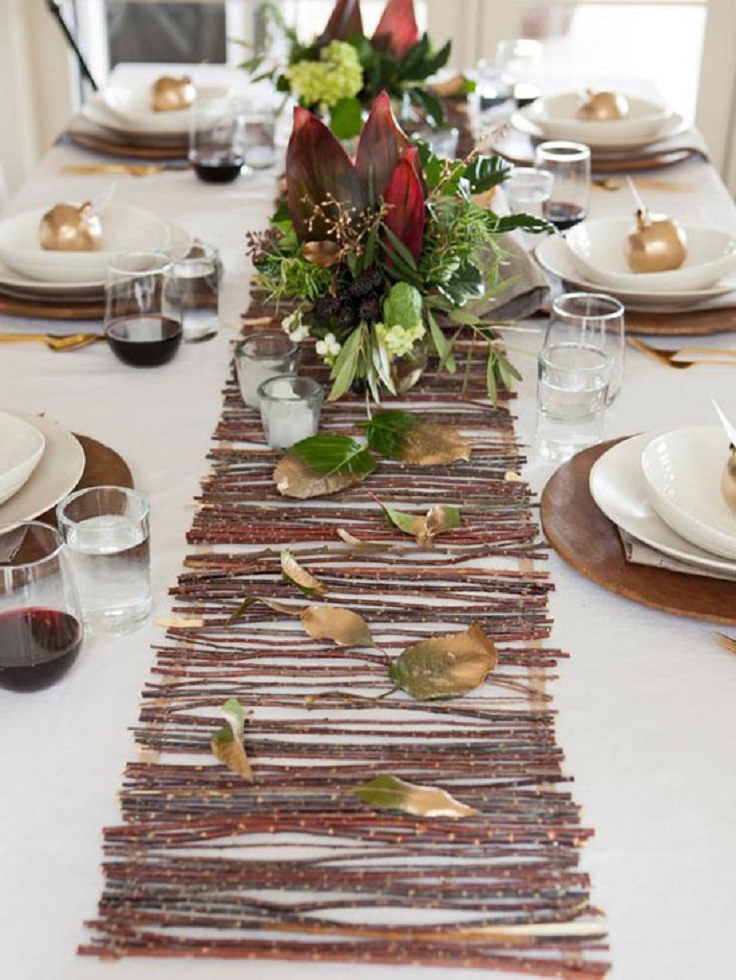 via hgtv.com
This project will help you create a cute rustic table runner by using twigs. You can glue the twigs or even better you can tie them up together using a pretty twine.
Vintage Book Table Runner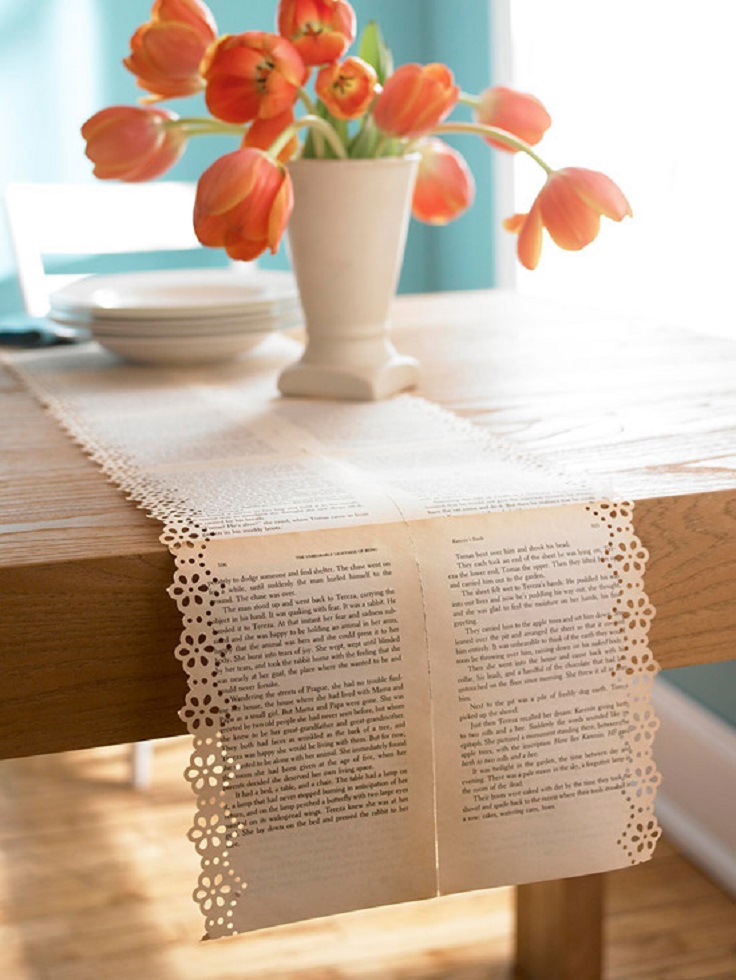 via bhg.com
You must have some old book with soft, worn pages right? If so, just lay the pages on the floor creating the desired form of the table runner and tape the pages together. Now use a crafts decorative-edge punch that creates a lacy border and voila – you have a lovely table runner for free.