Summer is such an inspirational season! The weather, the beach, the bright colors, everything about this part of the year seems so magical, and makes life so much fun! This kind of inspiration can be used for many things, including the nail art.
Fruits, beach, sea, bright colors, there are so many things you can paint on your nails to get those summer vibes. It's up to you to find your favorite summer thing and use it as your nail art inspiration. In case you don't have any idea, just scroll along to see our favorites!
1. Rose Gold Metallic
via fabagoo.com
The metallic nail art is very simple, but it proves the point why less is more, and why sometimes simplicity is exactly what you need. Rose gold is such a beautiful, feminine color! If you don't like it, choose another color, but make sure to keep the metallic effect.
2. Tropical Print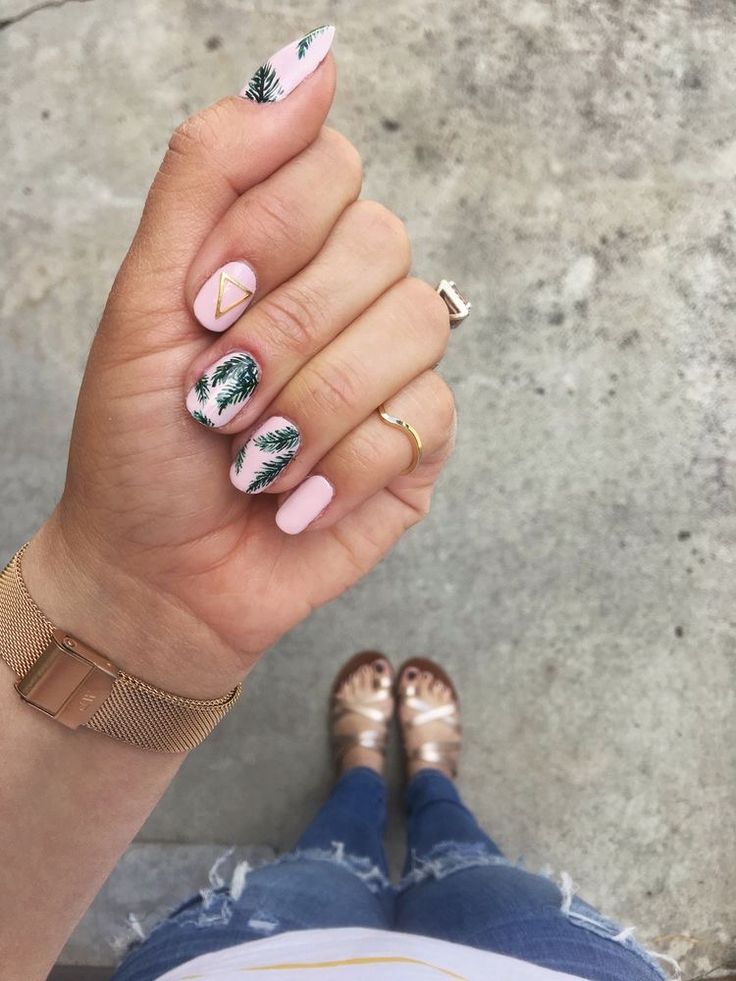 via rosegoldlining.com
Who doesn't like the tropical print? It's the perfect nail art for summer and it's very easy to achieve this look even if you're making it yourself. You really don't need to pay for this, you just need a little bit of experimenting and getting a nail polish with the right brush. Pink fits perfect, but you can always go for other colors.
3. Summer Vibes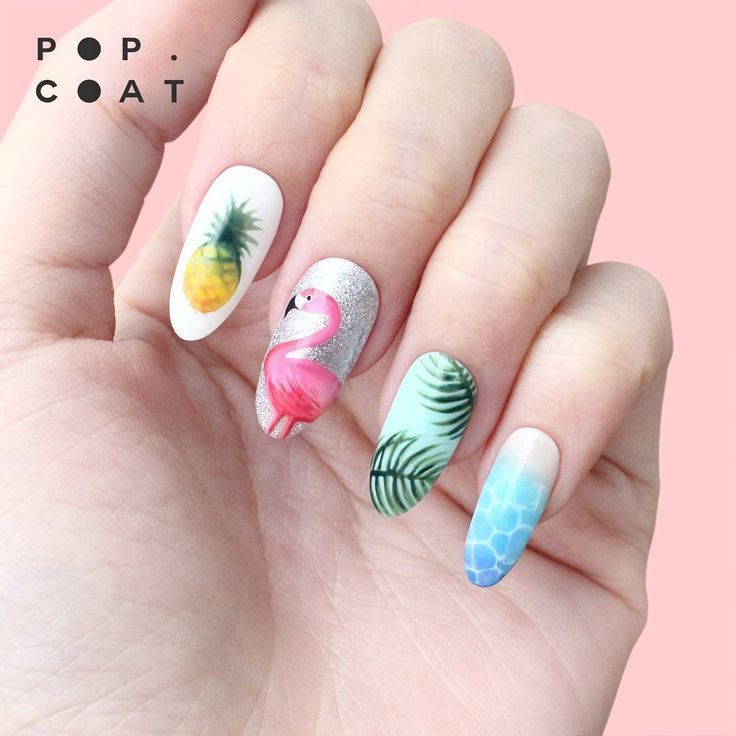 via nailsalonsnow.info
We have the ultimate summer vibes here! Every nail presents a different type of summer picture, and we love them all! What associates you with summer? Is it sea waves or maybe some summer fruit you love eating? Get inspiration from the things you love about summer and try to create them as your new nail art!
4. Fluorescent Ombre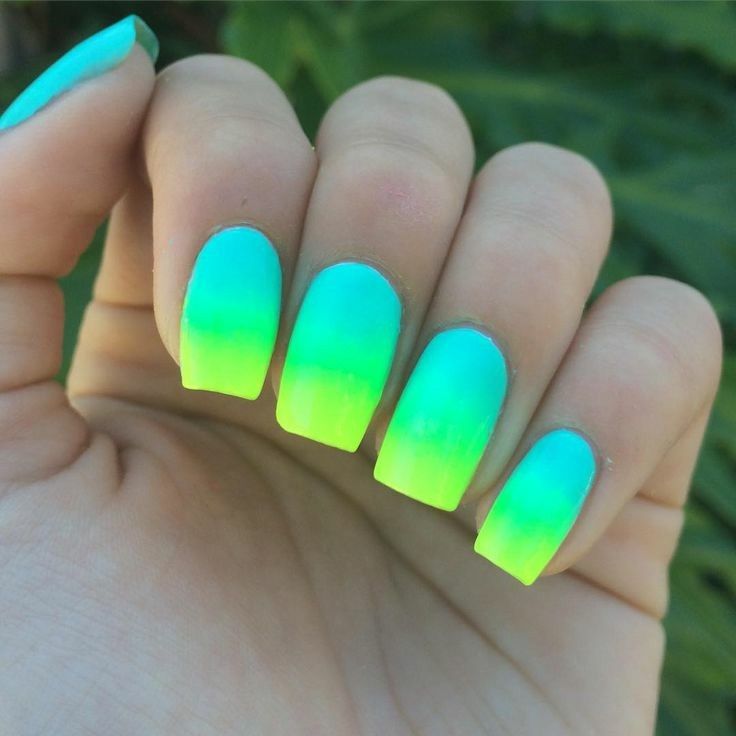 via onvacations.co
The ombre is still a thing, even years after first it got huge. There's really something amazing about it and no matter what season we're talking about, the ombre is always a good idea. Think of two colors that you really love, or just recreate the look from the picture. If you're into fluorescent, then this is definitely something you need to try out this summer!
5. Beach Vibes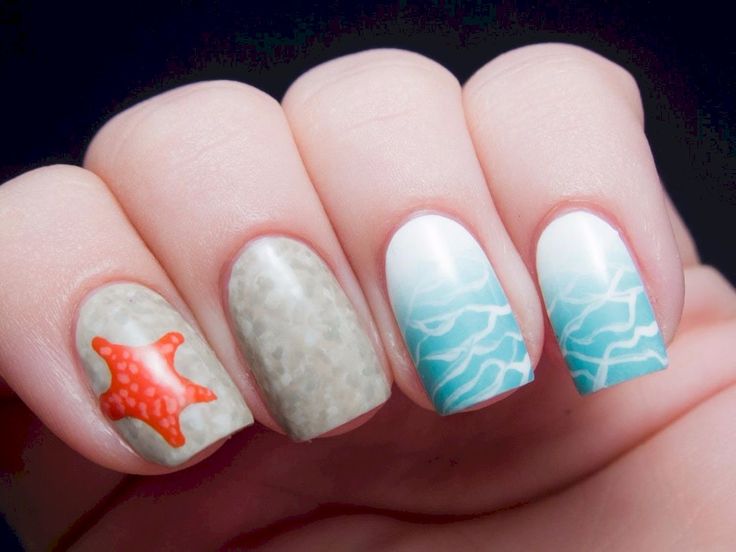 via chalkboardnails.com
We all love the beach, so why not paint it on our nails? This isn't a "less is more" look, but it's one that will definitely give those summer vibes. Get nail polishes in a few colors, such as shades of blue, red, and nude to recreate the beach scene. That starfish is so adorable, don't you think?
6. Nautical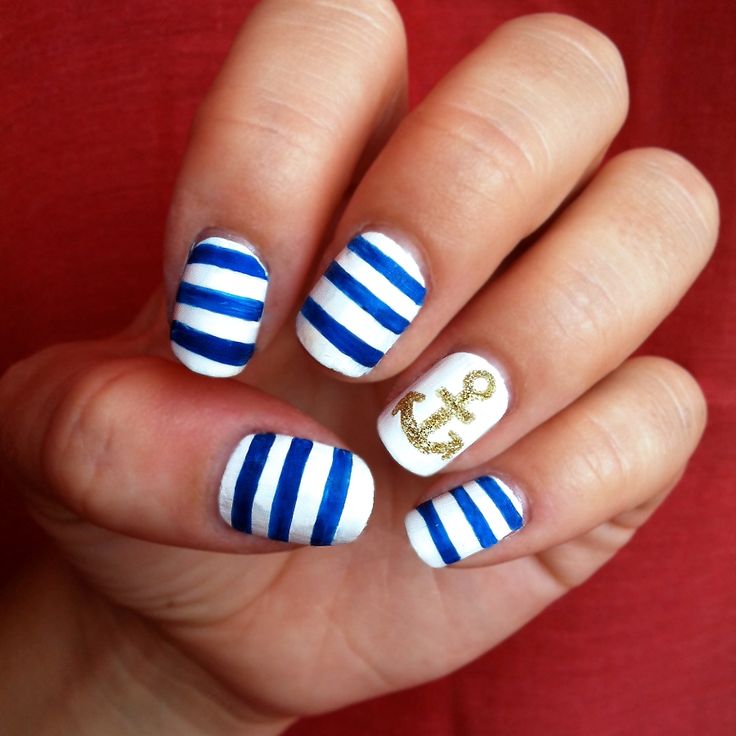 via scarves-outlet.com
Nautical design can be spotted everywhere. There are many people who love it and we totally get why. There's nothing more summer-y than nautical! It reminds us of the sea, sailing, beach, warm summer nights… If you feel this way about nautical designs too, then try to create one as your nail art! It's simple, easy, yet so gorgeous!
7. Mini Watermelons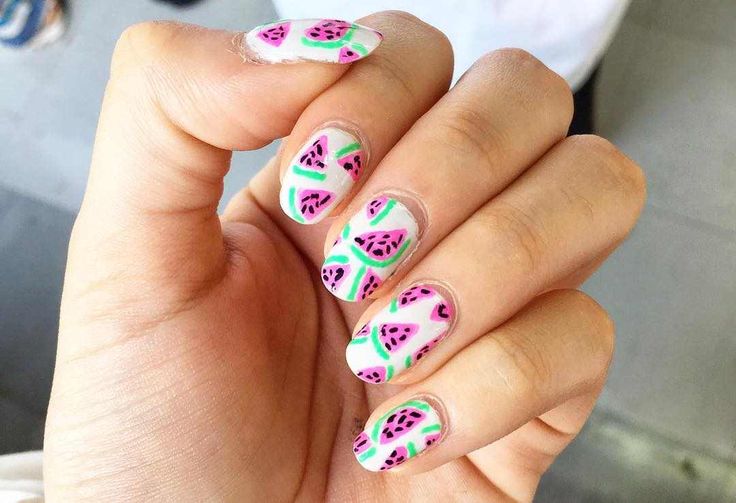 via uniqueideas.site
Watermelons look really adorable, aren't they? Especially when they come in mini versions! These are very easy to recreate and trust us, once you have this nail art, you are going to love having it forever! Just get nail polishes for the watermelons and the base and have fun creating this look.
8. Tropical Sunset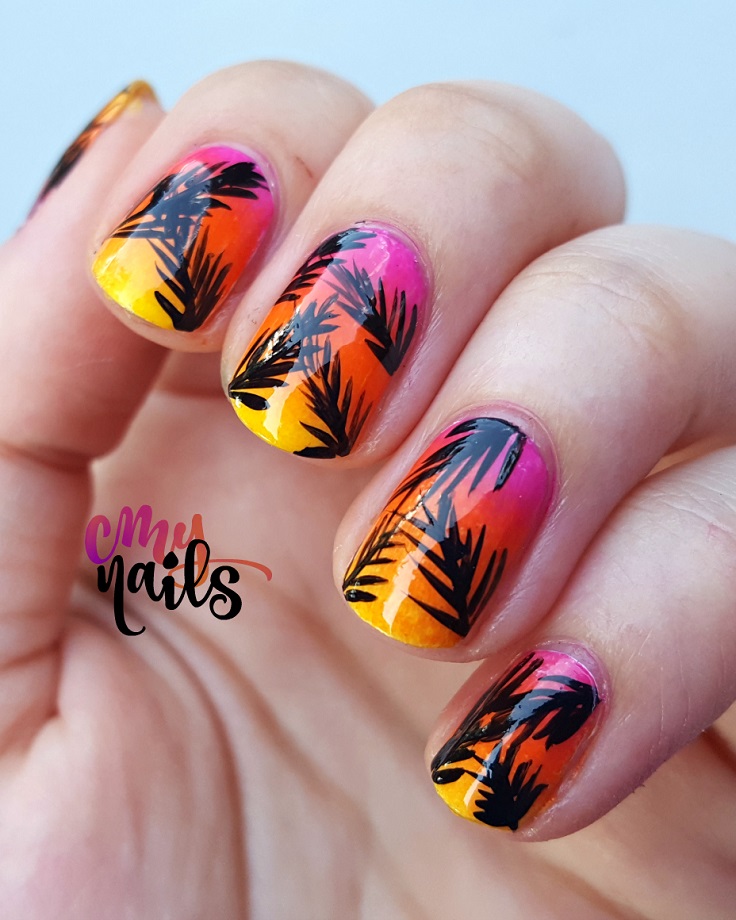 via cmynails.wordpress.com
Here we have another tropical-inspired nail art look and we're loving it. The sunset ombre really brings some warm vibes and it's such a great contrast with the black palm leaves. It's a very nice nail art and it perfectly fits the summer. We can't wait to have this one!
9. Polka Dots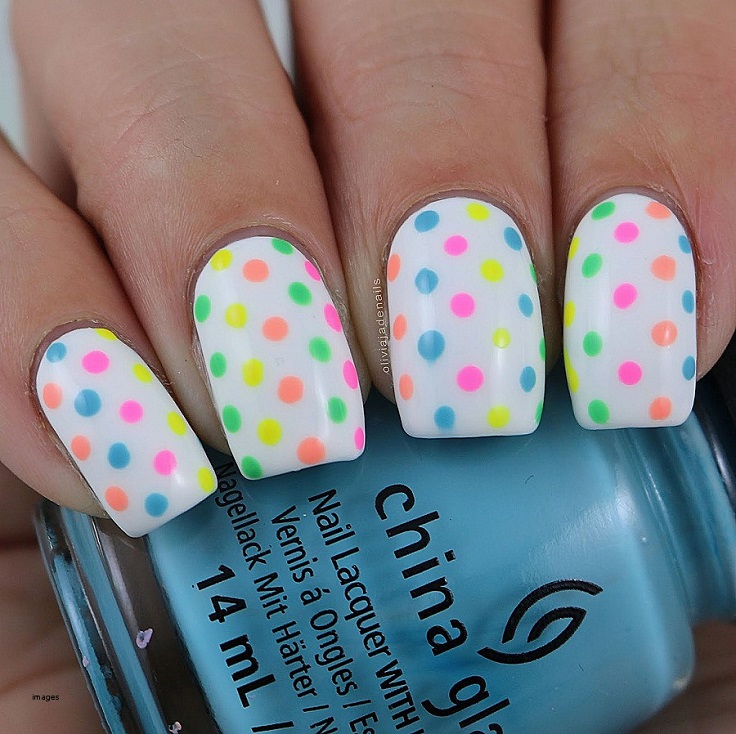 via oliviajadenails.blogspot.com
Polka dots are always a good idea and when done in the right way, they always look adorable! The good part is that everyone can achieve this look at home and you really don't need to be professional. You just need a nail polish with the right size of the brush so that you can paint the dots well. Make it colorful!
10. Pineapple Inspiration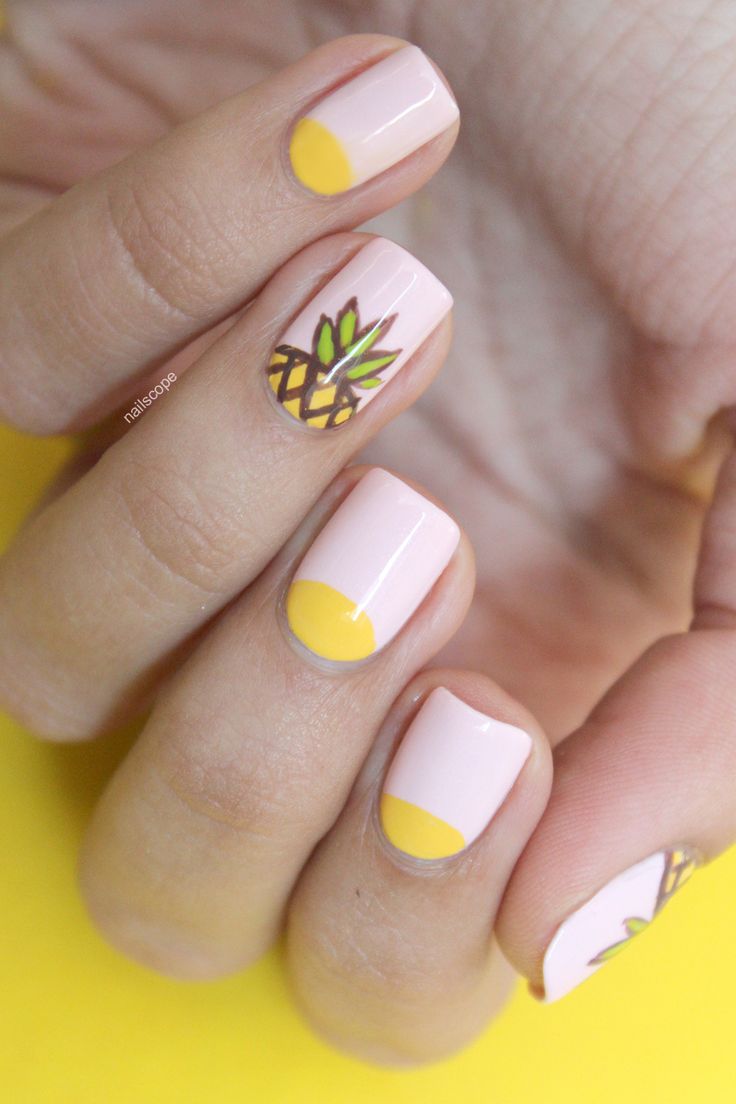 via bossiptwitter.com
Pineapple is probably one of the most gorgeous looking fruits you can find! There's really something fascinating about its shape and texture. Well, if you feel this way too about the pineapple, then take it as your new nail art inspiration! Get some pale yellow and white nail polish for the base, and some brown and green for the pineapple too.