You get up every morning, but still, you don't have that extra time to spare in the mornings? Running late to work, tea time with your ladies, or dinner date with your other half, but still clueless on what to do with your hair?
That is why having chic go-to speedy 5 minutes hairstyles is important! Forget complicated braids, fishtails, and 25-step chignons. These hairstyles are the ones you actually have time for.
Here are just a few ideas to keep you looking trendy and put together when you are on a time crunch. Try these quick, classy styles to get you from your bad bedhead to a beautiful, elegant, and romantic lady. There is a solution to every problem. So it wouldn't hurt to try it; maybe it will look good on you.
These are our suggestions:
1. 5 Minute Curls

via mixfuns.com
Get your curls ready for work with these easy and super quick tutorial. Put your hair in a ponytail, make curls with your heat iron, and release. Simply as that, you can always get that salon lasting quality curls at home.
2. Twisted Up-do
via fashionsy.com
First, tease your hair with your regular brush to make a volume. Once you're done with all that teasing, move all the hair back to the one side. After, by only helping with your hands, you can try to do the 4th step. This simple hairstyle is elegant enough for a meeting at work, lunch with your girls, or dinner with your other half!
3. Easy Chignon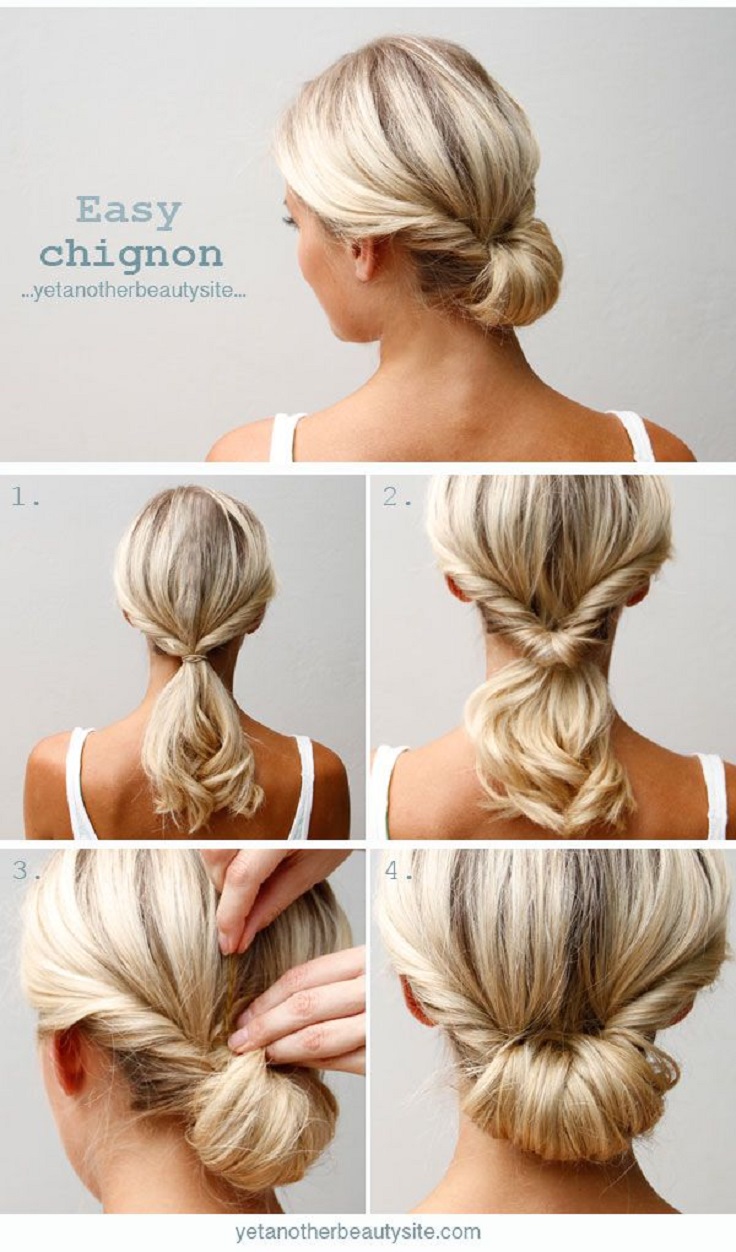 Talking about elegant? This super-easy hairstyle will look just perfect on every outfit that you have picked up, from your simple T-shirt, your work suit, or your elegant dress. Put your hair in a ponytail as in the first picture, make a bun and secure it with bobby pins to get that perfect hair look.
4. Low Bun

via fashionsy.com
Who doesn't love big messy buns and top knots as much as the next door girl? However, this lower sort has a way of exuding class and sophistication in a slightly more subtle fashion. Again, you should tease your hair with a brush, put it in a ponytail, and after that, try to make a bun as in the final picture. We hope that it will work out.
5. Knotted Pony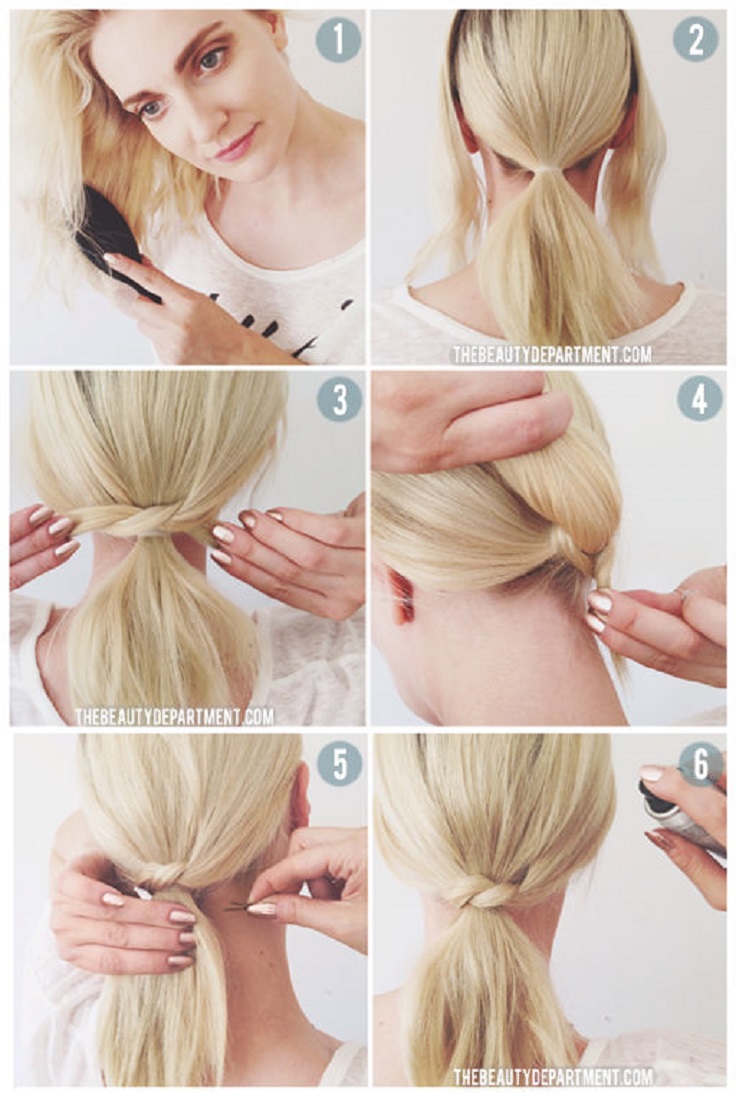 In case you couldn't decide between the low bun or twisted pony, both equally flattering options, we have included a union of the two to make your decision easier. This hairstyle is to die for, and it will only take 5 minutes. Put your entire hair in a ponytail, except for the hair near your face, use that hair to do the final touch on picture 6.
6. Double Ponytail Trick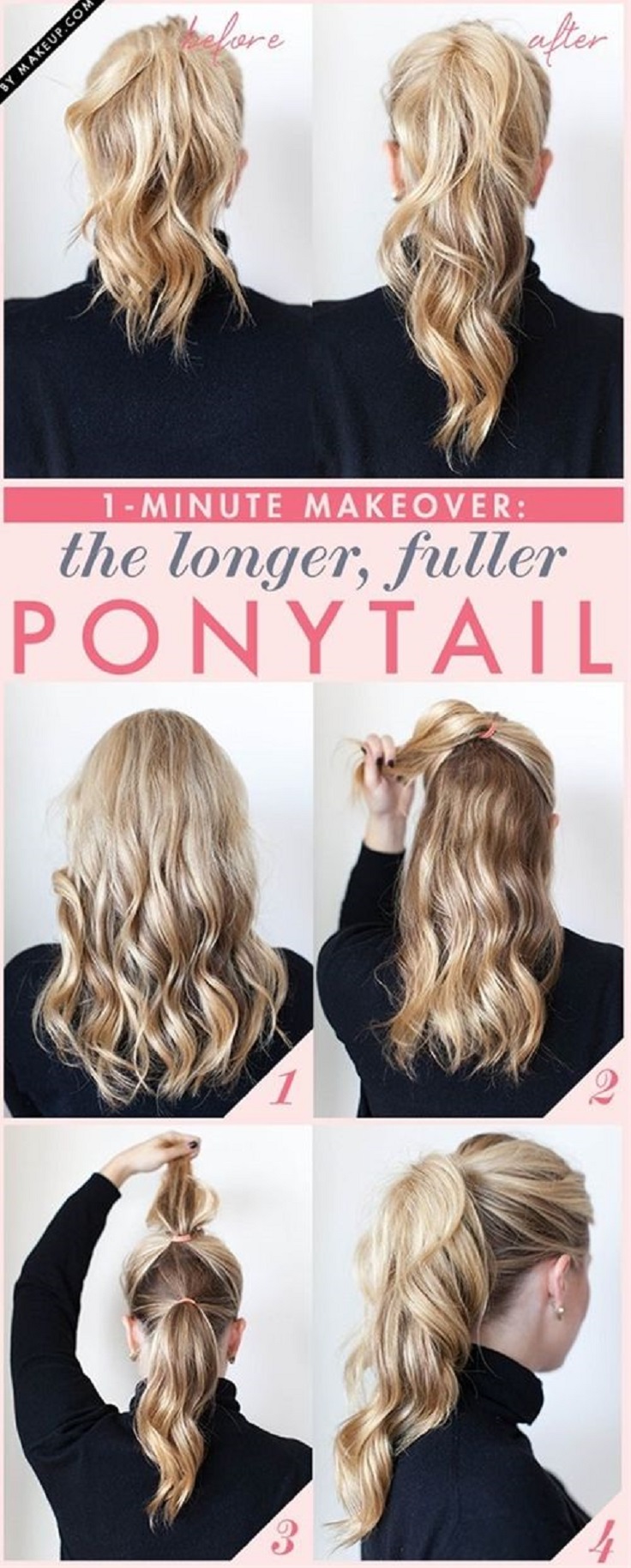 via purelyher.com
Boring and limp or bushy and out of control. Though the ponytail is a go-to solution for a bad hair day and morning short on time, simply wrapping a hair-tie around that mess usually does little to mask the hairy situation you're dealing with. Simply as it looks, first curls your hair, divide it into two ponytails, and you will get this amazing look.
The Looped Twist Pony

via kouturekiss.com
You don't have much time to do your hair perfectly, just every day? But you still want to look good and well put together. This twisted ponytail variation is just the sort of low maintenance styling that is the solution. Get loopy by following these easy instructions.
Twisted Half-up Half-down
via pophaircuts.com
Tease a section of hair at the head's crown and form a mini bouffant by securing it with bobby pins. Then pull the two front sections of the hair around your head, twisting lightly as you go, and secure them both with bobby pins. After, pull another section from under the last one back and around on both sides, twisting them as you did before. This whole half up/half down look casual and messy, to classy and formal. Perfectly paired with a summer wedding, dinner party, or romantic date!
Fast Messy Bun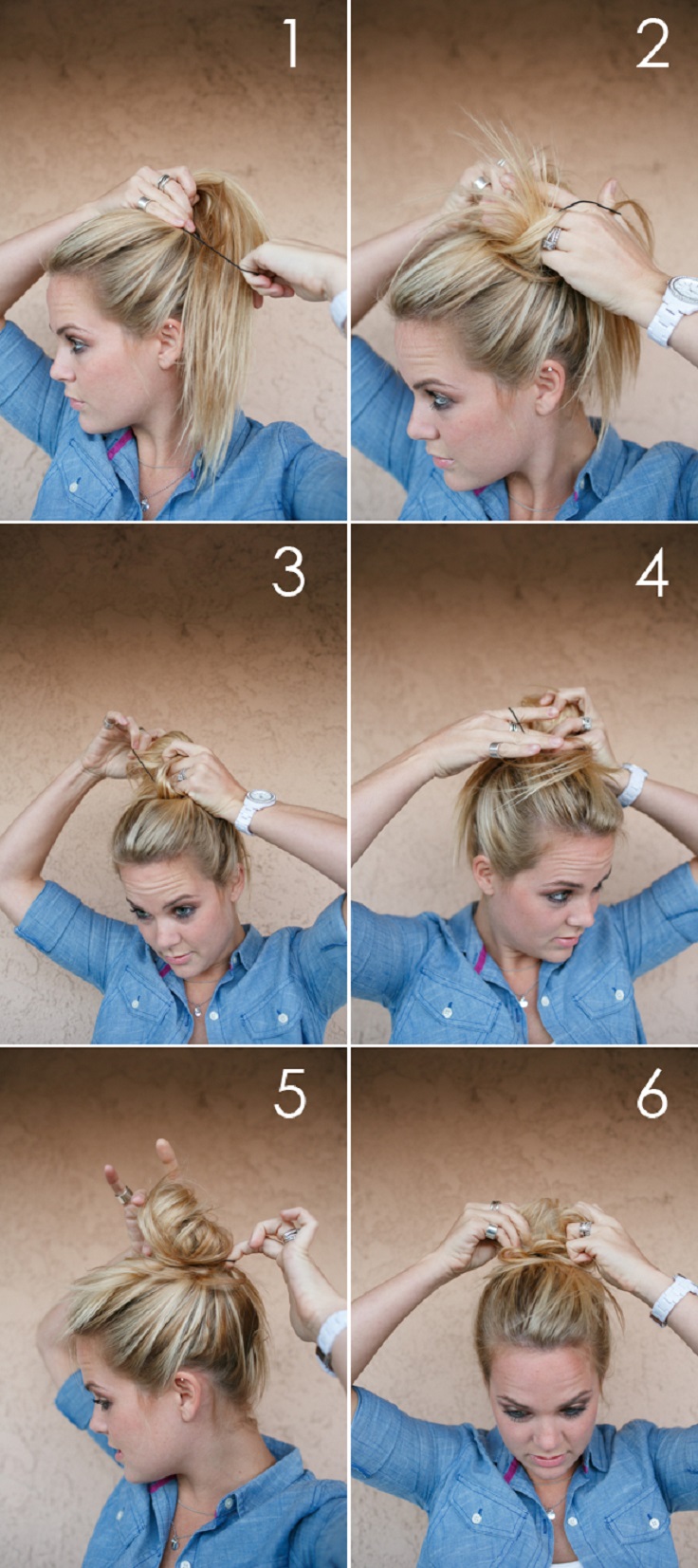 via autumngrey.com
Who doesn't love the fast, messy bun? Follow these instructions, and you will get this look. This particular is a perfect combination of both messy and well put together. Just perfectly balanced for a day at the office followed by dinner and drinks!
5 Minute Up-do

via pophaircuts.com
How adorable is this? Sweet and also romantic, tie this one up, and you'll be ready for an afternoon drinking tea with your ladies. First, you should part your hair to the side, make a low pony using a hair tie. After, you should make a hole with your fingers in the center of your hair, above the hair tie. Flip your braid through the hole. Pull it all the way through; your hair will look twisted on the sides. Roll the bottom of the braid into itself, upward, towards the top hair tie. After you've rolled it all the way up, pin it in place with some bobby pins. Is it perfect?