This tiny fruit native to Europe is one of the most popular berries on the market nowadays. There's no need to explain why is this – the raspberries are delicious because of their unique, sweet taste; healthy because of the vitamins and minerals they contain and they are also a fruit you should consider eating because 100g. contains about 52 calories and 16% of the daily recommended intake of fiber. Also, they look super cute! They are such an incredible ingredient when it comes to preparing desserts for any kind of occasion. There are tons of recipes including raspberries to satisfy your sweet needs: from mousse and parfait, to cakes and macarones. Raspberries especially go great with chocolate and cream. Wondering what you can make and bake? Read the recipes bellow.
1. Chocolate Cups With Raspberry Mousse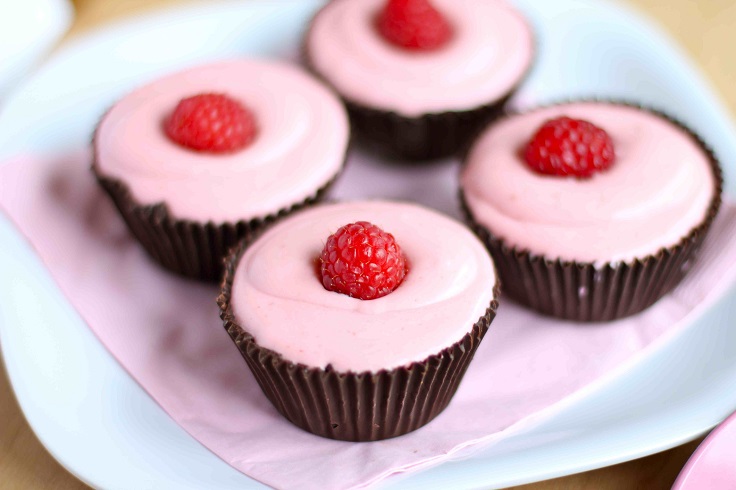 This is what the perfect sweet treat looks and tastes like: nutella muffin in chocolate cups with raspberry mousse on top. In order to make these chocolate cups you only need muffin tin and liners, a pastry brush and of course, melted chocolate (which will later melt your heart with the unforgettable taste!)
2. Raspberry Cupcakes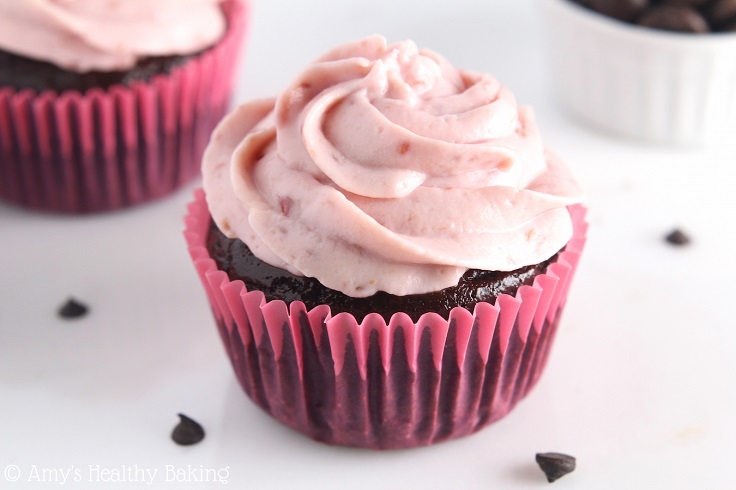 The cupcakes are a must when it comes to desserts. The main ingredient about these ones is the dark chocolate, which gives them their very own smooth and delicious taste. The frosting on the top is a frozen and reduced raspberry purée, mixed with Greek yogurt. Simply told, this is a recipe sent from heaven.
3. Raspberry Confetti Kisses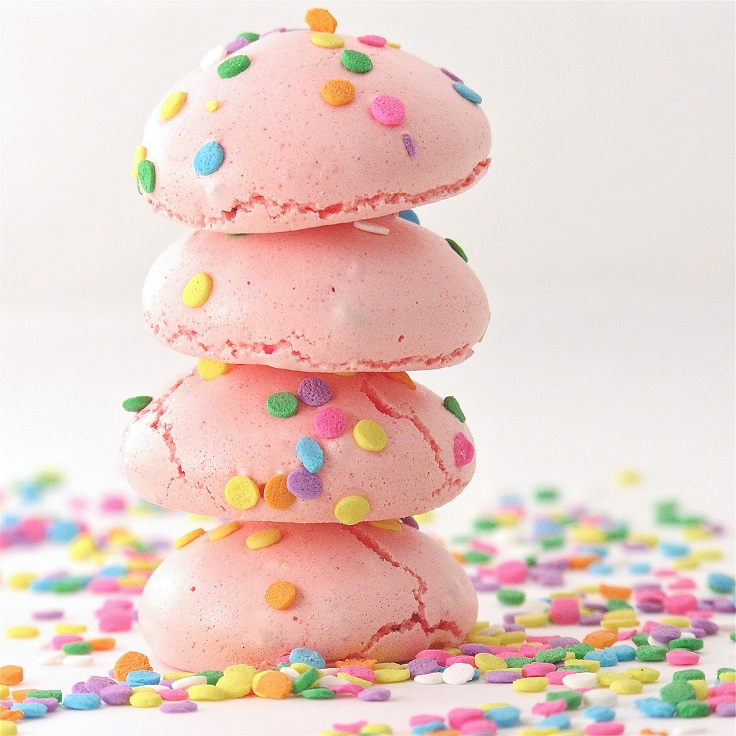 via easybaked.net
Having raspberry confetti cookies is such a good idea when it comes to celebrating birthdays, New Year, or any kind of party. The colorful confetti adds so much to the atmosphere. The cookies are cripsy and chewy, and if you wondered how to add chocolate into these recipe, then you should put chocolate chips. As you probably know, chocolate and raspberries go great. If you didn't know, it won't be like that after you try these cookies.
4. Raspberry Macarons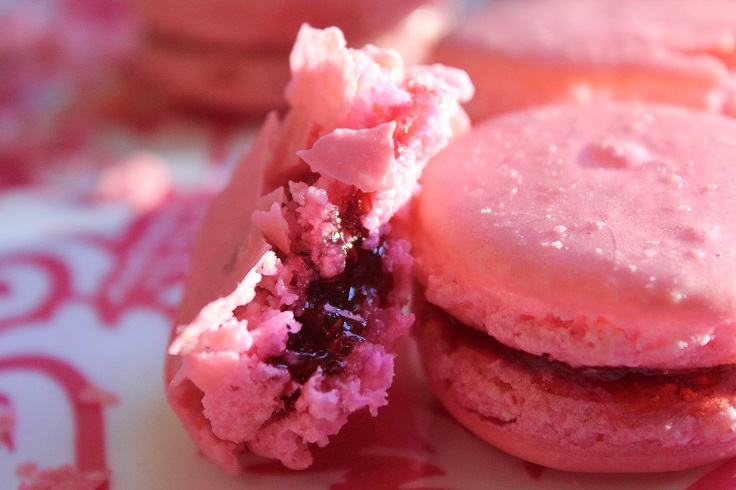 Even though the macarons are not the easiest recipe, you should definitely give them a try because they are really delicious! You can make macarons with lots of different flavors and the raspberry is one of them. Putting two meringue cookies together with a raspberry filling between them is going to make you feel like you are eating an original french dessert.
5. Raspberry Purée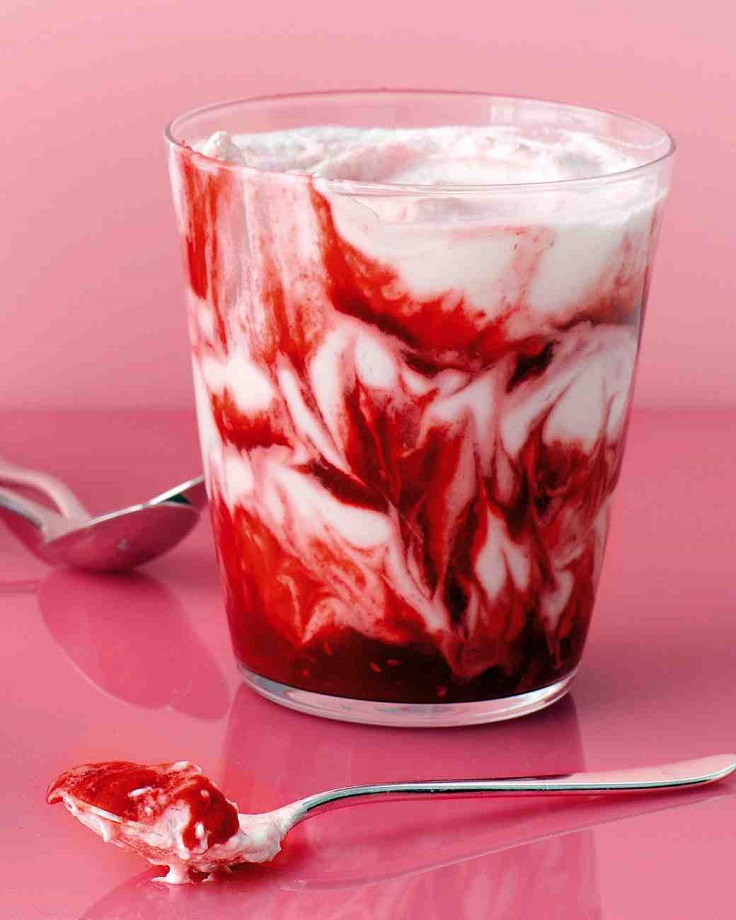 Probably one of the best desserts that you can make in ten minutes. Having the purée swirled through whipped cream makes it look very creative. The dessert is light and it has the perfect amount of sweetness, so it won't take you long to crave for another raspberry purée.
6. Raspberry Tiramisu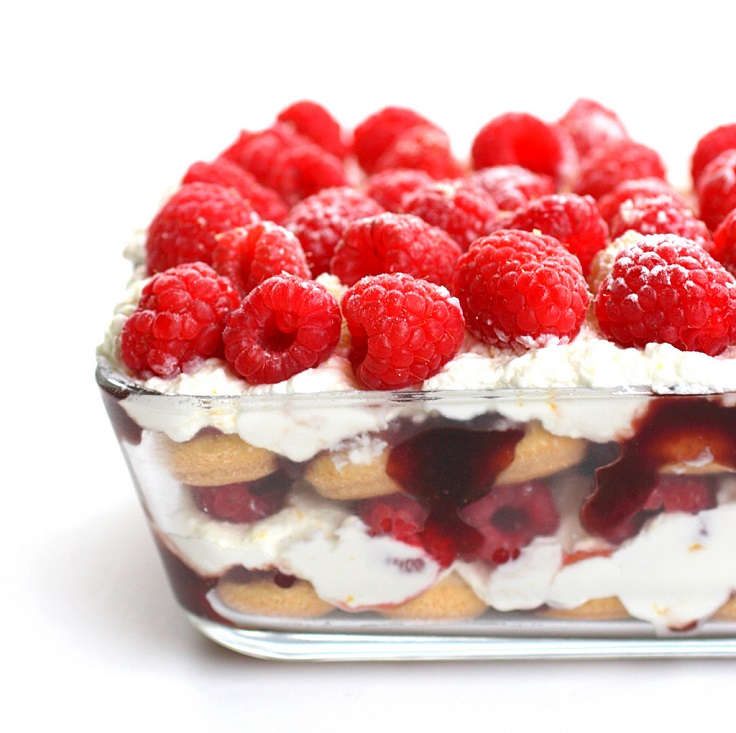 via the-girl-who-ate-everything.com
The raspberry tiramisu is the perfect combination of lady fingers, cream, mascarpone cheese and of course, the star of the dessert – the fresh raspberries on top. The tiramisu is such a classic, delicious treat. Just looking at it will make it hard for you to say "no" to such a heavenly dessert.
7. Raspberry Parfait
via dineanddish.net
A perfect treat for a sunny, summer day. It's light and refreshing, and yet it tastes incredible. Who said that a dessert without chocolate can't taste as great with it? The raspberry parfait is a real proof that fruit can be great dessert ingredient, not just something you eat when you want to loose weight or because of the vitamins they contain.
8. Mini Raspberry Cups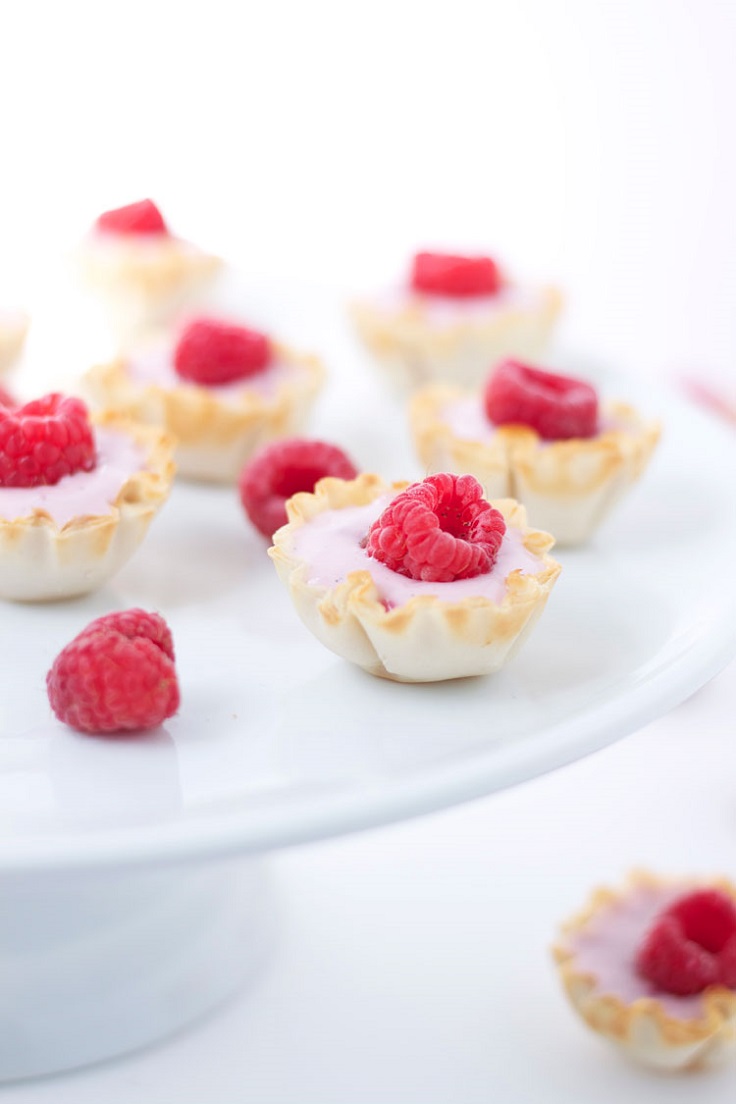 via reciperunner.com
You are hosting a party and are wondering what finger food to offer your guests? These mini raspberry phyllo cups are the real deal because you get a super tasty mini desserts, and yet you only need few ingredients. Mixing raspberry jam with Greek yogurt and vanilla is the combination of your sweet dreams.
9. Raspberry Mousse Pie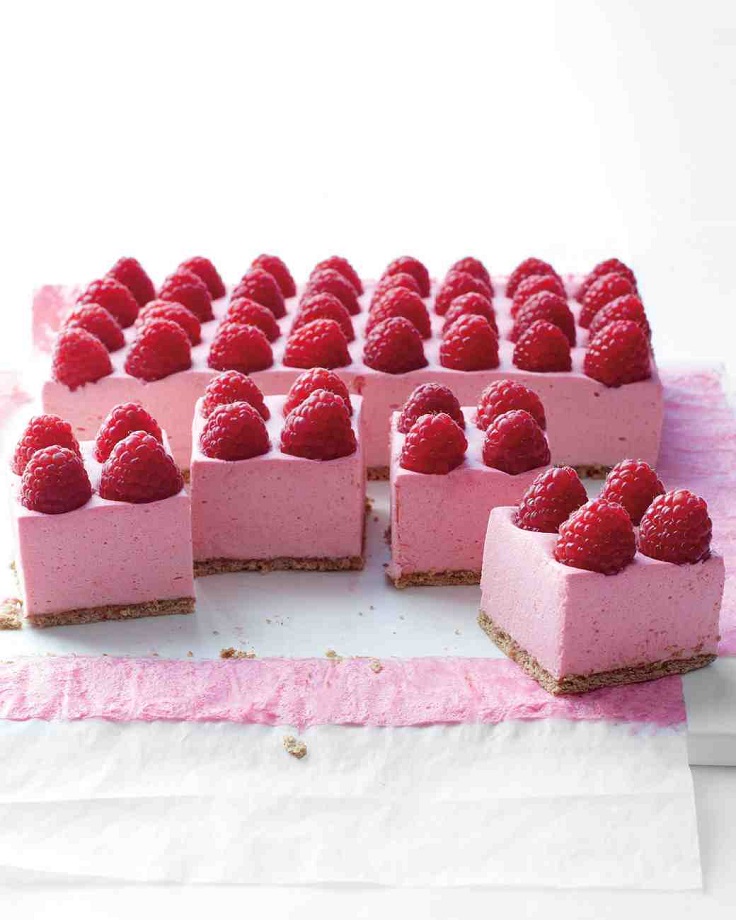 Having this elegant dessert will take you only one hour of preparation and it will serve 12. It's creamy and sooth thanks to the cold, heavy cream it contains. The fresh raspberries on top surely add a juicy taste. These sweet cubes will make you come back for more, and so will your guests, so make sure to have some extra piece in the kitchen.
10. Raspberry Bars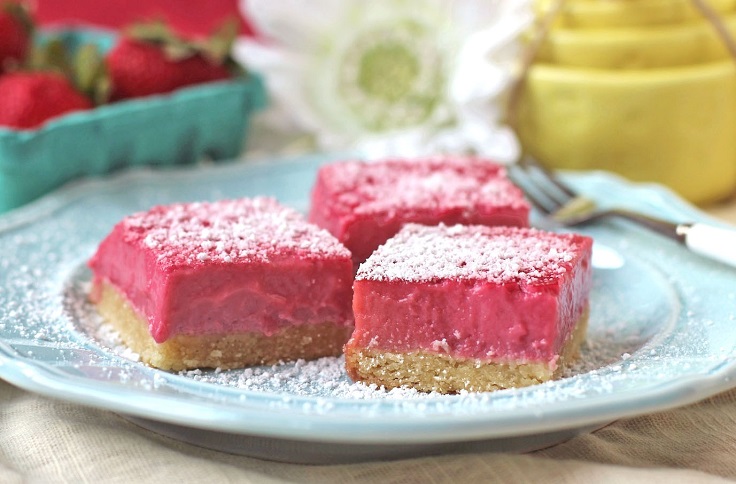 The recipe is butter – free, gluten – free and even sugar – free. But, they are high – protein and even though there are many – free's, you still are going to love them for their soft almond crust and the creamy raspberry lemon filling.