Eating healthy food is important to maintain good health, so make sure to always include the healthiest of ingredients in your meals. Vegan or not, you have plenty of choice when it comes to preparing good food. This doesn't mean giving up on your favorite street food, but rather modifying it to a healthier version.
The taco we know is originally eaten with minced meat, veggies and sauces, but if you're a vegan you can use substitute products and come up with a vegan taco, equally as tasty as the original recipe. Scroll along to see ten tacos that you can make for lunch or dinner!
1.  Quinoa Taco Meat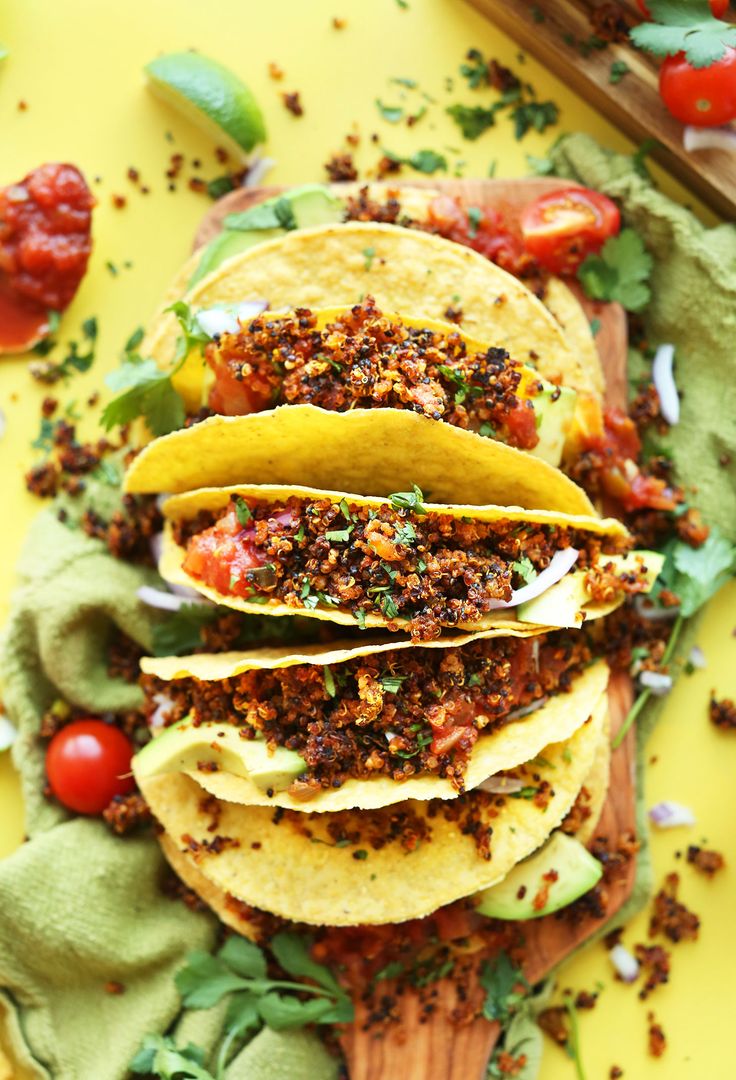 This taco recipe is inspired by the Mexican cuisine, so it's ideal for all the spicy – food lovers. Instead of minced meat, here you will find quinoa cooked together with vegetable broth and water. After preparing the quinoa, it is all about the seasonings – add salsa, chili powder, cumin, black pepper, garlic powder… Whatever spicy seasoning you like! At the end, don't forget to add a tablespoon of olive or avocado oil.
2. Roasted Butternut Squash Taco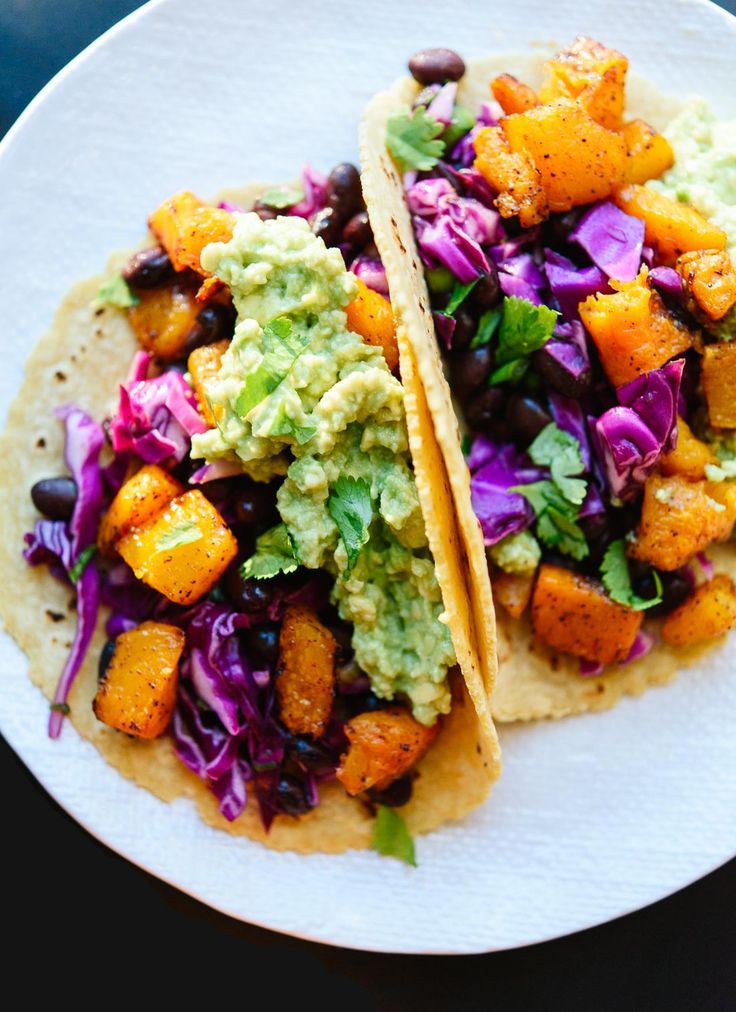 When you combine roasted butternut squash with guacamole, cabbage and black bean slaw, this is what you get – a vegan taco filled with so many tasty ingredients rich with nutrients! It will take you less than hour to have it all done and when preparing the tacos, besides these ingredients, you can also add other, such as chopped cilantro and hot sauce. If you have non – vegan eaters at the table, for them you can add crumbled feta cheese.
3. Spinach Potato Taco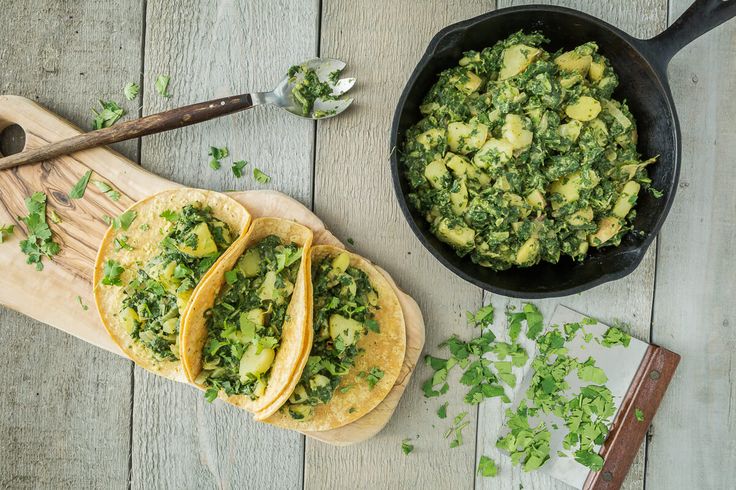 Ready in 50 minutes, these vegan tacos don't include the "typical" vegan ingredients, such as quinoa, chickpeas and kale. They contain a super tasty potato mixture! To prepare the tacos at home, here are the exact ingredients that you need 2 large yukon gold potatoes, 1 (10-ounce) package frozen spinach, 1 large onion, 1 medium poblano pepper, 2 cloves garlic, 2 teaspoons ground cumin, 1 cup unsweetened, unflavored plant milk, 3 tablespoons nutritional yeast, sea salt and freshly ground black pepper, 12 corn tortillas and ½ cup chopped fresh cilantro.
4. Salsa Verde Lentil Tacos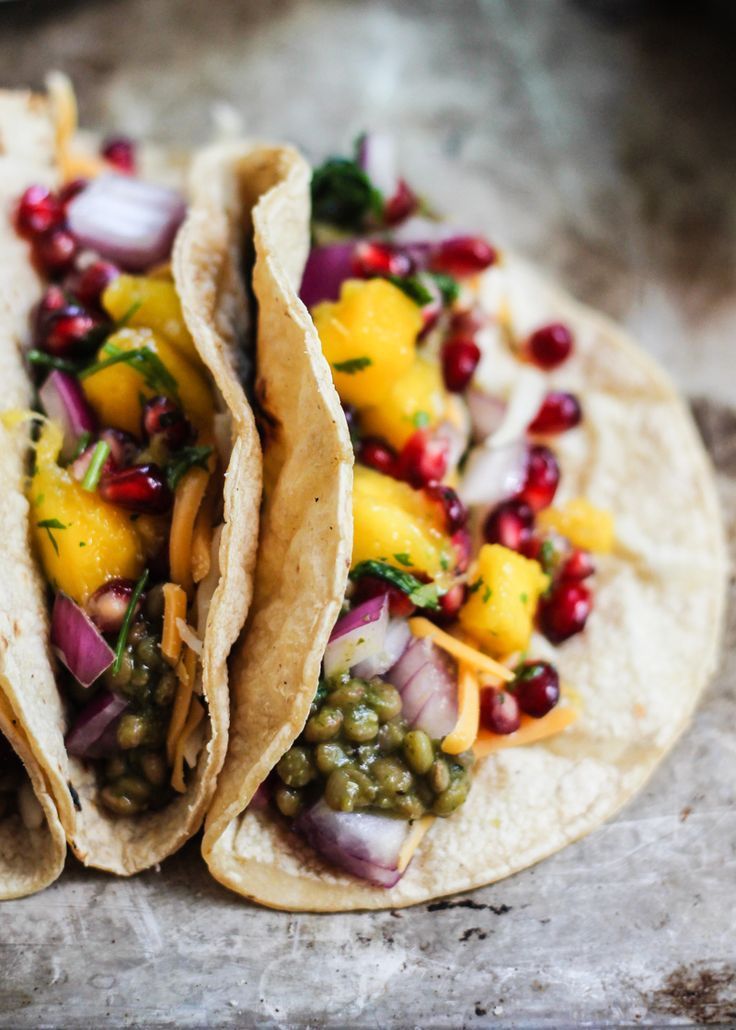 These tacos contain a sauce that none of the rest on the list does – it's a  salsa verde green sauce topped with a mango – pomegranate pico. Also, they contain green lentils and plenty of other ingredients, mostly seasonings that contribute to the taco's taste overall. The salsa – verde tacos are ready in one hour
5. Tacos with Chickpeas and Smoky Mayo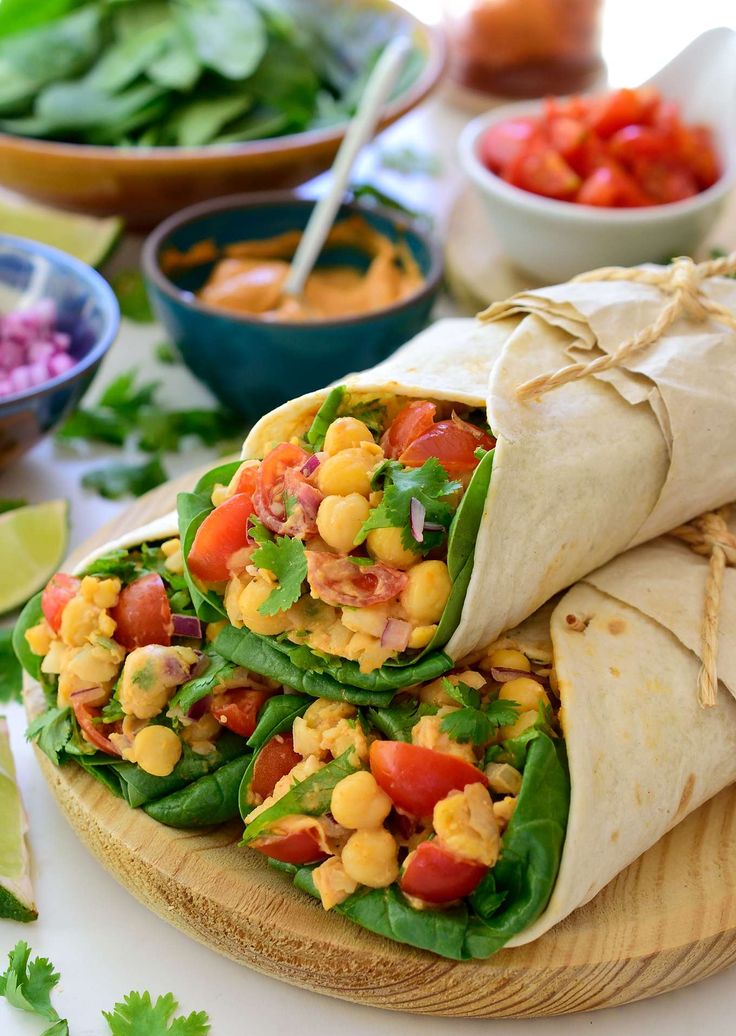 These vegan tacos are filled with so many healthy ingredients! Starting with the main ingredient, the chickpeas which are high in fiber and protein; then spinach which is an excellent source of iron, folate, magnesium, vitamin K – to name few of the benefits. Not only these two will contribute to your health, but they make a delicious combination as well. Add other ingredients, like smoked paprika, garlic, red onion and cherry tomatoes to fill.
6. Tacos with Eggplant, Asparagus and Black Beans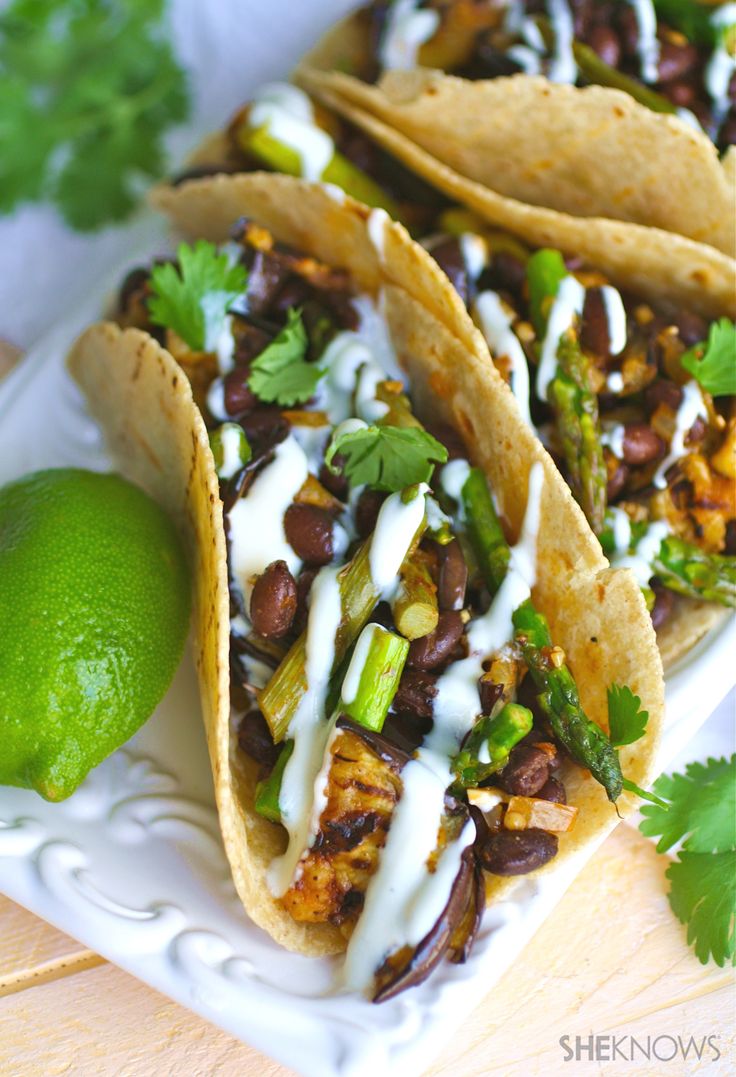 via sheknows.com
Eggplants are an excellent source of fiber, folate, potassium and manganese; the asparagus is rich with dietary fiber, protein and vitamins A, C, E – to name few. That's why this taco not only will fulfill your food cravings, but it will give you plenty of nutrients that you need on daily basis. Besides the eggplants and the asparagus, you can include beans, onions and cilantro, and seasonings for better taste, such as cumin, garlic powder and ground pepper.
7. Roasted Veggie Tacos with Creamy Cilantro Sauce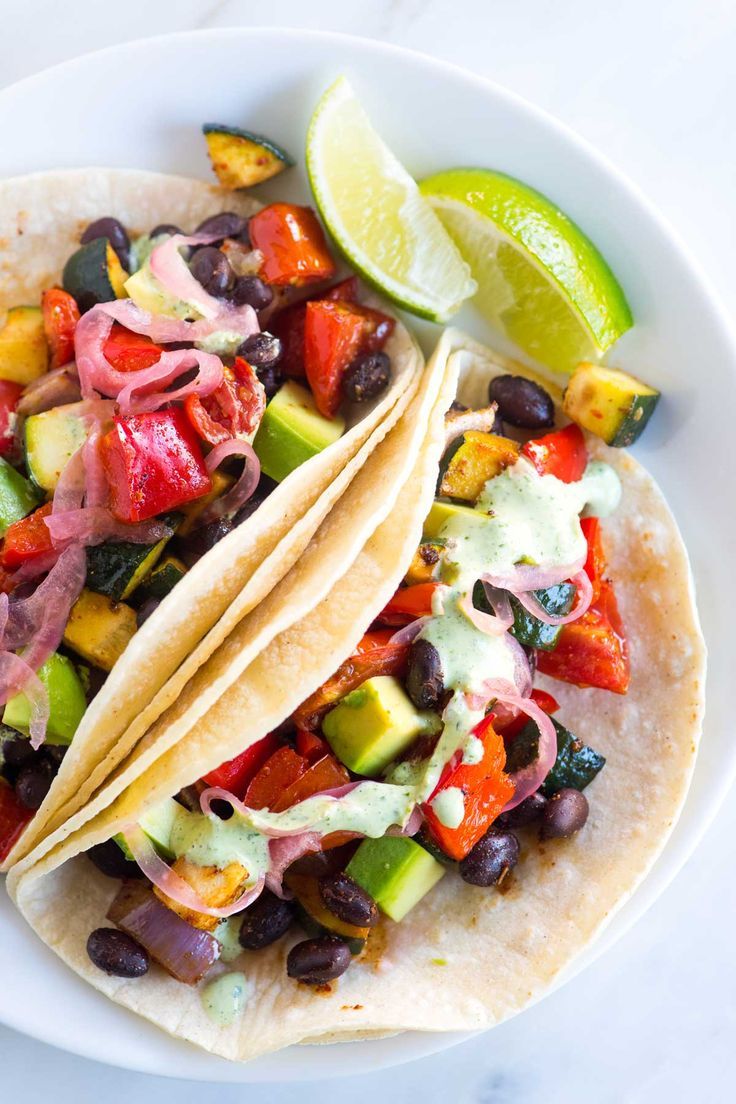 It's all about the veggies – you just need to pick your favorite and cook them. Take this taco recipe for example – it has zucchini, peppers, tomatoes, onions. When you decide which veggies you like, wash and cut them into pieces and roast them! In the meantime, you can prepare black beans and super delicious cilantro sauce. Since the sauce contains sour cream, you can use vegan product instead of dairy.
8. Curry Masala Cauliflower Tacos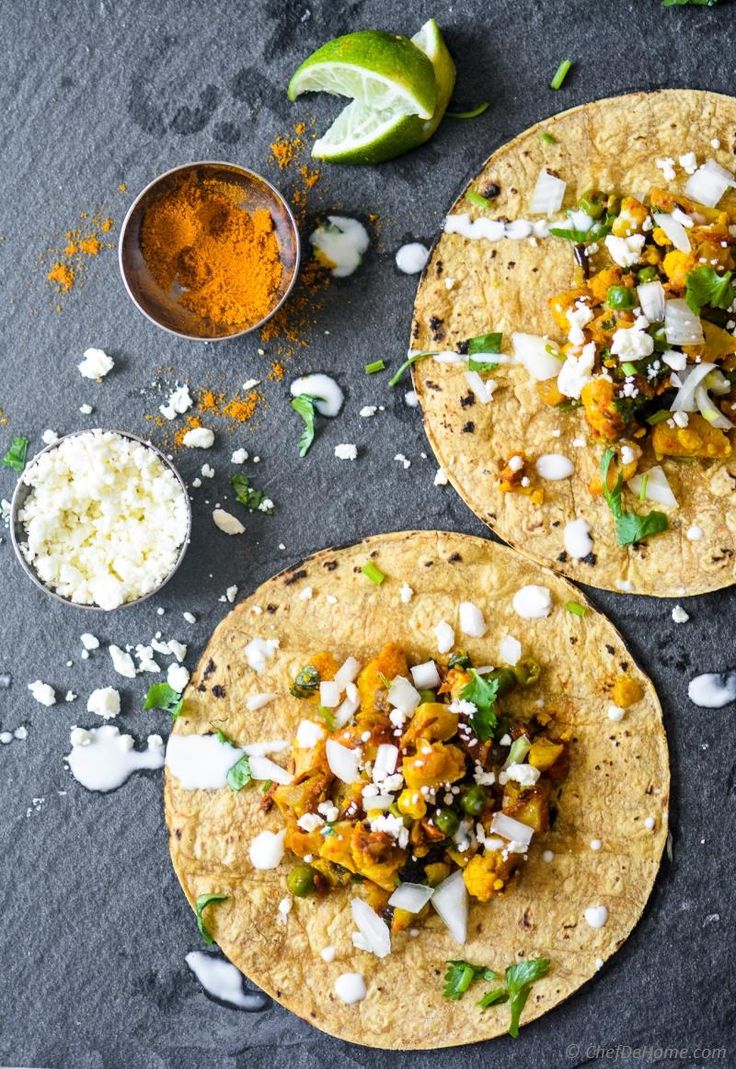 via chefdehome.com
Inspired by the Indian cuisine, here's a taco recipe for you. This recipe contains cauliflowers, which are known for being low in saturated fat and cholesterol, while at the same time they are an excellent source of protein, magnesium and dietary fiber, to name few of the nutrients. That's why, don't hesitate to include the cauliflower in your meals! Use this recipe in your advantage and you're going to love it!
9. Tempeh Tacos with Ancho-Lime Sauce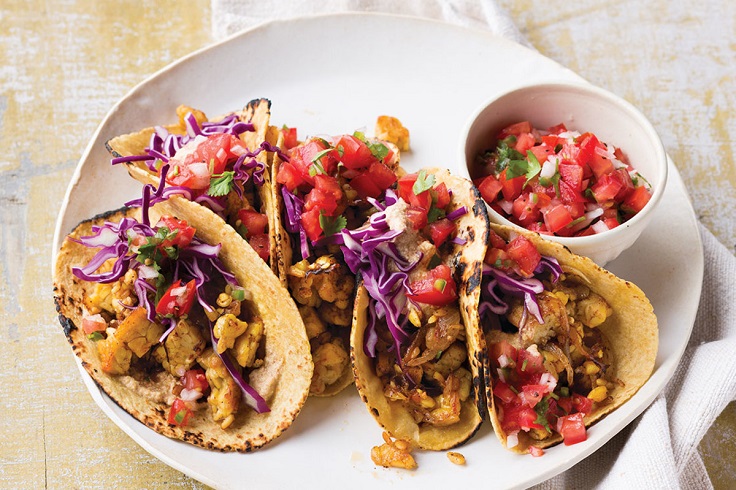 What you're going to love about these tempeh tacos is that they are low in calories – one taco contains 214 calories, making it ideal for anyone who wants to eat healthy and maintain weight. To prepare these tacos, you need 2 Tbs. coconut oil, 1 medium yellow onion, sliced thin, 1 8 oz. pkg. tempeh, cubed, 1 tsp. chili powder and 1/2 tsp. ground cumin. You can use shredded red cabbage and salsa for garnish. Don't forget to prepare the ancho – lime sauce!
10. Teriyaki Tofu Tacos with Roasted Pineapple Salsa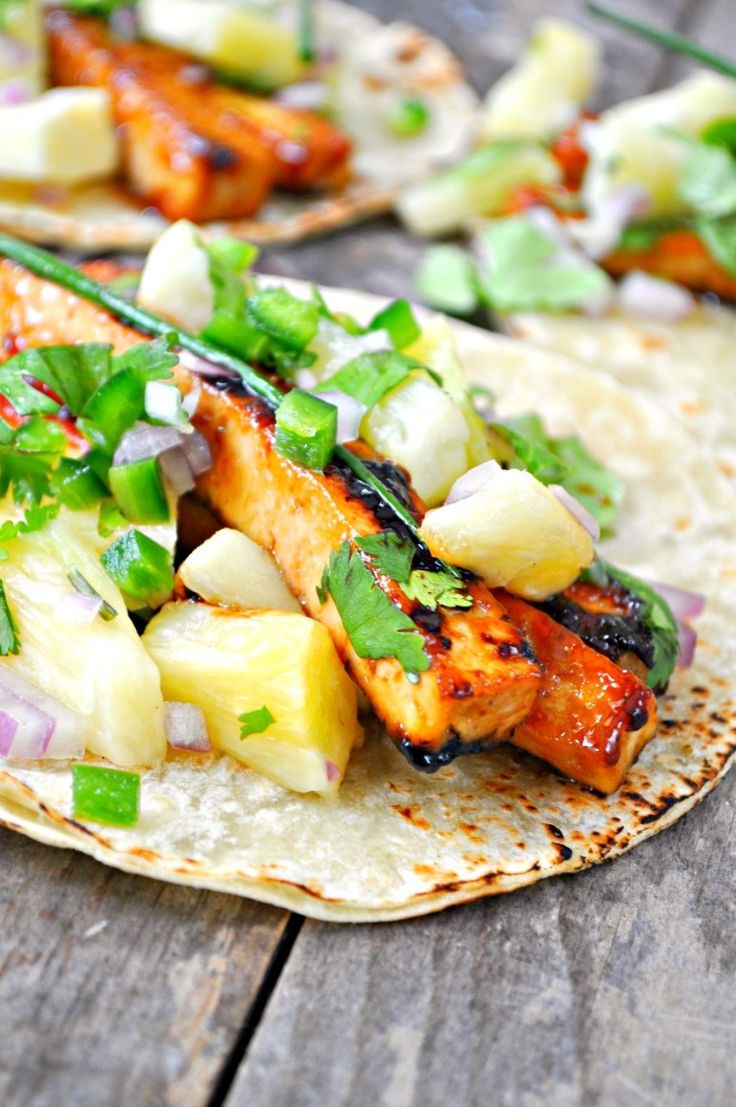 For all the lovers of teriyaki sauce, this taco is for you! Imagine tofu topped with teriyaki sauce and roasted pineapple salsa – it's amazing! To prepare the pineapple salsa, you need 1 1/2 C. pineapple, 1/4 C. chopped red onion, 1/4 C. chopped cilantro and 1/2 a diced jalapeno. This is a great lunch or dinner idea that every vegan in the room will absolutely love!
SaveSave