Shots are a great way to get everyone drinking together. They can be great for playing drinking games, celebrating occasions such as birthdays, stag dos, hen nights, or as a way of getting warmed up at the bar. Keep in mind when doing shots that, since the effects don't kick in right away, you'll want to be careful not to do too many before realizing the effect they have on you. Pace yourself so that you're able to enjoy the night and, more importantly, remember it the next day. Gather with your friends and choose from our top ten round-up.
1. El Vocho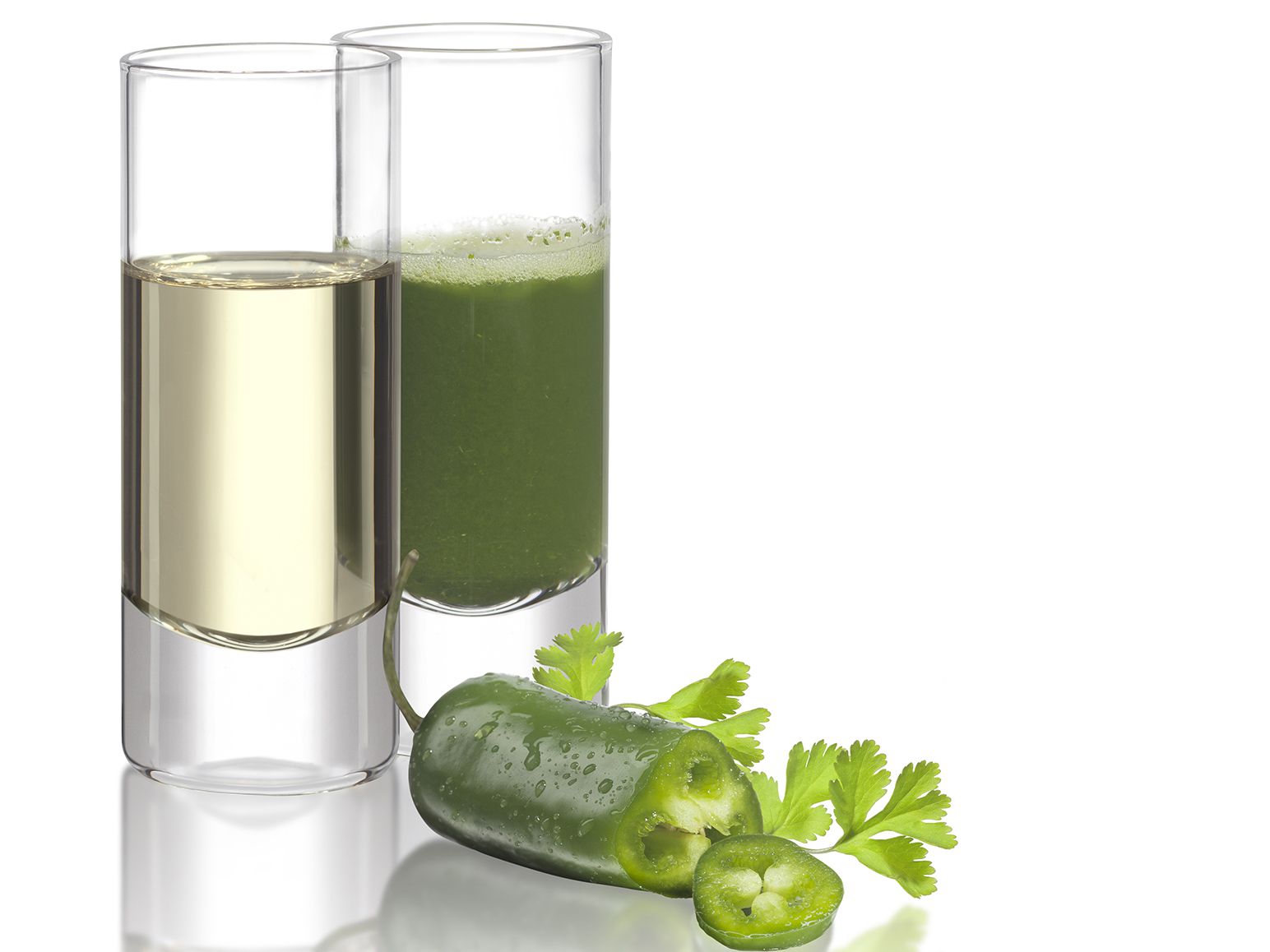 Recipe via thespruceeats.com
We must kick off with something on the hot and fun side to get the taste buds going haywire! This shooter will almost make you feel like you've digested one of your 5 a day. It's full of great ingredients with a touch of tequila. A great twist on the popular Sangrita shot, this will leave you and your guests kick start the party just fine. Looks absolutely terrific too.
2. Kamikaze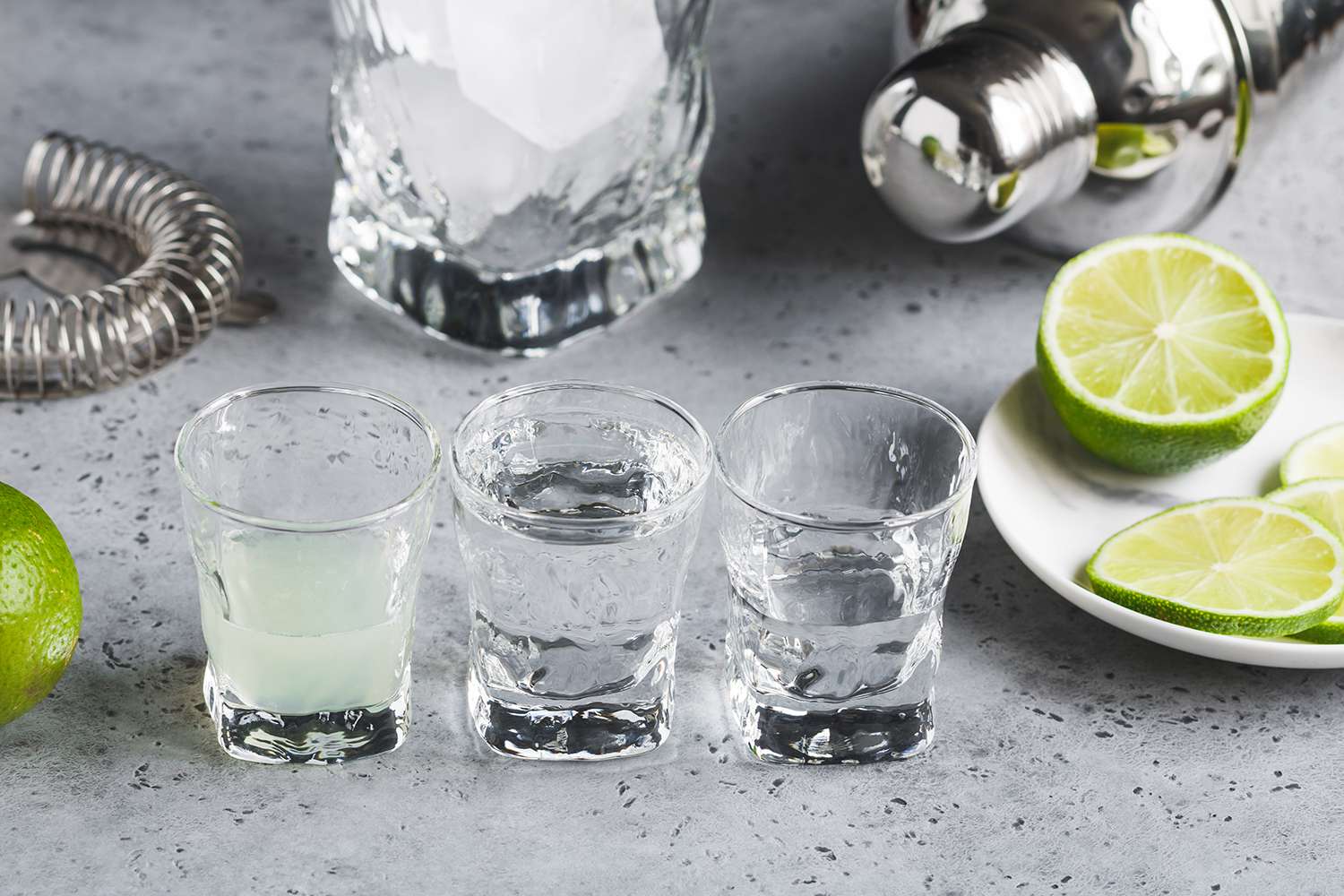 Recipe via thespruceeats.com
One of the most popular shots to order at the bar with your group of friends. Bittersweet with a touch of tartness, this was a shot created right after WWII in Japan on a US naval base believe it or not. Beware as this can quickly get you merry so pace yourself with this one, candy tasting little treat. Served with a good wedge of lemon as a garnish and can also be sweetened to taste.
3. Flaming Dr. Pepper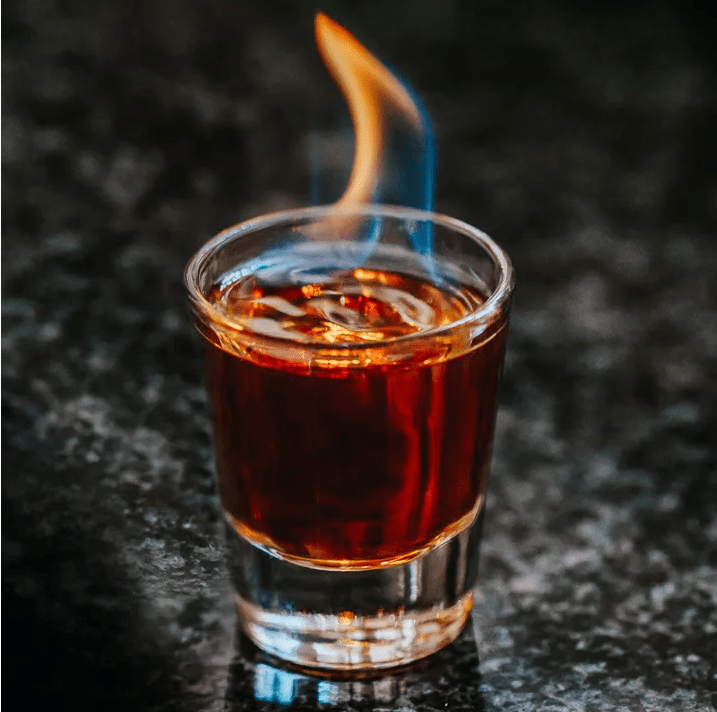 Recipe via liquor.com
Now, who does not enjoy a little fire show? It is almost impossible to spend a night without a little fire on top of your shooter and no less perfect is this recipe ready to fire up the evening.
A shot first invented in the '80s in Texas for possibly beer lovers, this recipe will definitely put on a show for your friends. Beware, the glass is hot so wait a minute before sampling!
4. Dark'n'Stormy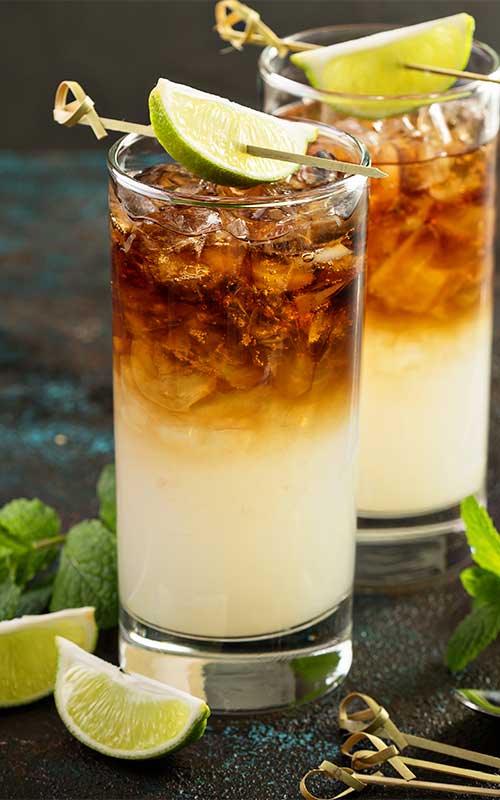 Recipe via masterclass.com
Missing a little ginger in your life and wish to spice things up? This Rum and ginger beer base shooter will therefore be right down your street. A fabulous drink with a fabulous story attached to it regarding Bermuda's British History, a literal fusion of merchants and naval traditions. A simple recipe born from the mists of history to become a legendary tale that any sailor would be proud to tell.
5. B52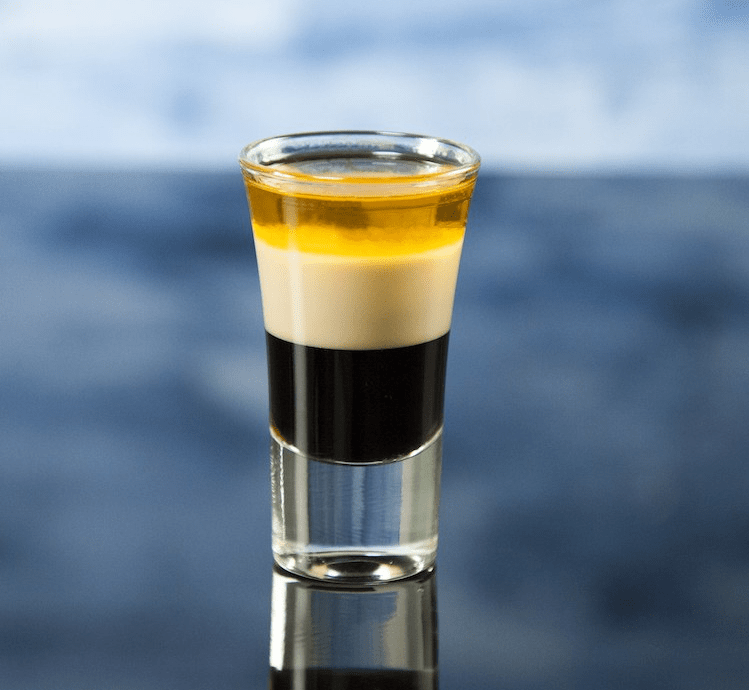 Recipe via liquor.com
This really had to be in our top 10. It's perfect to ensure your layering skills live on to tell the tale of many more B52s! Created in the late 1960s and was named after the famous fighter plane predominantly used during the Vietnam war. As with many cocktails, many stories revolve around the drink but in the end, be the better judge of which suits you best. Great combination of Kahlua, Baileys, and Grand Marnier.
6. Candy Corn Jello Shot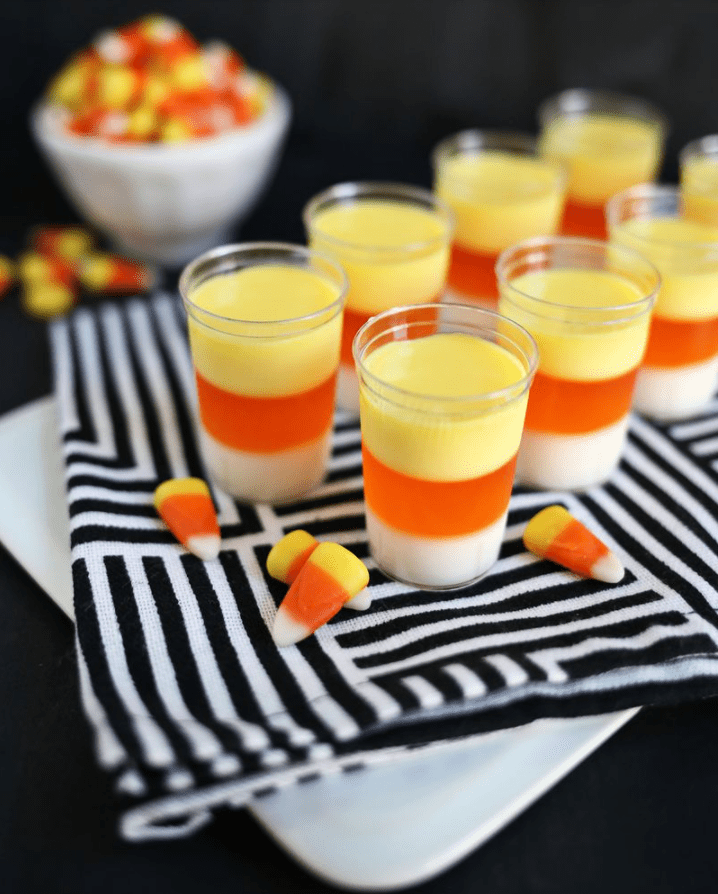 Recipe via abeautifulmess.com
The inner child in you will without a doubt bring you back to childhood memories. If you have a sweet tooth and wish to have an after-dinner shooter to lighten up, candy's the way. This recipe will allow you to infuse the candy corn in vodka for 24 hours but if you can, the longer the better. One can aim for a week or two to really get those flavors going. If you haven't got access to these, most other semi-hard-to-hard sweets will work. It's about bringing your inner child out, so have fun.
7. Pina Colada Shots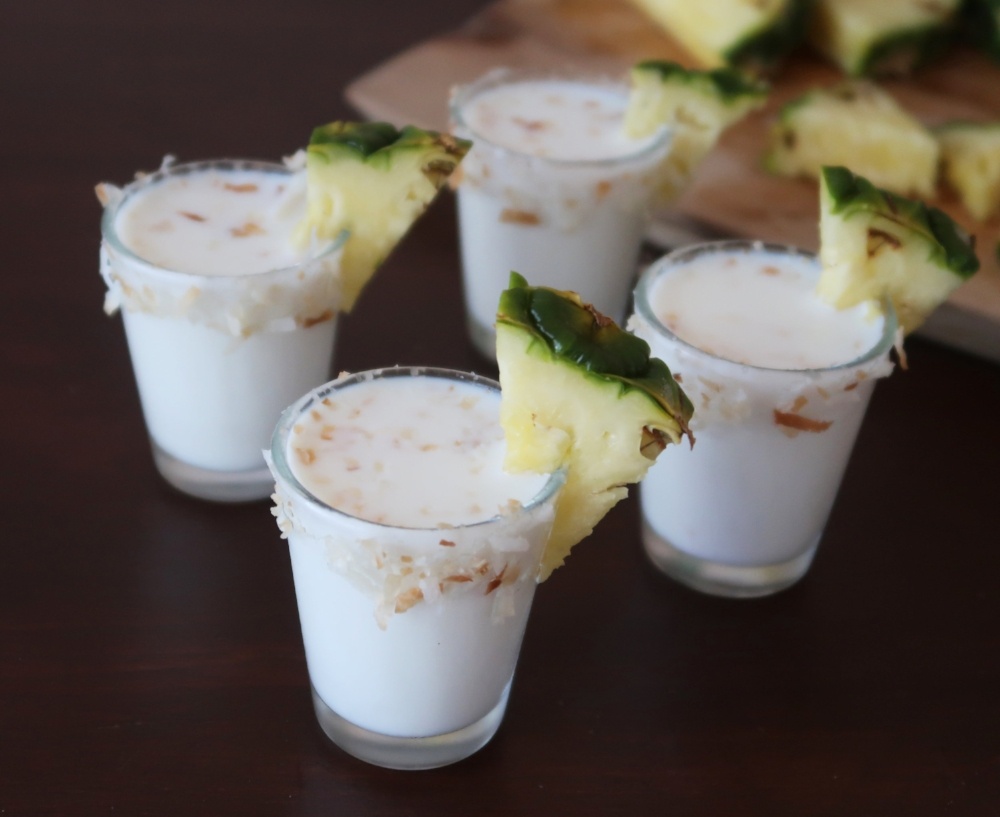 Recipe via weekendcraft.com
If you haven't got the luxury of living somewhere exotic, then this is a must-do during a dinner party between friends. It'll bring a little San Juan, Puerto Rican sunshine to the cold winter months. Easy to do and delicious, these rum, coconut cream, and pineapple shooters will definitely sum up the day. Created in 1954 by Ramon "Monchito" Marreroat the Caribe Hilton.
8. Silver Bullet
Recipe via best-cocktails-recipes.com
This next one is for people whose predicament revolves around one question. Should I gin or should I whisky? Well, we've got your back. This is a shooter containing both! You can have fun with this as you can alter so many different gins and whiskeys. From London dry gin to a peated scotch. Boundaries are endless with this one. Garnish with a twist of lemon zest to spruce things up.
9. Melon Ball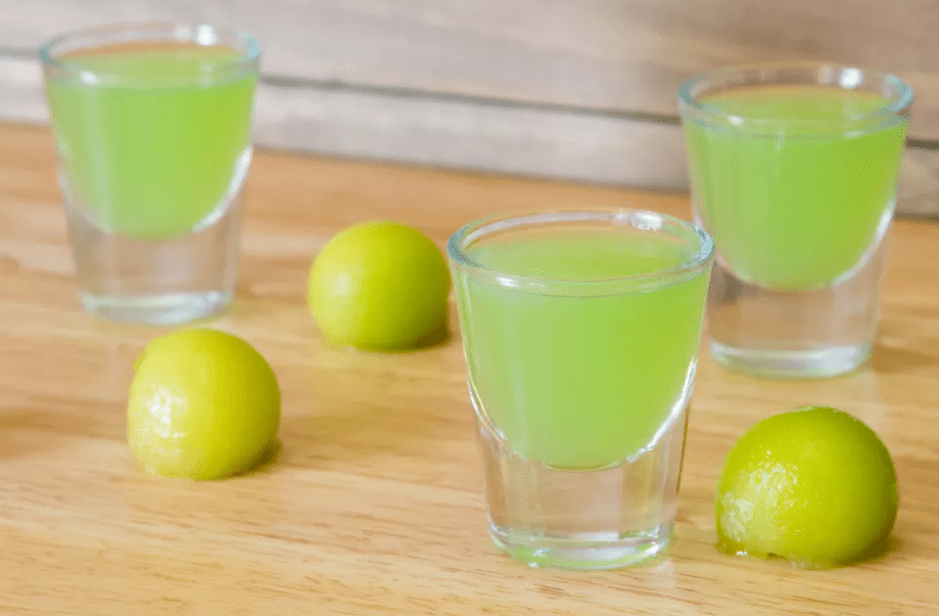 Recipe via thespruceeats.com
Here's something a little girly but let's face it, one cannot not enjoy this. Great for birthday parties, super fruity with sweet notes of melon from the liquor. The vodka adds a little oomph to the overall experience. This can also be made as a long drink or even as a martini for those longing for more.
10. ABC Shots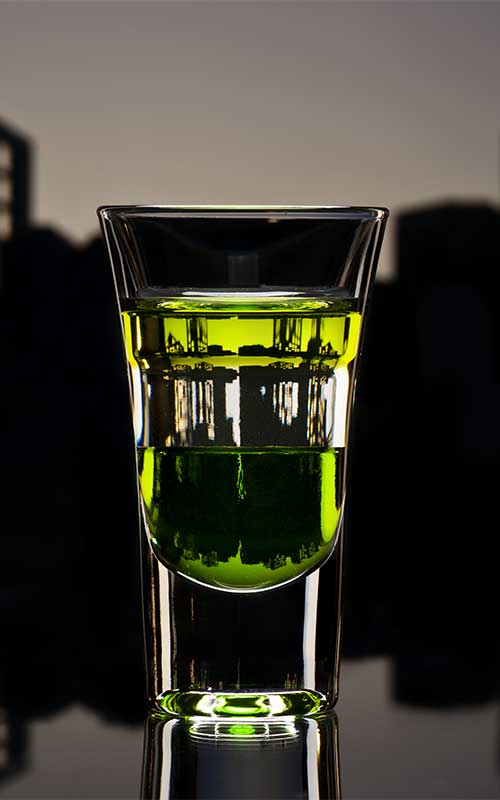 Recipe via craftybartending.com
The one to have towards perhaps, the end of a party and to thereafter recite the ABC without a single mistake. If you can. Absinth, Bacardi overproof rum, and Chartreuse. This is not a shot for the faint-hearted but one that will definitely test your courage. A definite must for those seeking something a little stronger. Another twist on the ABC shooter – Amaretto, Baileys, and Cognac for something perhaps a little more quaint.