The Himalayan range spans five countries India, Nepal, Bhutan, China (Tibet) and Pakistan. From these countries Nepal offers the safest and most affordable trekking routes. There are plenty of different treks to select from depending on ones needs and preferences. Most of them are going through villages with plenty of guesthouses to choose from therefore you do not have to carry food and camping gear with you.
The Annapurna Circuit is the second most popular trekking route in Nepal. It passes through various terrains starting from jungle to high alpine, ending in dry deserted region. It gives a chance to have a closer look into Tibetan buddhist culture and with an extension you can enter into the restricted Upper Mustang region, which goes all the way to Tibet. The highest elevation and also the toughest part of the trek is climbing to Thorung La Pass 17 769 feet (5416m). If you consider doing trekking don't think too much, this will be one of the greatest adventures of your life. Read on and we will tell you why!
To read more about other Himalayan trekking routes click here.
Full itinerary about: Trekking the ANNAPURNA CIRCUIT
1. The hidden waterfall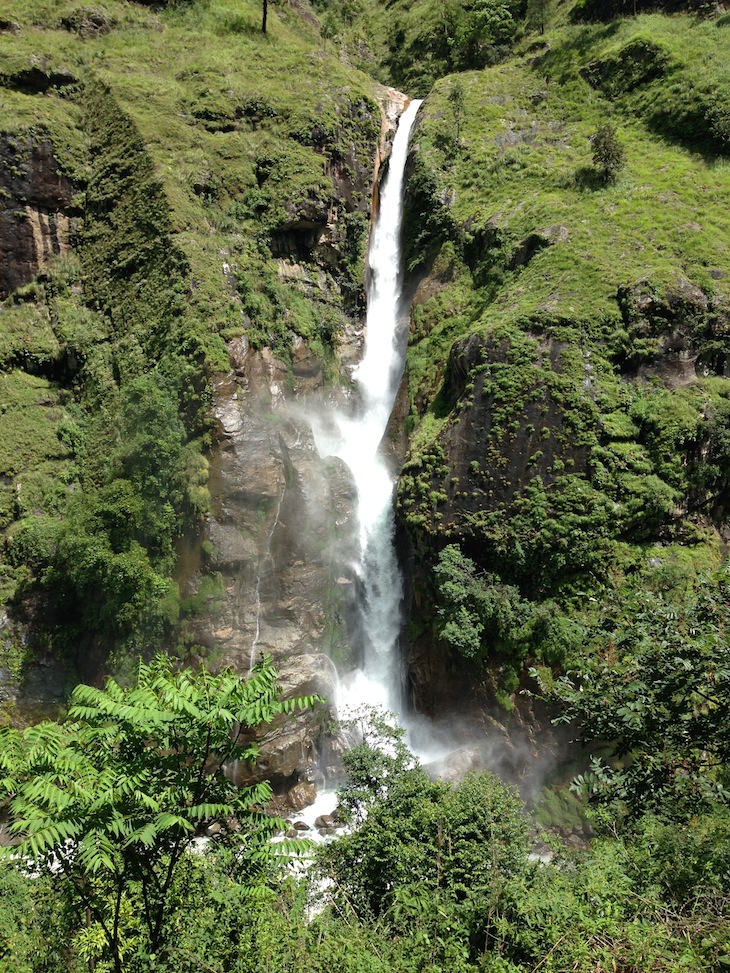 Photograph taken by Dragan Tapshanov
On the way from Besisahar to Syange there is a beautiful smaller waterfall. It is few meters off the main trek after getting to Siurung village on the left hand side. On a sunny day it is a truly magical place with hundreds of dragonflies, some local kids jumping into the small pools formed by the river and also a great place to refresh yourself in the chilly water.
2. The best Dal Bhat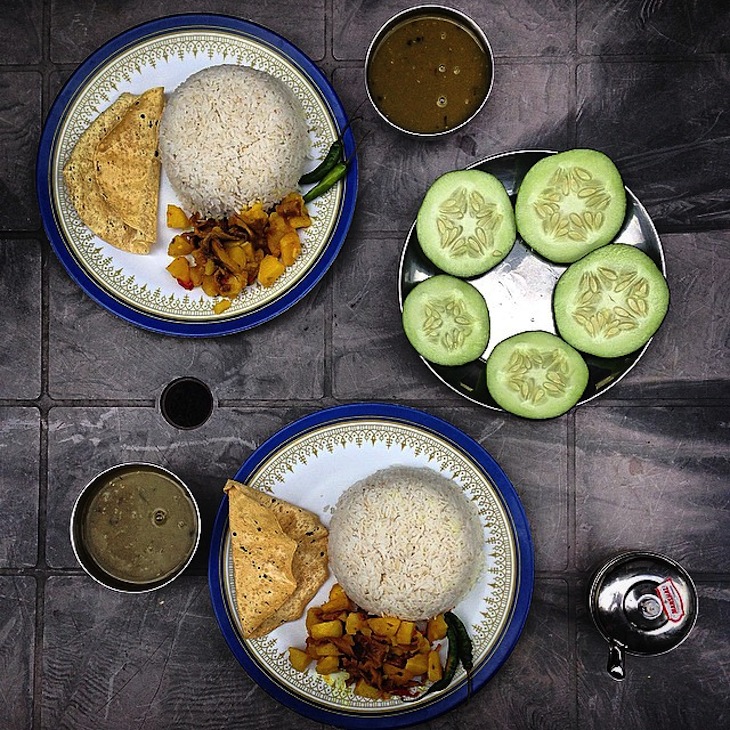 Photograph taken by Dragan Tapshanov
The national dish in Nepal is Dal Bhat. Typically includes a portion of rice, a portion of lentil soup (that you can poor over the rice if you like), some curry and ajar (spicy, hot pickles). This is a great and nutritious meal after the long walk and climb. Prepared by locals in their own kitchen with vegetables grown on their garden it tastes delicious. When you get to Taal do not miss the chance to stop by "Riverside" family run restaurant. They make the best Dal Bhat with freshly picked mushrooms. Read more on Nepali food and recipes here.
 3. The apples of the mountains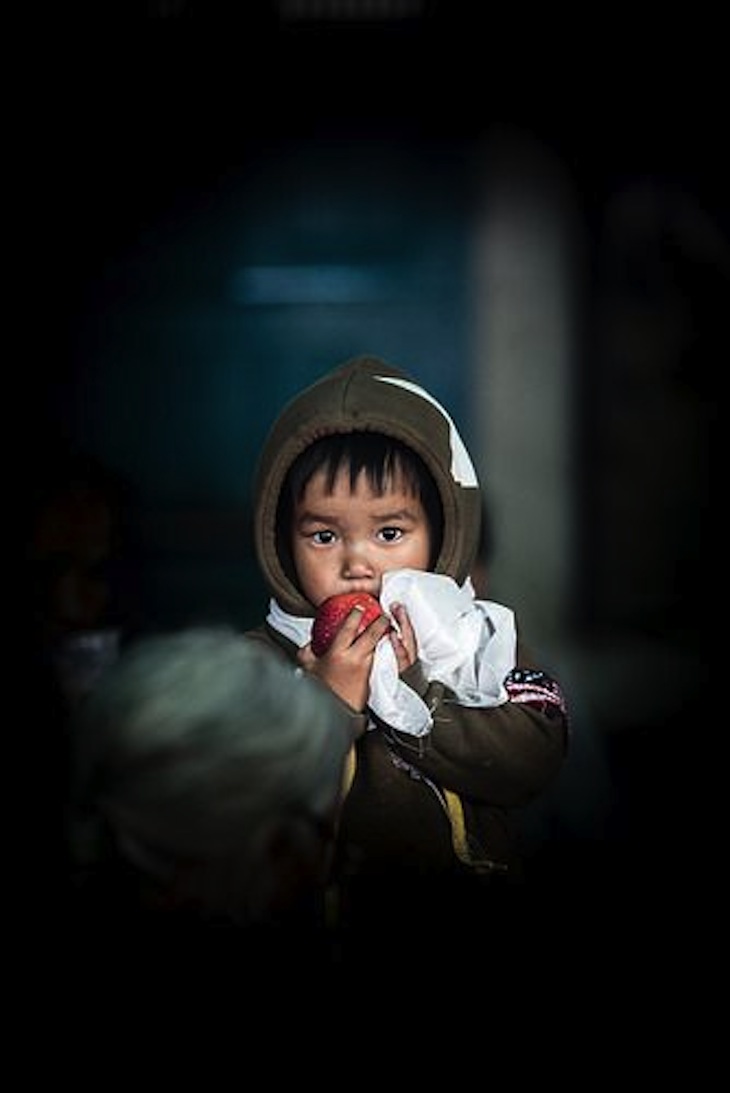 Photograph taken by Tomasso Meli
As you are walking towards Pisang village you will pass by many apple farms. The locals are selling the most delicious juicy and crispy organic apples you have ever tasted. Try apple brand or apple pie anywhere on the way, you will not regret it.
4. Buddhist temple in Upper Pisang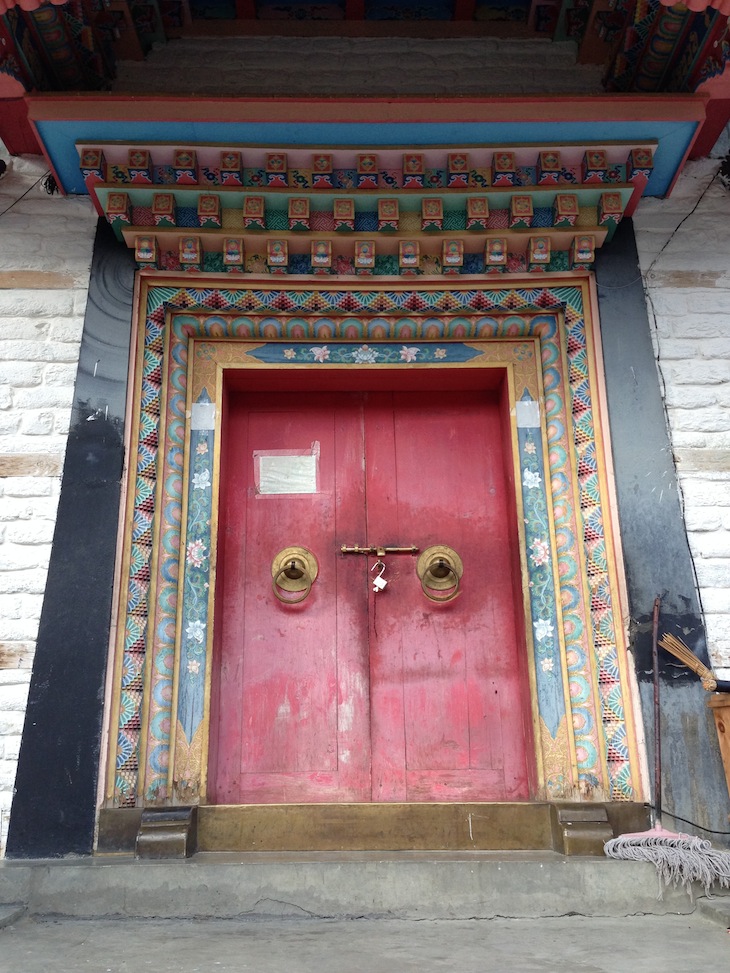 Photograph taken by Dragan Tapshanov
When you get to the village of Pisang do not miss the chance to visit Upper Pisang. It is only a few minutes walk and the view is amazing from there. The temple can be seen from far away, you can not miss it.
5. Gangapurna Lake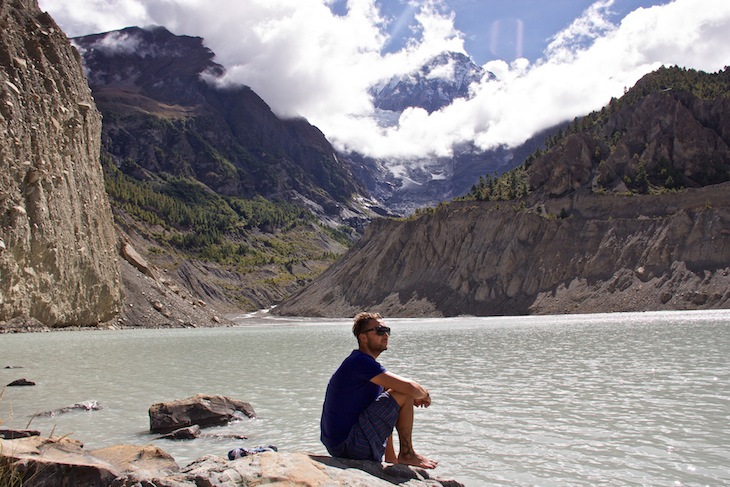 Photograph taken by Dragan Tapshanov
When you get to Manang take the short walk to the Gangapurna lake. The water is freezing cold so swimming is not recommended, or only for the very adventurous ones. You have a perfect view to the glacier and Gangapurna peak.
6. Visit the Ice Lake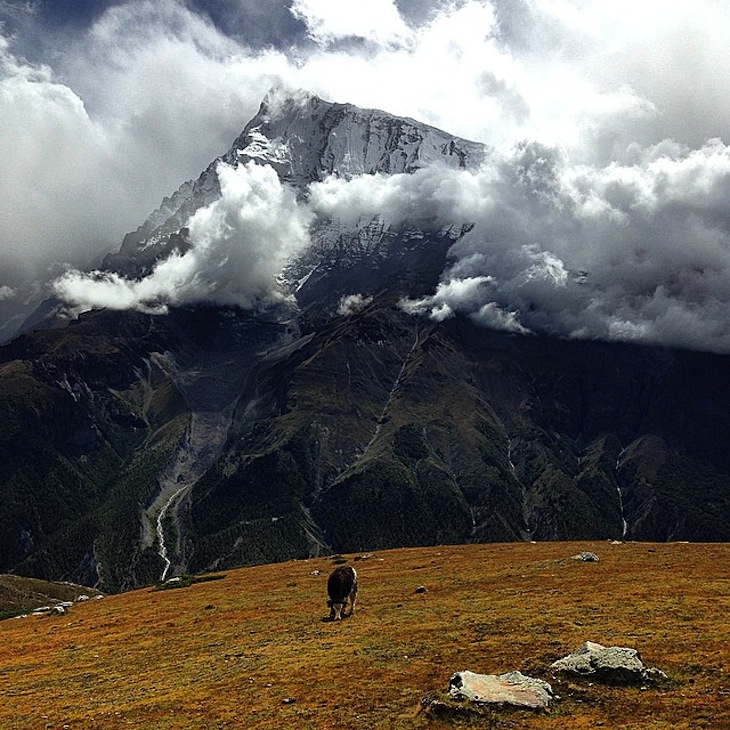 Photograph taken by Dragan Tapshanov
One of the hardest days of the whole trek is the climb to the second highest lake of the Himalayas, the Ice lake which is located on 15 000 feet (4635 m). Starting from Manang village this means more than +1000m climb in one day and descend on the same day. On this altitude you will more than likely to have some headache and breathing difficulties but this is a great preparation for the pass.
7. Sea buckthorn juice and muffins at Valerie's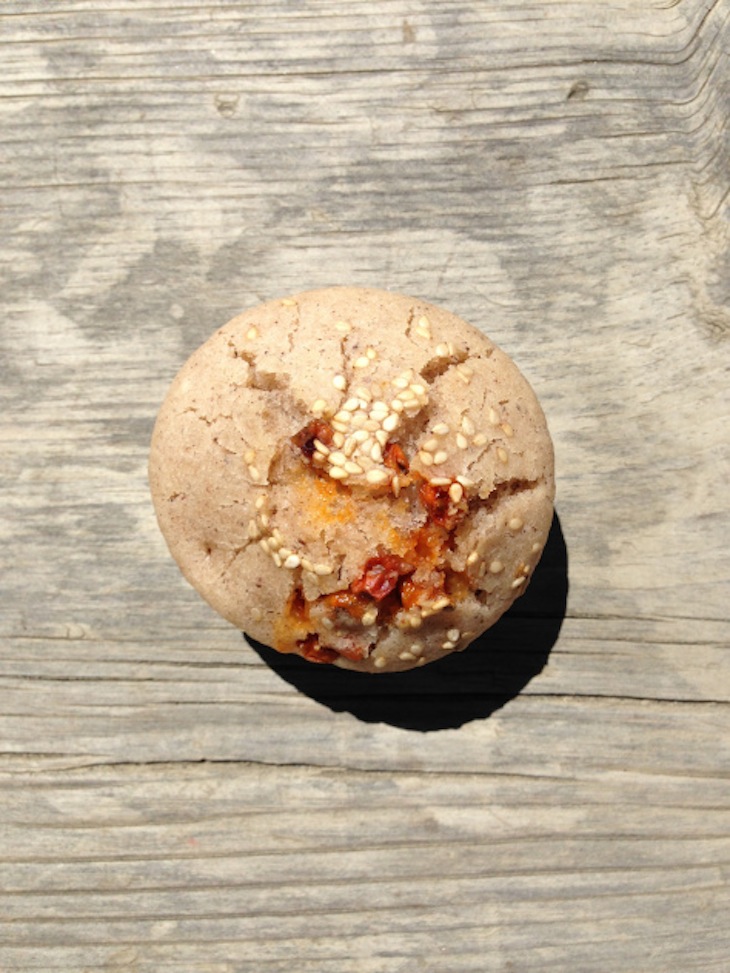 Photograph taken by Dragan Tapshanov
When you are walking from Manang to Yak Kharka you will get to a guesthouse standing alone. If you are there in peak season you will probably see some people having breakfast on the terrace. Sit on the balcony and enjoy the best view towards the Annapurna Peaks and the Gangapurna and try the delicious home made muffins and sea buckthorn juice.
8. Temple in Muktinath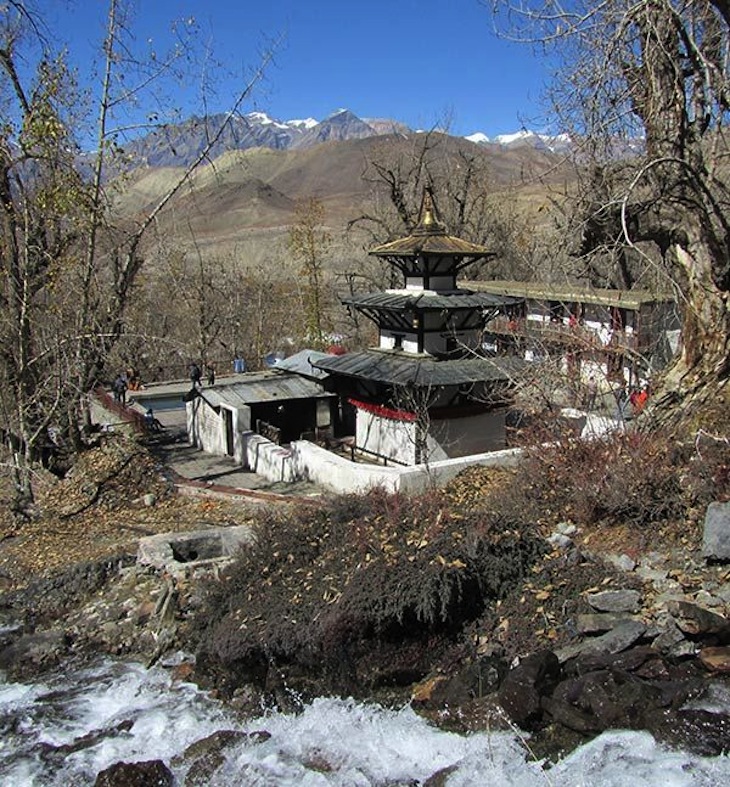 Photograph found on sacredsites.com
The temple of Muktinath is one of the holiest place for both hindus and buddhists. Each year there are thousands of pilgrims visit the sacred place which is definitely worth visiting to see the culture and get to know more about the religion.
9. Marpha village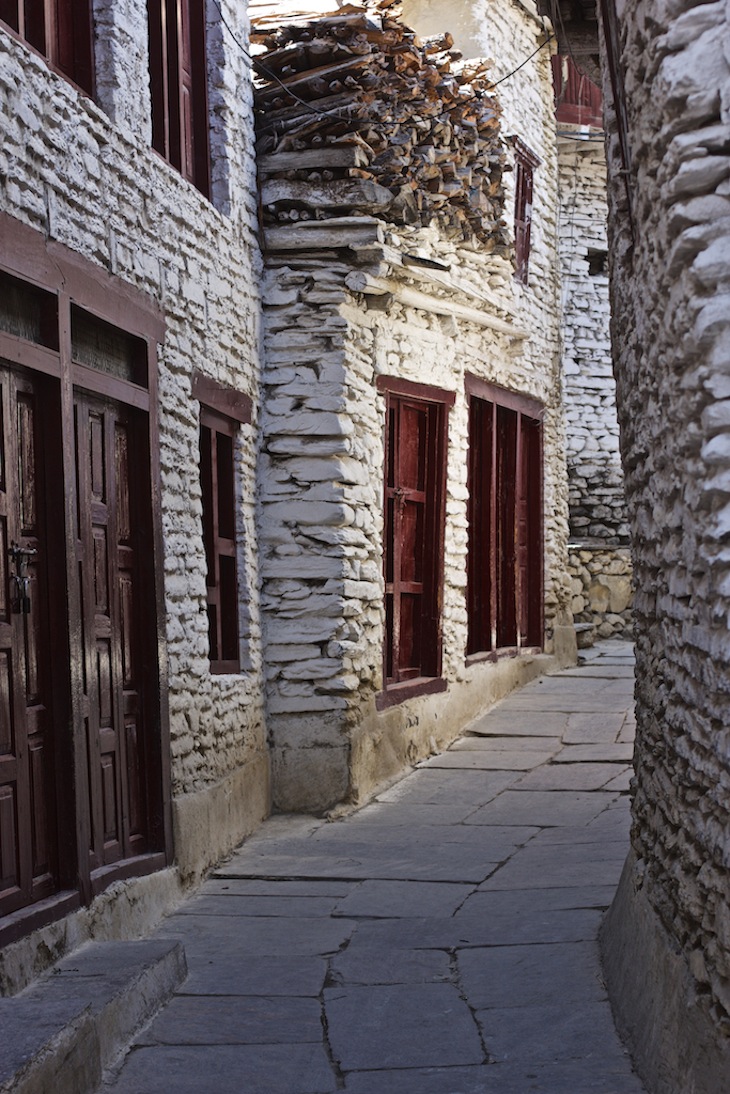 Photograph taken by Dragan Tapshanov
Many trekker fly out or take the bus from Jomsom since there has been many constructions on that side of the trek. This way they miss Marpha village. If you have the same plans, stay an extra day, walk to Marpha and try the local apple brandy.
10. Identify the peaks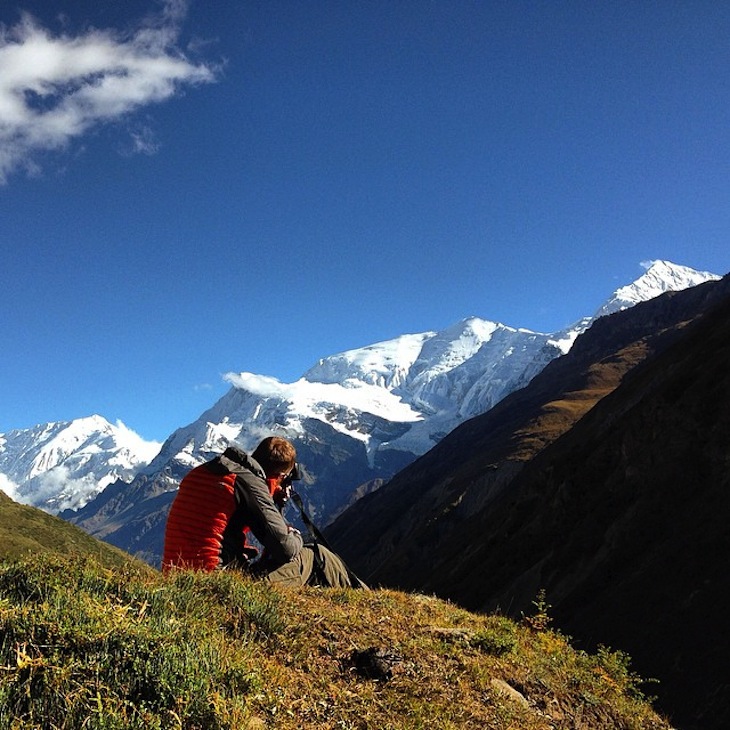 Photograph taken by Dragan Tapshanov
The Annapurna Circuit features several famous Himalayan high peaks including Manaslu, Dhaulagiri and Annapurna I, II, III and IV. If you have a good map, guide book or guide you can get to know these majestic giants by their names.
If you are ready to go and would like to have some detailed information on what to pack and so on, read more here.