The kitchen is the heart of our home, so everything feels a little off when it's messy.
Having a lot of food in the fridge can sometimes be really difficult for organizing and it easily turns into a kitchen nightmare. That's why we have summed up the best tips to help you keep it tidy and orderly.
We have all had those episodes of never being able to find what you need or not knowing where to put things when you buy them, so we just stuff them wherever there's free space, making things even worse.
Well, we have come up with some tips that can help you forget about all those little problems. All you need for a well-run fridge is just to spend a little extra time on it's organizing. And remember – for every minute spent organizing an hour is earned!
1. Food Organizing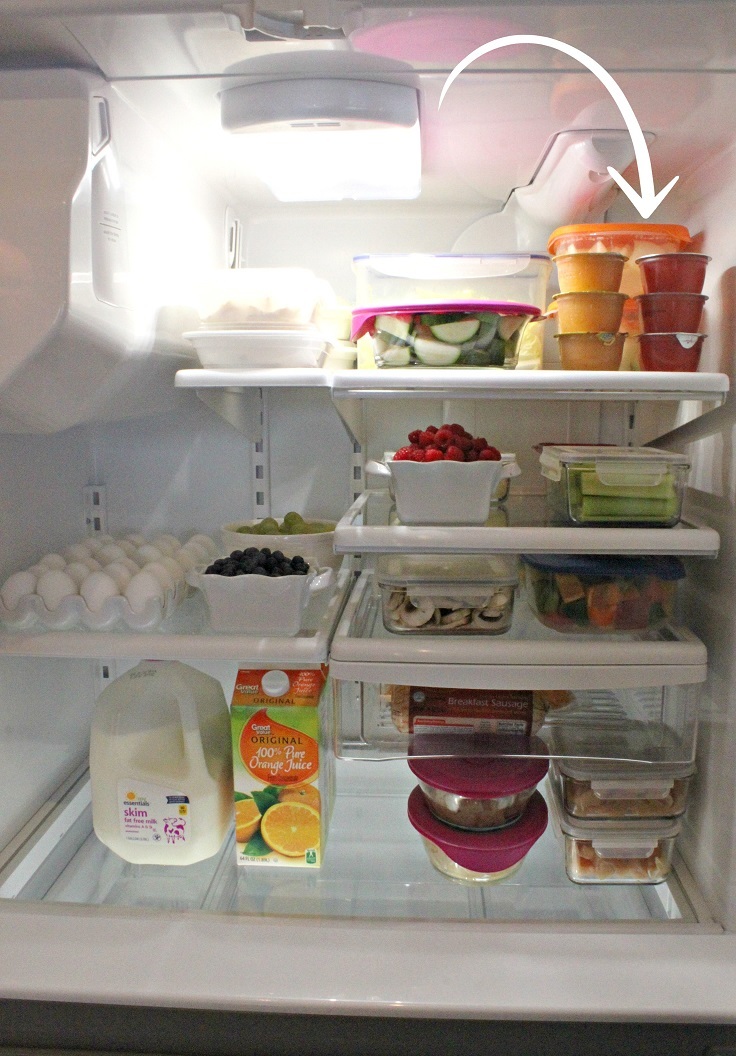 To get the most out of every type of food you should keep it in a place which's temperature is similar with the optimal temperature for the food. Here are some tips. Eggs do best where the temperature is most consistent—on the middle shelf. We recommend storing them in the original cartons. Milk tends to land on the top shelf, but it should be on the bottom, all the way in back, where it's coldest. The same goes for yogurt, sour cream, and cottage cheese. Packaged raw meat should go on the super-cold bottom shelf. Plus if juices drip, they won't contaminate the whole fridge. Butter and soft cheeses don't need to be super cold, so they can live In the dairy compartment on the door (the warmest part of the fridge) should go butter and soft cheeses – they don't need to be extra cold. Ketchup, mayonnaise, and salad dressing are natural preservatives , so they should also be placed on the fridge door.
2. Keep Seasonal Herbs and Greens In a Jar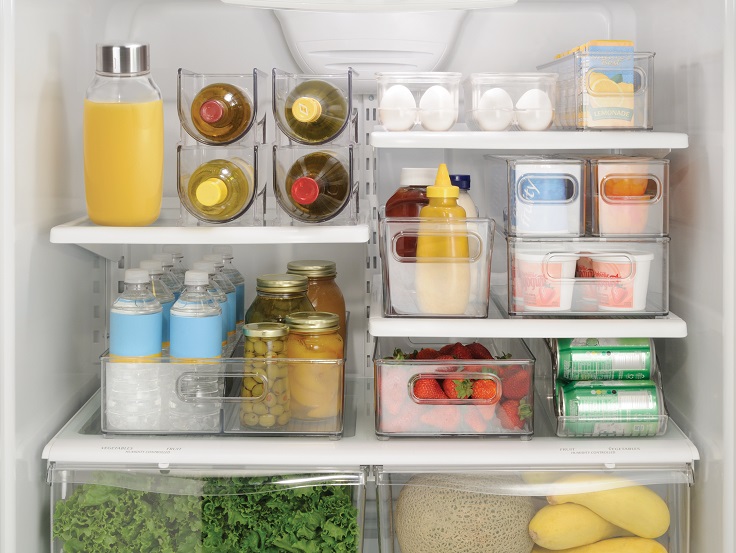 Yes, it is possible your fresh products withouth those messy plastic bags! Just trim herbs and store them individually in glass storage jars with a little water and they will last for two-three weeks. Change the water every couple of days. In a similar way you can store your veggies in glass jars with a sprouting lid.  Remember not to pack the jar so the greens can absorb air through the sprouting lid. You should shake the jar every few days to have your vegetables last up to two weeks in your refrigerator.
3. Store Your Wine Bottles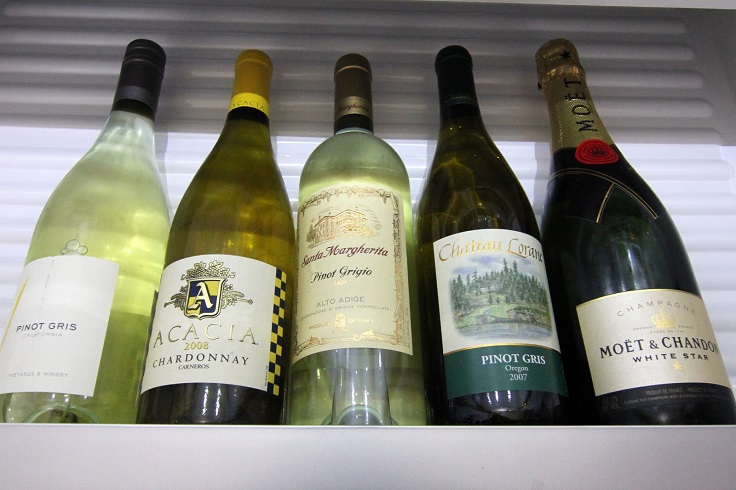 Organizing is all about efficiently using all the space you have. Well, you know that space under the meat and cheese drawer you never use? Try storing your wine bottles there!
4. Make Everything Easy To Reach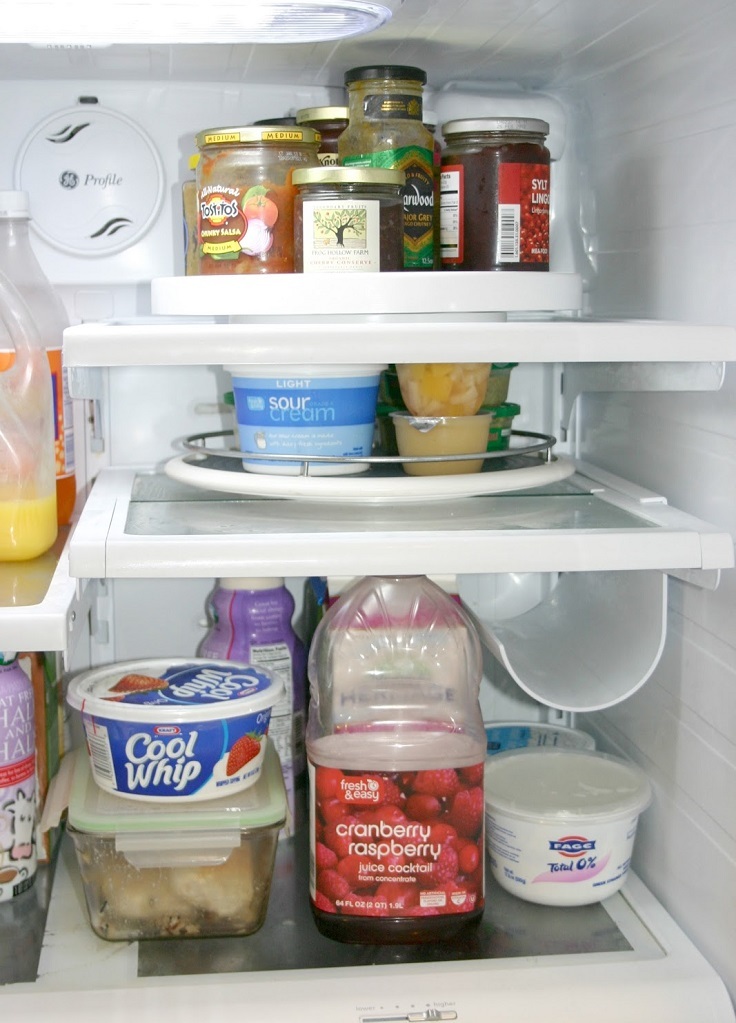 You know how sometimes the food in the back of the fridge gets forgotten and turns into a scary lab experiment? To avoid these kinds of accidents put all the products on a Lazy Susan or a turntable. You will be able to reach everything much easily.
5. Containers and Bins For a Well Organized Fridge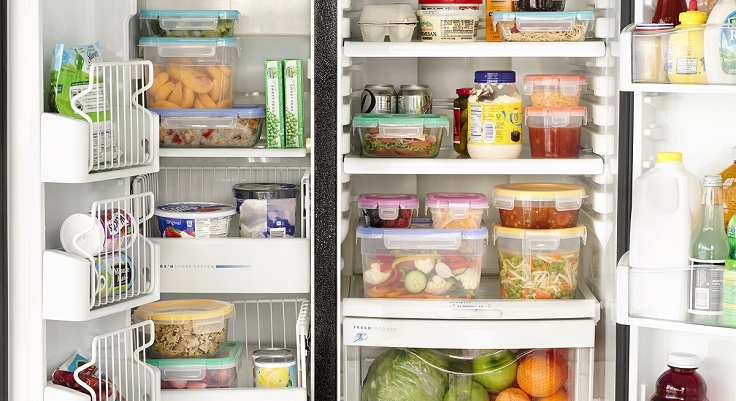 via 199.124.60.222
Store the products in plastic bins and containers according to the food group they belong to.  This will keep your fridge neat and organized. You can also use six-pack containers to organize the door shelves.
6. Use Labels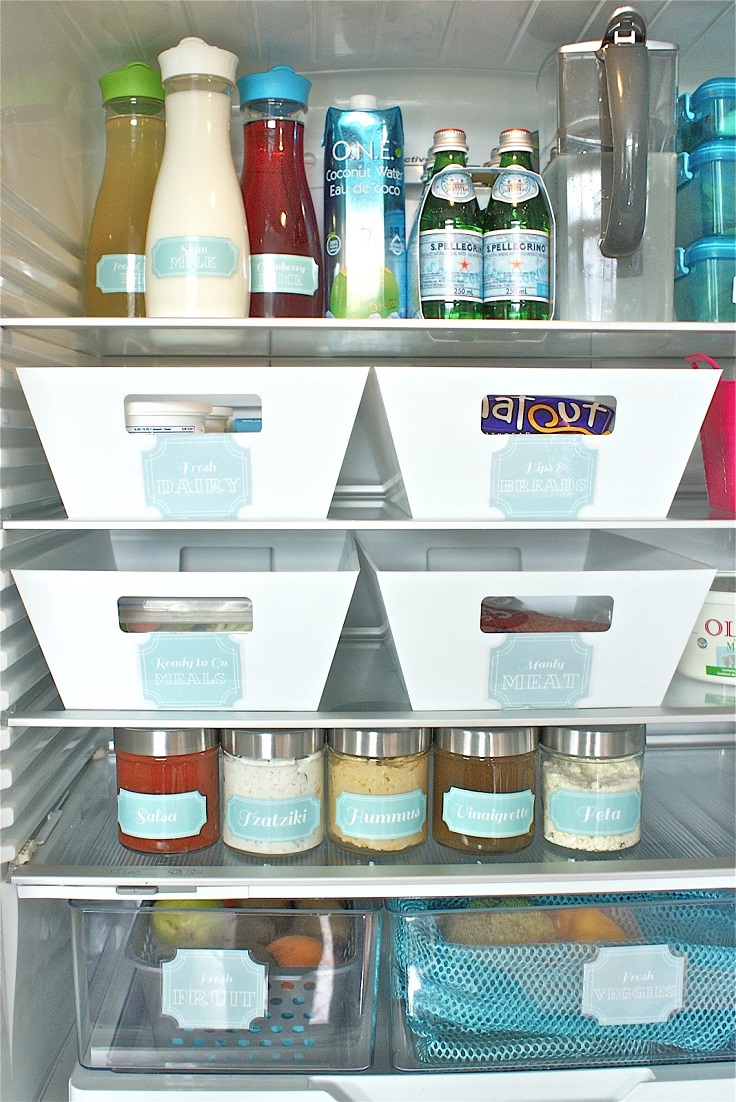 via cdn.homedit.com
To avoid forgetting in which container you put the product you're looking for, opening all of them and making a mess, write the names or types of food on pieces of paper and stick them on the bins and containers .
7. Get Rid of The Bad Smell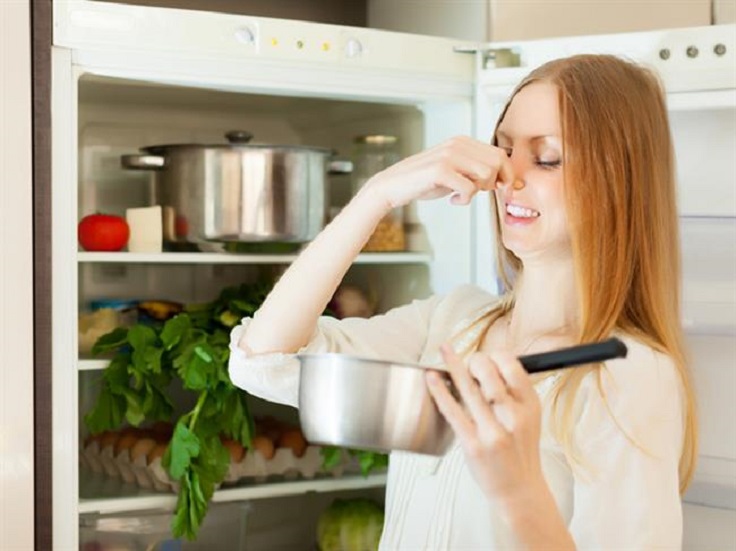 via chejoory.ir
Many of us, especially chiefs and experimenting cooks have encountered with this particular problem. The odors of different foods mix and you get stuck with a smelly refrigerator.  The solution to this is simply keeping a container of activated carbon (from any pet store) to absorb the odors.
8. Make Your Fridge Easy To Clean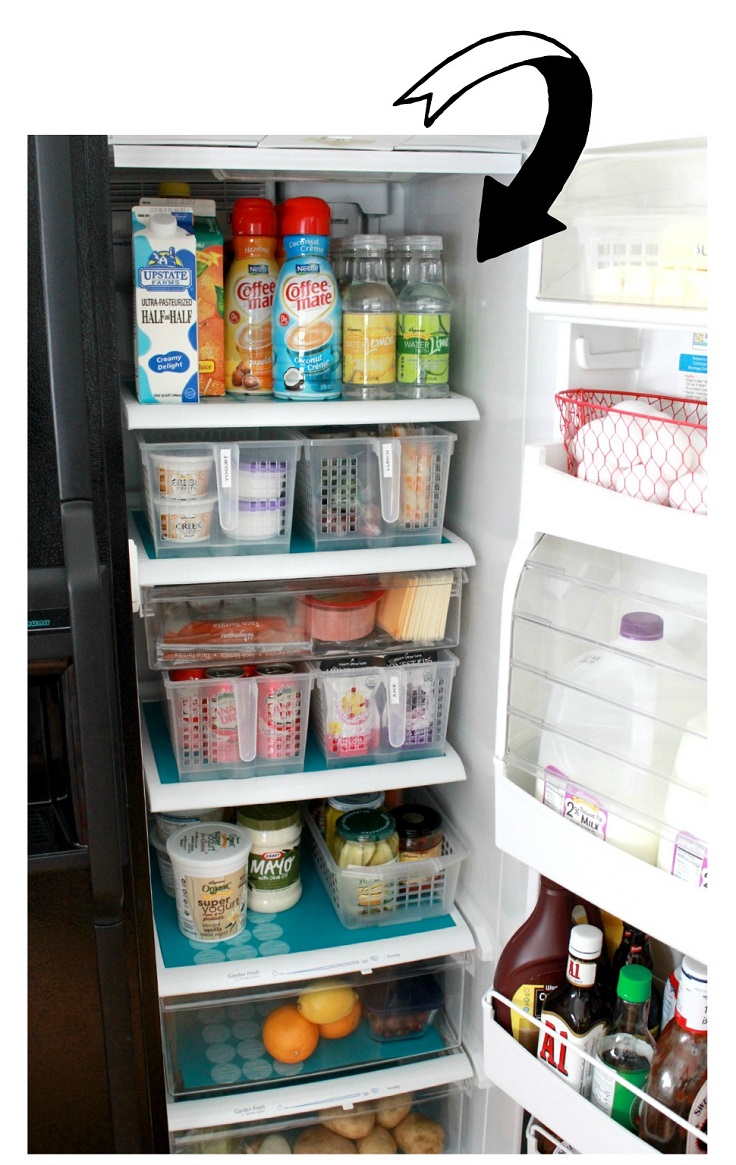 via cdnpix.com
Use Wax Paper or some DIY fridge mats in your fridge drawers and shelves so that every time you clean the fridge you can simply change the mats. They are very useful, because it is so much easier to replace them than cleaning  the whole area.
9. Store According to Expiry Date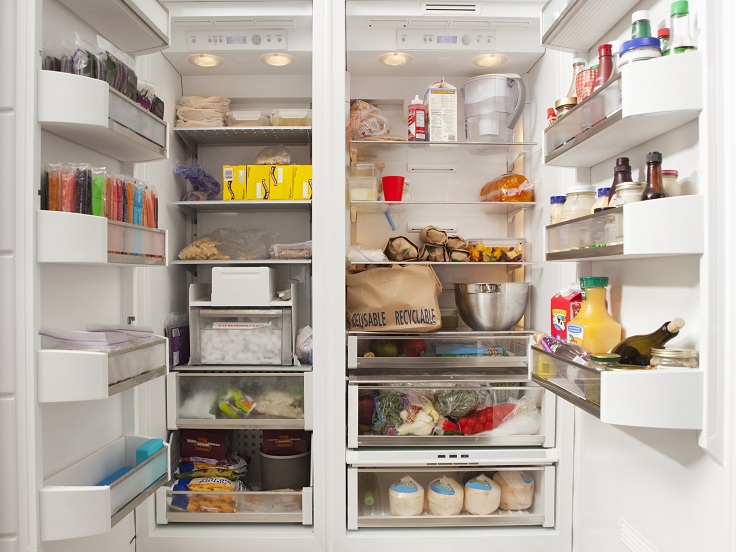 For even greater organization you could place the product with expiration dates to the back so you eat them the sooner-to-expire products first. You could also keep a roll of masking tape and a sharpie near the fridge so you can label containers with their open date.
10. Keep a List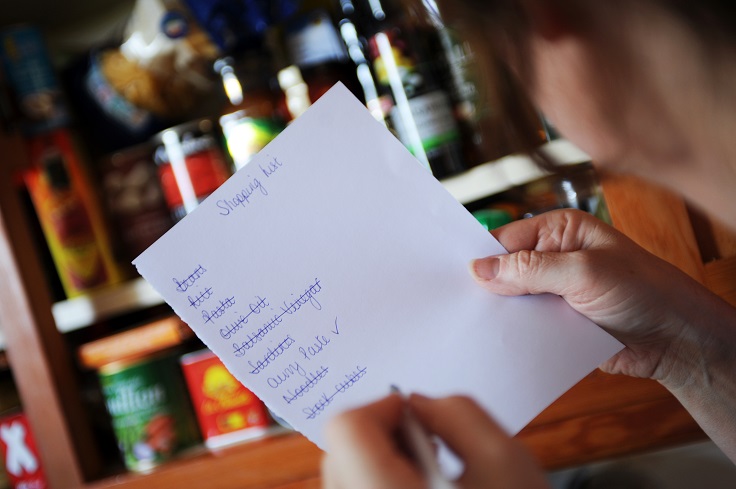 Keep a list handy near the fridge so you can write down things when you run out of them, so you'll know exactly what you need to pick up next time you're out shopping.