Roses are one of the most loved flowers in the world for centuries. They are so elegant, beautiful, and I doubt that another flower represents love better than the roses.
Roses are easy to take care of, and since they are such wonderful flowers, it makes them one of the most popular flower choices for our gardens and even indoor flowers.
In case you were wondering which type of rose to choose for this summer, we recommend you take a look at these ten wonderful roses.
1. 'Little Mischief.'
via easyeleganceroses.com
The type of roses known as 'Little Mischief' has the most wonderful deep pink color while blooming, and then they're lighter pink while getting old! It is an everblooming shrub that has disease-resistant foliage and a low-growing habit.
These roses need full sun position and want to be watered moderately. You can use these roses in a decorative planter, as a hedge plant, or maybe even as a companion plant too.
2. 'Bonica'
via hollyacresnursery.com
Gentle with a light fragrance, the 'Bonica' roses can really make your garden so sweet and charming with their look. They make a good flowering hedge, but you need to grow them in full sun or partial shade in well-drained, rich soil for the best results. The roses bloom from late spring until winter when their light pink flowers are replaced with bright, red hips. The 'Bonica' roses are almost disease-free.
3. 'Mme. Isaac Pereire'
The 'Madame Isaac Pereire' roses are medium-sized shrubs that need full sun and well-drained, humus-rich soil to look this glamorous. However, they can tolerate partial shade and even poor soil. They need to be mulched in late winter or early spring, followed by balanced fertilizer in the summer. Unlike the previous two types of roses, the 'Madame Isaac Pereire' isn't disease-free, and they are also prone to pests attacks.
4. 'Flower Carpet Scarlet.'
The 'Flower Carpet Scarlet' is one of the next-generation flower carpet roses that shows improvements, such as humidity tolerance and disease resistance. They are perfect for every new gardener because they are very easy to take care of – the 'Flower Carpet Scarlet' doesn't require spraying, and when it comes to pruning, all you need to do is to perform a simple cut – back every spring. They require full sun to partial shade and well-drained soil.
5. 'Mr. Lincoln'
'Mister Lincoln' is a hybrid tea rose that has its origins back in 1964 and was named after the 16th president of the United States – Abraham Lincoln. It has deep red petals, about 30 – 35 per flower, and they all appear as if they're velvet! 'Mr. Lincoln' roses are very hardy rosebushes, especially in places with hot summer and cold winters. They need to be planted in an area where they can grow without any interference.
6. 'Rainbow's End.'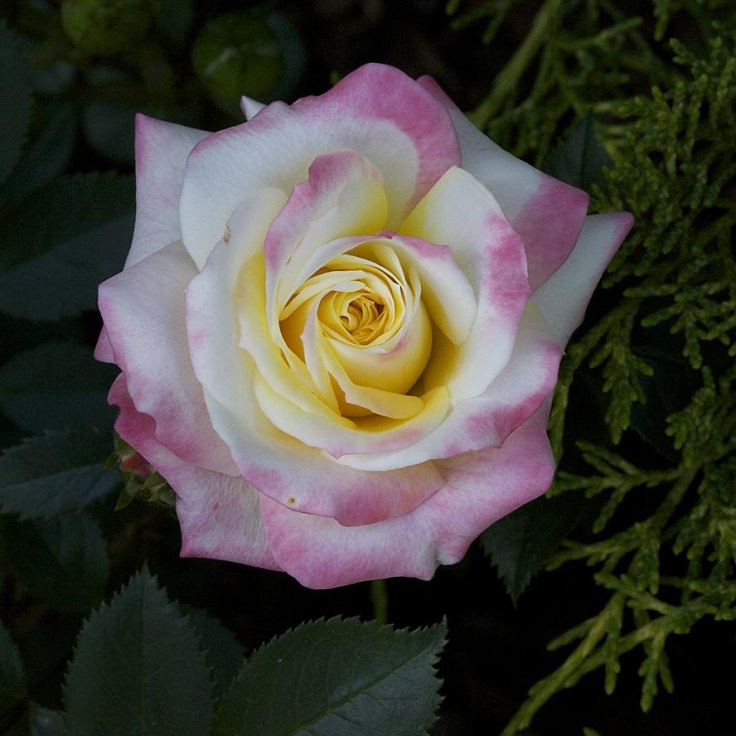 via garden.org
This is one of the fascinating roses you can plant, as each rose has three colors – yellow, red, pink. Some roses are mostly yellow or red, but they all go almost always pink towards the petals' end. They were introduced in 1984 and, ever since, are one of the most popular rose choices. The 'Rainbow's End' roses need to be kept moist until they're well established, and they also need to be fertilized in spring before the new growth starts.
7. 'Mother of Pearl'
via blogs.nybg.org
The 'Mother of Pearl' rose was first introduced in the United States in 2007, and it is already selected as the Best Shrub Rose for 2014 by Birds&Blooms. These wonderful salmon-colored roses are really gentle with a light fragrance that will make you want to stay in your garden as long as possible. This tall and bushy rose has 26 – 40 petals with an average diameter of 3.5″. It has a high resistance to black spots and winter hardiness, making it great for cool and dry climates.
8. 'Easy Elegance Snowdrift.'
These snow-white, cup-shaped roses are one of the loveliest roses we have ever seen. The 'Easy Elegance Snowdrift' is low maintenance, repeat flowering shrub rose of which some parts can even be edible! The rose has a sturdy habit of flowering from the top to the bottom of its stems during summer. They are also disease-resistant and grow from June to September. Make sure to give them a full sun position.
9. 'All the Rage.'
via therosejournal.wordpress.com
Here's another multicolor rose on the list – the 'All the Rage' rose. This one is mostly coral-colored, but some orange and pink on the petals, as you can see. It needs a full sun location, where it can get plenty of light to grow well – also, make sure you water it moderately. The 'All the Rage' roses bloom throughout all seasons, so you will always have plenty of flowers for cutting.
10. 'Firecracker'
via didi-gardenmoments.blogspot.com
The wonderful 'Firecracker' rose is low maintenance, meaning that you won't have to do any complicated pruning. It grows throughout the whole season, and thanks to its continuous blooms, it will provide you all the time with its beautiful colors of red, pink, and white. It is disease-resistant and environment-friendly, as you don't need any chemicals to keep the roses healthy and growing.