If you are a type of person that have a panic attack before every trip and while packing and preparing, we are here for you. There are a lot of smart travel tips you can learn about easier preparing and traveling, but these 10 tips are a little unusual and very useful.
Wouldn't it be nice, before every trip, to call up an expert and get her advice on what to pack or how to upgrade to first class? Well, we can't promise a phone chat, but we can give you those tips right here and now.
No matter if you are going on a business trips, holiday, beach or mountain, remember these super smart tips and you will use them every time you'll get on e road! Have a nice and save trip!
1. Pack and Unpack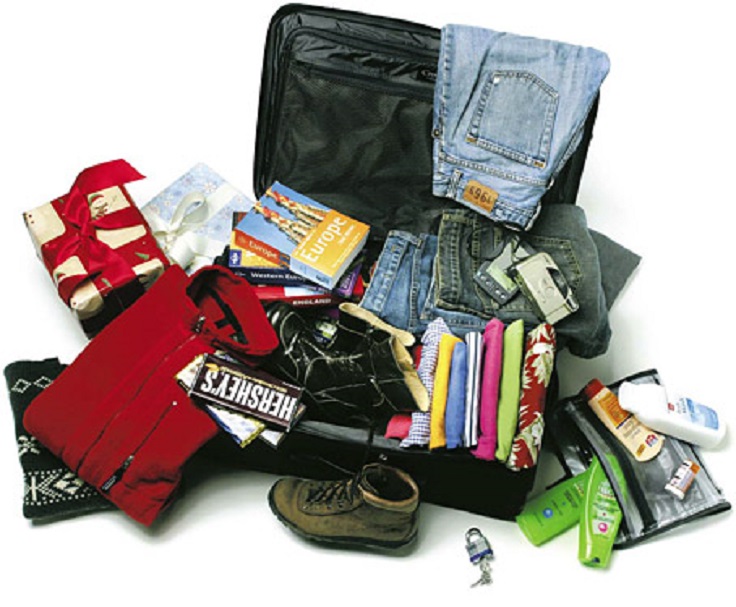 via dailyworth.com
Once you're done packing, unpack one third of your loot. You'll have a hard time leaving what you thought was essential stuff behind, but it'll be worth it — just think of how much more shopping you can do! But make room for some duct tape and a few binder clips. You never know when you'll need a makeshift clothesline, shampoo lid, purse handle, sandal strap, curtain rod, lint brush, hemming solution.
2. Don't Pack Clothes That Require Ironing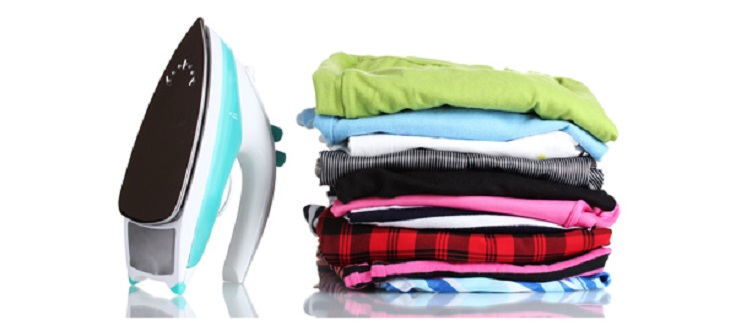 Don't buy clothes that require ironing. If you bring with you clothes that require ironing you will need to bring your iron too which means bigger luggage or less things to take with you because it will take a lot space.
3. Your Phone Camera Isn't Just For Selfies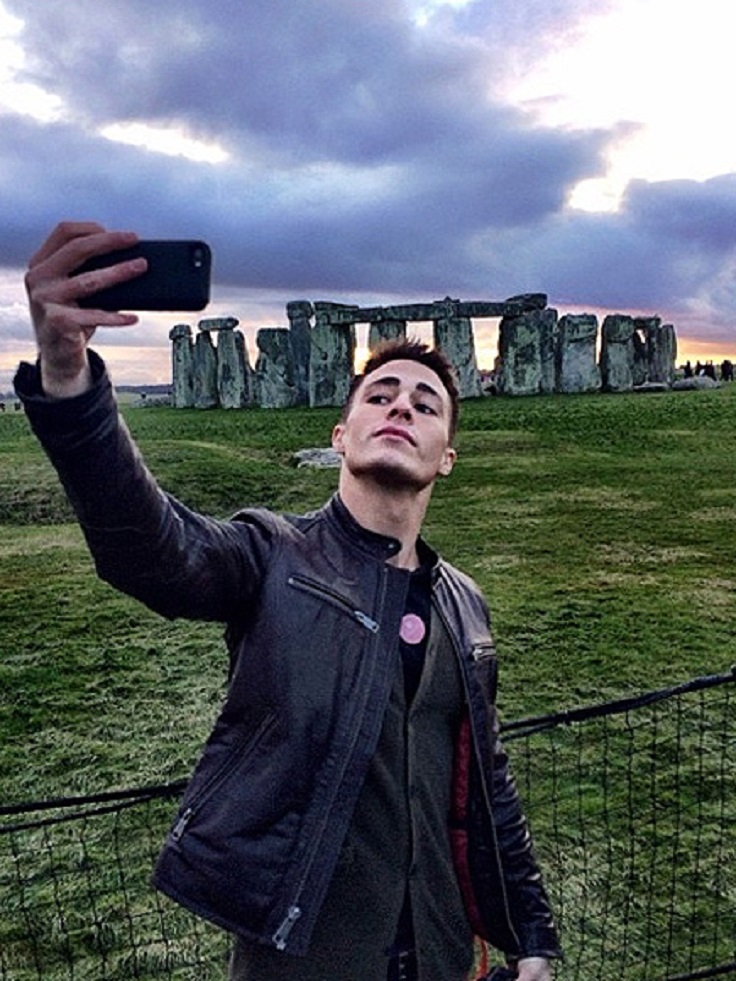 via dailyworth.com
Before you travel, use your phone's camera to take photos of all your emergency contact information. In the event your wallet or passport is stolen, you'll have all the information at your fingertips. Snap your passport, the backs of credit cards for phone numbers, driver license details, health insurance cards, travel documents, etc. In an emergency, you'll be able to verify your identity, show proof of travel, and get in touch with people at a moment's notice.
4. Pens and Sink Stoppers Are Essential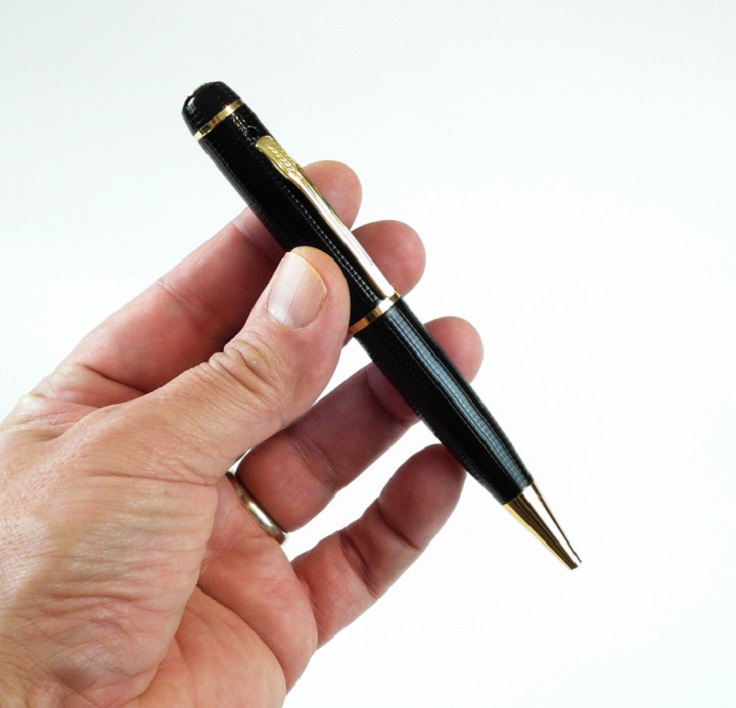 via dailyworth.com
Always carry a pen when you take an international flight. You will probably be asked to fill out a customs form, and they often don't have pens on the plane or in the airport. Carry a universal sink stopper, too. It is a cheap $2 piece of rubber that will let you do laundry in the sink or use a bathtub that otherwise won't fill. It takes up little to no space, but it is totally worth it.
5. Pack Peppermint Oils
via dailyworth.com
Peppermint essential oil is perfect for calming nerves for jittery fliers and great for headaches or potential colds that may be coming (rub some on your temples and under the nose). It's also great for upset stomachs that come with constant travel and eating new foods.
6. Shower Cap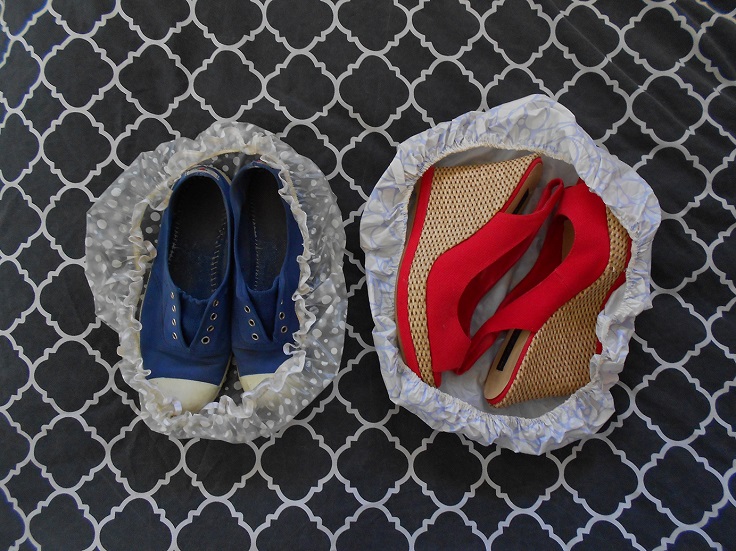 Shower caps are great for putting your (dirty and dusty) shoes in. They will cleverly help to protect your clothes and other belongings in your luggage. Also, if you forget to bring plastic wrap (as I mentioned above), just grab one (or more) of the free shower caps in the next hotel bathroom you stay in and use under the lids of your toiletries.
7. The 3 Pairs of Shoes Rule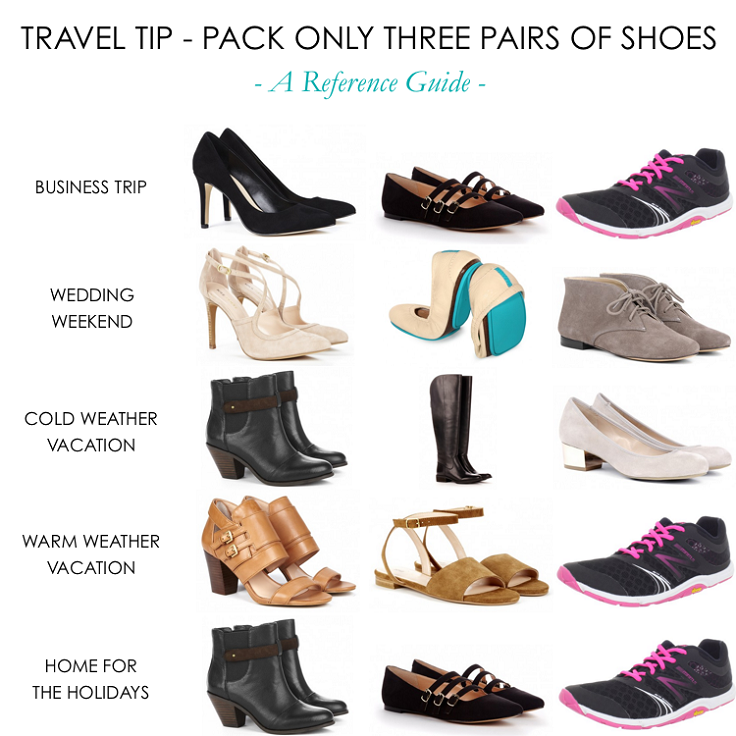 via hithaonthego.com
Just three pairs of shoes. It's quite simple, really. During a typical business trip, you'll pack your travel sneakers, a pair of heels, and a pair of flats (either ballet flats, ankle boots, or sandals, depending on the weather). During a tropical vacation, it's the aforementioned sneakers and two pairs of sandals – one dressy and one casual.
8. Chocolate Goes a Long Way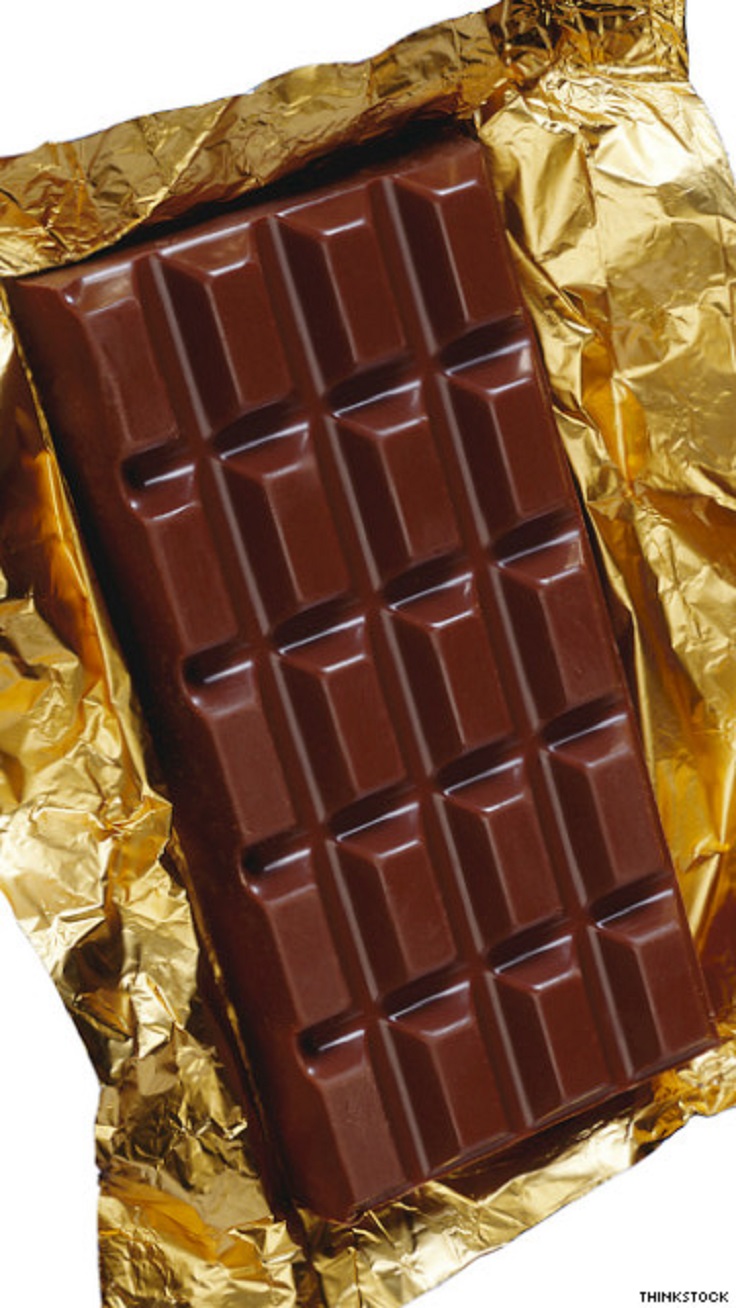 via dailyworth.com
Always be nice to everyone, and bring two boxes of chocolates — one for the gate agents and one for the flight attendants, because they can make or break your trip. When you give it to them do it with a big smile, be genuine, and don't look for anything in return. If there is a chance they can give you a better seat or service, they will.
9. Never Pack Something That You Haven't Worn Before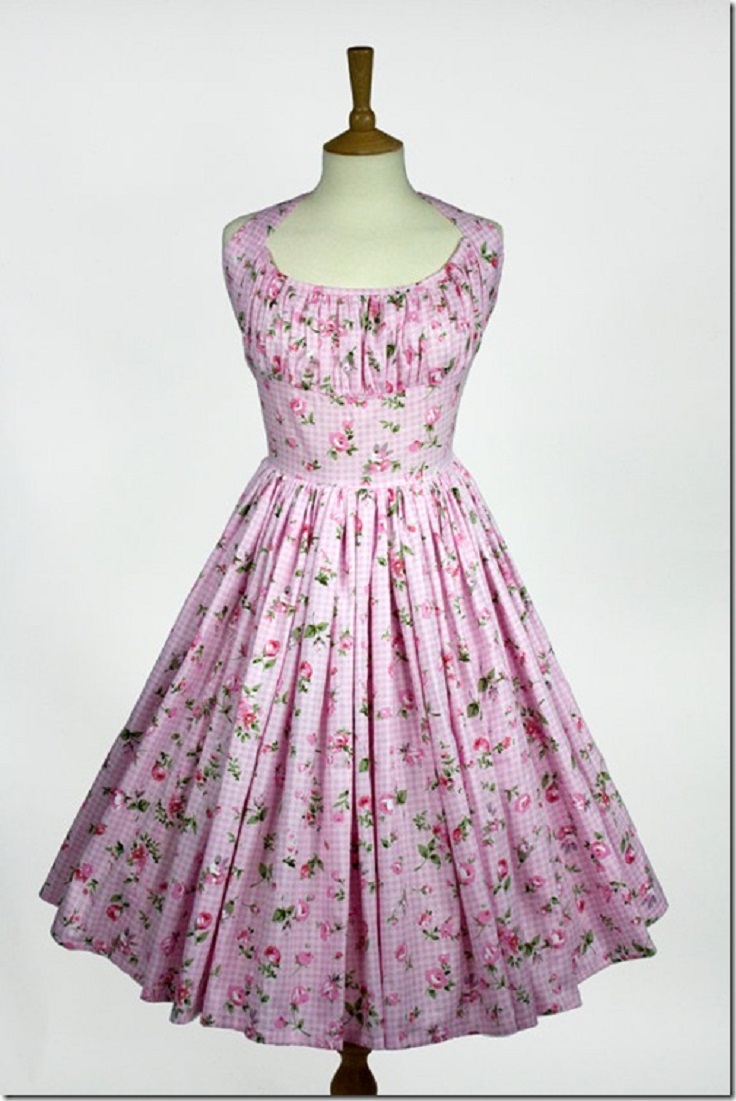 Never pack something that you haven't worn before. Otherwise you'll find your new shoes too uncomfortable, your new jacket too flimsy, your new underwear too wedgie-prone.
10. Fill Up on Fiber Pills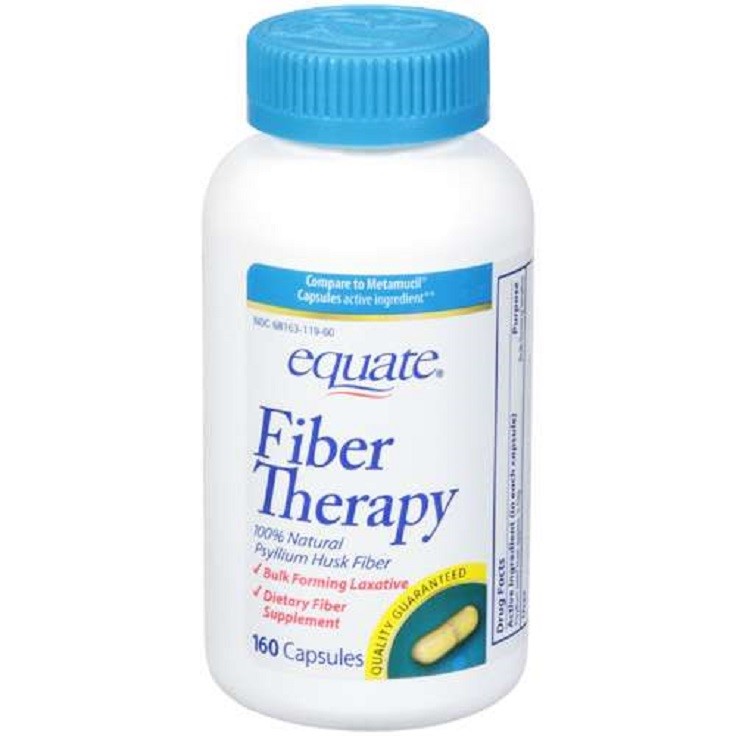 via dailyworth.com
Bring fiber pills with you; it isn't always easy to make healthy food choices when traveling, so it's always good to have backup . . . in case you're, you know, backed up.