We are only 10 days away from the biggest lovers day. Valentine's day is one of the most widely celebrated holiday in the world. If you have found your other half then you are most likely to spend your day with him and enjoy the attention and spoiling, drinking wine, hugging or watching a movie( Idea: 50 Shades Of Grey will be released on  Valentine's day, you are welcome). Whatever you do, you do it with love. If you want to prepare something for your beloved one, then check out these cool recipes for light snacks that you can make with little effort and much love. They will indeed melt your and your boy's heart. Enjoy the day love birds.
1. 
Chocolate Covered Strawberries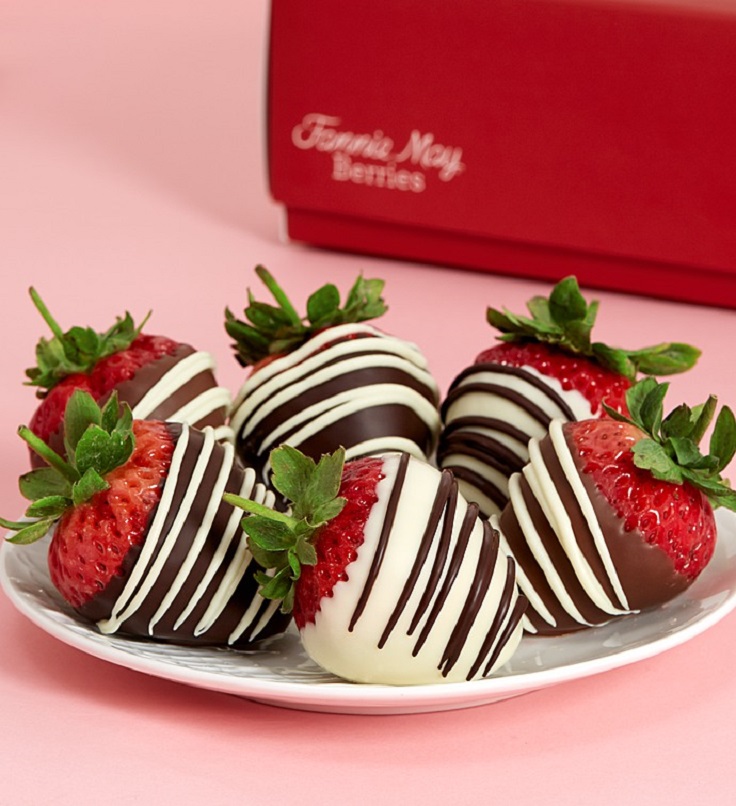 via fanniemay.com
The chocolate covered strawberries are the most famous Valentine's Day treat, and are easy to make. Heat chocolate on a steam pan, after the chocolate is melted remove from heat and carefully dip the strawberries. Melt white chocolate too, and use it as a decoration on top of the dark chocolate(using a tablespoon).
2. Sweetheart Cherry Pies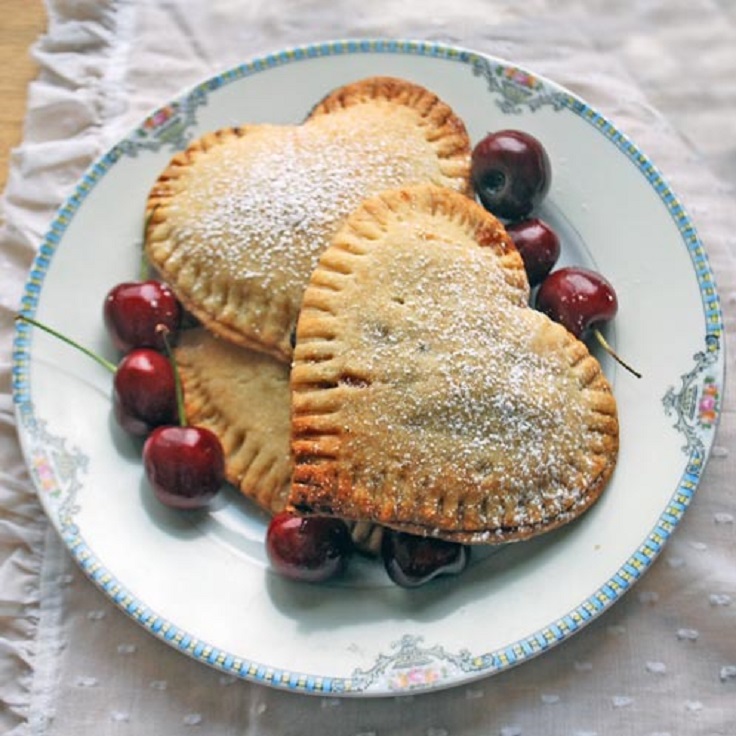 via cakestudent.com
For these cute pies you will only need: pie dough, fresh cherries, ricotta cheese, sprinkle of sugar and 1 tablespoon of melted butter. Preheat the oven, roll out the pie dough and using cookie cutter. Put the cheese and the cherries with sugar on the heart shaped pie and lay the top dough. Spread melted butter on the pies and bake for 15 minutes.
3. Make Chocolate Magic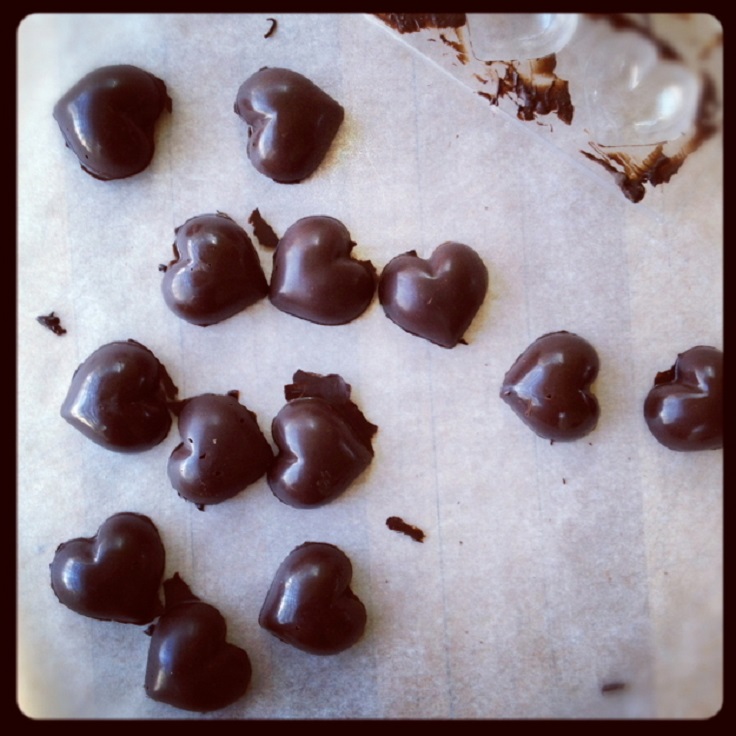 Buying chocolate seems easier but this way you can add a little bit of yourself in these sweet heart shaped chocolates. Ingredients: 12 oz. semi-sweet chocolate ,1/2 tsp ground canela, 2 tbsp almonds, 1/3 cup of cacao nibs and 1 vanilla bean. Gather the seeds from the vanilla bean. In a blender put the cacao nibs, canela, ground almonds and vanilla seeds, blend. Melt the chocolate in a double boiler and place the mixture in a mold. Freeze for 5 minutes and remove the new chocolates from the mold.
4. Red Velvet Heart Cookies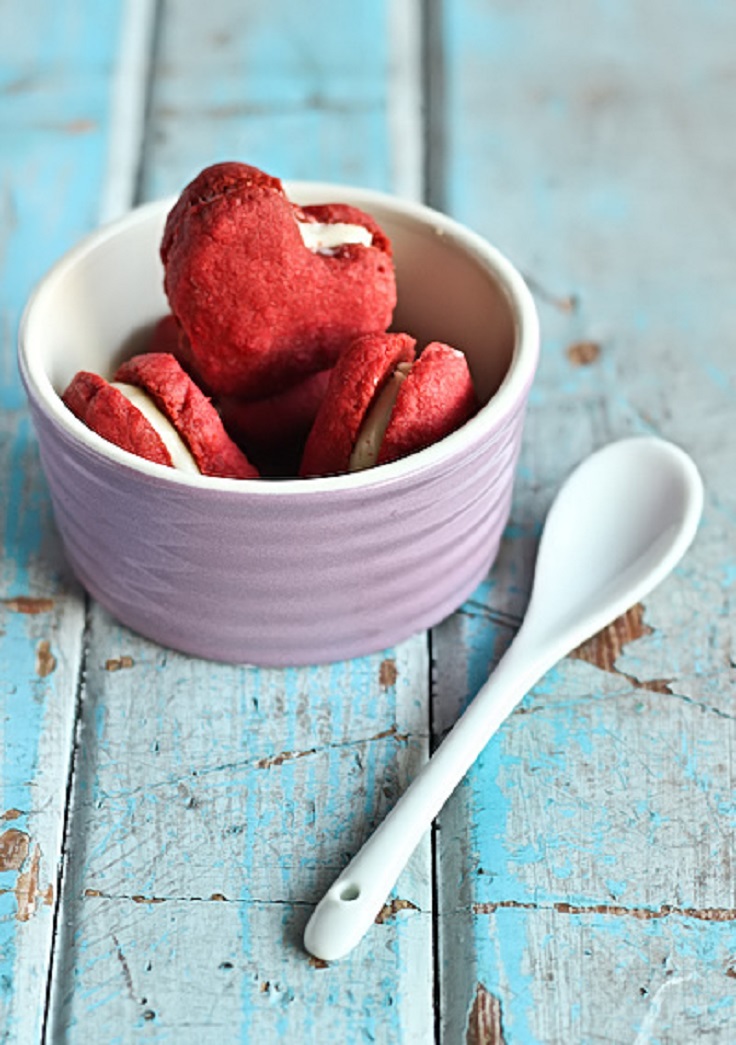 For all of you pastry lovers, here is another unique recipe for the making of these little velvet hearts. Ingredients: 250 g butter, 80 g icing sugar, 1 tsp pure vanilla extract, 1 tbsp liquid red food color, 75 g cornflour, 225 g plain flour, 1 tbsp cocoa powder and 1/2 tsp salt. The making: Preheat oven. Using an electric mixer, put butter,sugar, the food coloring and the vanilla extract. Stop mixing and add the flours, cocoa powder and salt, using a wooden spoon and stir. Using a heart mold, press the dough and make little hearts. bake them for 12 minutes. Now that you have your biscuits you would want to prepare the icing. Just mix cream cheese, butter and add icing sugar. Spoon icing on the biscuits and there you have it.
5. Rocky Road Parfaits
The prep time for this easy parfaits is 5 minutes and requires no baking. Get to work folks. Ingredients: 7 ounce of plain Greek yogurt, 1/4 cup Nutella, 1/4 cup mini marshmallows, 1/4 cup peanuts, 1/4 cup dark chocolate. Combine the Nutella and the Greek yogurt. Put in a serving bowl and top with marshmallows, peanuts and dark chocolate.
6. Quick Strawberry Cheesecake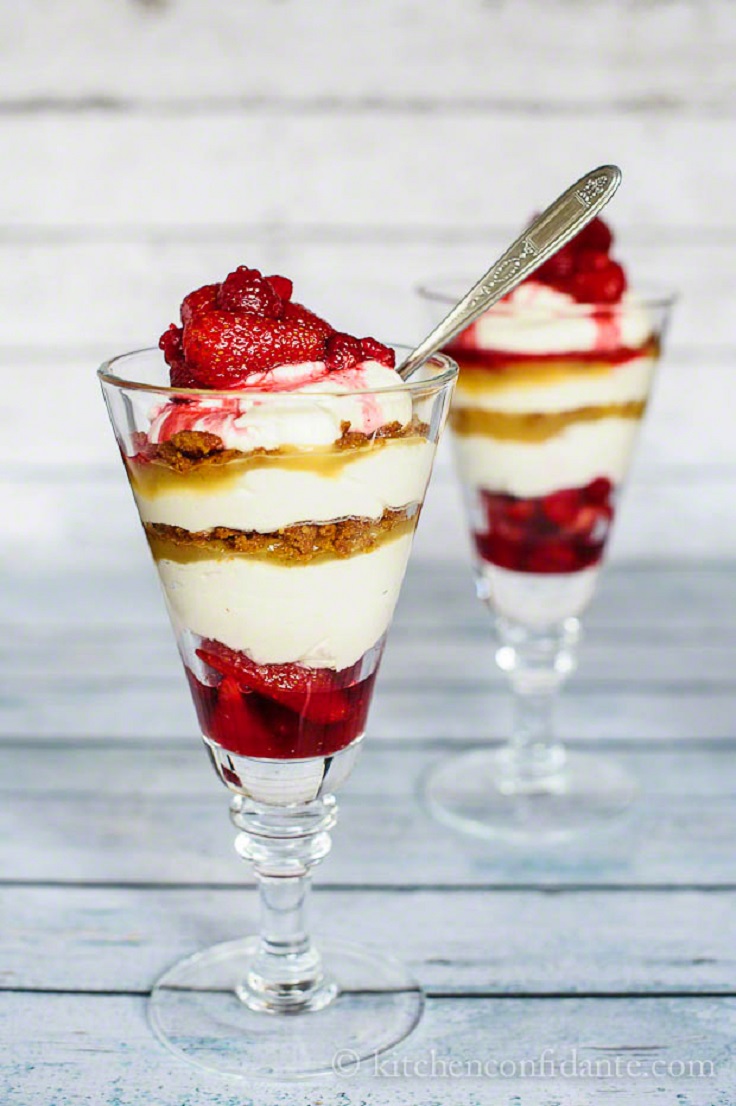 No time? No problem. You can make this easy cheesecake in less than 5 minutes. In a mixer combine Brie cheese,  cream cheese, sugar, and lemon juice. Start making layers using strawberries and the cream mixture. Top with almonds and honey.
7. Warm Apple Spice Crumble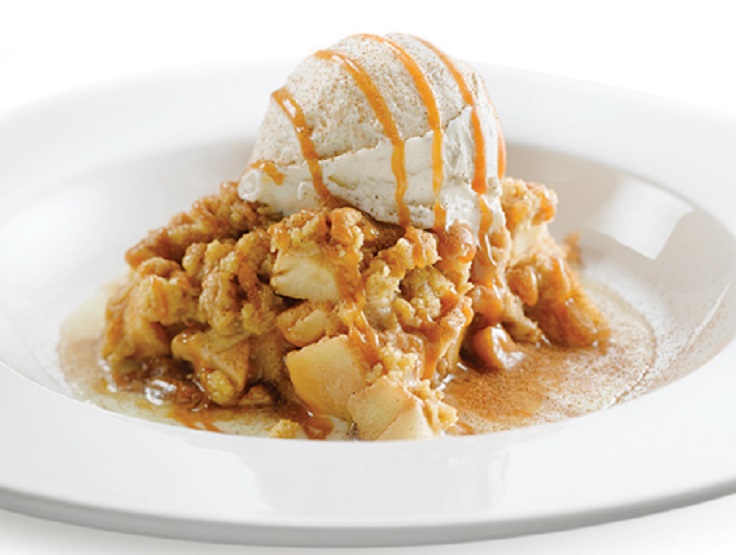 via secretcloset.pk
We doubt you've ever heard about this lovely dessert. Ingredients: 1 can of sliced apples, 1/4 cup golden raisins or mixed dried fruit bits, 1 teaspoon vanilla, 2 -3 tablespoons sugar, 1 teaspoon ground cinnamon, 3 tablespoons butter, 1 1/2 cups low-fat granola, 1/4 cup flaked coconut and Vanilla ice cream. In a baking dish place apples, stir in vanilla, sprinkle with sugar and cinnamon. Top with butter and add the granola and cocoa. Bake for 12 to 15 minutes, serve with ice cream.
8. Oatmeal Fried Bananas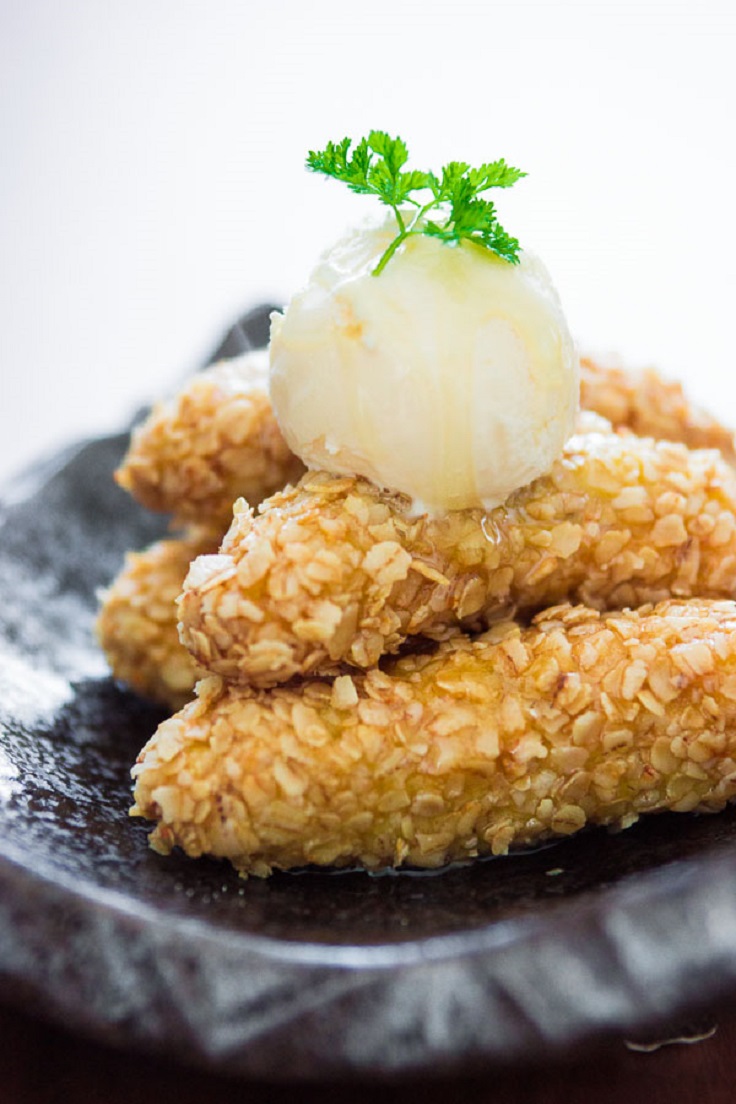 via norecipes.com
If you are counting your calories, enjoy this healthy dessert with only few ingredients: peeled bananas, 1/4 cup flour, 1/4 cup rolled oats, 1 egg and some vegetable oil. Add the oil in the pan. While the oil is heating, grab 3 bowls. Add the eggs, the flour and the oats separably in the bowls. Start with peeling your banana and dusting it in the flour, then in the beaten egg and finally in the oats. Fry the bananas until they are golden brown.
9. Mocha Floats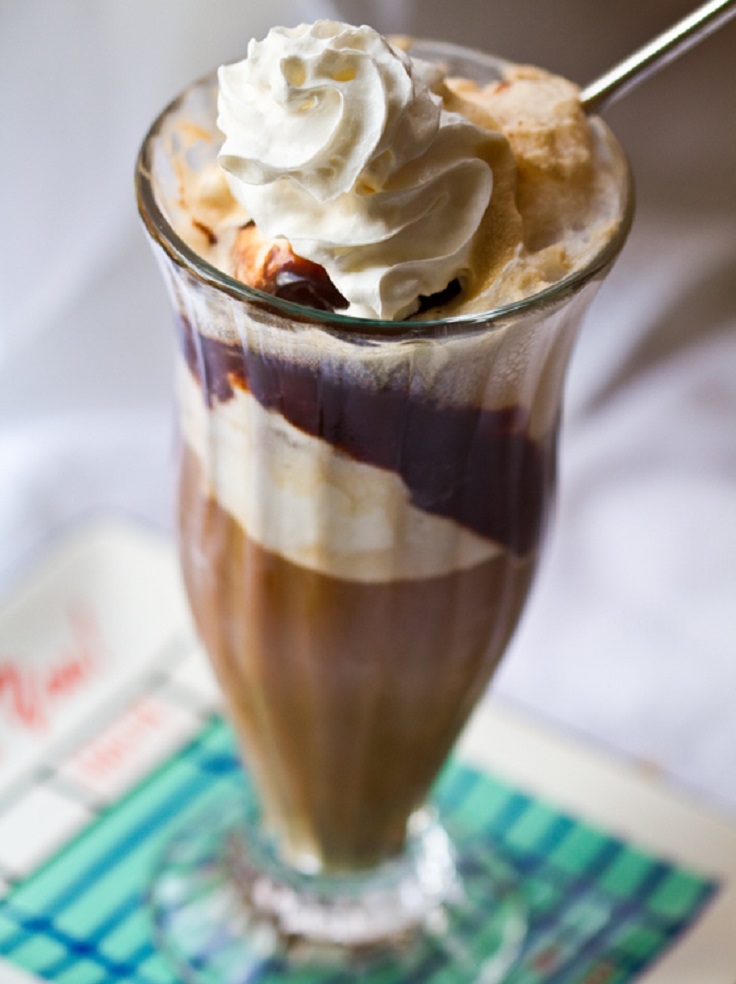 via babble.com
This recipe is dedicated for all of you coffee lovers, combine chocolate and coffee and have the most delicious drink. Ingredients: 3 cups water, 1/4 cup cocoa powder, 1/4 cup sugar, 2 tablespoons instant coffee crystals, Vanilla ice cream, Chocolate ice cream and whipped cream. Bring water to boil and add the cocoa powder, sugar, and coffee crystals. Refrigerate. For each serving, fill 1/3 of a cup and add chocolate and vanilla ice cream. Top with whipped cream. Voila.
10. Hasty Chocolate Pudding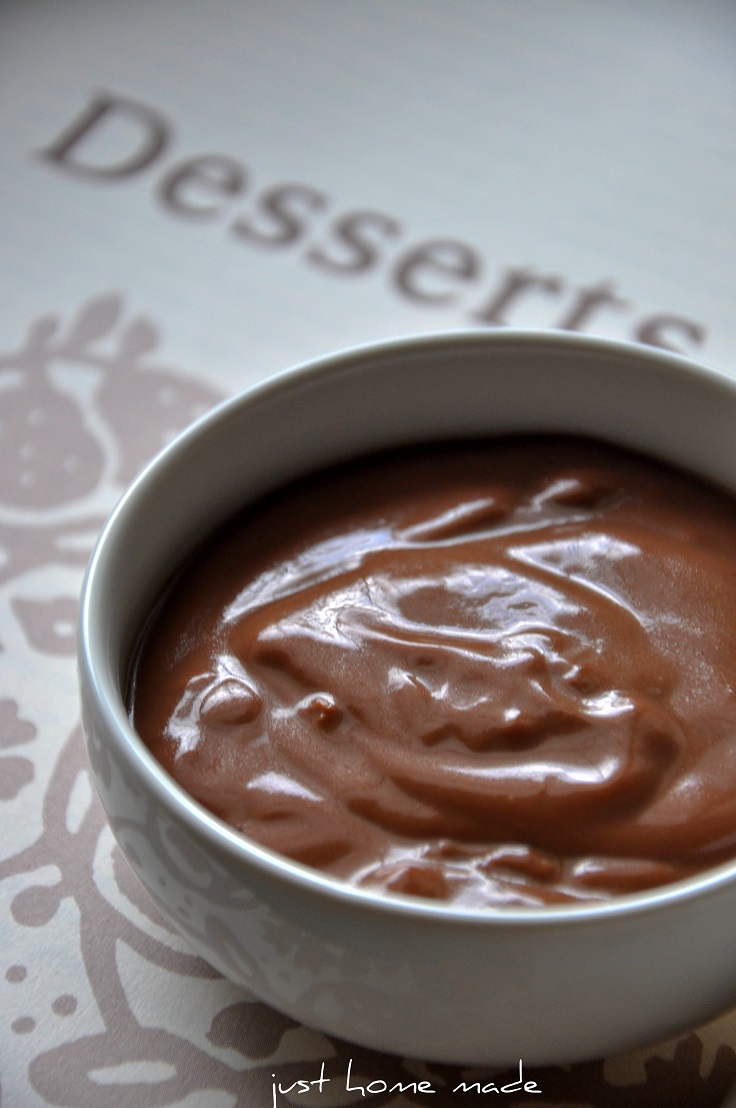 via justhomemade.net
He's coming over in 10 minutes? Don't worry, you got this! You will only need: 1/2 cup white sugar, 1/3 cup unsweetened cocoa powder, 3 tablespoons cornstarch, 2 cups milk and 2 teaspoons vanilla extract. Get a heatproof bowl and combine sugar, cocoa and cornstarch, place in microwave and slowly add the milk. Cook for 3 minutes and add vanilla extract.