When it comes to winter treats, donuts is all we love. A soft chocolate or fruity donut is perfection and in these colder months we all prefer donuts flavors that are warm and spicy. Cinnamon-sugar, molasses, caramel and apple cider are all warm tastes. Bright citrus flavors and strawberry fillings for late winter and cold days in home atmosphere. If you like to make donuts at home, either by frying or baking, here are some delicious recipes you will love for sure. They are all perfect for enjoying with a hot cup of tea in front of a warm fire.
Each bite is the best kind of sugary comfort to get you through to spring. Yes, we can not avoid this delicious sugar bomb and we enjoy in all family gatherings.
Baked Gingerbread Donuts with Orange Cream Cheese Frosting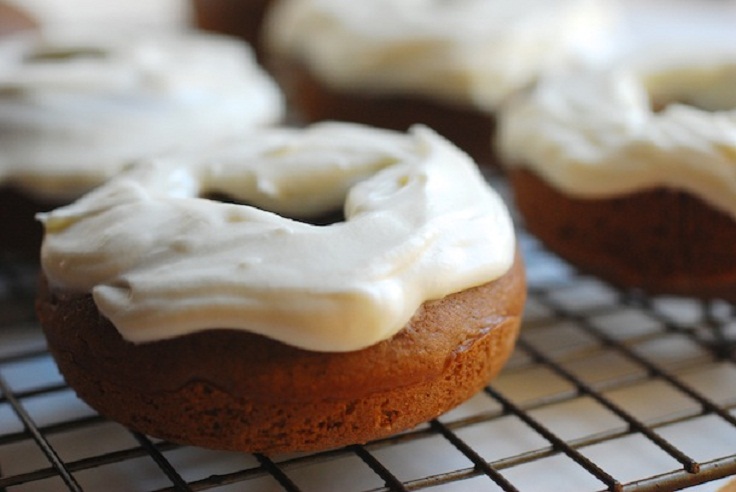 The easy batter is spiced with cinnamon, ginger, and nutmeg, and gets it's lovely sweetness and color from dark molasses-rich brown sugar. The topping is a lovely, velvety cream cheese frosting scented with pure orange and vanilla extracts. All you need for preparing these lovely donuts: 2 cups all purpose flour, 1/2 cup granulated sugar, 1/4 cup dark brown sugar, 1 1/2 teaspoons baking powder, 1/4 teaspoon baking soda, 1 teaspoon kosher salt, 2 teaspoons ground cinnamon, 2 teaspoons ground ginger, 1/2 teaspoon ground nutmeg, 2 large eggs, 1/4 cup buttermilk, 3/4 cup milk, 3 tablespoons unsalted butter and 2 teaspoons vanilla extract. Spray two doughnut pans with baking spray and set aside.
Baked Molasses Donuts with Peanut Chew Filling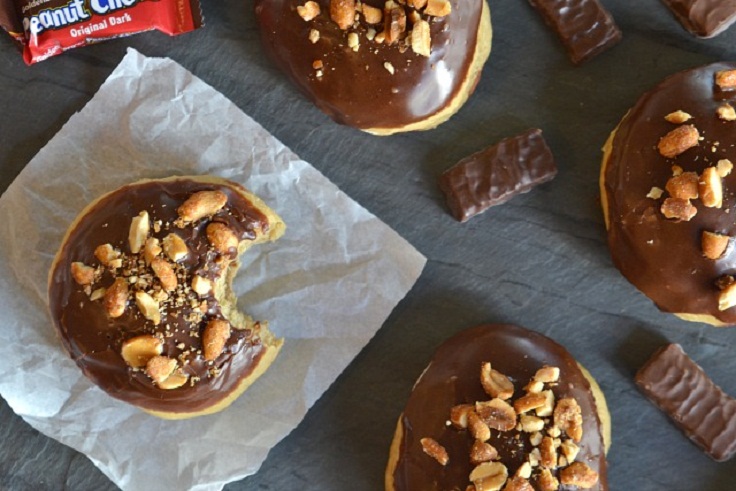 via joyofkosher.com
Preparing time for this donuts is 3 hours and cooking time is 15 minutes. Top the doughnuts with chocolate glaze and crushed honey roasted peanuts and you have the perfect bite of perfection. All you need: 1.5 cups coconut milk, 1/3 cup margarine, 4.5 teaspoons active dry yeast, 1/3 cup warm water, 2 eggs, 1/4 cup molasses, 1/4 cup sugar, 1/4 teaspoon ground nutmeg, 5 cups all purpose flour and 1 cup chopped Peanut Chews. Follow the instructions and do not remember that these doughnuts are best fresh but they can be stored in an airtight container for 1 day.
 Baked Whole Wheat Apple Cider Donut Holes
via feastie.com
Want an apple cider donut, but only a small bite? Make these awesome baked whole wheat donut holes. They are perfect for a little sweet treat with the warm taste of cinnamon sugar. All you need: 2 cups flour, 1/2 tsp baking powder, 1 1/2 tsp baking soda, 1/2 tsp salt, 2 teaspoons cinnamon, 1 large egg, 2/3 cup brown sugar, 1/2 cup apple butter, 1 tsp vanilla extract, 1/3 cup honey, 1/3 cup apple cider, 1/3 cup plain yogurt, 2 Tbsp canola oil
canola cooking spray, 2 Tbsp unsalted butter, 1/4 cup sugar and 1 Tbsp cinnamon. With this recipe you can make makes 24-48 mini muffins.
Cinnamon Glazed Maple Donuts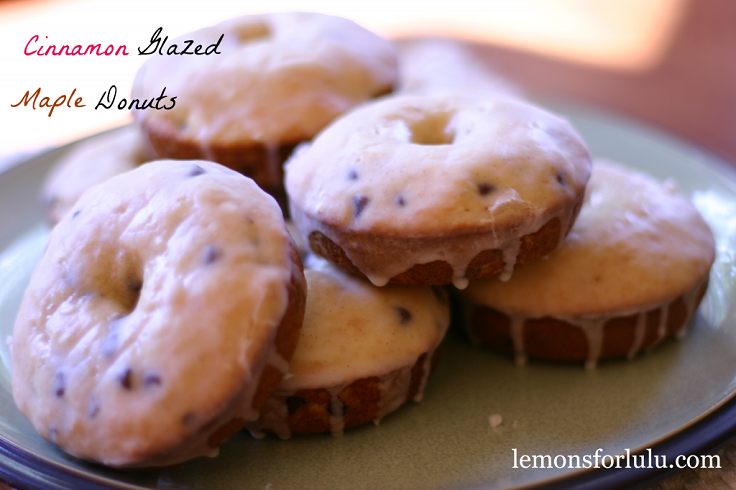 Mix cake mix and buttermilk in a mixer, slowly add melted butter and eggs. Mix until eggs and butter are incorporated. Add pumpkin pie spice and maple syrup and chocolate chips. Mix well. Fill each donuts cavity ⅔ full. Bake in preheated oven for 7-9 minutes, until golden and donuts spring back when touched. Let cool in pan for about 5 minutes before removing to a rack to cool completely. Perfect donuts and you are free to add ingredients.
Cookie Donuts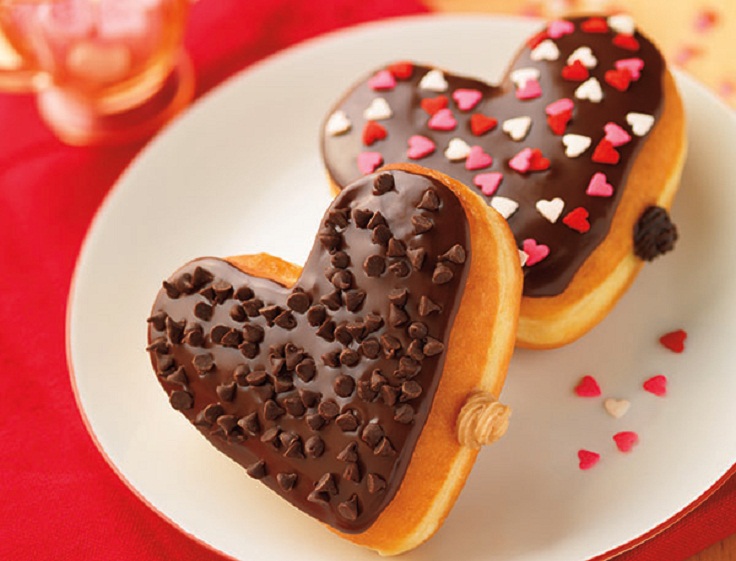 via arismenu.com
Perfect donuts for your boyfriend or girlfriend or your closes. All you need: 1 cup white whole wheat flour, 3 tbsp sugar, 3 tbsp dark brown sugar, packed, 1 tsp baking powder, 1 tbsp corn starch, 3/4 cup unsweetened almond milk, 1 tsp vanilla extract, 1/2 tbsp melted coconut oil, 20 pitted dates and water for soaking, 2 tbsp reduced fat unsweetened shredded coconut, 1/4 cup dark chocolate chips, 1/2 tsp coconut oil. You can make the shape you desire but heart shaped are perfect idea.
Double White Chocolate Coconut Donuts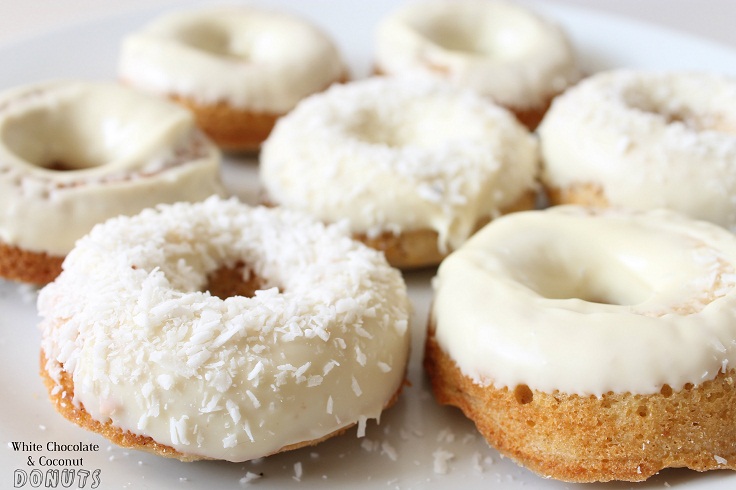 via sugarthumb.co.uk
White Chocolate is one of the best warm flavors for winter. On the healthier side, these rich and chocolate treats are perfect for enjoying after a day of sledding. Here is the recipe for these delicious coconut and white chocolate donuts. All you need: 100 g caster sugar, 1 tsp vanilla, 200 g white chocolate, 50 g butter, 100 g coconut flakes, 240 ml butter milk and 1 egg. Winter white and snow flakes donuts are made in winter spirit.
Glazed Pumpkin Donuts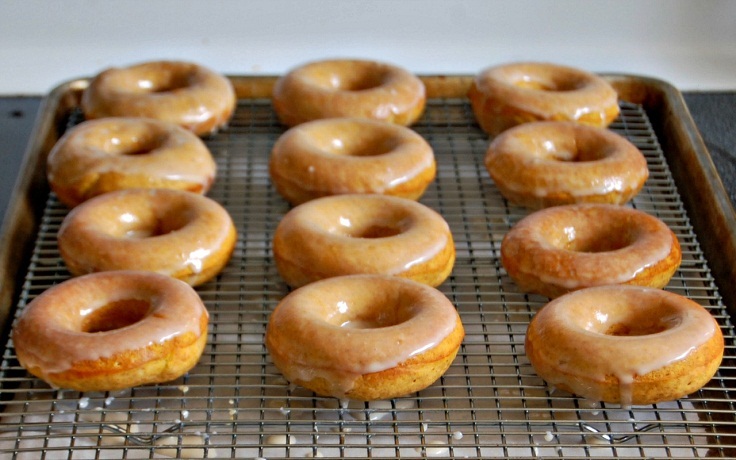 Pumpkin pie spice is a spice mixture sold in a small tupperware container, combine 1 tbsp of cinnamon, 1 tsp of nutmeg, 1 tsp of ginger and ¾ tsp of ground cloves. You need 2 type of ingredients. For the doughnuts: 2 cups all-purpose flour, ⅔ cup sugar, 2 tbsp chilled unsalted butter, 2 tsp baking powder, 1 tsp pumpkin pie spice, ½ tsp ground cinnamon, 1 tsp salt, ⅔ cup canned pumpkin, 2 tbsp fat-free milk, 2 large eggs, 2 tsp vanilla extract. For the glaze: 2 tbsp fat-free milk and ½ teaspoon vanilla extract. This recipe is for 15 donuts.
Pineapple Donuts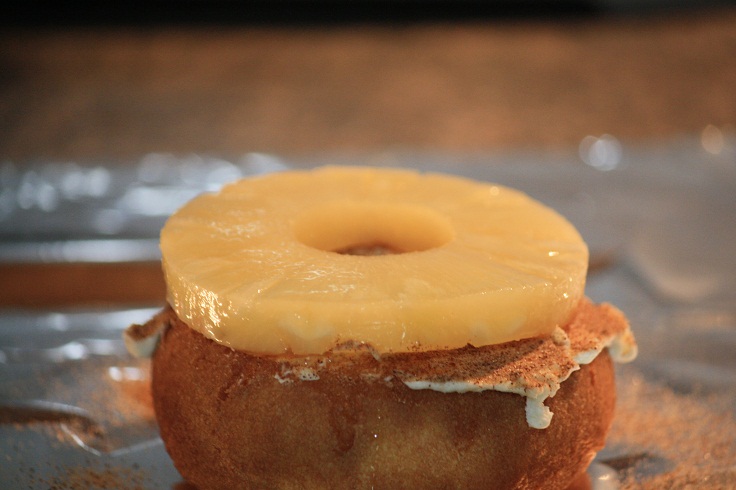 Pineapple is the most delicious fruit you can combine with donuts. But the way to make them ideal for winter is to make them taste like s'mores by adding marshmallows and a chocolate glaze. Pineapple Upside down Donut Cake is made by these ingredients: 1 cake donut, 1 tbsp butter, 1 tbsp brown sugar or cinnamon/sugar blend, 1 slice canned pineapple, 2 tbsp pineapple juice and 2 pieces of foil large enough to wrap donut. Also you can add apple and extra cinnamon.
Red Velvet Donuts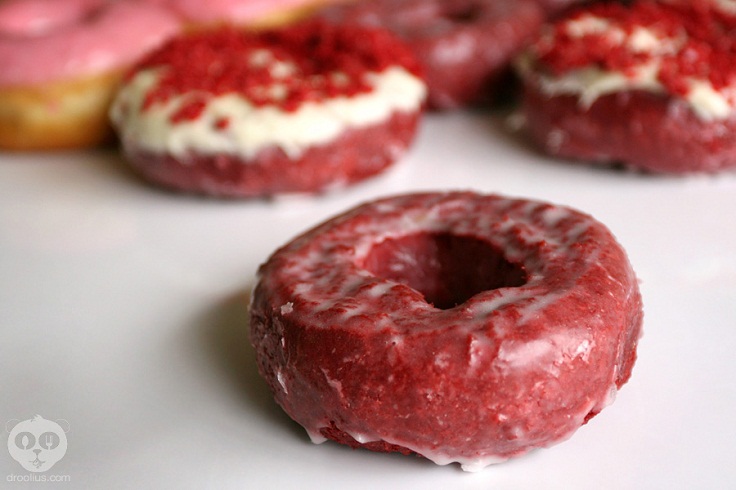 via droolius.com
Red velvet is a smooth silky chocolate flavor that is perfect for winter. Strawberry Frosted doughnut or Cranberry or raspberry, free to choose and make your favorite donuts. All you need for this kind of doughnut are: 2¼ cups flour
1 tablespoon baking powder, 1 teaspoon baking soda, ½ teaspoon salt, ¾ cup sugar, 1 large egg, 2 tablespoons unsalted butter, 2 ounces unsweetened chocolate, melted, ½ tablespoon vanilla extract, ½ cup buttermilk and 1 tablespoon red food coloring.Follow recipe steps and make the best donuts for dinner.
Sour Cream Donuts with Dulce de Leche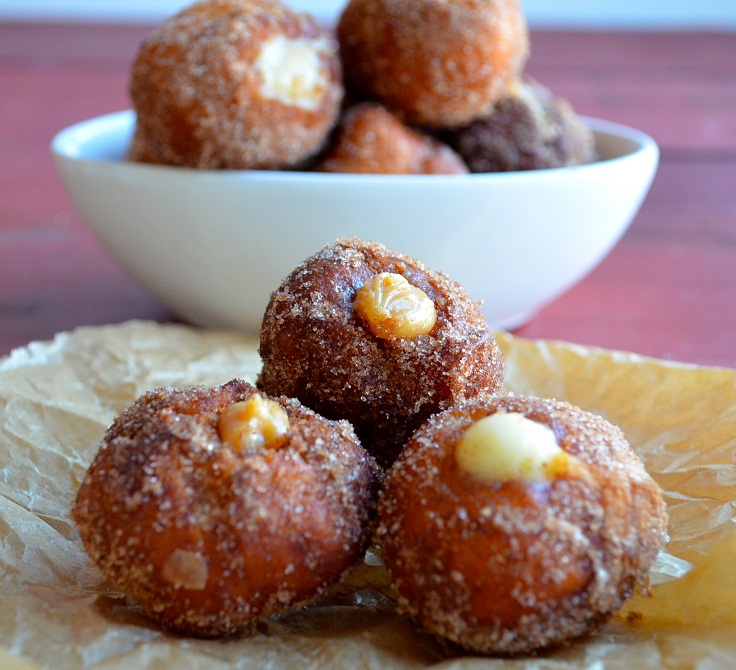 Prep time: 10-15 minutes plus 2 hours raising time and Cook time: 10 minutes. You can prepare the dough ahead of time and refrigerate it overnight after it rises for the first time. Take it out of the refrigerator about 30 minutes before using. You can add eggnog also and make more rich in taste.