The garden is the safe haven in the house. It's secluded and completely yours; the perfect place where you can be yourself and let that translate through the decoration. But decorating your garden can be quite the tricky task, especially when your perfect dream garden mixes with your real, scrappy one. You start wondering what to change, what to add, what to get rid of and in the end you're more lost than when you began. It seems as though you move further and further away from what you originally thought and it gets harder to go back on track. Fear no more because we have just the thing for you. Your dream garden is only a step away with the ten simple ideas we have on how to decorate your dream garden; ideas that can be worked into every design or style you have in mind.Give us your ideas in the comments down below.
1. Add a Bridge To Give Your Garden a Dimension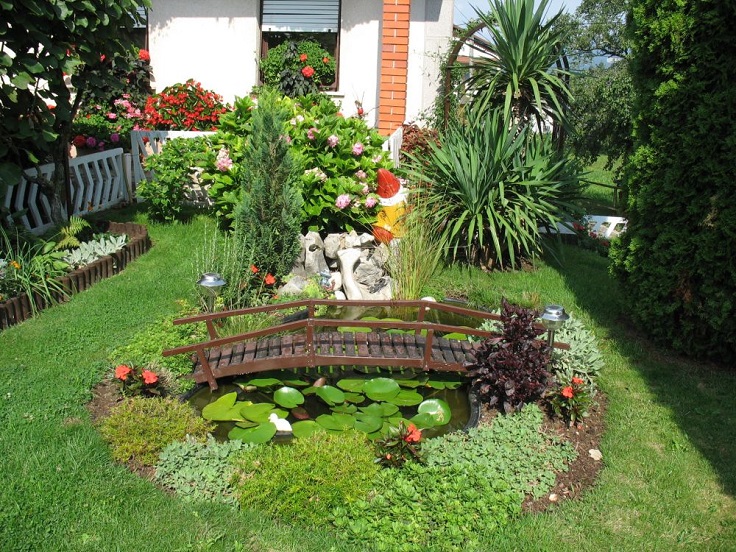 via golansmoving.com
This Japanese style bridge is ideal for your dream style garden. Combined with a pond underneath it, you can give your garden a breath of eastern culture. The plus side on this solution is that your garden doesn't necessarily need to be huge; this bridge looks good even if the space to work with is small.
2. Name Your Garden In a Creative Way
via assaggi-di-me.blogspot.com
If you're the type to plant some vegetables in your garden this could be the perfect solution for you. According to the direction you're taking when decorating, the name plates can come in handy. A plank of wood or a piece of an iron plate and you're good to go. Just write the name of whatever vegetable is planted or just write the directions to the BBQ, the pergola or the beautiful fountain. You'll never get lost with this solution.
3. Add Some Garden Furniture and Rest Comfortably
via castironchimineas.co.uk
The furniture in the garden is as important as anything else. The garden is your place for relaxing, so the furniture needs to be chosen according to that. If you want to go with a more vintage style, you could find some wrought iron furniture and play it up with pillows in different colors. If your dream garden leads you in a more modern direction then a bulky, squared garden sofas and glass tables are the way go.
4. Light It Up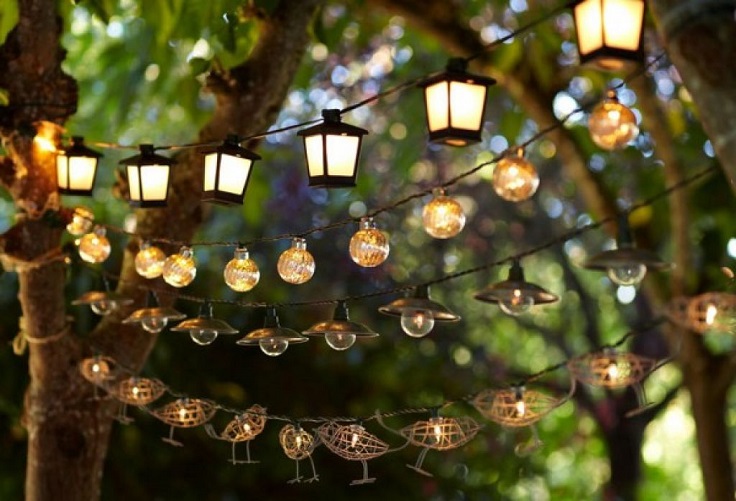 The lights can either make or break a certain space. If you use your lighting correctly, you will have the most magical garden quite close to the one you've dreamed about. Again according to the theme you're going with, you can use string or hanging lights or maybe even those solar powered lights to line up the paths. Have plenty of lights and don't be scared to play with them.
5. Keep The Pathways Natural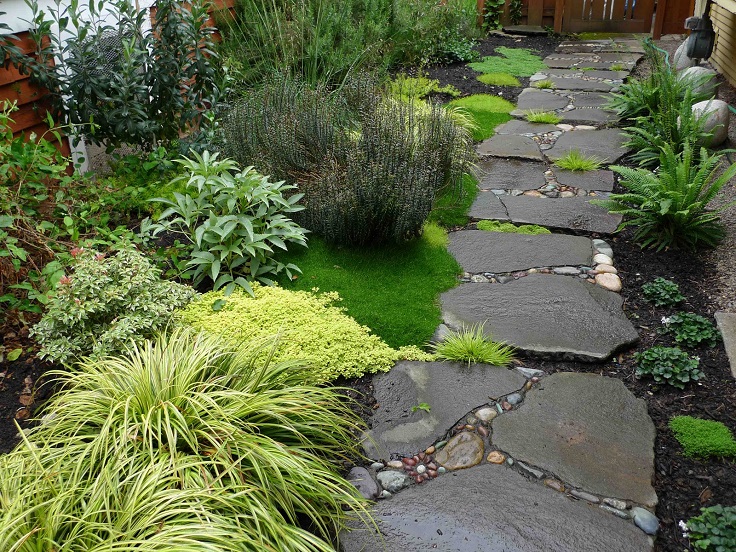 via dokity.com
Speaking of paths, what is more natural and earthy than stone? Whichever direction you decide to take when decorating your garden, the stone as a material is so flexible that you can combine it with anything. You can use cobble stones for your paths or big flat stones put together in a sort of a mosaic. If bigger stones are not your thing then you can always use gravel and work it into your design.
6. Add a BBQ For Parties and Outdoor Lunches
A nice stone barbecue seems like a must-have thing in your garden, especially during those summer days. It doesn't take away too much from your space but it does its work perfectly.  The great thing is that it can be worked out into every design you have in mind. How? This is not like those store bought BBQ's that come in one shape and color. This is the type of BBQ that you can build yourself. Imagine having a barbecue party in your new dream garden…Perfect right?
7. Create a Beautiful Entrance To Your Even More Beautiful Garden
via sseubert.com
The entrance of the garden needs to reflect the style of the garden itself. However if you go with more natural type of entrance and opt for greenery, what you can do is make an arch from iron or something similarly strong and use plants which would coil around while growing. It's a slow process as it would take some time for the plant to grow, but the result will be so stunningly beautiful that you won't even think about the time that has passed.
8. Build a Pergola For Hot Summer Days
via tipsnide.com
The Pergola is the next step in creating your dream garden. You can place your furniture here so you can sit outside even if the sun is burning or if it's raining. It's also perfect for a romantic dinner or just a regular family lunch. The Pergola is a great thing to have in your garden because it's not only decorative but also very functional.
9. Garden Gnomes
via cruelladekill.wordpress.com
Maybe not as extravagant  as the pergola, but definitely quintessential for any garden. A cute little gnome can do wonders for your garden and tie things together if you have a mix of styles. Think of the animated movie "Gnomeo and Juliette" and you'll change your outlook on garden gnomes. You can tell your own story through these ceramic friends and they will retell it to everyone who walks by your garden.
10. Incorporate The Tountain Into Your Design For Serenity
I know that by now you're probably thinking of all those kitschy, over the top fountains with little boys urinating but i assure you…that is not the case. The fountain can be smaller, more delicate and it can be incorporated into the design perfectly without standing out too much or overshadowing the items you want to put the accent on. The fountain itself brings peace and serenity which is exactly what you need in your  dream garden.
SaveSave