We all dream of a lavish home, designed with the best interior there is, with a big bathroom full of mirrors and wooden floors. We may not have the chance to own that kind of home in the moment but you can always improve what you have and make your petite living room a warm and  spacious place using these simple tricks you can apply. Always look on the bright side of life, small living spaces are easier to manage, take less time to organize and less time and effort to clean. The electricity bills are way smaller then bigger apartments, you have less space to decorate which means you can spend a bigger amount of money for a single item that can change the appearance of the whole room. Voila, ladies!
1. Paint The Ceiling
via lonny.com
Painted ceiling draws the eye upwards and tricks they eye in to believing that the room is bigger. You can always use decorative wallpapers, patterns or just regular paint.
2. Light Wall And Floor Colors
Light colors reflect light and once again trick the eye in to believing the room is more spacious than it really is. If your floor is darker you can always add a light carpet. Same goes for the walls, darker colors may look more luxurious but they will make the room appear smaller.
3. Place Furniture Away From The Wall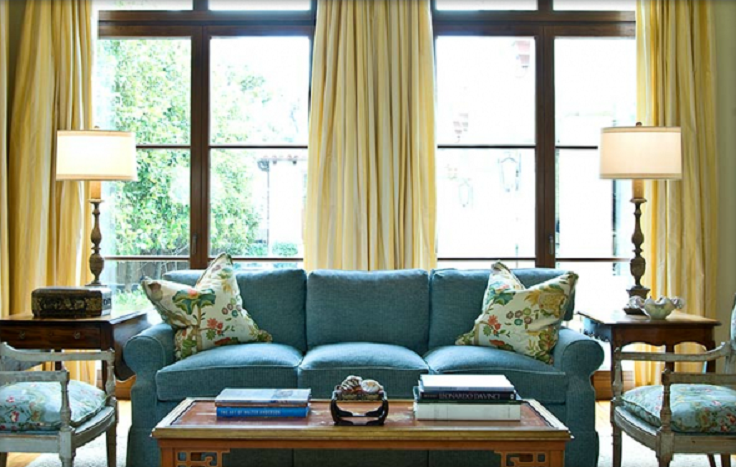 Place furniture away from the walls, in the middle of the room is probably the best solution. Placing it just against the wall makes the small space you have look cramped. Even a few inches from the wall will make a difference.
4. Have Multi-Purpose Items And Storage
via digsdigs.com
This is a great way to organize your little space. If you don't have a wardrobe or place to store things like books, magazines etc. get a multipurpose item like a three-piece suite with a conventional storage placement underneath.
5. Use Stripes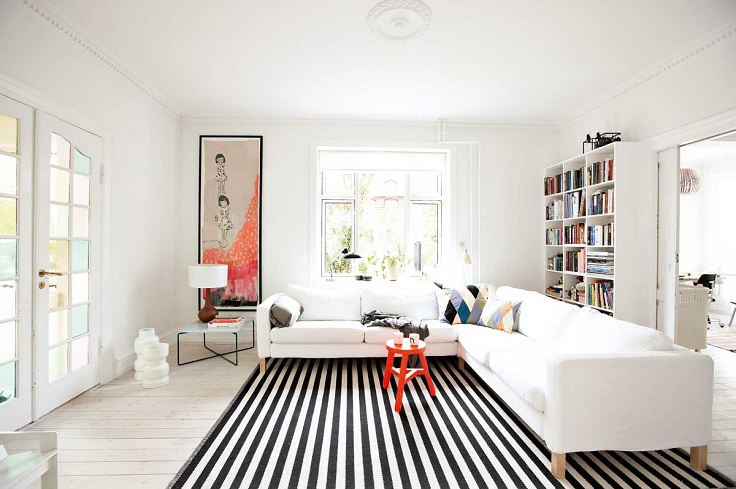 via partyof30.com
Vertical or horizontal it doesn't matter because stripes elongate the space and they trick the eye. A striped rug is perfect for this occasion, striped wallpaper looks absolutely adorable.
6. Hang Shelves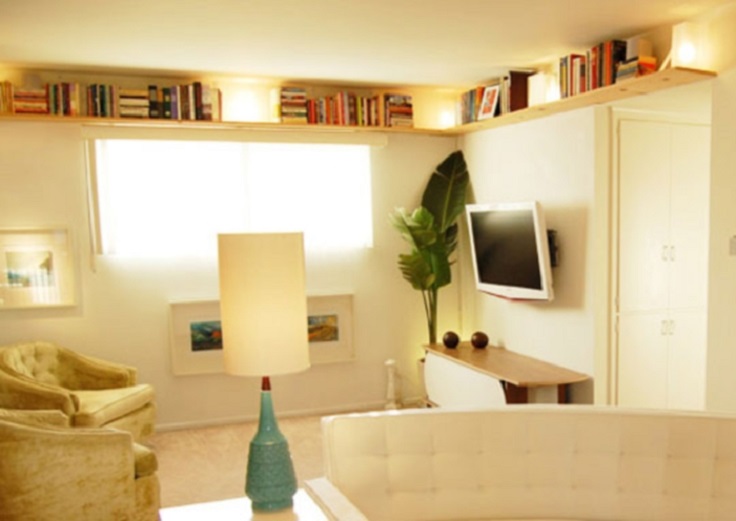 via tuorganizas.com
This may not be the most convenient solution for items that you use every day, but for books that you have already read, collection of books etc. it's the perfect storage for small spaces because you use vertical lines and still make the space spacious.
7. Cantaloupe Rule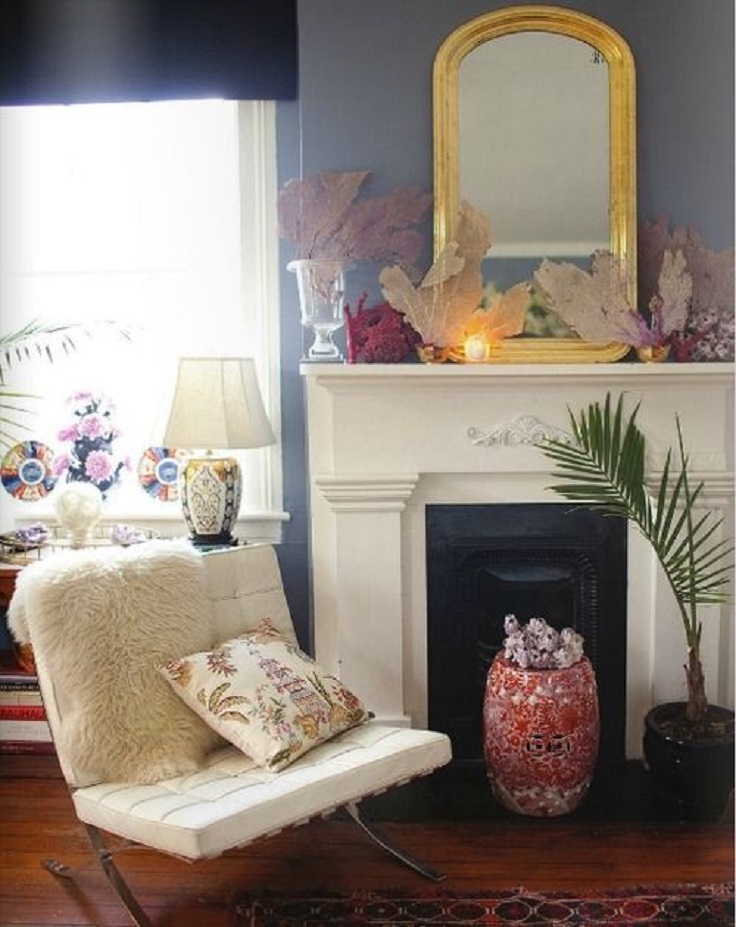 via aptmoda.com
The cantaloupe rule says that decorative accents that are smaller than a cantaloupe cramp a room. And it is completely true, make a statement with one single item when decorating.
8. Edit Your Collections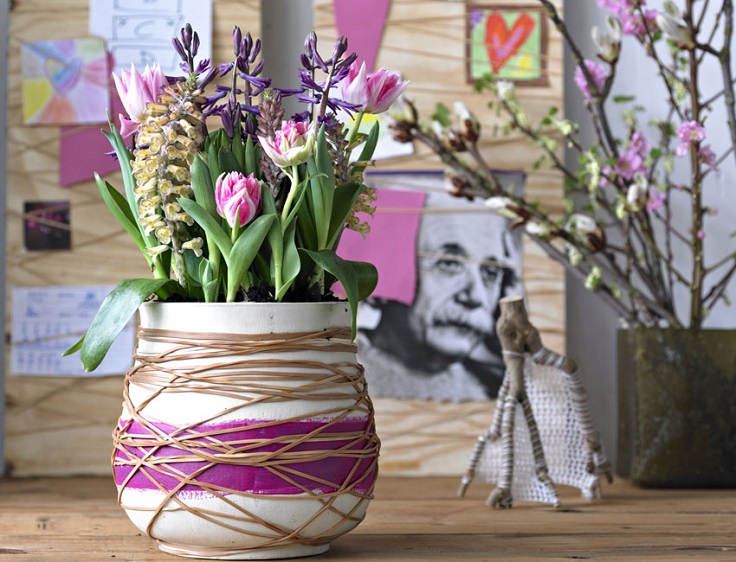 You can't display all of your decoration items at once, make collections and rotate them every season. This way you will have new items to display every now and then.
9. Upgrade Your Lighting
Don't just hang overhead fixtures, have fun with choosing lamps and other kind of lighting that can draw the eye towards them. Plus it looks luxurious and the lamps are very eye-resting.
10. Unexpected Furniture Arrangements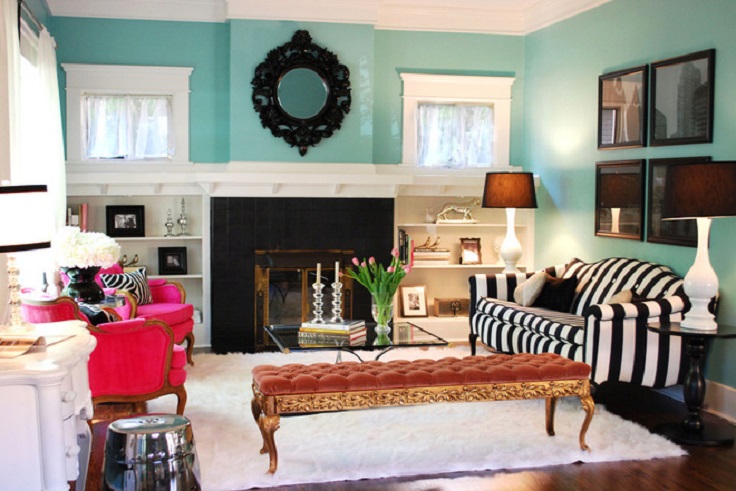 via houzz.com
Just because every home has a sofa and a love seat doesn't mean that you can't have something different and creative. Why not placing an antique armchair and a small coffee table? Think outside of the box.