Are you getting tired of the peanut butter? Try the not-so-famous sibling, the almond butter. Known as a great fiber source and if you want to build those muscles the almond has lot's of protein too. It is usually made from raw or roasted almonds. It is also very rich in minerals such as magnesium and manganese, and vitamins as B2 and E. Still you would want to know why you would change the good old peanut butter with the almond butter? Well, first of all, it is always good to try something new, peanut butter can be found in the stores more often and so to preserve the butter they tend to put lot's of  salt and sugar and that makes it unhealthier. The almond butter tastes delicious and can fit perfectly in any aspect of your diet. Try it and tell us what you think.
1. Almond Butter French Toast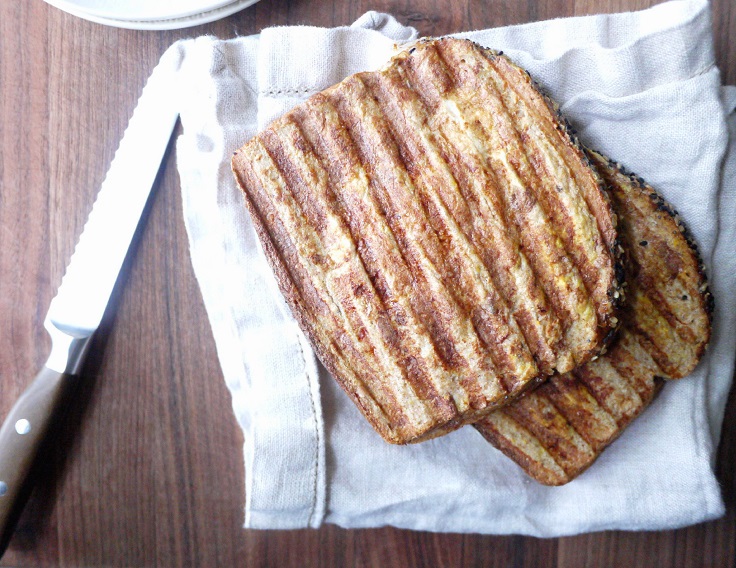 Spice your regular french toast with almond butter. Make an almond jelly sandwich and dip it in an egg and milk mixture. Bake the toast in an oven, for about 3-4 minutes on high temperature.
2. Almond Dip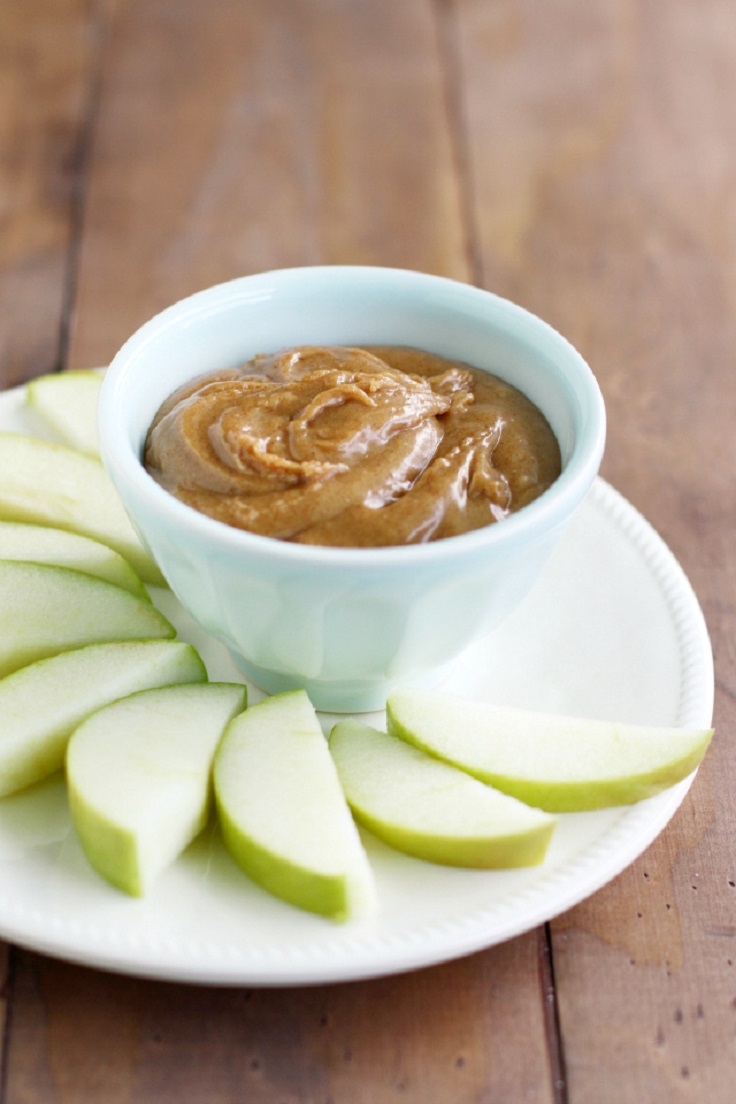 via theprettybee.com
If you want a sweet and tasty snack try this awesomely delicious almond butter dip. Just mix  a spoon of almond butter with 2 tablespoons of almond milk, vanilla, and cinnamon. And gradually pour powdered sugar. Serve it with sliced apples.
3. Almond Butter Chocolate Chip Cookies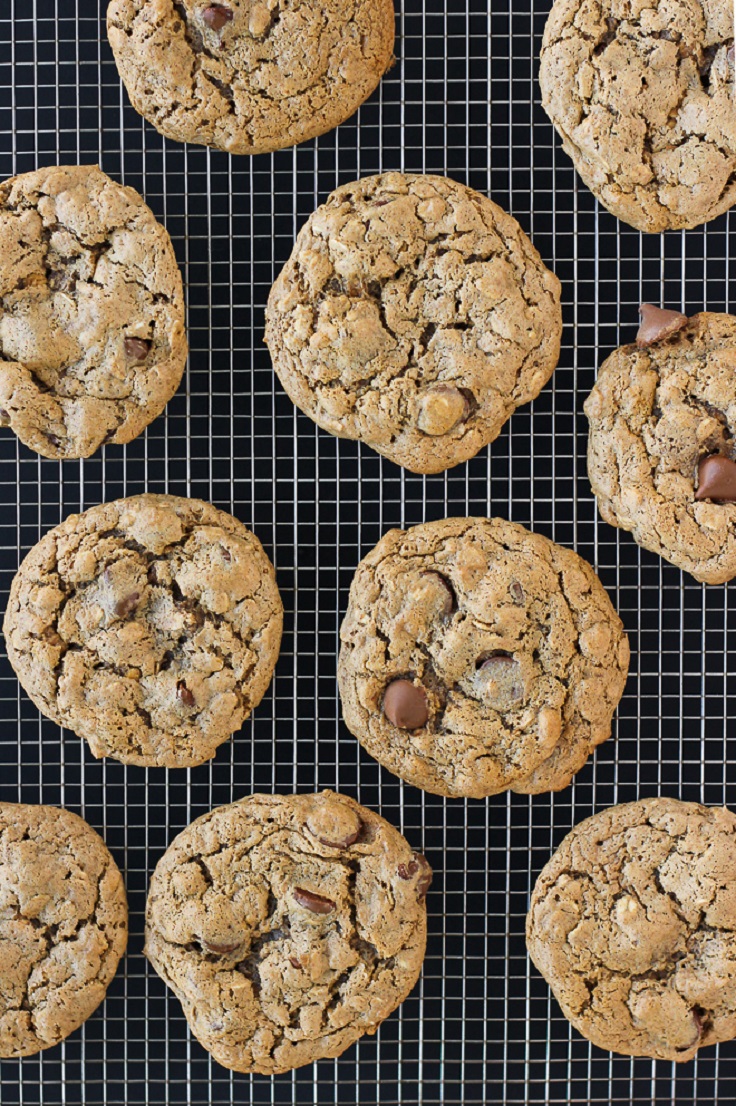 Spoil yourself and satisfy your sweet tooth with these almond butter chocolate chip cookies. You will need: 2/3 cup oats, 1 teaspoon baking soda, 3/4 teaspoon salt, 1 teaspoon cinnamon, 1 cup almond butter, 2/3 cup brown sugar, 2 large eggs, 2 teaspoons vanilla extract and 2/3 cup chocolate chips. Start with heating your oven. Grab two bowls. In the first bowl combine oats, baking soda, salt and cinnamon. In the second(mixer) bowl add  almond butter, brown sugar, eggs, vanilla and slowly beat in the first bowl mixture. Using a tablespoon scoop from the dough and place it on the baking sheet. Bake for 9-11 minutes.
4. Overnight Oats with Almond Butter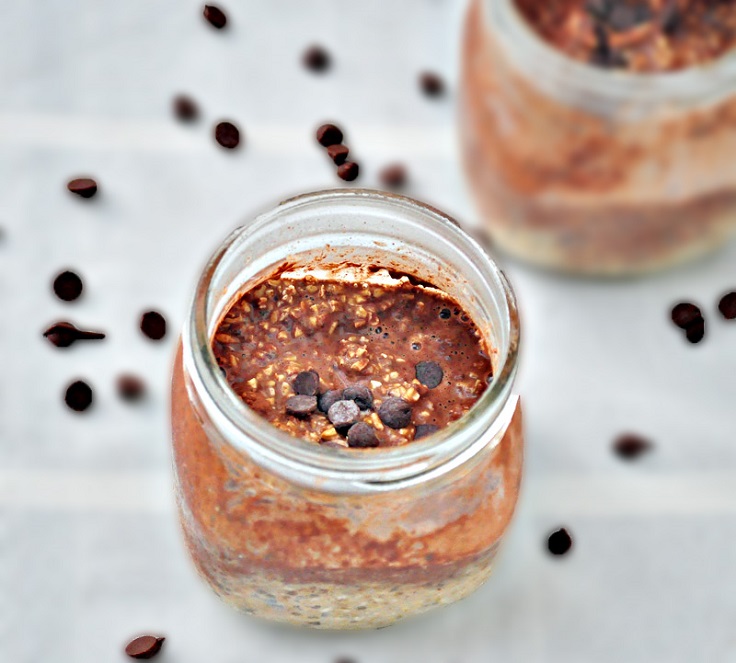 Don't have time for a healthy breakfast in the morning? Prepare it before you go to sleep and you will have a quick, on-the-go breakfast. In a jar add  2 cups of water, 1 cup of whole milk, 1/2 cup of steel-cut oatmeal and 1 pinch salt. In the morning add the 1/4 cup of almond butter and 2-3 tablespoons of honey.
5. Strawberry, Banana and Almond Butter Smoothie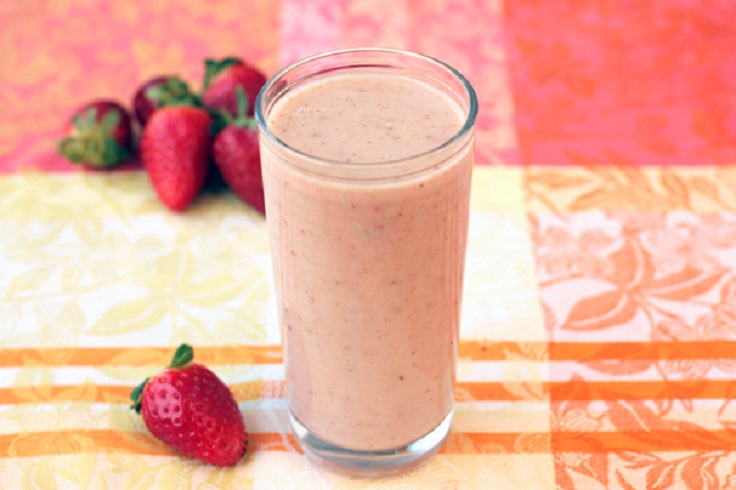 If you like to have a smoothie every now and then, make this nutritious blend of strawberries, banana and almond butter. In a blender combine 1 frozen banana, 1/2 cup frozen strawberries, 1/4 cup plain low-fat yogurt, 1 tablespoon of almond butter, 1 tablespoon honey and a cup of water. Blend and drink up.
6. Almond Butter Granola Bars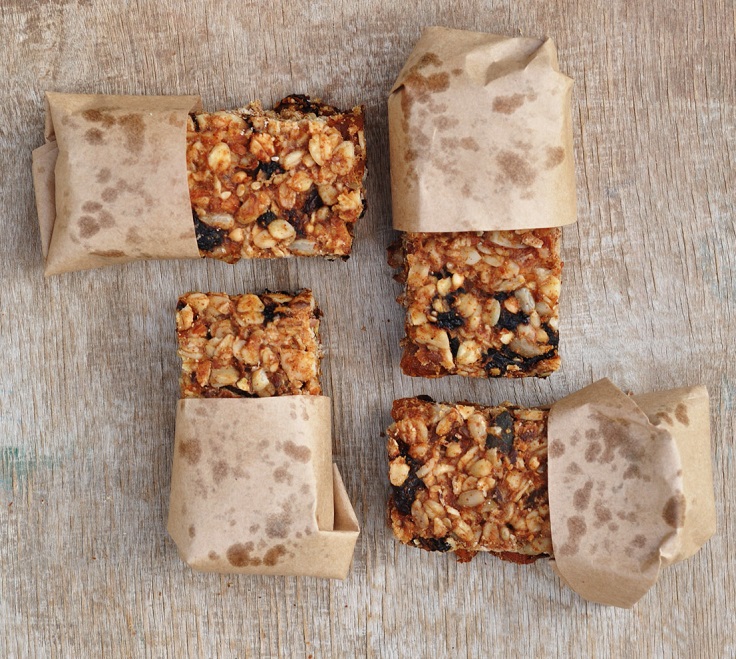 It is always a good idea to carry snacks wherever you go. For making these granola bars you will need: 1/2 cup almond butter, 2 bananas, 1/2 cup of almonds, 1/4 cup dried apricots, 1/4 cup dried cherries, 1/4 cup raisins, 1/4 cup mixed seeds and 1 cup of rolled oats. In a pot heat the almond butter and bananas. In a blender, blend the almonds, apricots, raisins and cherries, turn the blender off and add the seeds and oats. Combine the mixtures and bake for 20-25 minutes and cut in whatever shape you like.
7. Spicy Almond Pesto
via theyumyumfactor.blogspot.com
Getting used to bolognese? Make this pesto sauce to add a little spice in your pasta dish. You only need to combine these ingredients: 1/4 cup sage leaves, 1 mashed garlic clove, 1/4 cup almond butter, 1 scallion, 1/2 teaspoon of lemon zest, large pinch of crushed red pepper and less than 1/2 cup of freshly grated Parmesan cheese.
8. Grilled Almond Butter, Dark Chocolate & Pomegranate Sandwich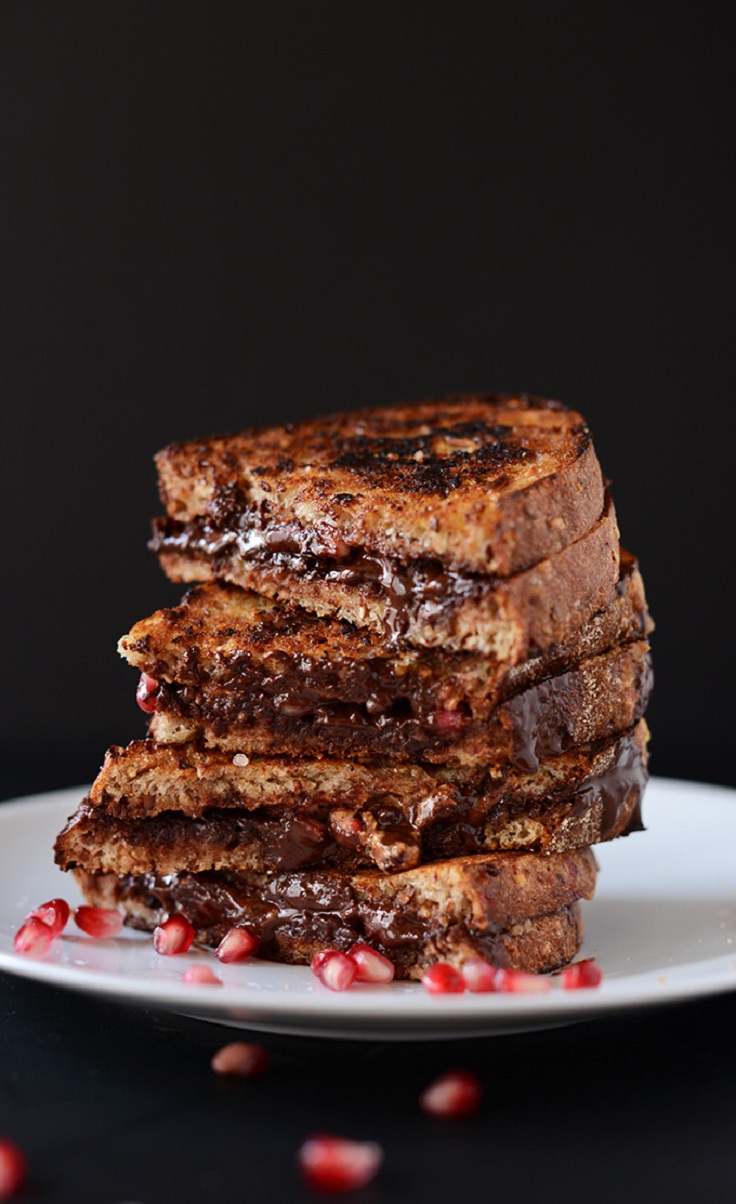 We have reached the peak of humanity. You have to try this mouthwatering sandwich, you will only need these following ingredients: 4 slices of bread,2 tablespoons of regular butter, 4 tablespoons of almond butter, 4 squares dark chocolate and 2-3 tablespoons of pomegranate perils. Butter the outside of the bread slices with the regular butter, on the inner side spread the almond butter, dark chocolate and the pomegranate perils. On a heated skillet cook the sandwiches for 2-3 minutes.
9. Roasted Cauliflower with Almond Butter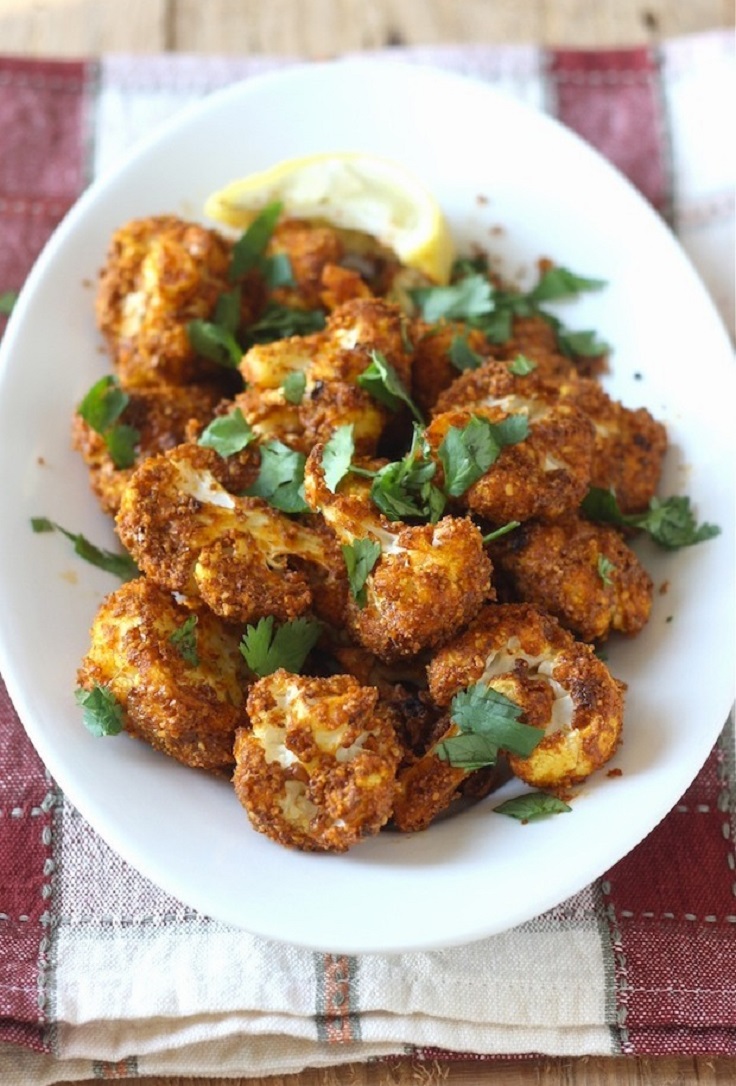 You have friends coming over? Make this light snack and serve with a glass of wine. Ingredients: 1 head cauliflower, 1/2 cup almond butter, 2 tbsp olive oil, 4 tsp of salt and a squeeze of fresh lemon juice. In a bowl, whisk together the almond butter, olive oil, salt and lemon juice. Toss the cauliflower and let them sit for 10 minutes. Preheat the oven and bake for 10-12 minutes, until golden brown.
10. Mexican Smoky Almond Sauce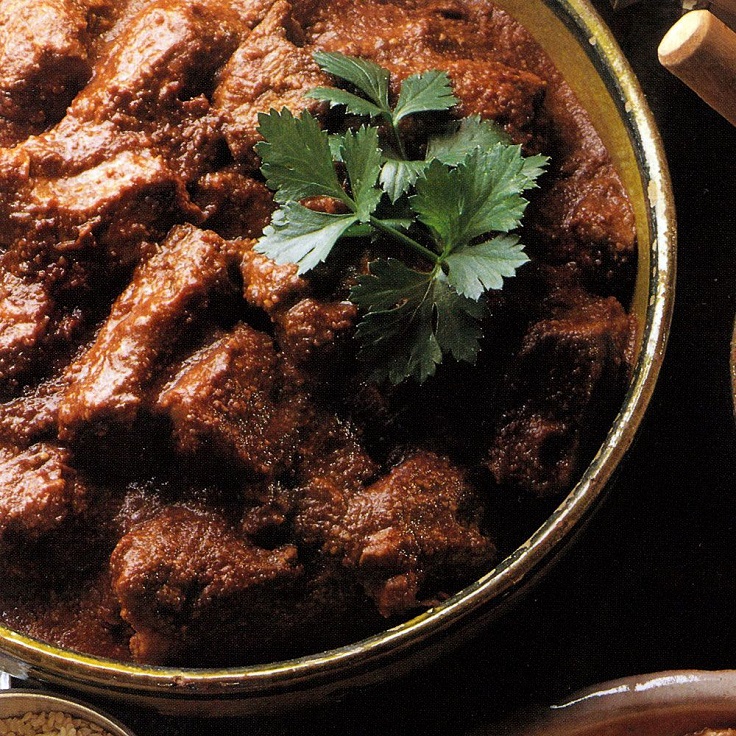 via cooking.com
The pipian is a traditional Mexican sauce that goes well with any kind of meat. Ingredients: 1 ounce of chiles, 2 large garlic cloves, 1/2 cup toasted pumpkin seeds, 1/4 cup almond butter, 1 tablespoon vinegar, 1/2 cup extra-virgin olive oil and salt and pepper for seasoning. Start with placing the chiles in a pan of boiled water. Remove the skin and the seeds from the chiles and along with the rest of the ingredients blend in a food processor. That simple.