Weddings have the power to empty our wallets as no one can. When it's our wedding, we want the best and by best we mean everything to be perfect. That usually costs a lot. When we strike for the most beautiful flowers, the most amazing dress and the most delicious menu, we see how easy is to spend the money we were saving. The idea of saving money on our wedding isn't something we want to hear. But, some must and some want to. No matter what the case is, there are ways that you can save yourself from endless spending on wedding stuff and do your wallet a favor. Check out the list below and see yourself that the tips presented aren't a scary thing to do. You might even like them in the first place!
1. Dates and Off Peak
Saturday is the most wanted day when it comes to wedding. It's really frustrating when you are told that you have to wait for weeks, months and in some cases even years to celebrate your wedding in a certain venue. That is the reason why celebrating it on Saturday costs the most. Think about this, do you reaally need your wedding to be on Saturday? Having it on Friday or Sunday doesn't mean it will be less fun, but it will be less expensive for sure, especially if you choose an off peak wedding season.
2. Venues
One of the greatest challenges when it comes to weddings. Who could say "no" to the venue decorated in Mediterranean style, with beautiful flowers everywhere and a pool calling your name to dive in? Well, it sounds amazing, but that comes with a high price too. Think about your alternatives. In the end, it's the atmosphere that counts and it doesn't have to mean if you celebrate in a five star venue that everyone is going to have unforgettable times. Try something unconventional. If you have small number of guests and a huge backyard, how about having the party there?
3. Simplicity
Yes, you can save on the cake too. We all want the cake to be big, with lots of flowers and nice colors, but that will cost you too. The more decorations, the higher the price. Even if your cake looked good, if it didn't taste well no one will remember the looks of it!  No one says to buy something too ordinary and not so delicious, but instead of that see what are your needs. If you don't have many guests, why buy a big cake? Don't forget that often the simple things are the most beautiful.
4. Borrow or Buy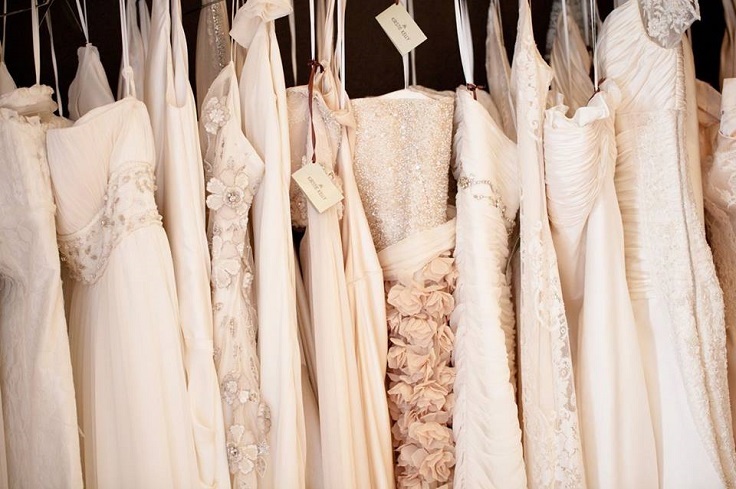 via kirstiekelly.com
Not everyone is a fan of this idea. But, if you're trying to save on your wedding, it's a good one. Borrow your friend's dress, your mom's, anyone's dress that you like. If they don't have it, look for it in wedding dress shops who borrow dresses for a certain price. For sure you will find a dress that will fulfill your needs and wishes when it comes to it. We all know that the dress is one of the three most important things for a wedding. Don't be discouraged if borrowing is something you must do. It's cheaper and won't take much of your time buying it and most important – no one can tell if you really bought it or not.
5. Seasonable Flowers
via onewed.com
Ordering flowers which are available rarely throughout the year can empty your pocket so well. To save on this, choose a seasonable flower, or something that is easy to find always. If you are really into decorations, then you are going to have a hard time on this. Don't be despaired if you can't afford expensive flowers on your wedding day.
6. Photos and Videos
This one also requires a lot of money, especially if the photographer you like is more wanted on weddings. We don't say that the photographer became wanted for nothing, but the truth is that anyone with a good camera and a good sense for photographing can make decent photos. Yes, your wedding photos might not have special effects, but they will look all right. So, before contacting a photo service that you know it will cost you a lot, think about the alternatives. Do you have a friend who doesn't work as a photographer, but is a good one? Or a student whose part time job is photographing? Ask them if they can help you out with this.
7. Food Service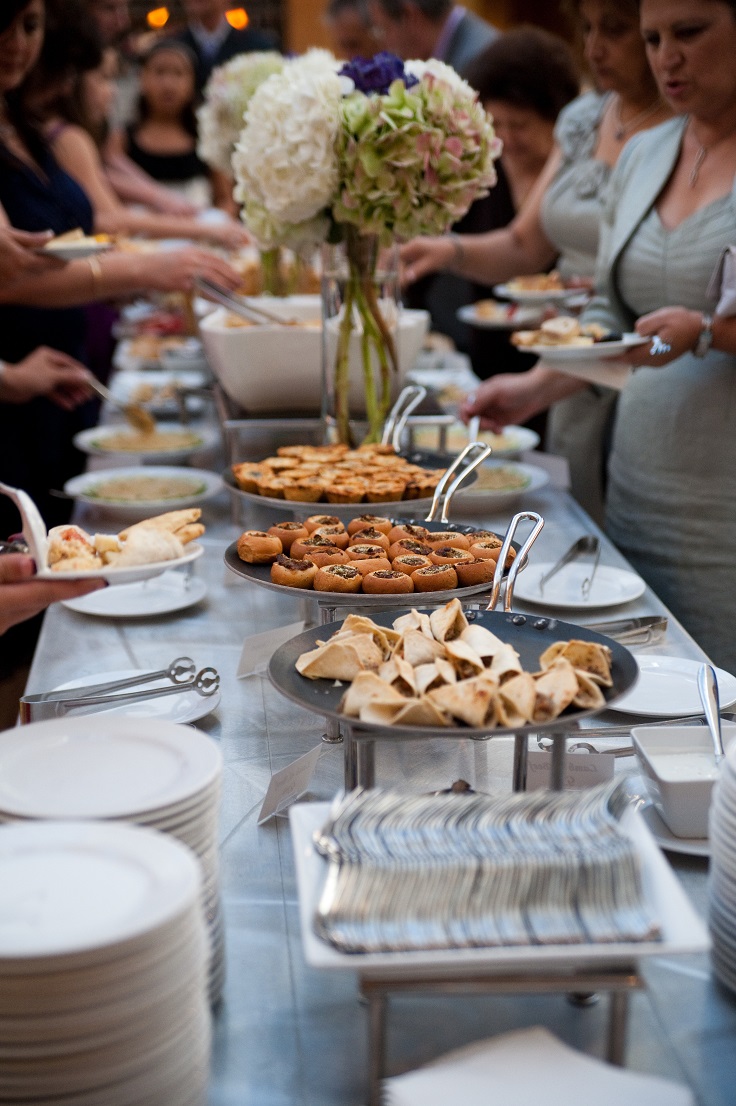 via ilovemyplanner.wordpress.com
There's a trick here too. Dinner costs more than lunch or brunch. So, when trying to save, make a daytime reception. Also, removing the entree of your menu isn't a bad idea too. Instead of having that, focus more on the main course. When it comes to the drinks, a lot of money are spent on alcohol. What you can do about this is serving regular drinks such as wine, beer and champagne just enough for toasting, or you can choose a certain drink, that is used in other drinks, like cocktails.
8. DIY
via fitgi.com
To those who like doing stuff on their own, this will be a nice idea. Instead of throwing money on wedding invitations, do them yourself, if you think you have enough time and creativity to do so. If not, see it with your friends and family. Find someone who is interested in helping you with this, buy the needed materials and work on your wedding invitations. It may take some time and it may go on your nerves too, but doing it with a good company means you'll have a good time as well.
9. On Sale
Well, the title says all. Everything that you need to buy, try finding it on sale. You won't find everything you need, but at least you can save on the money you would spend on decoration, make up, shoes and so on. But, you should also be a little bit strategic when it comes to this too, especially if you buy in a store where there's a lot of crowd during sale. Knowing exactly what you want and where to find it will be a big plus for you in these crowdy minutes.
10. Sell
via etcetra.co.in
And last, if you don't feel very connected to your wedding stuff, sell them. The best way to do this is online, because more people can come up to your offer. You can do it at home or at work and you are going to have at least some of the money you spent on your wedding. Sell the things that can be sold easily or for the biggest amount of money. Of course, if there's anything especially dear to you, like your wedding dress fro example, don't sell it, instead of keep it as a memory.