---
The streets of London were full with amazing outfits. Bloggers, models and many other people from the fashion world attended different shows that represented the spring summer 2016 collections of the world's best designers. All of these people brought their unique style to the streets and it is great to see so many people well dressed. We picked our ten favorite to show you, even though the choice was really though. So, you choose your favorite and get inspired!
1. So Simple, So Chic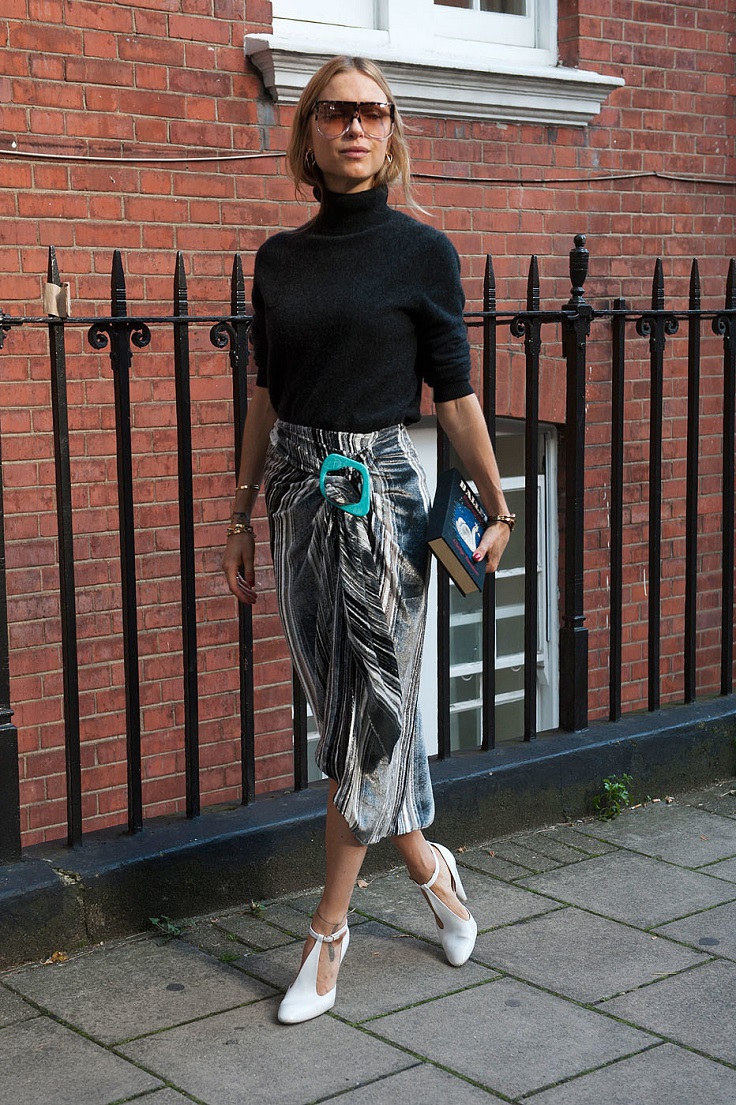 via livingly.com
The title says everything. Simplicity is very often the key to being well dressed. You can achieve this look very easy: sweater, skirt and good heels is all you need. And a bag too, that's a must! Choose a sweater in simple, neutral color; a skirt with an interesting print on it and shoes to match everything. If that's too simple for you, add jewelry, such bracelets and earrings.
2. THE Dress
via popsugar.com.au
This dress is just giving the summer vibes! You really need to have this kind of dress, especially if you are into boho style. Choose someone with an interesting print and combine it with a matching bag and flat heels. It's simple and perfect for any type of not so formal occasions. You are going to love it because of it's material too. The dress is also a very good choice for hot days: the material is light and the heat won't be a big problem.
3. Something Gold 
This look is cute way beyond words! The dress, the coat, the hat… Everything! But, all eyes go to the coat. It's texture and design are worth all the glances. The coat is shiny golden and it makes the whole outfit very unique. If the coat is not your style, concentrate on the dress. After all, every woman should have a little red dress in her wardrobe. And a matching pair of heels, which is a must.
4. Details Matter
This outfit is definitely one of the best street style casual look you can pull out. A shirt with stripes design, denim shorts, heels or flat sandals, and the main detail: the bag. In this look the bag is a pink – coloured lips, but you can choose something else, but remember to choose something unique over simplicity: bold colours, interestig print, unusual shape, your choice.
5. The Sweater Weather Outfit
Ah, sweaters! We can't resist them, no matter the color, or how big and heavy they are (let's admit: some of us love cold weather just because we can wear sweaters any time, every day!). Combine your favorte sweater with a skirt, boots, or sneakers and a big bag. You are going to feel comfortable and stylish at the same time with such outfit.
6. The Hat Obsession
It is impossible not to notice that there were at least tens of outfits that included hats. We totally understand why, because hats are always in fashion and they can add so much more to the way you look. If you don't have one by now, it is time to get it. Make sure to choose the one who will fit your head in the best way possible. If you are not sure about the color, always go for black. There is no place for mistakes here!
7. Life in Pink
Simply WOW. The way this lady is dressed is simply breathtaking, and very glamorous! Every piece she is wearing is worth admiring to. The silky pants, the sandals and the puffy bag are the crown of the outfit. To have this look, you might need some shopping (and maybe some savings, too), but hey, we should allow ourselves from time to time to fully in some shopping.
8. Baby Blue Black
Colar shirt and striped skirt – both in the wonderdul, calming color of baby blue. In order to add something bold, let it be black. Black shoes, black bag, and some little jewelry. Notice how in this look, the earrings really stand out. They are red, which is so opposite to the baby blue color. It adds a unique sense to this outfit.
9. Funny Face Inspired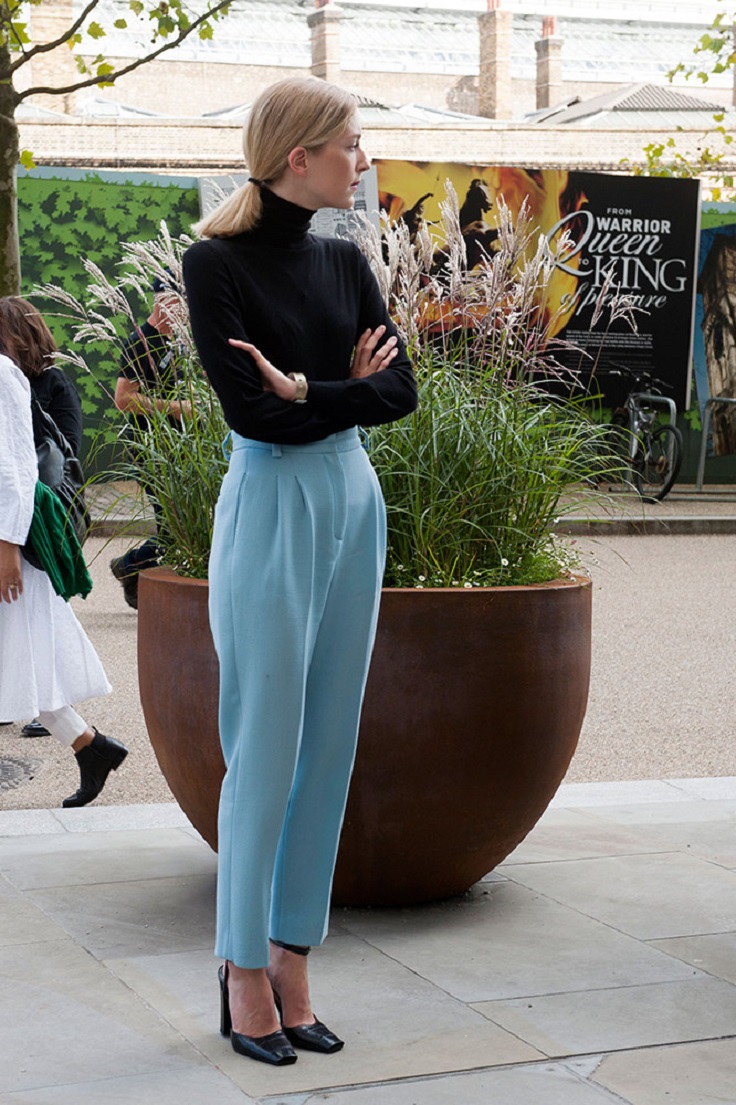 via fashionista.com
Those who have watched Audrey Hepburn act in Funny Face, know that this street style look is a great, stylish copy of 1950's. A sweater and man pants are a simple, comfortable combination that you need to wear at least once. Not so high heels are also recommended!
10. Blazer Love
via styledumonde.com
What we really love about this awesome, stylish combination is that you can even wear it at work. A blazer is simply a must. Every woman should own at least one blazer in her wardrobe. It goes great even with just jeans and a shirt. A bag, shoes and some jewery will make this outfit one of your favorites!