The spring is already at our doors and this means it is the time we invested in one of the best places – our home. In that sense, if you're looking for ways to upgrade your house, then here is the list of 6 landscaping ideas that will make your house a paradise-like place!
Outdoor lighting 
The power of light is unfortunately often underestimated. However, did you know that good lighting can completely transform the way people experience and perceive a certain place? The answer is yes. In this case, outdoor lighting can make such a paradise-like landscape that will make it difficult to tell if it is really your house. To that end, Land of ELITE landscaping services provide you with a number of different services, such as outdoor lighting, that can give your house a totally new face, so make sure you check it out! A well-lit yard can certainly help your household reach its full potential and shine like a star in the sky!
Modern dining area
An outdoor living space area is increasingly becoming one of the key features of luxurious and rich properties. Indeed, a dining area in your yard can serve many different purposes. For instance, you can organize an event, family meeting, friend gathering, birthday celebration, party, or simply use it to spend nights in deep talks with your partner next to a fire pit and delicious food. What is more, a modern dining area has a very luxurious appearance and makes the whole household cozier and more welcoming!
What is more, a nice outdoor dining area can give you a private space to move away a little bit from the noise in the house. On the other hand, it can also keep you occupied with creative decorating. For instance, you can make a wall of live green hedges, along with a beautiful modern fence, solar lamps, and candles. This way, you can turn it into a real oasis of peace where you will make great memorable events and spend precious moments with your loved ones! On top of that, all your guests will be captivated by the great landscape view that it offers!
Lavender field
Lavender is a noble herb that is native to the African continent and the mountainous region of the Mediterranean. Not only is it beautiful, but it is also widely used as a fragrance, medicine, tea, and etheric oil. The main feature of this magical herb is its calming and soothing effect. 
Lavender fields have always been connected to pure nature and the lands of fairies. Now, the question is: why not make one in your yard? Indeed, it would give your yard a magical landscape and emanate with a sense of serenity, peace, and comfort, for hardly anything can remind you of the countryside and hills as this amazing herb.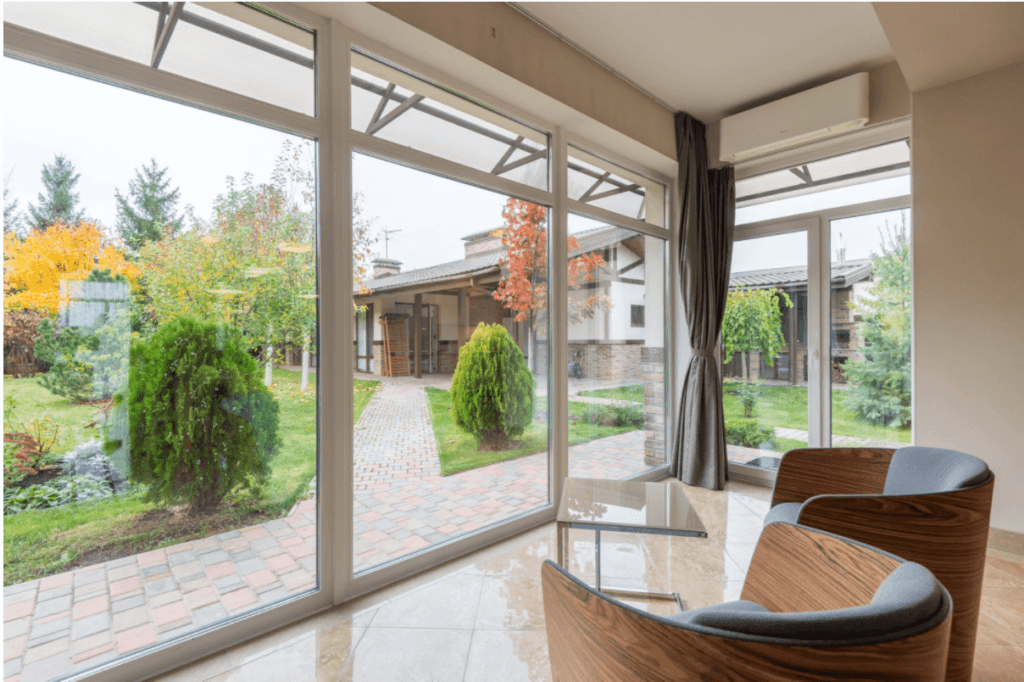 Pool
Not only is the pool a great place to rest and relax after a long stressful day, but also a gem in your yard! For sure, pools have always been a symbol of beautiful houses and this is because they emanate with a sense of abundance and luxury!
Building around a tree
If you happen to have a big and old tree in your yard and don't know what to do with it, then please stop all that you are doing. Make sure you don't cut it or hurt it in any way – because it is a treasure.
Did you know there are so many clever ways you can literally transform your yard and make a great landscape of it by means of one big old tree?
Indeed, you could use the old tree from your yard and build around it a seating area. This is one of the greatest ways you could make use of the tree in the aesthetic sense. Having a tree in the middle of the seating area is reminiscent of old Chinese empires which built seating areas around a tree. You could do the same and achieve a fantastic effect that will make your yard worthy of admiration! 
Focal Point Wall
Nowadays, focal point walls are becoming a trend in urban gardening, and for a good reason. A focal point wall is a place of sumptuous architectural gem that is followed by a range of beautiful details such as greenery, beautiful stones, fountain, and intricate lighting. This wall is then illuminated by the spotlights and thus presents a focal point in your yard. It is for sure that everyone will be astonished by its beauty, design, and grandeur. 
Any of these awesome ideas will certainly make your house more vibrant and welcoming, so make sure you take them into consideration!