Since Valentine's Day falls on Sunday this year, there are many ways to celebrate it with your loved one: a day at the park, a nice brunch or a fancy dinner. No matter where you will spend the day of love, your outfit should be lovable too. Once the gift and plans are in place, focus on your wardrobe and give the best of you. Red is definitely not the color you should wear that day, but you can play with details.
There are many wonderful outfits that exclude the hot red and still look fancy and appropriate for the day. Embrace your date this month with the most fashionable items. So, here we made a list of 10 alternative looks that will impress on February 14. Love is in the fashion too!
1. Silk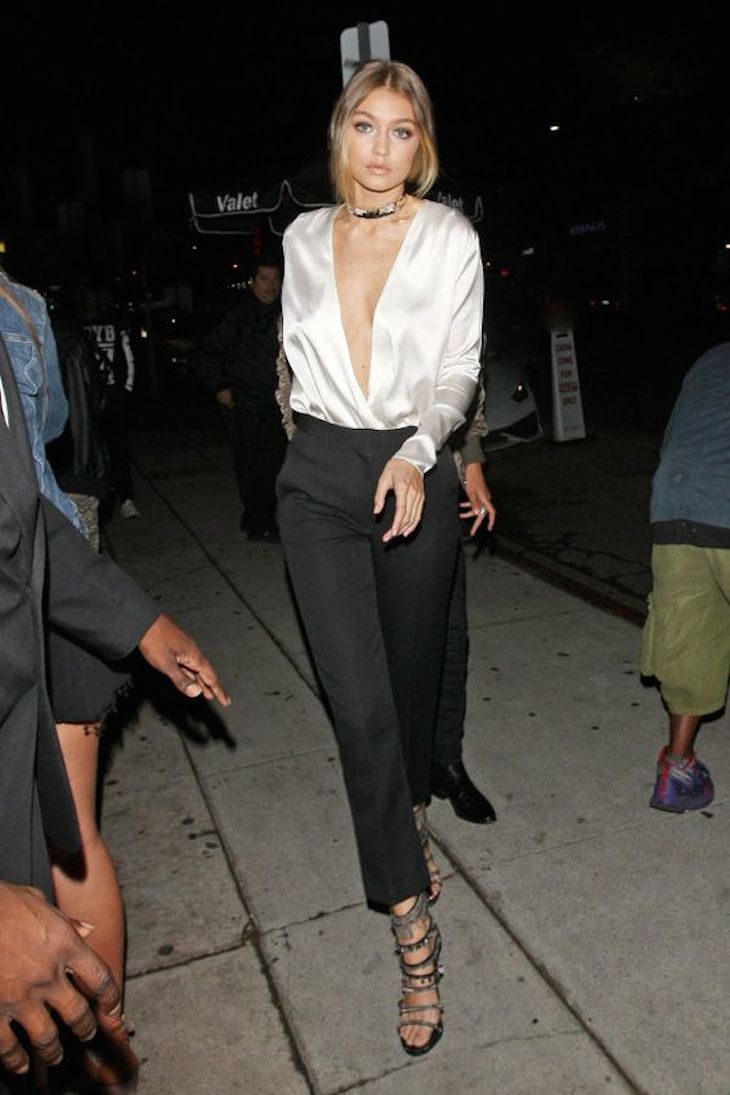 via thezoereport.com
The perfect night for wearing a silk blouse. They are elegant and classy and they always add some glam and shine to your look. If you want to get more out of the silk blouse, pair it with some black skinnies and sky-high heels.
2. Black And White Dress
via theyallhateus.com
Hopefully you already know how powerful black and white colors look together. But the most important thing when wearing the black&white dress are your shoes and your accessories. Since you are getting ready for the Valentine's dinner, pair it with the red shoes and some elegant neckless.
3. Sexy Jumpsuit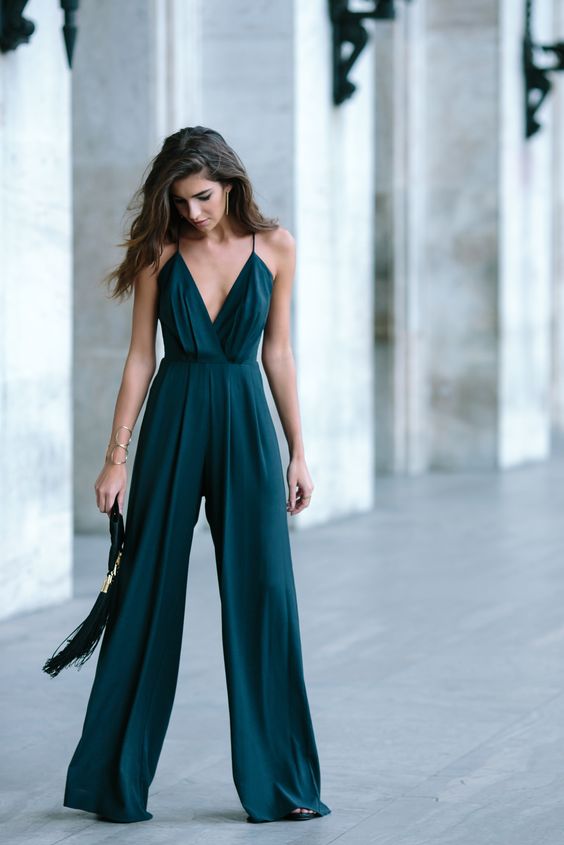 via glamradar.com
Jumpsuits have been huge trend last year and this trendy style isn't going anywhere. They can be very sexy and sophisticated when paired with leather or furry jackets. But don't forget to add some glamour by taking some eye-catching clutch with you.
4. Leather Dress And Red Clutch
via popsugar.com
Dare to be unique for the night of love by wearing some sexy and short leather dress. The leather dress is such a statement that all you need is some small and wonderfully chic red clutch. Happy Valentine!
5. Red Lingerie
via clothhabit.com
Since the Valentine's day is just around the corner it is time to start thinking about what sexy lingerie you should wear under your outfit.  You can't never go wrong with hot-red, it will just make you feel  more powerful and sexier. Have a great Valentine's Day (or night)!
6. Brunch In The City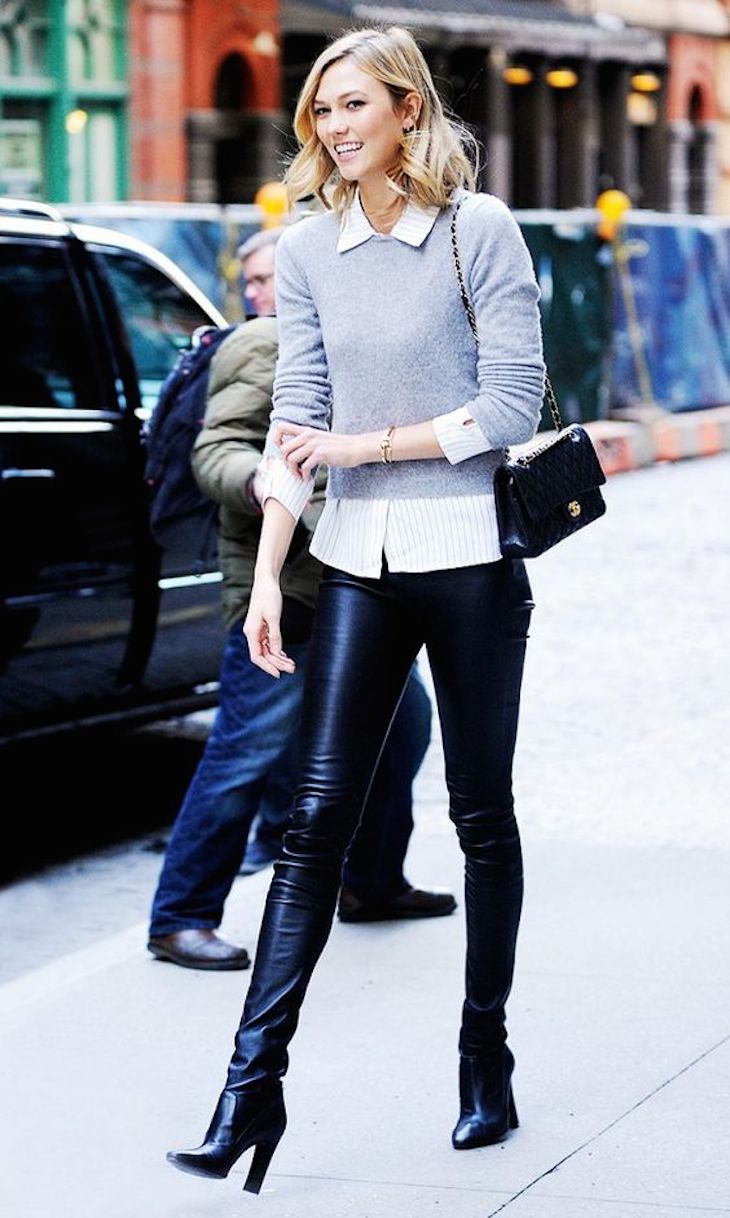 Brunch is all about looking casual but still staying stylish and chic. Since Valentine's Day falls on Sunday this year, maybe you are about to go on a brunch date with your lover. The best way to stay stylish and cool is to wear your favorite sweater with some leather jeans and boots. Don't forget to accessorize your outfit with some beautiful bag!
7. Animal Print With Red Shoes
via musingsinfemininity.tumblr.com
A leopard coat seems like a big statement that will perfectly goes with your red heels. Just whatever you are wearing underneath, keep it simple! This could be a great combination for the night of love.
8. The Most Important Thing
via neimanmarcus.com
No matter where you go, always make sure you have the right shoes. Since the Valentine's Day is a special occasion, choose some standout and eye-catching shoes that will complete your look. Flats are fine, but not this time!
9. Winter White Dress
via noire.co.vu
Don't you really tired of wearing black dresses for every special occasion? Well, there is nothing wrong if you go with the white winter dress this time! Add edge to your look by wearing one statement detail such your glamorous bag.
10. For Those Who Really Want To Wear Red Dress
via thindesalad.com
So for those who really want to wear red at Valentine's dinner, you should definitely go for something more simpler and accessorize it with a nice bag and your favorite black shoes. Enjoy the night!