Vegetarian or not, pizza is a favorite for most people in the whole world. This is a familiar Italian meal for everyone and the positive thing about it is that it has thousands of combinations that you can choose from. You can make pizzas with many different kinds of ingredients like all kinds of cheese, various vegetables, mushrooms, and many more.
It is hard to choose which pizza you will make, it is the same every time, we know. Because of that, this time we have made a fantastic list of the top 10 exiting vegetarian pizza recipes, to help you choose the best ideas. We assure you that they are tasty, or for someone even tastier than the regular pizzas. Enjoy!
1. Spicy Red Pepper, Goat's Cheese, Arugula, and Olives Pizza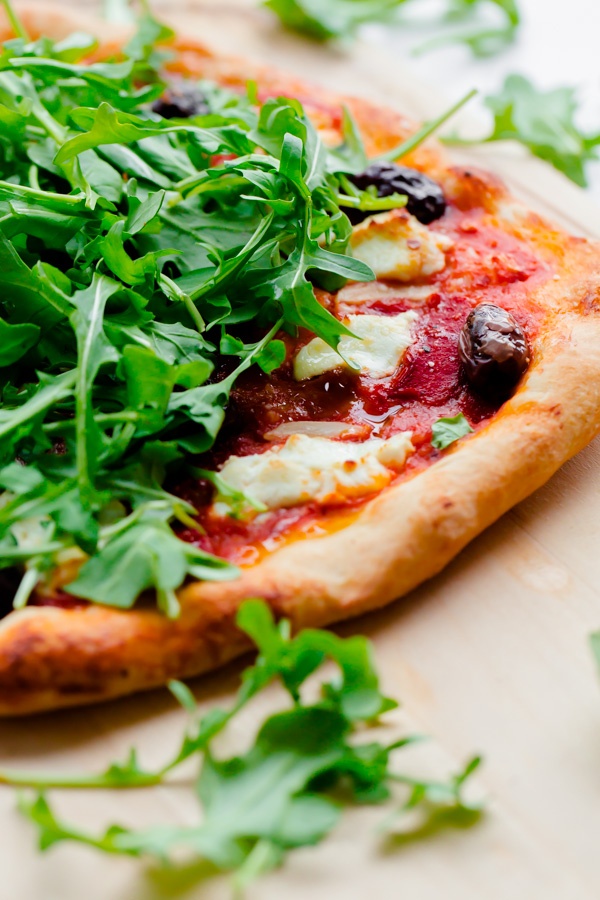 Recipe via abeautifulplate.com
This recipe is sure to put warmth around you. Simple yet with unlimited super flavors coming through with every single mouthful. Not only will it look great, but the roasted peppers and goats' cheese pairs so well together. You could replace the goats' cheese with any other soft cheese should you wish. Or add another. The peppery arugula adds freshness to the pizza with a hint of pepper.
2. Roasted Veggie Pizza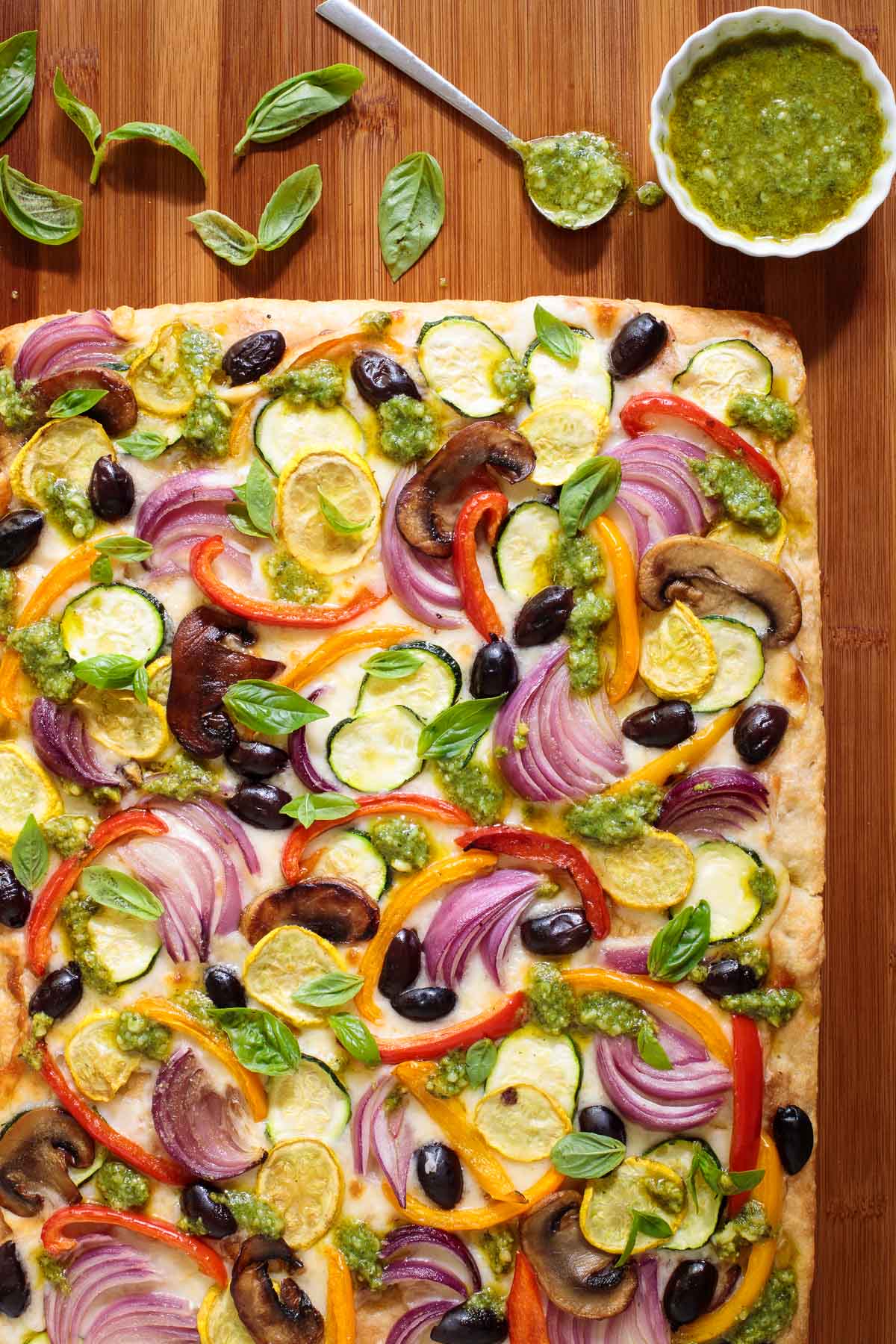 Recipe via thecafesucrefarine.com
Nothing better than roasting your own vegetables and better even if you have some lying around your garden. This recipe is all about fresh and simple ingredients. So the better they are, the better the outcome and the more morish the bites will become. When you roast the vegetables you start getting natural sweetness coming through. The fresh basil offsets this but ensures to add last minute not to burn the leaves. You can even add for a greater Italian experience a little pesto prior to serving.
3. BBQ Veggie and Pineapple Pizza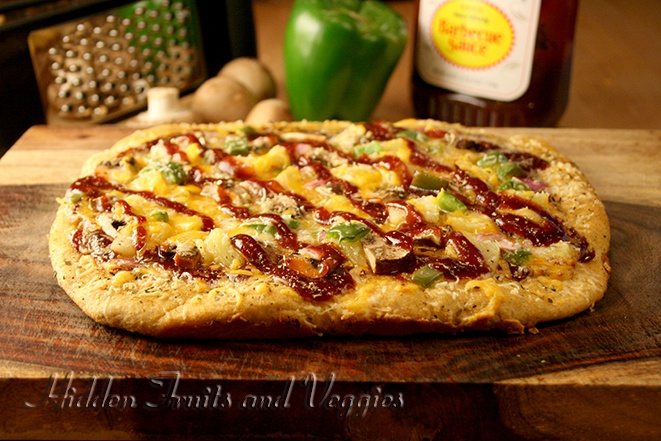 Recipe via hiddenfruitsandveggies.com
Many will love and an equal amount might let's say, not love so much! But this recipe is for the many thousands that love pineapple on their pizza. We all need a little something different in our lives! The sweetness of the pineapple is a perfect balancing act to the BBQ sauce. The green peppers add freshness to it and should you wish to, replace or add jalapenos too. Works a treat if you're a spicy kinda person. A true, American Italian classic boasting in flavors.
4. White Sauce Pizza with Spinach and Ricotta Cheese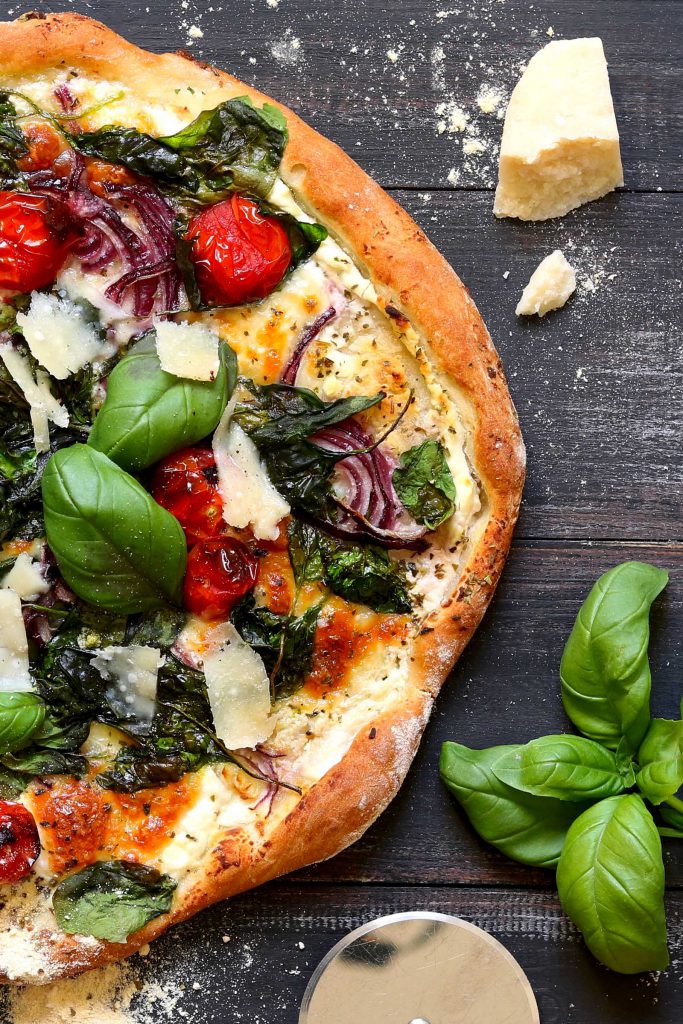 Recipe via thelastfoodblog.com
Ricotta and spinach is an absolute classic in Italian cuisine and perfect with either gnocchi or pasta. However, on pizza dough, it is simply brilliant too and a must-try. It's less traditional than the tomato paste you normally would find on a pizza and somewhat breaks away from the mold. Makes a nice change. You get lots of iron from the spinach so could be great for the kids making them eat their greens. And for adults too! Add basil and Parmesan to the finished product for the wow factor regards to color and flavor. You'll be making this over and over again.
5. Truffle Mushroom Pizza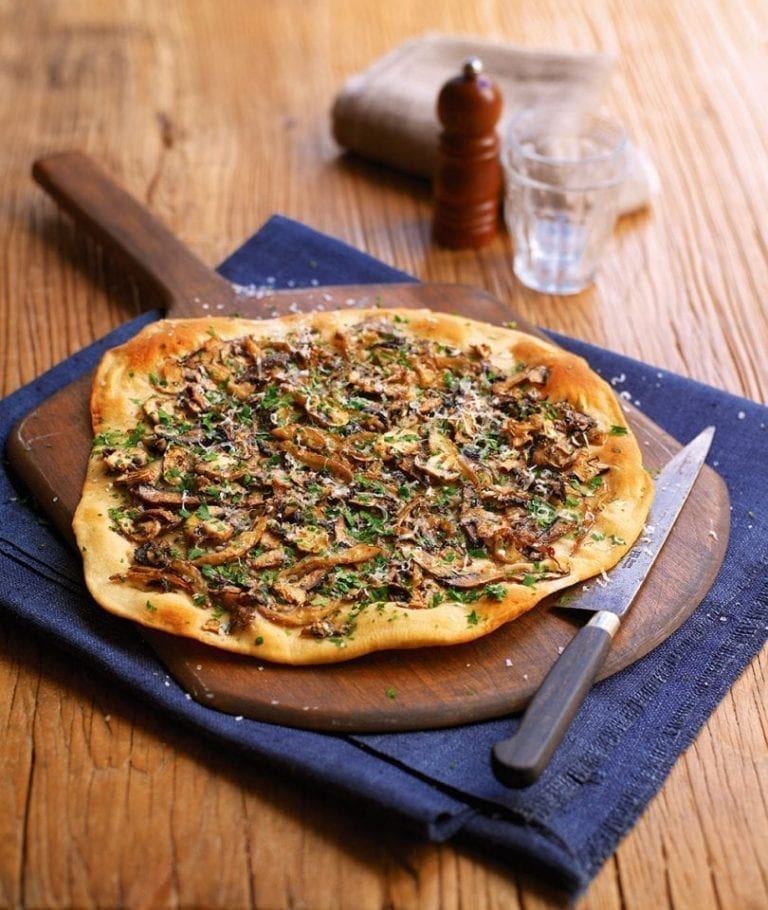 Recipe via deliciousmagazine.co.uk
One of the most decadent pizzas one can make and eat! Beautiful fresh mushrooms and on this occasion you have 3. In reality, you can choose pretty much any mushrooms for this recipe to include wild ones should you feel extra decadent. Pasting all over it truffle paste will infuse your home with its smell and your taste buds will thank you for days to come. If you have a fresh truffle, or any kind of truffle feels free to top it up onto the finished pizza once cooked.
6. Tandoori Paneer Pizza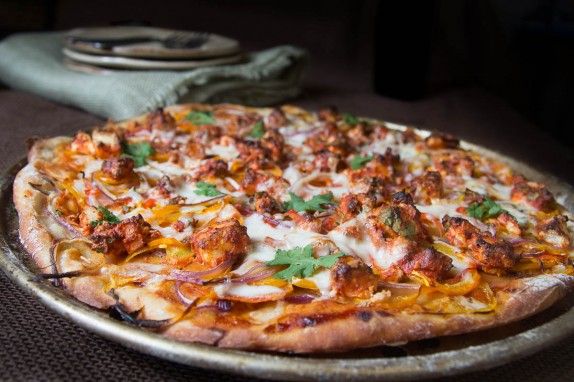 Recipe via indiaphile.info
Classics are great but let's face it, if we want to spice up the heat in the kitchen and amaze anyone around your dinner table, not much more beats a great Indian in terms of the multitude of flavors. This pizza not only smells and looks great, but the flavors will send you to a different dimension. If you cannot find Paneer we could suggest using any other crumbly, fresh cheese such as Ricotta or indeed Feta. Will work great also. The Paneer is a little saltier perhaps and true to Indian roots.
7. Savory Marinated Peach Pizza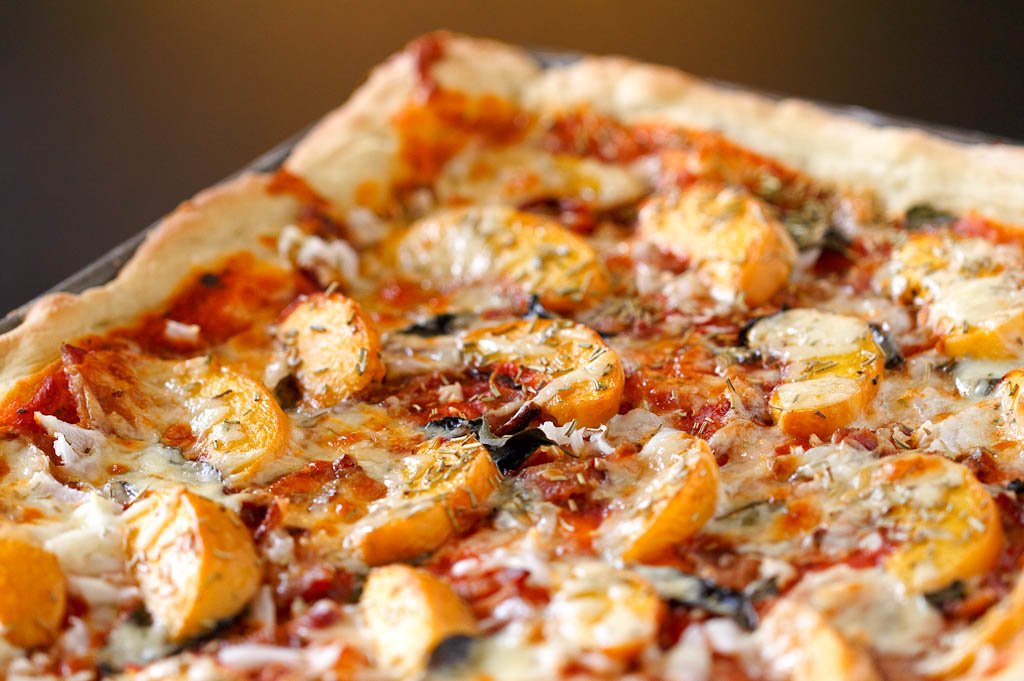 Recipe via veggiesbycandlelight.com
Not a lover of pineapple pizza but wish to experiment a little with a fruit pizza you might enjoy? Honestly, very delicious this and something we don't often think of as a must for a pizza topping. In theory, not many food ingredients will look out of place while creating your own pizza and one must have a little fun in the kitchen. The combination of sherry vinegar and rosemary to marinate the peaches is sublime and will create subtle complexities to the pizza. Get the fruit nice and ripe and enjoy.
8. Mozzarella, Pepper, and Aubergine Calzone Pizza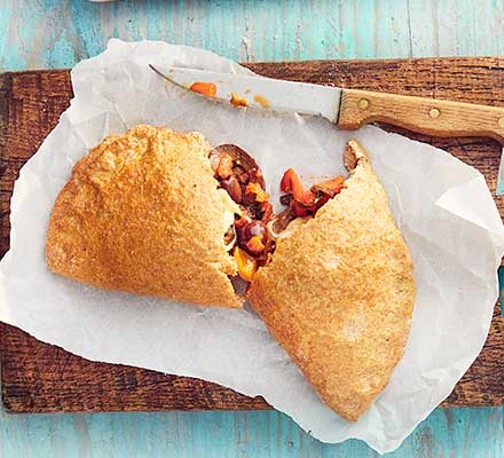 Recipe via bbcgoodfood.com
Created in Naples in the 18th century, this calzone pizza was created to be taken on a walk somewhere due to it being folded in half. Almost resembling a pizza closed sandwich. It looks different and creates a "second oven" when you eventually cook it in your oven. It's baking the ingredients all together and can create more complex flavors than a typical pizza. Perfect in winter to warm you up.
9. Four Cheese Pizza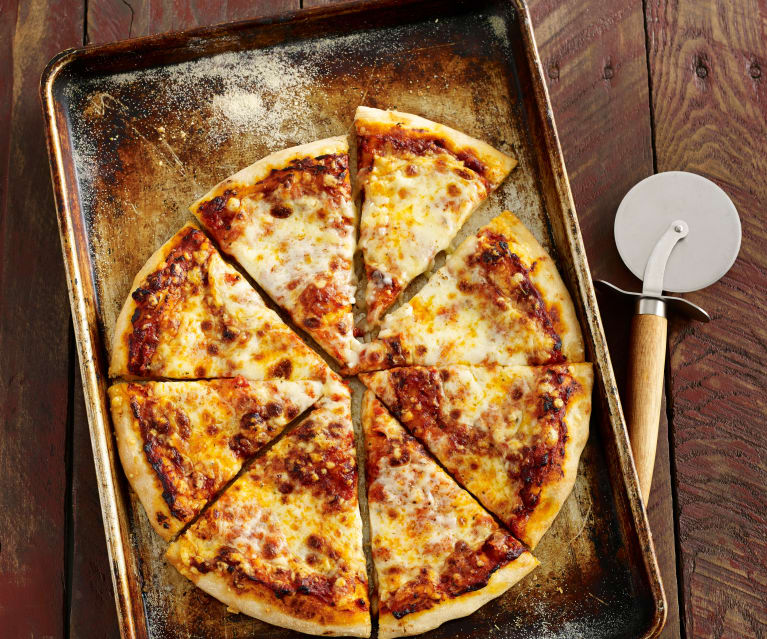 Recipe via cookidoo.fr
Cheese lovers, you are welcome. Rather traditional but, simply can not be excluded in this top 10. Surprisingly a four cheese pizza sounds easy but choosing the right cheese is very important for it not to go astray and could be tricky. The flavors you get from it are a pure delight and perfectly matched with a nice glass of buttery, lightly oaked white marries so well. Perfect if you wish to add fresh basil, fresh spinach leaves, or arugula as a garnish; to perhaps feel better about eating a few calories this pizza offers!
10. Chocolate Pizza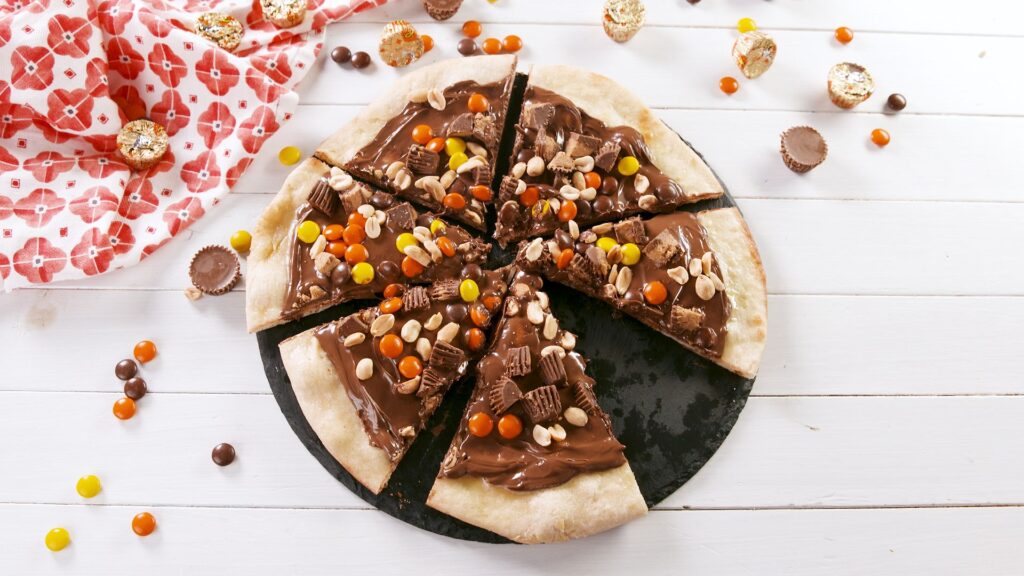 Recipe via delish.com
Lovers of chocolate cannot get enough chocolate and always find ways to put this delightful ingredient on pretty much anything. And what better else than onto a warm pizza dough? The chocolate will slowly be melting and regarded more as a treat. Something you don't have every day. Your children will love it and adults alike as long as they're chocolate amateurs. Nowadays you have fantastic spreads without the use of palm oil or make your own ganache. Milk chocolate can also be used if dark isn't your cup of tea.