Even though the Christmas holidays are over, the winter is still here and that Christmas-y feeling still is fresh. If you're that kind of person who takes inspiration from the environment and everything that's going on and you love doing your own nail art as well, we're certain that doing nail art in the spirit of winter wonderland will the thing for you.
From snowflakes to penguins, these ten nail art ideas that we chose for you will certainly inspire you to look at winter as something more than just a season. The number of colors might be a little limited, but there is so much that you can do with these winter colors!
1. Snowflake Nail Art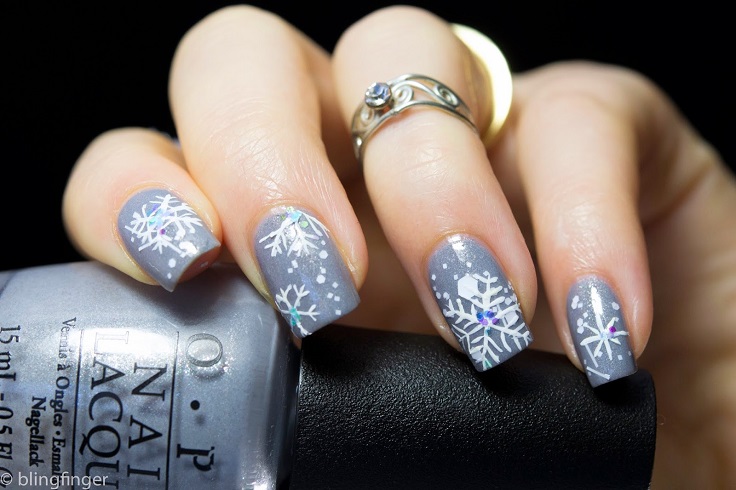 via blingfinger.net
One of the best ways to achieve the winter spirit in your nail art is by adding snowflakes to it. The good this about them is that not only will they make the nail art look so pretty, but they are also very easy to create! You can play with the base color, or as in this case, you can use Opi's I Don't Give a Rotterdam nail polish from the Holland collection, JENsensations White Out for the glitter, and BK Matte White for the snowflakes.
2. Christmas Tree Nail Art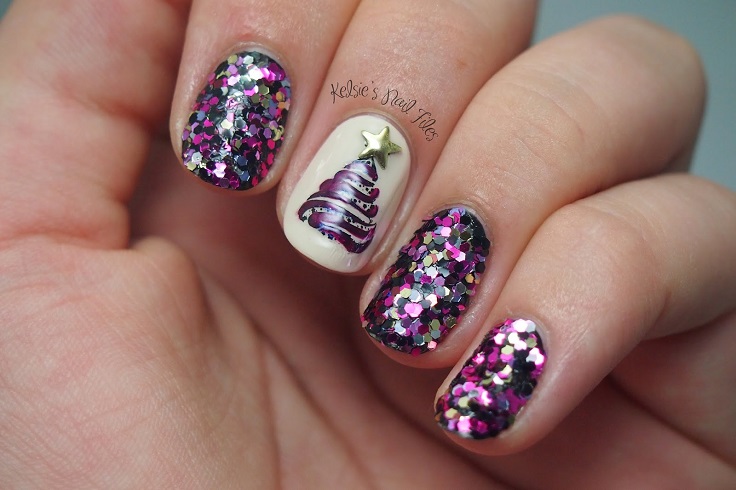 Big sequins for anyone who wants their nail art to be noticed right away! Add a Christmas tree, and you can enjoy winter fully. This nail art is mostly purple, but you can use sequins in other colors that you'd like. The used sequins in this tutorial are Gdcoco, while the tree was stamped with BP-01 – this and the gold star are both products from Born Pretty Store.
3. Winter Icicle Nail Art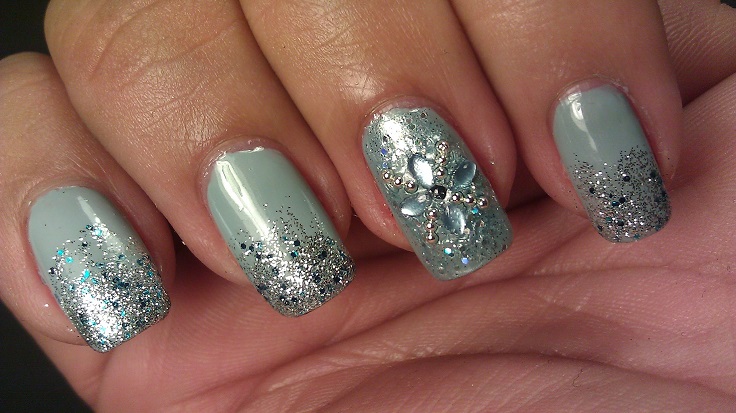 When it comes to winter as a theme, blue is the color you will see so much, and you can include it in your nail art – the results can be this wonderful. All you need is a base blue color, such as China Glaze – Sea Spray used in the tutorial, or you can choose something else. Just add white glitter at the top of your nails, and you're done. Not enough? Try creating a more icy look by using nail art rhinestones.
4. Sweater Nail Art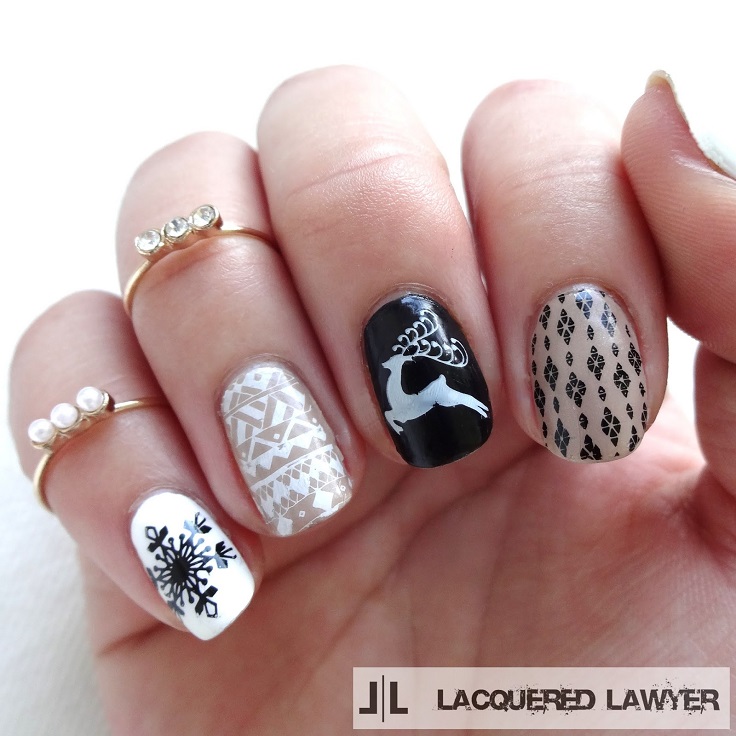 It's sweater weather, right? In this case, why not include these warm and cozy themes in your nail art? This might not be the easiest task for someone new, but it's definitely worth the try. To create the sweater feeling, you need stamps (Bundle Monsters are used in the tutorial), and you will also need nail polishes in few colors – white, black and beige.
5. Christmas Sweater Nail Art
Here's another way you can create the sweater theme. Unlike the previous idea, this one includes only two colors – China Glaze Merry Berry as the base coat, and you will need stamps as well. In the tutorial, the holly, the moose, and the large snowflake are Bundle monsters, while the tiny snowflake and the lace are from MASH. If you don't have these in your hometown, just try getting good alternatives.
6. Snowy Nail Art
Here's something for those of you who want their nail art to look more artistic – it's like a tiny painting! First of all, pick your favorite blue base nail polish, or get the exact one from the tutorial, and that is Orly Boho Bonnet. You will need a sponge for this nail art to create the gradient while using Orly and Snow me White by Sinful Colors. Use nail art brush to create the trees, the snow effect, and the little red cardinals!
7. Glittery Winter Nail Art
via nailsbyic.com
We're back to the glitter, but this time it's applied only to few nails, while on the rest, there is a simple blue base with white Christmas trees on it. All nail polishes used in the tutorial are from Formula X – Majestic for the blue background, Freaky Like Freud for the glitter effect, and White Matters for the white. For these trees, use white acrylic paint.
8. Frosty Glitter Nails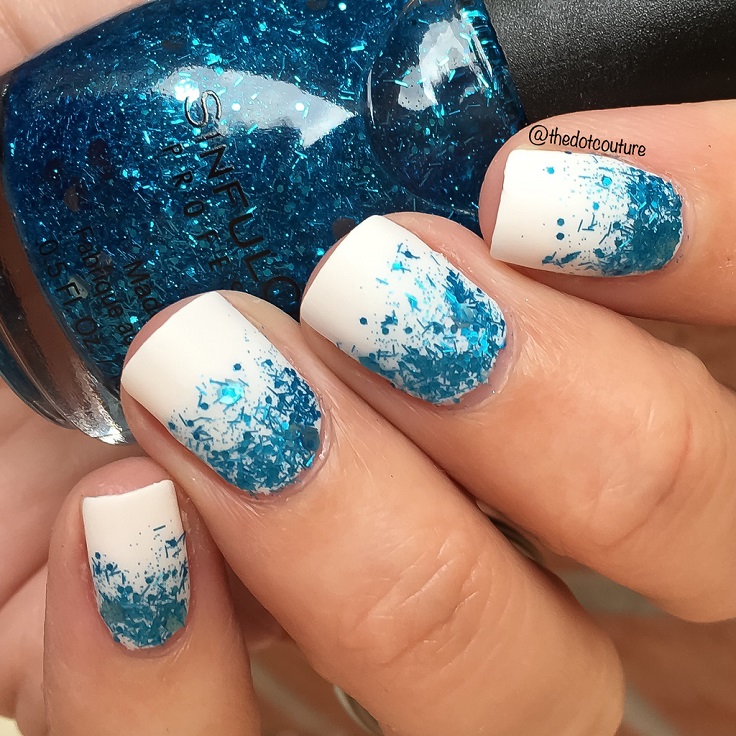 If you're looking for a winter wonderland theme, then blue and white are your colors! There's so much you can do with these two, and creating frosty glitter is one of them. First, paint your nails with a white base and after it's well dried, use a makeup sponge to paint the glitter onto the nails. Make it more focused at the bottom of your nails while gently dab the glitter as you move upwards.
9. Shimmery Penguin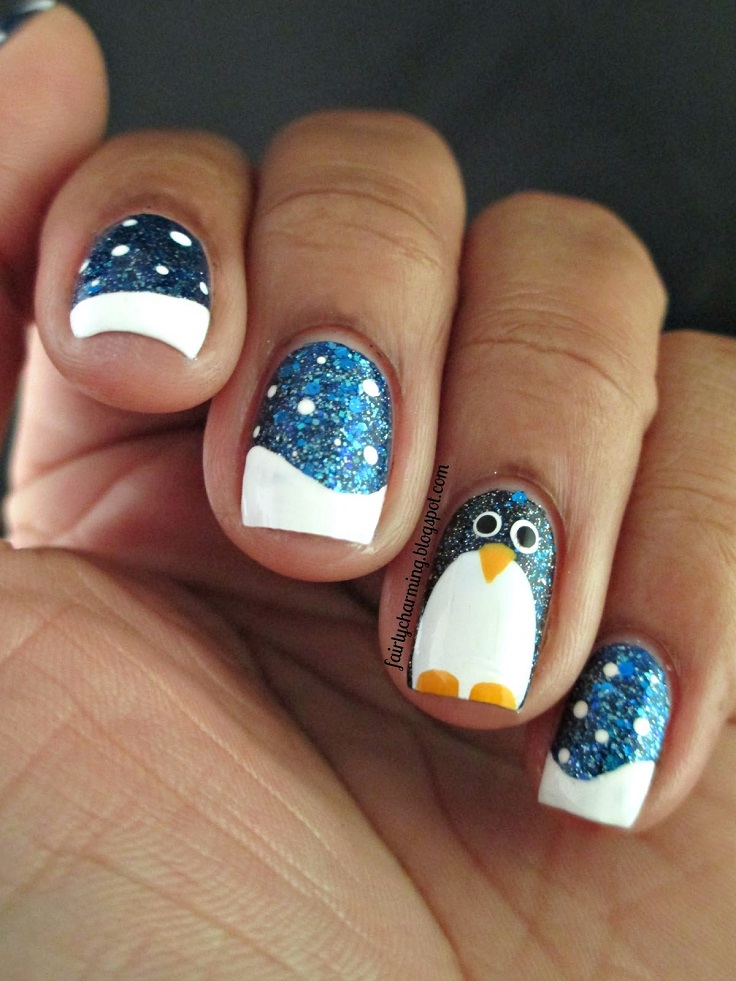 via fairlycharming.blogspot.com
It's all about the glitter and some penguins as well! They look super cute, don't they? For this nail art, first, you need to apply two coats of nail polishes: a mix of light and dark blue glitters over a blue base and one coat of nail polish that is a mix of navy and black glitters. Let them dry well, and then start creating your own penguin with a striping brush and white nail polish.
10. Christmas Ornaments
via missthin.com
Some of you may already take down all the Christmas decor, including the ornaments, but to keep the winter wonderland theme going on, you can totally paint few ornaments on your nails. The result? This fantastic. You need white polish as your base coat and nail polishes in your favorite colors for the ornaments. With the right brush, it won't be difficult to create!