Combine pants, sweaters, blouses, and skirts with cozy coats and boots, soft shawls, gloves, and hats. Winter is wonderful weather when you can put on clothes as much as you want and in the end, you will look good anyway.
Women just love the exotic winter clothes pieces and combine them with lovely accessories like leather bags, fur, clutches, jewelry, and other beautiful pieces. Winter style can be amazing if you put on the right clothes and combine them correctly. Style is one of the most important characteristics of a woman.
1. Keeping Up with Colors
Photo credit to the-atlantic-pacific.com
The brown color when paired with a variety of other hues, these tans, chestnuts, and chocolates never fail to look sophisticated. The light blue, together with the red, paired with brown is just the right amount of contrast in an outfit. For this combination, you can play with the materials as well. The midi blue skirt is a pop-up piece that is well combined with the leather red boots and the knitted sweater. The coat is well tight on the body with a light brown belt due to the loose skirt. Fantastic color play!
2. Cozy White & Black Hearted Coat with Baby Pink Classic Suit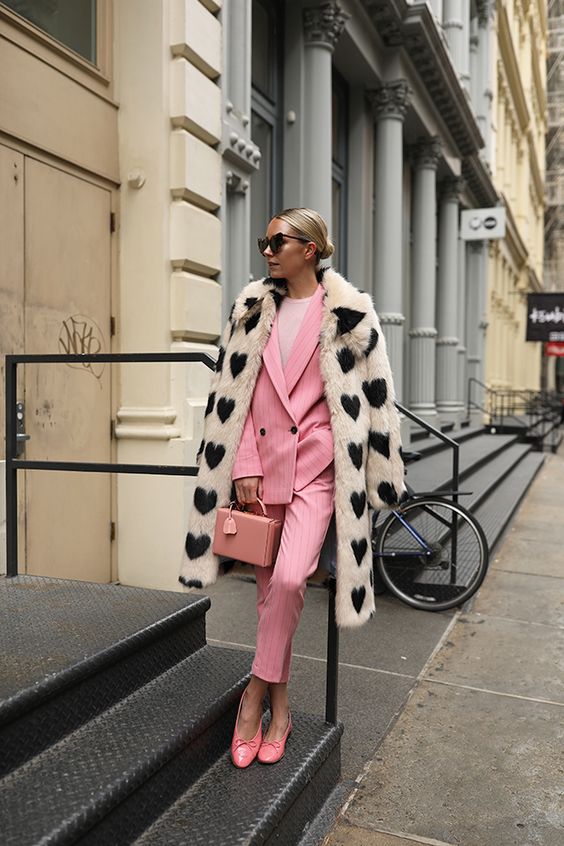 Photo credit to the-atlantic-pacific.com
An outfit that brings summer into winter. Deciding to wear a classic suit is never a mistake, especially a baby pink-colored suit. Light pink – close to the body top is a perfect match to the striped blazer, while the pink elegant shoes a great match to the trousers. The finish is a beautiful winter fur white coat with black hearts. For this style, it is recommended to tight the hair in a low bun to achieve a smart and classic look.
3. Winter Puffer Jacket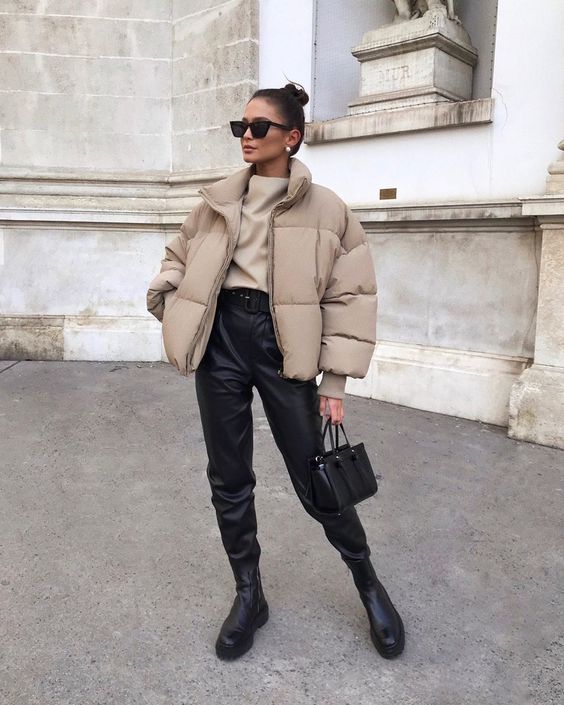 Photo credit to fashioncognoscente.blogspot.com
This 90s inspired trend made its inevitable comeback among the street style. Not only do the puffer jackets look awesome, but they're also ideal for keeping you warm throughout winter. So, if you want to beat the cold weather in style this season, look no further. With their oversize shape and padded sleeves, these quilted jackets can veer into statement territory depending on the cut, pattern, and style. You can pair them with sweaters, leather trousers, classic jeans, sneakers, or boots. Chic and modern style.
4. Stripped Colorful Scarf, Midi Skirt, Baby Blue Coat, and Yellow Tights
Photo credit to the-atlantic-pacific.com
Midi skirts are another cool idea to try in the winter. Be aware of this possibility and add some modern touches to your look to keep your midi skirt looking fresh. Incorporate other relevant trends into your look to modernize the appearance of your midi skirt, like same colored tights, belt to look more classy, long oversized pastel coat with multicolored scarf, and the best top for such a skirt will be a sweater.
5. Retro Winter Style – Paris Street Fashion
Photo credit to the-atlantic-pacific.com
Retro usually refers to clothing that imitates the style of a previous era. A newly made copy of an older garment. If you go for a retro fashioned look, means your clothes are unique. This vintage-inspired look is a combination of an elegant pearl button blouse that has a bow adding to the elegance, a plaid knee-length skirt with a high waist, a navy green coat and bag, blue pointed heels, and a white beret. Straight from the steers of Paris!
6. Burgundy Dress, Blue Jacket and Tights, with Yellow-Mustard Winter Coat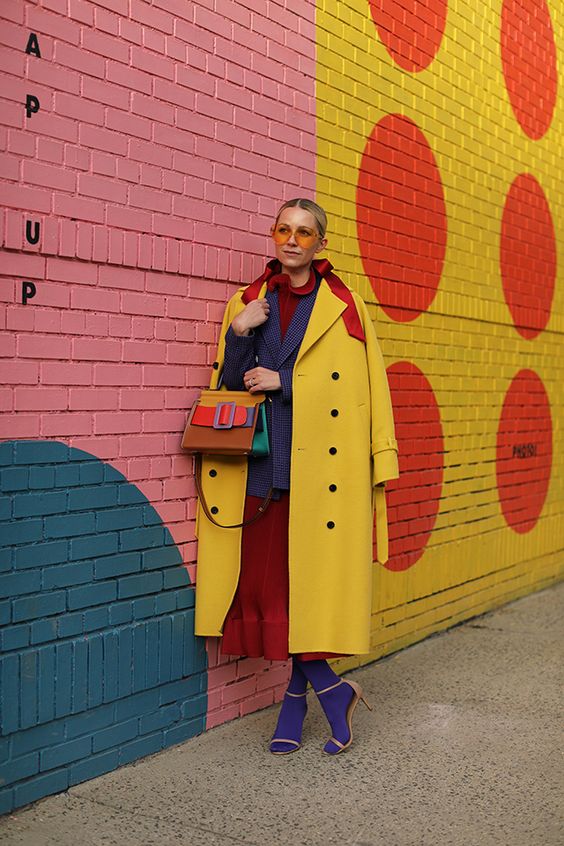 Photo credit to the-atlantic-pacific.com
Another fashionable outfit that requires colored tights. But why not? Burgundy dress which has an ankle-length; that still showcases the tights in order to match the classic blazer in a dark blue color. The combination is simple yet chic. The modern yellow coat gives the reflection in this look, also showing how cool is to wear the coat like a cape. A multicolored bag, sunglasses, and off you go!
7. Polka Dots Winter Outfit
Photo credit to the-atlantic-pacific.com
The polka dots outfit gives an impression that your personality and charisma are as lively and energetic as the playful print. Polka dots are usually common in skirts, shirts, scarves, and blazers. The most common are black and white patterns, however, this trendy look has a combination of a brown/white polka shirt, paired with a green/white maxi shirt. The outfit shows elegance, courage, and uniqueness.
8. White Classic Striped Suit with Orange Coat & Heels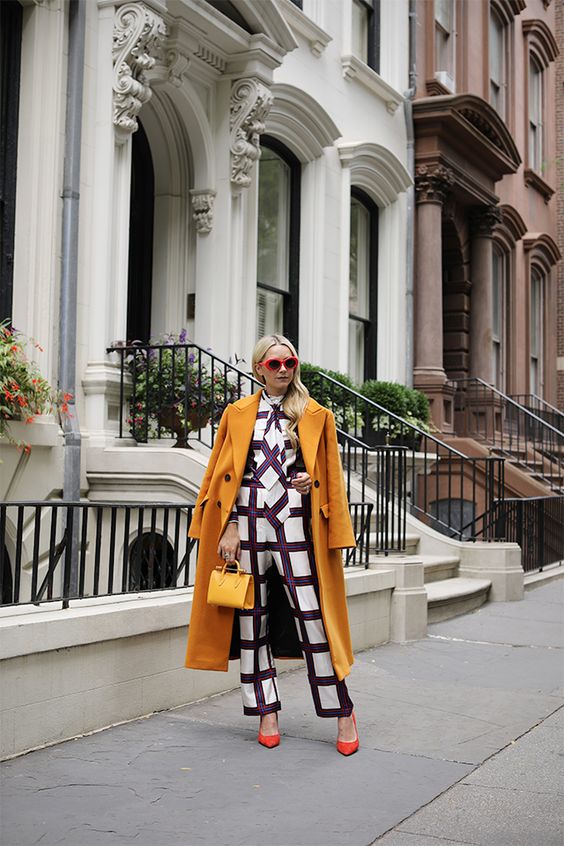 Photo credit to the-atlantic-pacific.com
Fashionable statement in this winter outfit! A silky jumpsuit or a two-piece suit gives a modern and playful twist to the classic pattern. An eye-catching look, combined with orange pointed high heels, an orange coat like a cape, with a mini leather orange bag. A simple finishing touch is the accessories. Here you can wear colored sunglasses, a colored hat, a hairband, or a big colored hair clip.
9. Modern Red-Blue Country Outfit
Photo credit to impromp-two.blogspot.com
A shawl over the head is a statement! This look can also give you a throwback with its cowboy boots as an obvious choice for a country look. The denim shirt is a natural choice, strong/red colored tight coat, and a cute floral shawl is a definite fin combination to get the country yet modern look.
10. Conversational Prints and Pink Coat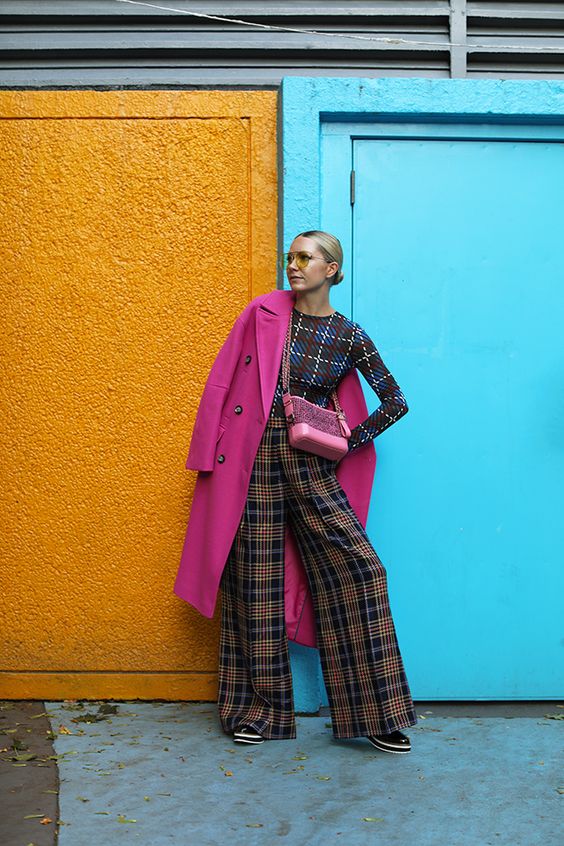 Photo credit to the-atlantic-pacific.com
You will be able to find thousands of Scottish tartan plaid patterns. They represented family, togetherness, and unity of clans. A classic button-down in a preppy plaid or a fresh gingham print is definitely a winter layering must-have; actually any season! The key in this outfit is to match the color of the plaid bottom and top, this way you will be able to pull out a colored/pink coat with a pink bag.