Weddings. No matter the season they are always special and beautiful. It is all about the emotions, friends and family all celebrating love. What can you possibly wish more? Planning a wedding can be stressful, but when your special day goes just as you have always imagined you will realized that it was worth all the effort. One of the most important things to think about when planning a wedding are the decorations, especially the flowers. Table centerpieces can really make the whole atmosphere more special so obviously you should carefully choose them. When a winter wedding is in question, the centerpieces should resemble the festive season which although is the coldest, makes us feel warm and cozy and romantic. So many different styles to choose from, from elegant, simple and modern to glittery, romantic and luxurious. It is up to you which one will be present on your special day. As always, we are here to help by presenting you 10 stunning winter wedding centerpiece ideas that will inspire you. Take a look…
1.Delicate Roses, Hydrangeas and Cotton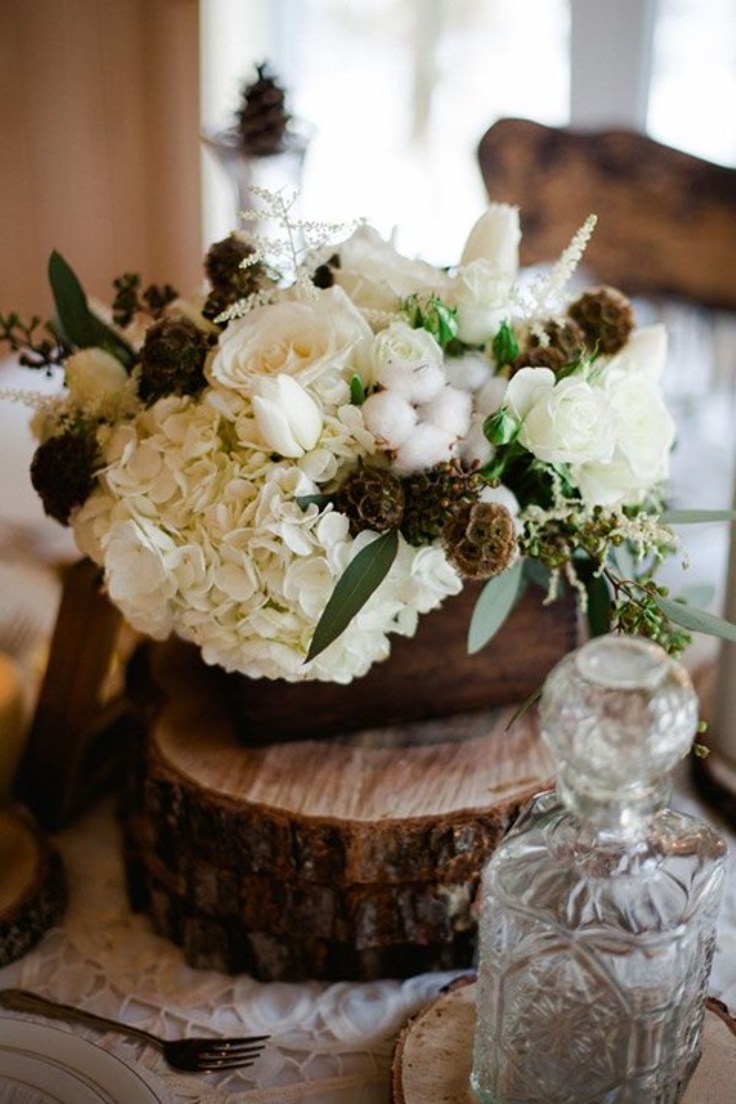 via happywedd.com
If you want a subtle yet memorable centerpiece suitable for a winter wedding that also looks very natural go for something similar to this delicate arrangement made with cream roses, stunning hydrangea, cotton buds and snow white tulips. Place the arrangement on a wood slice for a rustic effect.
2. Simple Yet Elegant Baby's Breath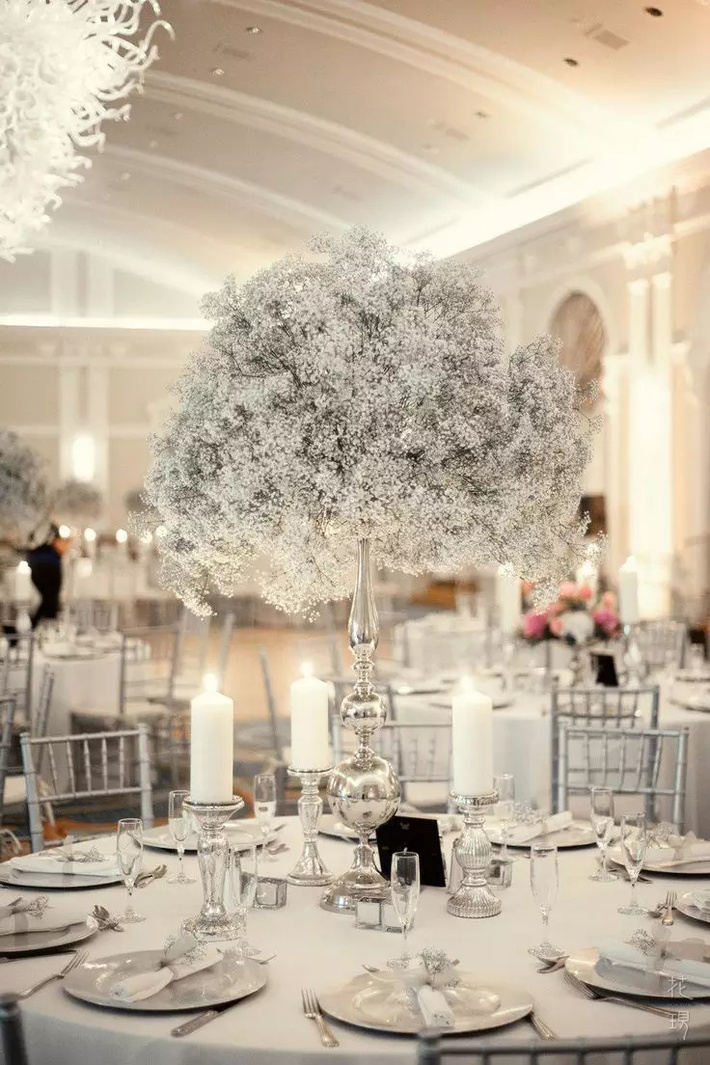 via feelitcool.com
Baby's Breath is such a popular choice for wedding decorations and we totally get it – it is so gentle, simple yet elegant. Those little white flowers remind us of snowflakes so why not use baby's breath for creating a stunning centerpiece for a winter wedding? And this time not just as a filler, but a centerpiece made only with delicate baby's breath. Choose some striking vases and add a bunch of baby's breath and your elegant centerpiece is done!
3. Pine, Cones and Roses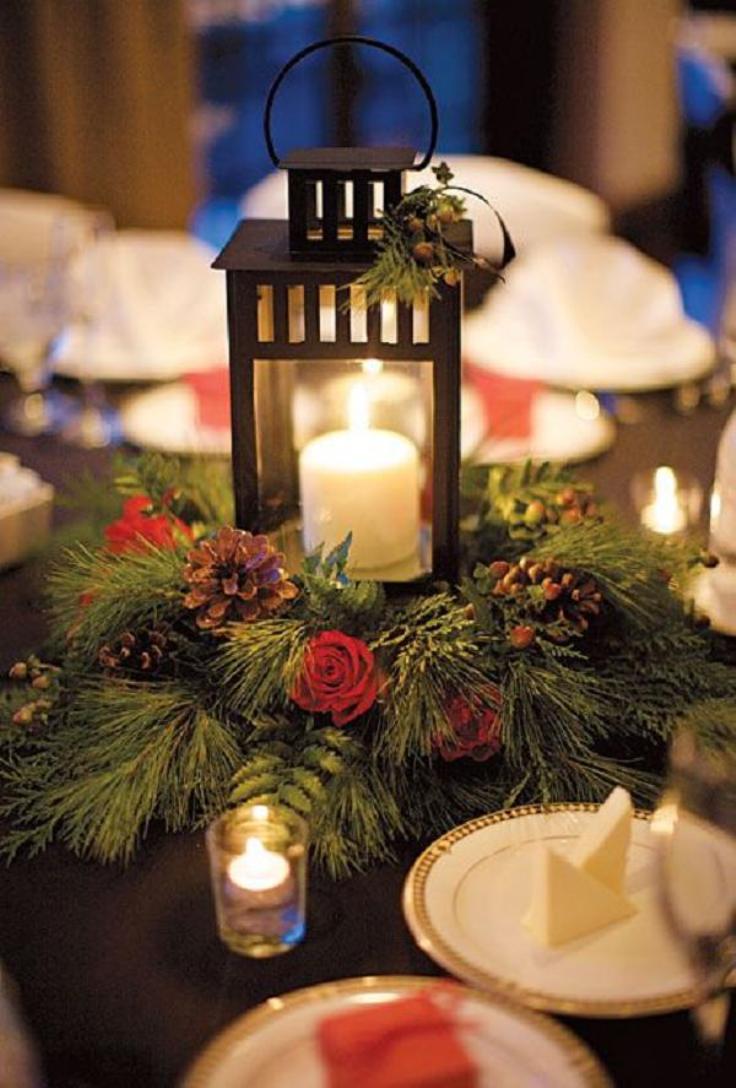 Keep the Christmas spirit present at your wedding by incorporating pine, cones and red roses into your centerpieces. This gorgeous arrangement is made in the form of a wreath and instead of a classic candle holder, a vintage candle lantern is placed in the middle. Add some tea light candles on the table for an even more romantic look.
4. Contemporary Scandinavian Inspiration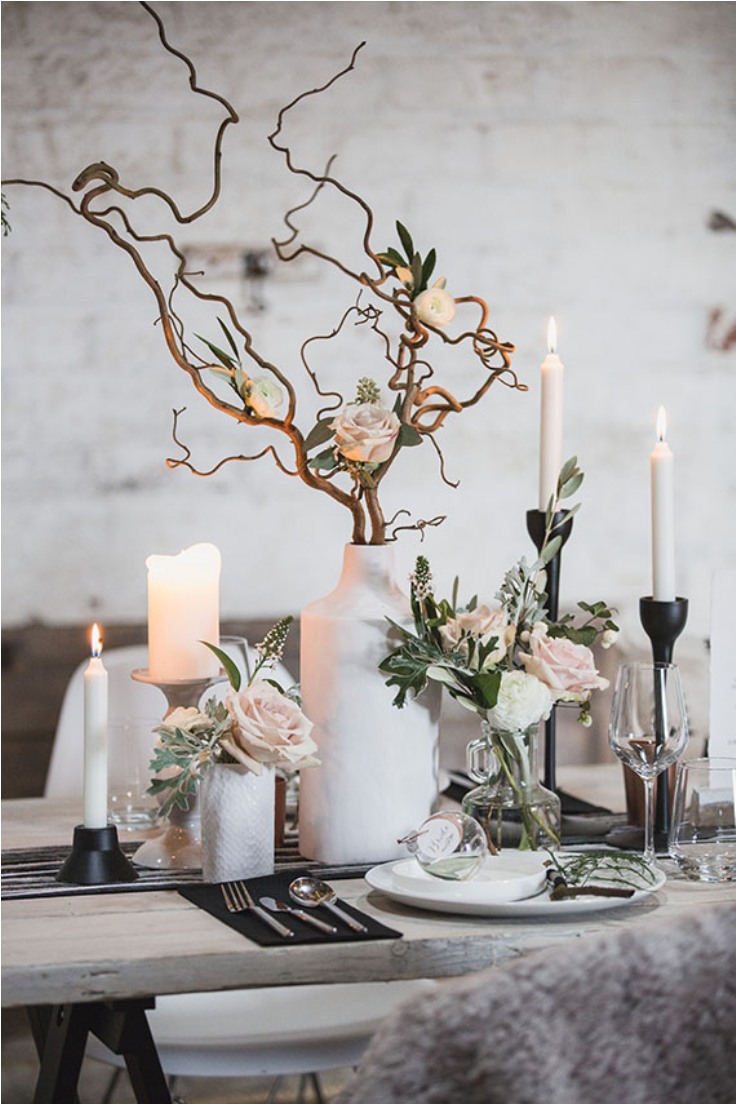 via 100layercake.com
When you first see this beautiful arrangement you instantly think how bright yet warm it looks. In typical Scandinavian style, this centerpiece is simple, elegant and contemporary. We love the black and white colors, the delicate cream roses as well as the gentle silver dusty miller. The willow branches give a modern touch to the whole arrangement.
5. Silver and White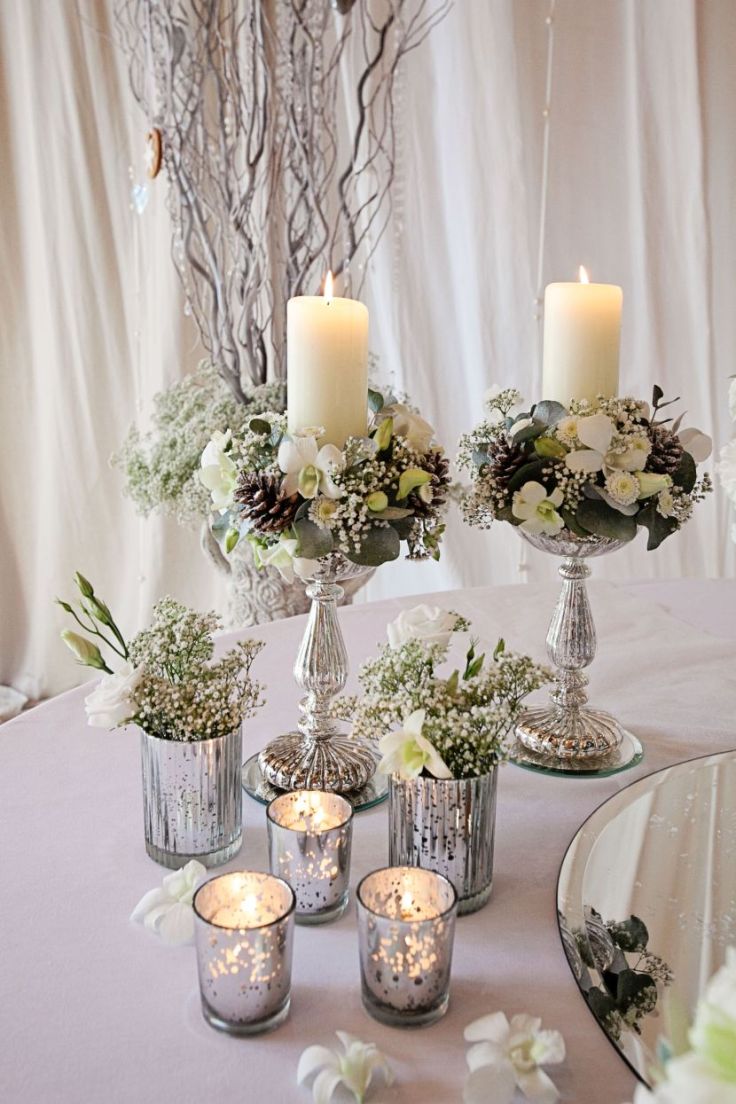 via kibuck.com
Winter means holidays and holidays always include something shiny and glittery. Shades of silver and gold are usually present when Christmas decorations are in question. So why not choose festive silver and winter's white as the main decor colors for your wedding? Take this centerpiece for instance – there are lovely silver vases and candle holders arranged with delicate white orchids and eustomas. The pine cons and baby's breath are a must have detail for a true winter wedding.
6. Flowers and Christmas Ornaments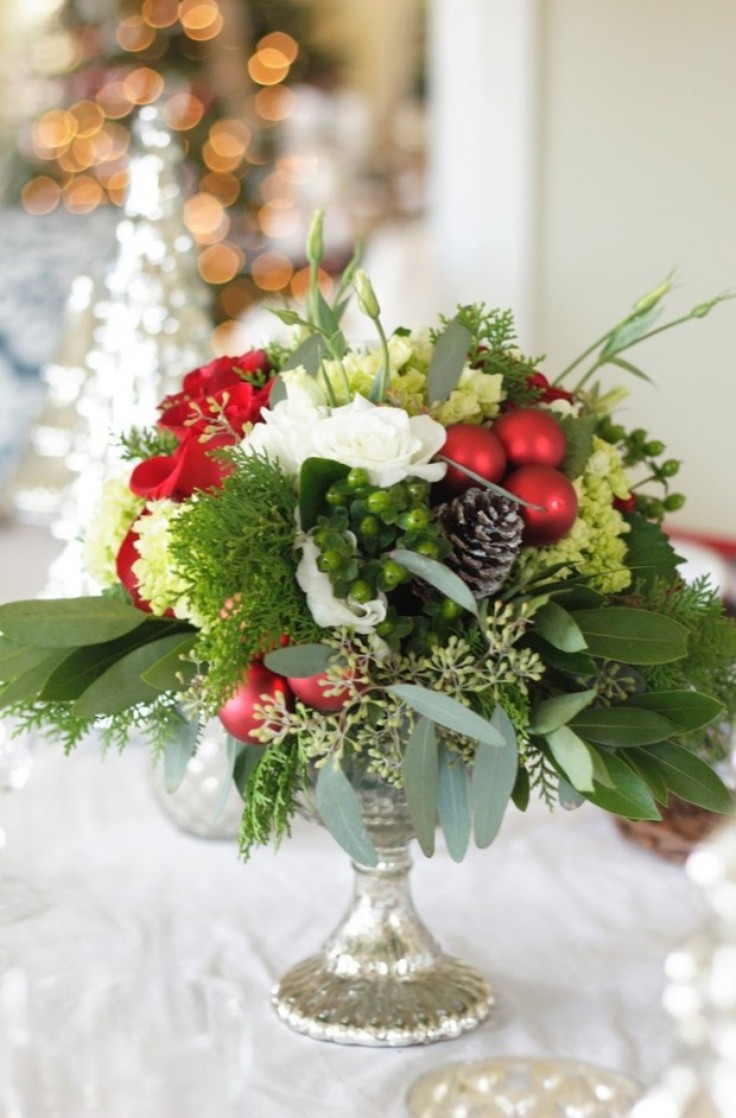 via itakeyou.co.uk
Yes, it is allowed to have Christmas ornaments in your centerpieces if you are having a winter wedding. They give such a nice touch to the classic flower arrangements. Mix in some conifer branches and cones as well. For a nice contrast to the green conifers and green hypericum berries use red roses, white eustomas and some bright red round Christmas ornaments.
7. Snow White Amaryllis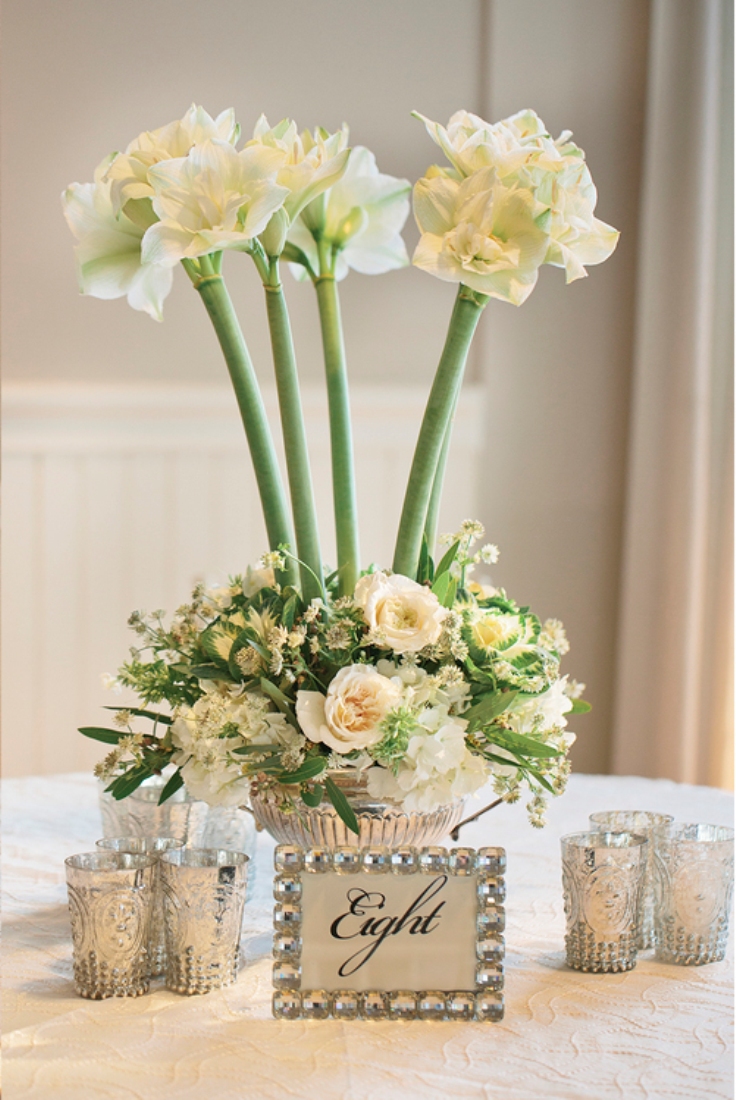 via hudsonnicholsphotography.com
If you want something elegant yest different choose amaryllis as the main flower for your wedding decorations. Go with snow white amaryllises standing tall above a round arrangement made with white garden roses and white hydrangeas. Silver and white is a winning combination for winter weddings so choose vintage silver vases and candle holders to complete the look.
8. Romantic White and Green Centerpieces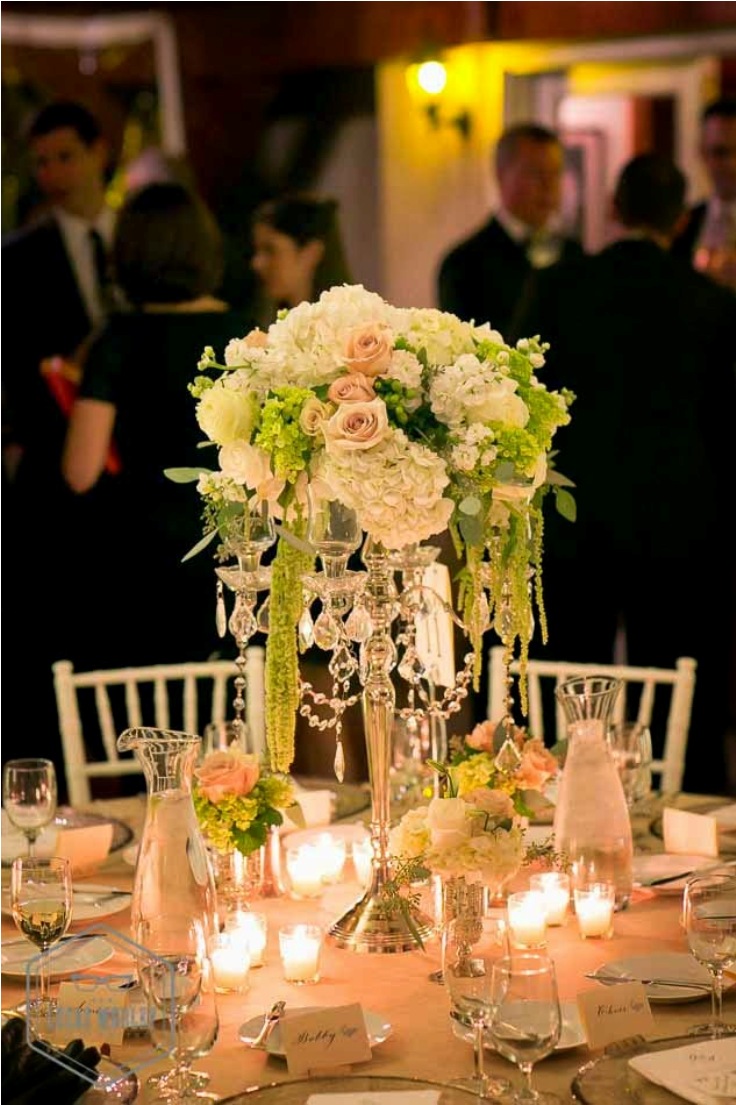 Winter is a season made for romance. So why not choose to have a romantic, fairy tale wedding? The decor is a very important detail. Especially the flowers. For a romantic yet luxurious look of your guest tables choose a white and green centerpiece made with hydrangeas and roses, completed with hanging green amaranth and crystals. Use a luxurious silver candle holder instead of a vase for an even more romantic look.
9. Simple Pine Cons and Hydrangea Decor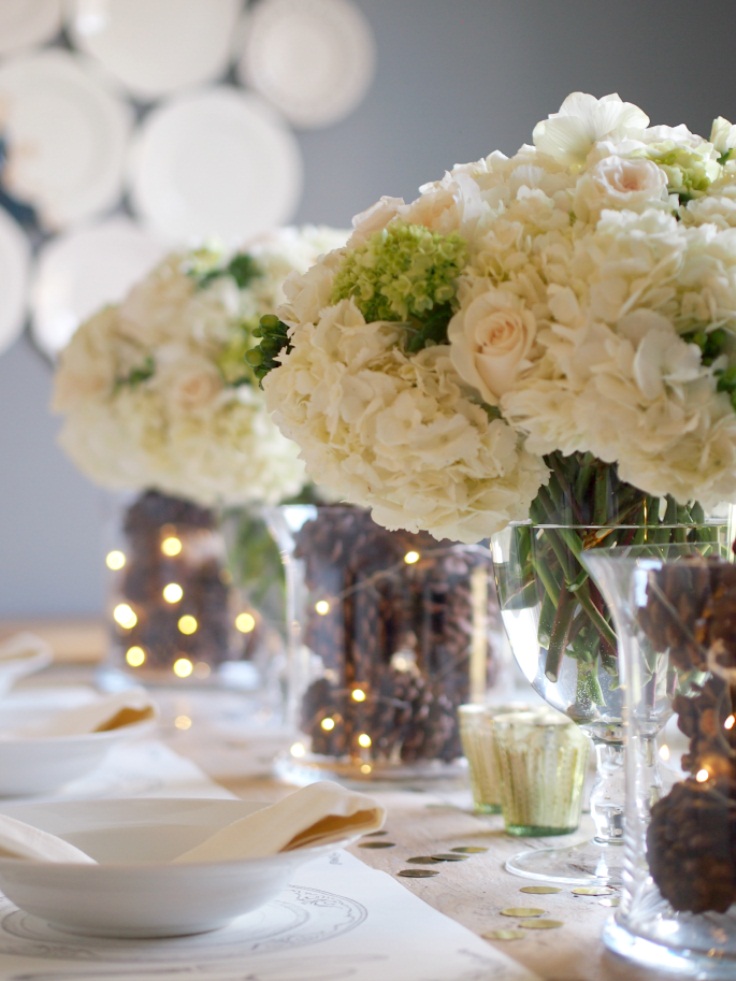 via aprettyfix.com
If you are going for a simple yet modern look then these arrangements are for you. You need a lot of glass vases or jars or even big wine glasses. Fill some with pine cones and some with white hydrangeas and roses. Mix in some glittery gold candle holders and sprinkle golden confetti over your table runner. Don't forget to hang some yellow shining Christmas lights around the vases.
10. Chic Winter Tablescape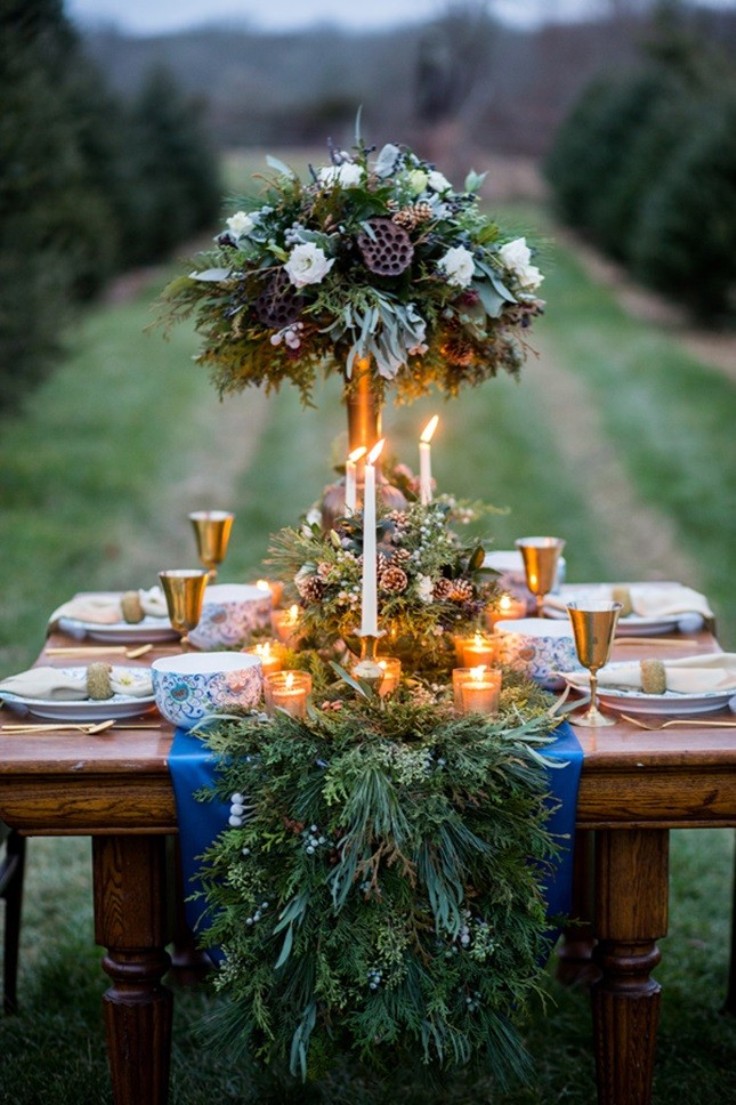 via brit.co
Now this is something! If you are going for a WOW effect then you should create a true winter wonderland on your table. We are talking about a runner made of conifers, a breathtaking tall arrangement with touches of white and silver as well as golden details in the form of a vase, candle holders and even glasses and silverware. Simply wonderful!