Planning a wedding can end up being an expensive, time-consuming process that takes careful planning and thoughtful decisions in order to ensure the perfect event. This article will discuss 7 key details that every person should keep in mind as they plan their special day, as these are some of the most important considerations with regard to the weekend's proceedings.
1. Budget
When it comes to weddings, the budget is always a big factor. From the cost of the venue to the price of the dress and tuxedo, every detail must be carefully considered in order to stay within your budget.
Here are a few things to keep in mind when budgeting for your wedding:
The venue: The cost of a wedding venue can range from a few hundred dollars to several thousand. With so many options available, it's important to do your research ahead of time to find a location that fits both your budget and your style.
The decorations: Simple decorating ideas can actually save you money in the long run. Instead of hiring a professional decorator, consider DIYing some of the elements yourself or enlisting the help of friends and family members.
The photographer: Hiring a professional photographer is one of the best ways to capture all the memories from your big day. However, costs can vary greatly depending on their experience level and package options. Do your research ahead of time to find someone within your budget.
2. Choose A Wedding Planner
Your wedding planner will be one of the most important vendors you hire for your big day. They will be responsible for helping you to create your dream wedding, within your budget and on your desired timeline.
When choosing a wedding planner, be sure to read reviews and check references. Meet with a few different planners to get a feel for their style and see if they are a good fit for you. Be sure to also ask about their experience planning weddings of a similar size and style to yours.
3. Venues
After you've chosen your wedding date, it's time to start looking for venues! When searching for the perfect venue, keep in mind the following:
The number of guests you'll be inviting
The type of ceremony and reception you want
Your budget
Once you have a good idea of what you're looking for, you can start contacting different venues. The event venue in Austin, Texas is a popular choice for weddings due to its beautiful scenery and variety of options available. Be sure to ask lots of questions and get a tour of the facility before making your final decision.
4. Bridal Party
An essential aspect of your wedding is deciding who will stand by your side as you say your vows. Here are a few things to keep in mind when choosing your bridal party:
First, you will want to decide on the attire for the bridesmaids and groomsmen. This can be coordinating a groomsmen suit or tuxedo, or you may opt for a more casual look. For the bridesmaids, it could be wearing the same dress or even just the same color. Whatever you decide, be sure that everyone is on the same page and knows what to wear.
Next, you will need to choose how the bridesmaids and groomsmen will get to the ceremony and reception. If you are having a local wedding, they may be able to drive themselves. However, if you are getting married out of town, you will need to make arrangements for transportation.
Finally, you will want to consider what role the bridesmaids and groomsmen will play in the wedding ceremony and reception. Will they be giving speeches? Leading guests in a dance? Whatever their role, be sure that they are prepared and have everything they need to make your wedding day perfect.
5. Guests
Guests are a key element in determining your budget, as well as the size and style of your wedding.
Think carefully about who you would like to invite to your big day. Start with immediate family and close friends, then branch out from there. Once you have a rough idea of how many people you would like to invite, you can start getting more specific with your plans.
6. Food
Food is often one of the most critical details to keep in mind. After all, what's a wedding without good food?
First, you'll want to decide on a menu. This can be difficult if you're not sure what you want, but it's important to consider your guests and what they might like. You can always ask for help from a caterer or even friends and family members.
Once you have a menu planned out, you'll need to think about how much food you need. This will depend on the number of guests you have, as well as how much they plan on eating. It's always better to make sure there's plenty of food so no one goes home hungry!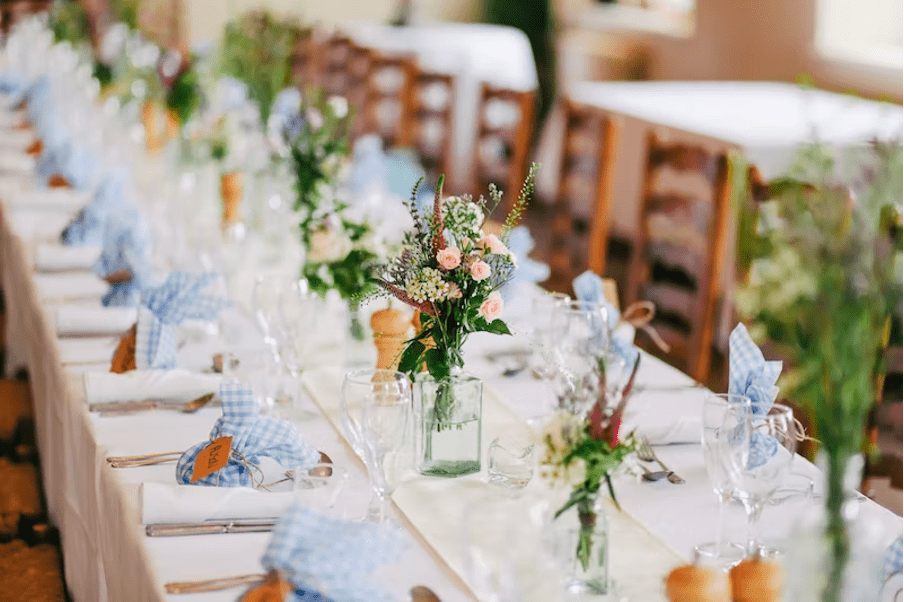 7. Playlist
Think about the overall vibe you want to create with your music. Do you want it to be a party atmosphere or more subdued and romantic? Once you have a vision in mind, start putting together a list of songs that will fit that mood.
Next, consider your guests. What kinds of music do they like? You'll want to make sure there's something for everyone so your wedding is memorable for all the right reasons. Choose a mix of old and new hits, as well as some fast-paced tunes and slower ballads.
With a little careful planning and attention to detail, you can make sure your big day is everything you've ever dreamed of. We hope our tips have helped you get started on planning your own wedding and given you some ideas of what details to keep in mind.