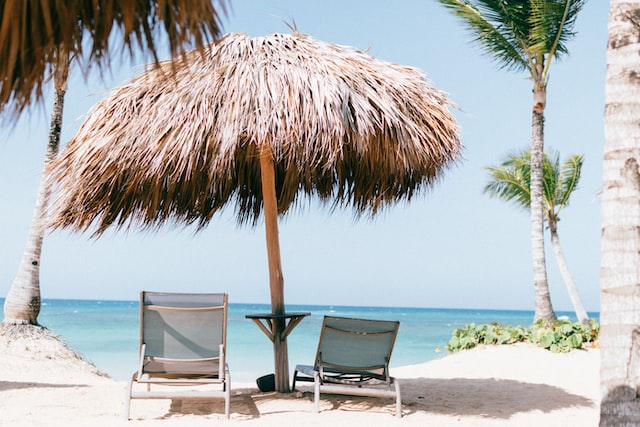 Emaar Beachfront is a new residential area in Dubai, located between the famous artificial island Palm Jumeirah and the Jumeirah Beach Residence in Dubai Marina. The luxury area is just being built up. Still, it is already attracting the attention of tourists and investors with numerous hotels, residences, yacht clubs, restaurants, and entertainment venues to search for property for sale in Emaar Beachfront in 2023.
Economic attractiveness
Emaar Beachfront is one of Dubai's most promising and fastest-growing residential communities. There are some advantages, thanks to which it makes sense to invest your assets in local real estate:
The entire area was designed and built by one developer. The developer of Emaar Beachfront is Emaar Properties, one of the undisputed leaders in its field. The company is distinguished by high reliability and impeccable business reputation. Note that the same developer was involved in designing and constructing the lion's share of the apartments for sale in Dubai Marina. Subsequently, this property is the most liquid and profitable in the emirate, and the demand and cost of rent here are higher than in similar buildings. The impeccable service of residents, high-quality finishes, and the excellent condition of utilities explains this trend.
Emaar Beachfront is close to key attractions in Dubai. Aquaventure water park, Marina Walk, Dubai Lighthouse, restaurants, shops, and shopping centers are within a 10-15 minute drive. The residential area is adjacent to the equally ambitious projects of Palm Jumeirah and Dubai Harbor, which also provides significant popularity for the area.
Most of the housing estate is still under construction. Therefore, now there is an opportunity to purchase luxury housing at fairly affordable prices.
The area has high transport accessibility. It can be easily reached both by car and public transport. Almost all residential complexes and public places have parking lots, which makes it easy to get to any part of the emirate. Plus, there are several metro stations and bus routes on the territory of Emaar Beachfront.
Another advantage is high liquidity. If necessary, you can quickly sell such housing. Now the average price of flats in Dubai is kept at $350,000, but as the area grows in popularity and demand, real estate prices will also rise.
Featured Properties
Most of the area is currently under construction. According to the developer's idea, the area will have 27 buildings. Construction of 6 projects has already been launched. Next, we will consider them in more detail.
1. Address The Bay. Address the Bay is a new residential development in Emaar Beachfront that offers a collection of branded 1-3 bedroom apartments. The layout area varies from 75 to 183 square meters. m.
The complex will include 50 residential floors and a podium that will house a hotel offering world-class hospitality services from the Address Hotels + Resorts brand. The thoughtful design of Address the Bay will provide panoramic sea views from over 75% of the spacious residences in both directions.
Address the Bay has an exclusive location on the best lot in the Emaar Beachfront area. The project's construction will be completed in early 2026, and the minimum price for a 1-bedroom apartment is AED 2.25 million (USD 613 thousand).
2. Marina Vista. The Marina Vista residential complex is located between Jumeirah Beach Residences and Palm Jumeirah. The project is under construction. Development and planning for Marina Vista began back in 2018, but actual construction work only started in 2019. The development of the community is still ongoing, with completion scheduled for March 2023.
The complex is a luxury residential apartment with sea views. This class's profit from leasing real estate is expected at 7-8%.
3. Grand Blue Tower. Grand Blue Tower is a high-rise residential complex located in the heart of the Emaar Beachfront area. Emaar in collaboration with Lebanese designer Elie Saab realized the project. The building's exterior reflects the brilliance and chic of Art Deco architecture in 1930s Miami. The building is currently under construction. The commissioning is scheduled for the 2nd quarter of 2023.
The residential area consists of towers Tower I (includes 45 floors) and Tower II (28 floors). In total, the complex has 36 luxury apartments. The first floors of both towers are reserved for fashion shops, galleries, and cafes, and 8 – for a swimming pool and a gym.
Offered for sale are apartments with 1-4 bedrooms ranging from 701 sq. ft. (65 sq. M.) Their cost is $ 494,000 (1.8 million dirhams). All apartments are designed in Art Deco style and have a private terrace with scenic views of Palm Jumeirah. The return on investment in the Grand Blue Tower is projected at 6%.
4. Beach Vista. Beach Vista is a luxury residential community from Emaar. The complex is located on Emaar Beachfront beach, close to Dubai Harbor. The community consists of two 33-story towers connected by a common six-story podium. The height of the buildings is 135 meters. Each of the towers is equipped with an observation deck on the roof.
5. South beach. South Beach is a collection of fully furnished apartments and villas from Emaar Properties. According to the developer's idea, the community is intended to be used as a holiday home. What's more, Emaar provides South Beach property owners with their property management service, Easy by Emaar. Her responsibilities will include a full range of management services, including application processing, booking, guest registration, and invoicing.
Here you can buy fully furnished hotel-type apartments with 1-3 bedrooms from 67.94 sq.m. up to 157.93 sq.m. They cost 1.58 million dirhams (429,000 dollars). All apartments are decorated in a modern style and feature large balconies and panoramic windows overlooking the Palm Jumeirah. The project is currently at the construction stage. Completion is scheduled for March 2022.
6. Beach Isle. Beach Isle is a luxury waterfront residential community. It consists of two towers between the Grand Blue Tower and Beach Vista. The residential area is part of the exclusive Emaar Beachfront project and includes apartments with 1-4 bedrooms and villas for sale in Dubai with 3-4 bedrooms on the coastline. The cost of real estate in Beach Isle starts from 432,000 dollars (1.6 million dirhams). The project is under construction. Its commissioning is scheduled for the 3rd quarter of 2023.
Real estate in Dubai
Are you interested in such a property in Dubai? Select an option and compare home prices with AX CAPITAL.