Do you have so many pots and pans that you can't find what you are looking for? The dream of every woman is to have the most practical and most comfortable kitchen where she can cook beautiful meals. It is quite frustrating when your kitchen is in chaos and you are time-consuming for most ordinary meal.
So we are here to help you with the organization of your kitchen and how to act aesthetically perfect. Many of these organizing ideas are completed by hanging a pot and pan rack from the ceiling or using a specially made rack in your kitchen drawers. Look closely and see that can fit in your kitchen quickly and efficiently. So enjoy cooking!
Separate Lids and Pots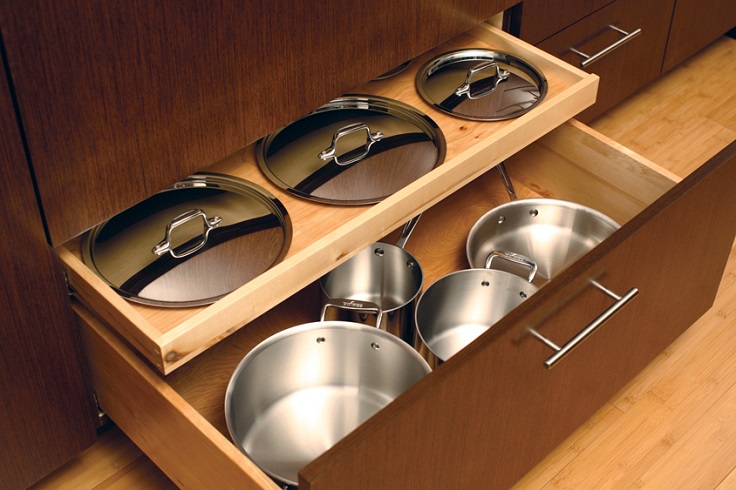 via durasupreme.com
Pull-out mechanisms are the best option to organize your kitchen. Especially if the drawers are divided so that you can have an overview of all the things in your kitchen. The advantage of this layout is that the lids, pots and pans will not be mixed up and not having to waste time looking for the perfect pair.
Separate by Color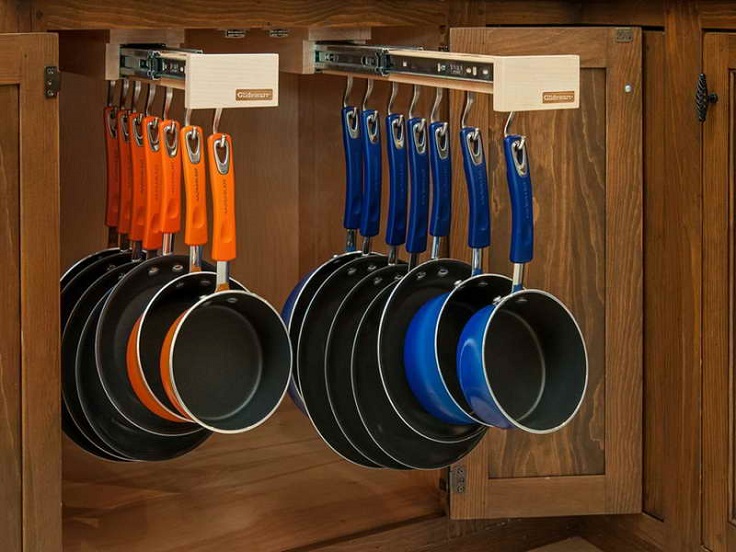 via fortikur.com
Optimize, maximize and organize every valuable inch of your kitchen storage space and then fully enjoy the art of cooking in your kitchen. If you have a set of pots with different colors it is an advantage for their organization. Arranged together in one place and size will always be available to you. You just have to select which part of the kitchen will be set up, our advice is to be in the inner part near the stove.
Hanging on The Wall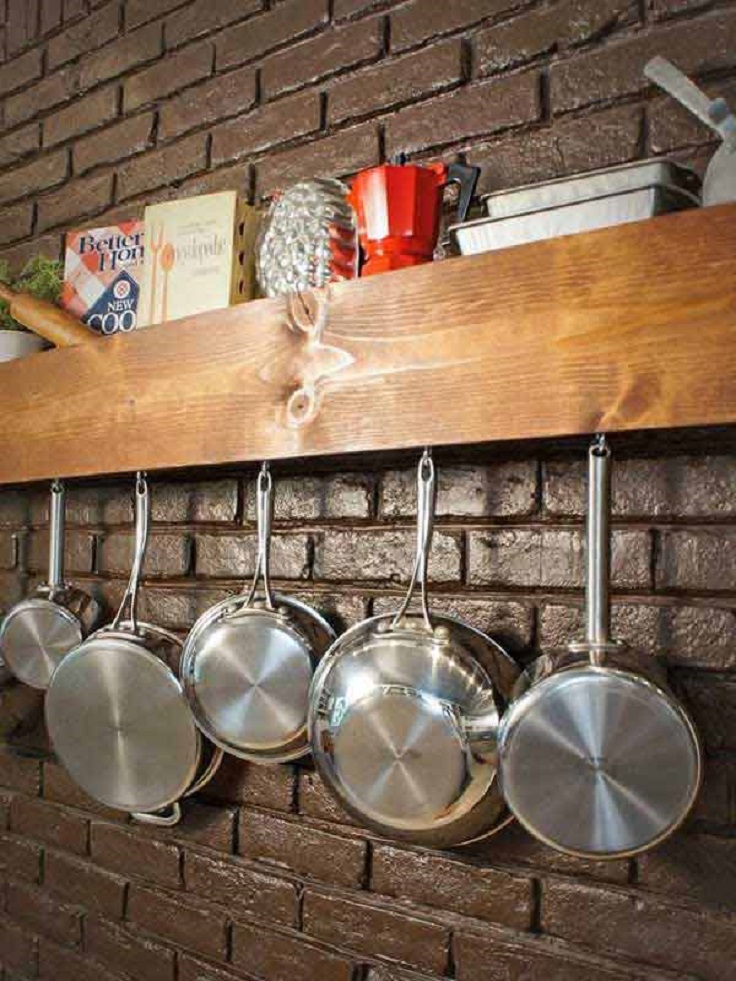 via woohome.com
Try to store pots and pans in the place that easy for you to see and reach. Hanging your pots and pans give you a clean and uncluttered looks. While they will be in a visible place in your kitchen and will contribute to the aesthetics of your schedule. So the only one to look out for is to be hung on the wall near the stove or in a place where do not interfere with other activities. Also have to be sorted by size.
Above the Kitchen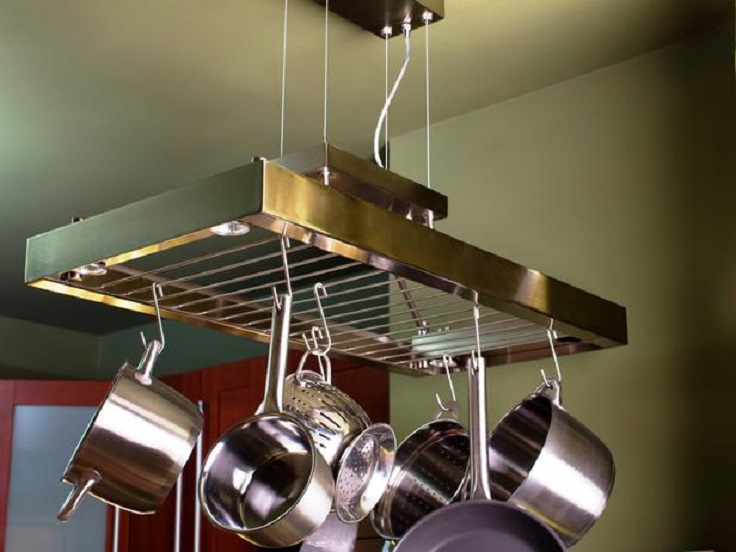 via diynetwork.com
Moving all the cookware to a ceiling-mounted rack. Unusual idea to store your pots and pans. A pot rack with an integrated light fixture with small halogen bulbs was the perfect fix. In order to take advantage of the vertical space and instantly add much-needed ambiance to the dining area, the lighted pot rack was installed above the table.
Pots Shelves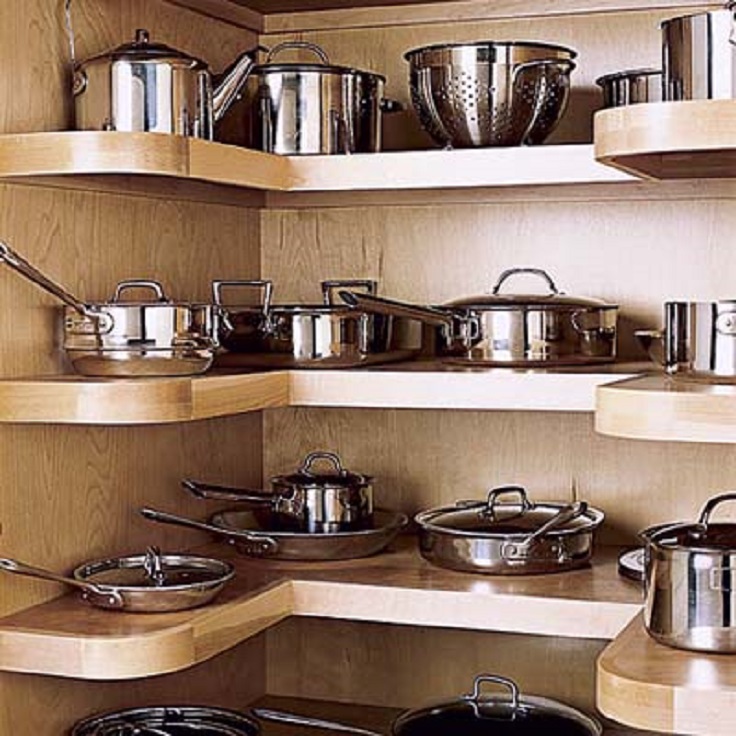 via moderndiydecorating.blogspot.com
Shelves in a corner of your kitchen is most practical idea to store your pots and pans. They will always be reachable and usable. The advantage is that you can set according to usability, example the most used on the lower shelves and less used on the upper. Also an advantage is that they will be covered with the appropriate lid and you will not waste time blending.
Cabinets With Pull-out Shelves and Basket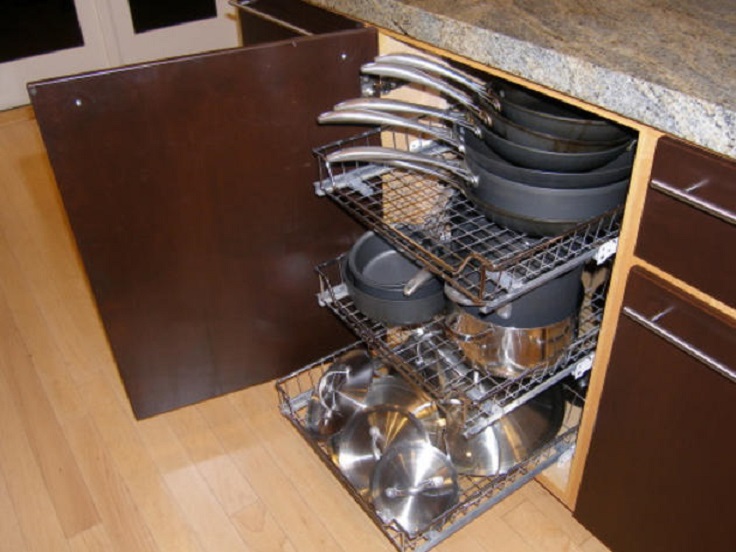 via frontdoor.com
Custom-build cabinets with specialty storage, you can use existing cabinets with storage accessorizes such as pullout shelves and baskets. Whether it's to organize pots and pans or store spices, every space should serve a purpose, but not be overstuffed. This kind of storage is suitable for those who do not want pots and pans be on a visible place in their kitchen. The advantage is that if the kitchen is a small space in this way further free up space.
Cookware Stand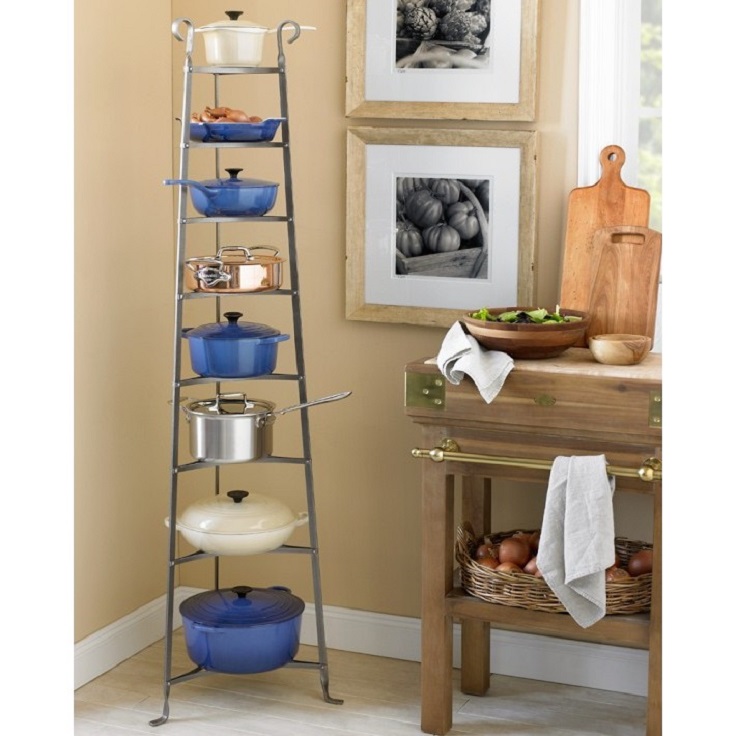 via thekitchn.com
This stand is suitable if you have a lot of space in your kitchen while the space should be used and beautifully landscaped. Pots can be sorted by size and covered with a lid. So that will always be available when cooking wonderful meals.
Save Glass Lids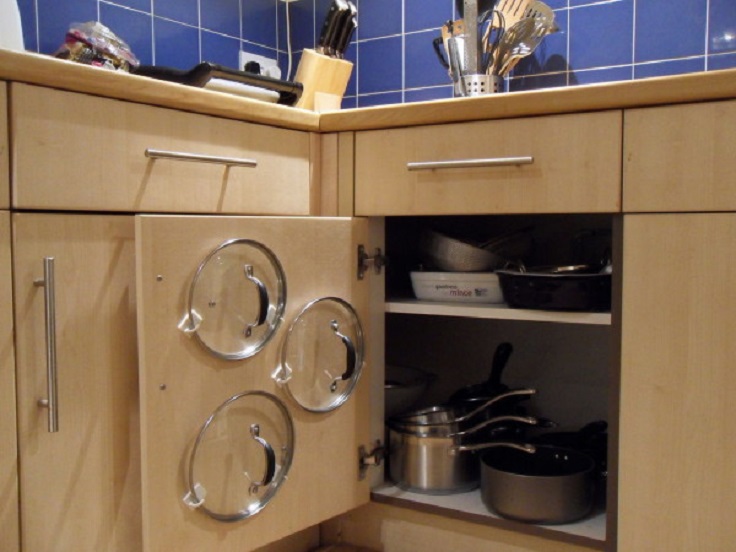 via familycorner.com
There are some great inexpensive solutions out there. Door mounted solution or even a great lid rack can work well. This glass lids will last forever and will be hidden inside the kitchen. There will not make a mess in your kitchen.
Table With Storage Place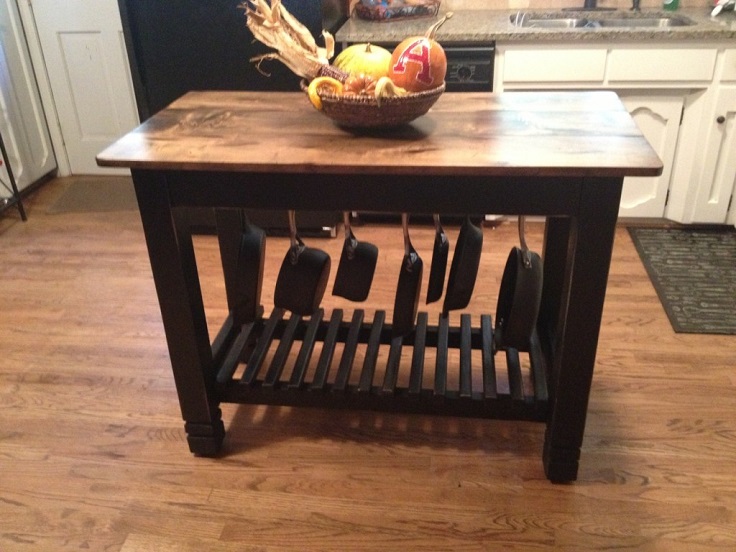 via tableedge.com
Are you assumed that your kitchen table will allow you to store anything in it ? This table is versatile and at the same time will keep the pots close to you and will be a place where you will enjoy cooked lunch. If your table has no set place to hang pots you are free to embed themselves with other simple iron hangers.
 Under Stove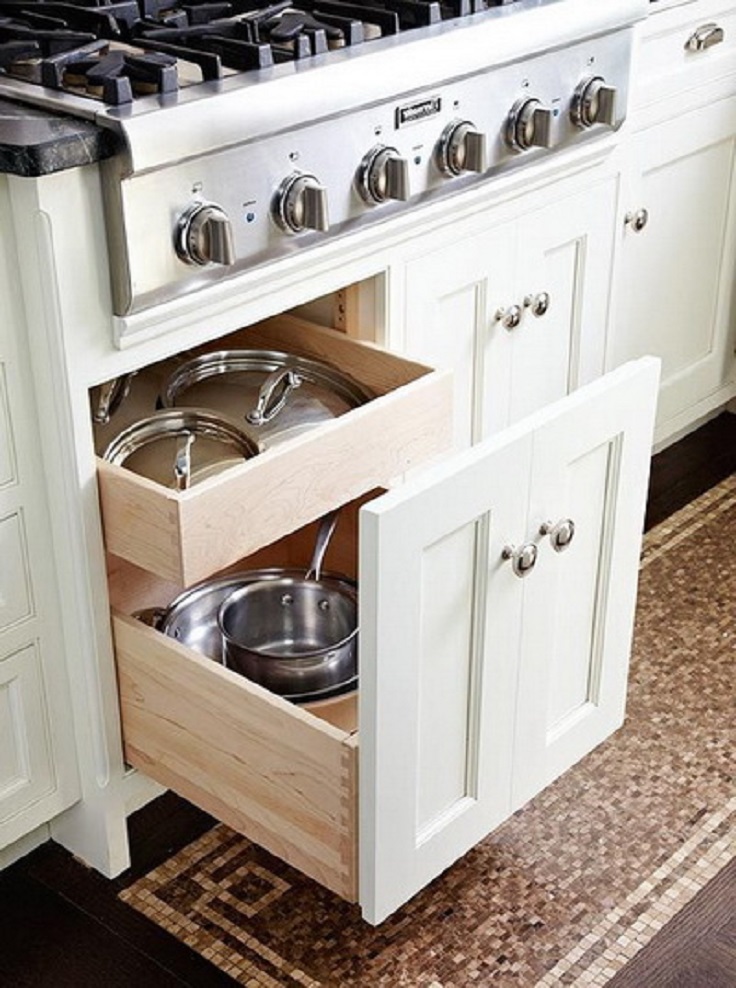 A large drawer under the stove is a practical idea to store your pots. This will be next to you at any time and no need to look for the rest of the kitchen. Desirable as a place to store and lids so that the purpose of this storage will be complete.