One of the desserts that are really simple to make is the poke cake. Most of the time, you need a cake mix and few ingredients for a richer taste, so thanks to the small number of ingredients and the easy cooking instructions, this dessert is perfect for anyone starting their cooking adventures.
To help you, we searched so many poke cake recipes, and we finally came up with ten of our favorites. There is something for everyone's taste – from those who seek heavy chocolate experience to those who crave light desserts with a certain flavor, such as coconut or lemon.
Scroll along to see all ten poke cakes, and let us know which poke cake you would like to eat right away!
1. Banana Split Poke Cake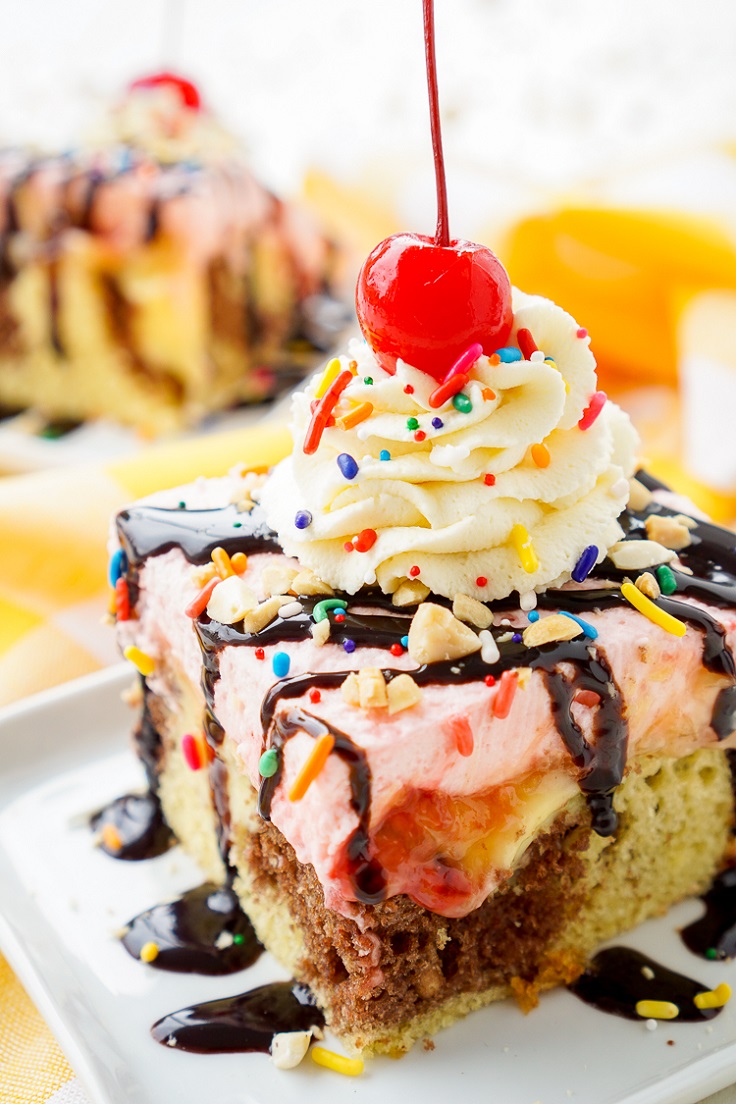 via sugarandsoul.co
One of the best ways to transform a classic dessert such as the Banana Split is with a poke cake. To prepare this poke cake, you will need to prepare few layers, starting with 1 box of cake mix, 3 large eggs, 1 1/4 cup milk, and 1/3 cup vegetable oil. The cake also has a fruit layer, for which you need 1 3.4 oz. package instant banana cream pudding plus ingredients to make, 1/2 cup strawberry ice cream topping, and 1/2 cup pineapple ice cream topping. For the vanilla frosting, you need 1/2 cup heavy cream, 3 tbsp confectioners' sugar, and 1 tbsp instant vanilla pudding mix. Add toppings as well!
2. Coconut Cream Poke Cake
No matter if you're a passionate coconut lover or just love desserts in general, this poke cake is going to charm you with its simple, moist, and super delicious taste. You need 1 box cake mix, 1 cup milk, 1/2 cup unsalted butter, 3 large eggs, 1 can (14 oz) sweetened condensed milk, 16oz frozen whipped topping, and 2 cups shredded sweetened coconut. Prepare the cake according to the instructions and bake it. Remove it from the oven and start poking holes in it and pour over the condensed milk. Cover it with foil and keep it refrigerated for 4 hours. Then you can add the thawed whipped topping and sprinkle coconut flakes.
3. Chocolate Turtle Poke Cake
Looking for the ultimate chocolate experience? Great, because we're sure you're going to love this recipe as well. Plus, the toppings are caramel syrup, but if you add candy bars such as Snickers or Mars (or both!), your dessert can be the perfect treat for every day. Here are the ingredients that you need: 1 (15.25 oz) package chocolate cake mix, prepared according to package instructions, 1 (14 oz) can caramel flavored sweetened condensed milk, 1 (16 oz) can store-bought chocolate frosting, 1 cup chopped pecans, 1/2 cup mini chocolate chips and store-bought caramel syrup for drizzling on top of the cake.
4. Cannoli Poke Cake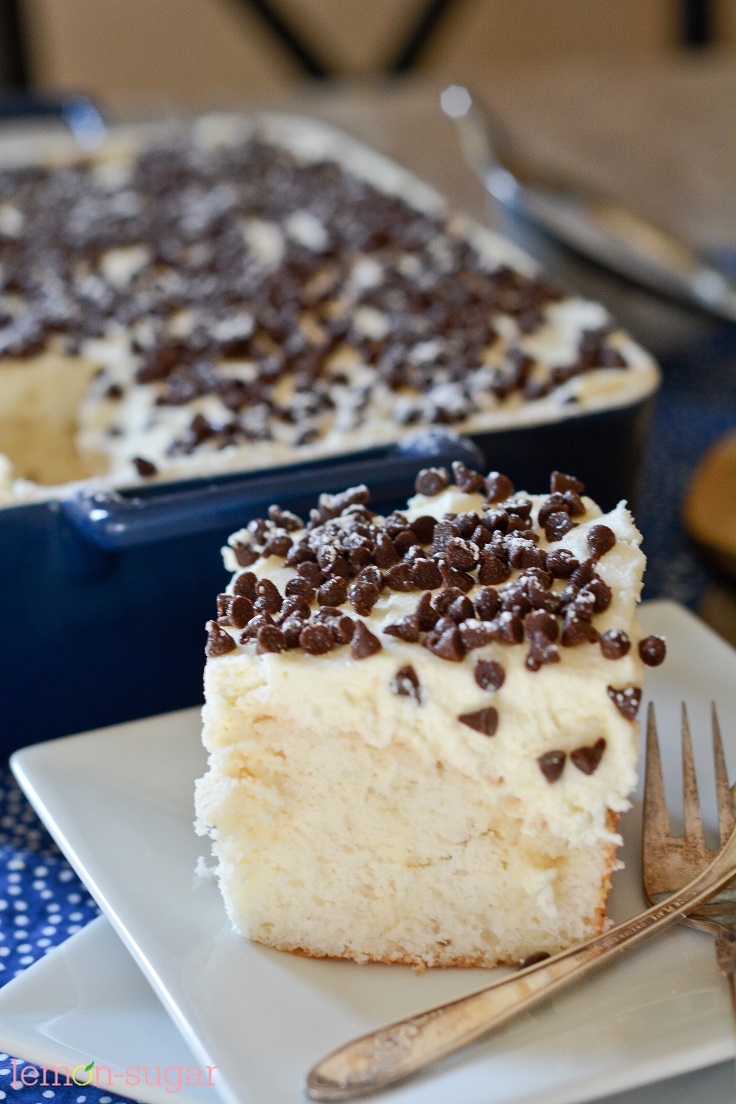 via lemon-sugar.com
This is one simple yet so delicious cake. It has the two ingredients that can also be found in the Tiramisu – ricotta and mascarpone cheese (no wonder why these desserts are soo delicious!). This super creamy, moist poke cake can make your cup of coffee more delicious than you thought. For this cake, you need the following ingredients: 1 box white cake mix, plus ingredients on the box, 2 (14 ounces) cans of sweetened condensed milk, 1 and ½ cup ricotta cheese, 1 and ½ cup mascarpone cheese, 1 teaspoon vanilla extract, 1 cup powdered sugar, ½ cup mini chocolate chips, and powdered sugar, for dusting.
5. Oreo Pudding Poke Cake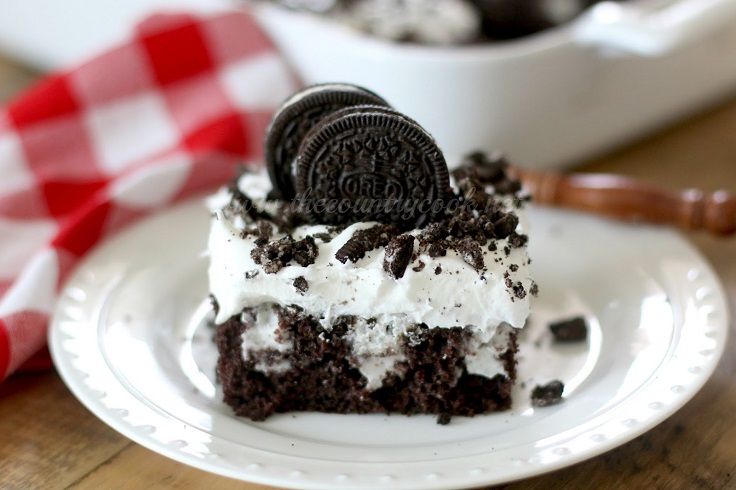 Oreo cookies are so delicious that it is simply impossible to eat just one (when there are few left in the package, right?!). Here's a great recipe on how to include them in this poke cake. You need 1 box chocolate cake mix, 2 (4 oz.) packages of instant Oreo pudding, 3 cups milk, 1 (8 oz.) tub whipped topping, and crushed Oreo cookies for topping. It's really easy to make the poke cake. Prepare it by the instructions given on the box and then poke it. Pour over the already cooked Oreo pudding, add whip cream on top and add crushed Oreo cookies for better taste.
6. Caramel Apple Poke Cake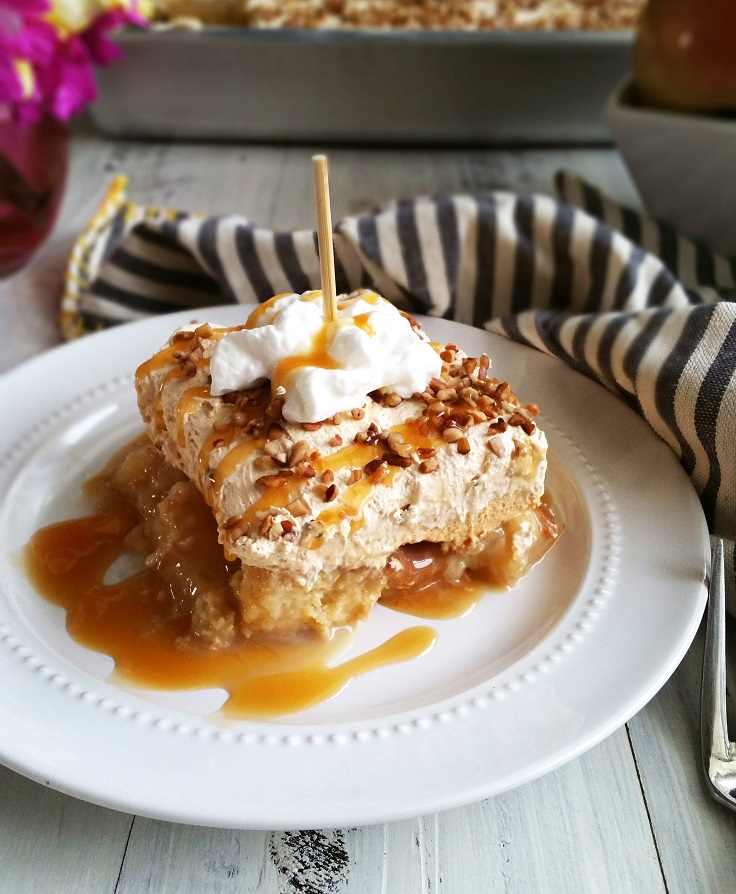 A very well-known and loved combination in the world of desserts is exactly one of caramel and apples. These two go very well together, so preparing a poke cake with them was a must. It tastes just as good as it looks in the photo! First, you need to prepare the cake, and for that, you need a box of white cake mix, 2 20 oz—cans of apple pie filling, 1 jar of caramel sundae sauce. When you're done preparing the cake, continue with preparing the icing, and for that, you need ⅓ c: instant butterscotch pudding mix, 1 12 oz. and cool whip. Last but not least, the cake will taste better with pecans used as toppings.
7. Rainbow Poke Cake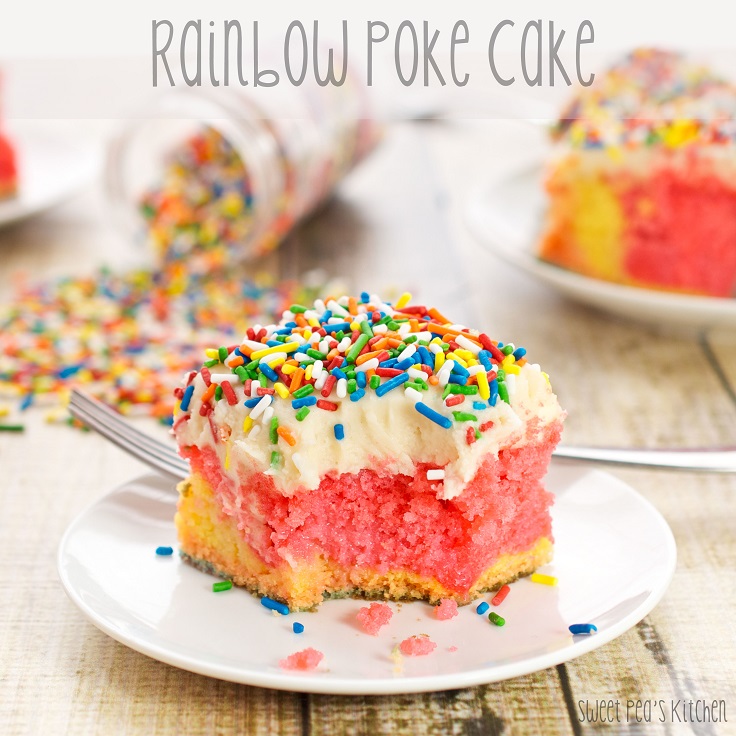 Having a rainbow-colored cake can be a super idea when it comes to celebrations, especially birthdays. The cake can fit in so well into the partying atmosphere with all the colors! Not to mention that if prepared right, it will taste amazing. You need 2 1/4 cups cake flour, 1 cup + 2 tablespoons whole milk, 6 large egg whites (3/4 cup), 2 teaspoons almond extract, 1 teaspoon vanilla extract, 1 1/2 cups + 2 tablespoons granulated sugar, 4 teaspoons baking powder, 1 teaspoon table salt, 12 tablespoons unsalted butter and food color gel. For the frosting: 8 ounces butter, 8 ounces cream cheese, 4 1/4 cups powdered sugar, and 2 tablespoons vanilla extract.
8. Summer Pudding Poke Cake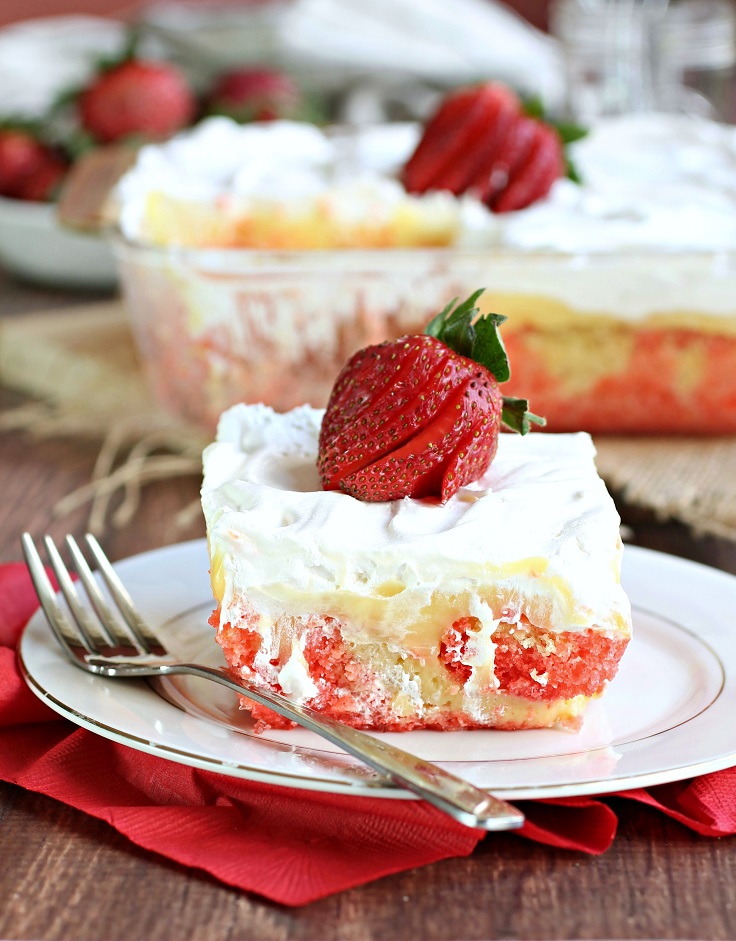 This recipe is needed during times when you hate spending too much time in the kitchen. There are just a few ingredients that you need: 1 box yellow cake mix, 1 small package of red jello, 1 small package of instant lemon pudding, 1 small container of cool whipping cream. So what you need to do is to prepare the cake according to the given instructions on the box. Poke holes into the cake and pour over jello and top it with the instant pudding. The last thing to top all over the cake is the cool whip. If you want to, you can also add strawberries or any other fruit you like for this refreshing and light summer dessert.
9. S'more Poke Cake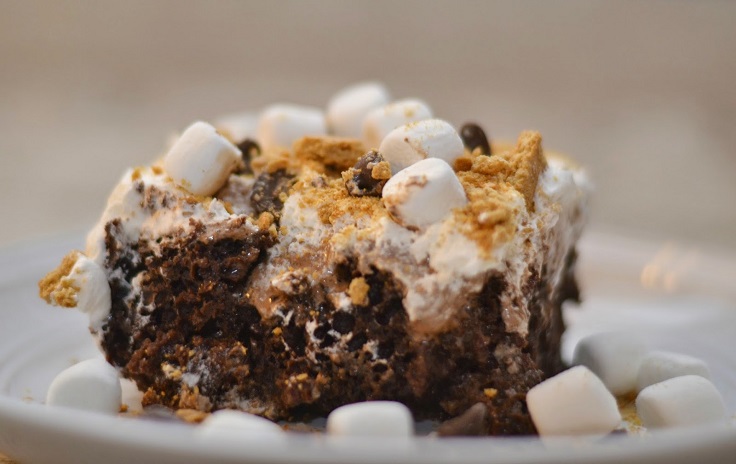 There are so many S'mores recipes that are worth trying, and the poke cake is definitely one of them. Even though the recipe almost always stays the same, S'mores is a great combination of three super tasty ingredients: graham crackers, chocolate, and marshmallows. To prepare this cake, make sure you have 1 box of chocolate cake mix and ingredients listed on the back of the box to make a cake, 1 cup chocolate marshmallow milk, 1 cup hot fudge topping, 1 cup marshmallow fluff, 1/2 cup crushed graham crackers, 8 oz cool whip, 1/4 cup mini chocolate chips, 1/2 cup mini marshmallows and 1/2 cup crushed graham crackers.
10. Black Forest Poke Cake
via putonyourcakepants.com
If you haven't tried the classic Black Forest cake so far, trying it out as poke cake will certainly do the trick as well. It's such a moist cake that will offer you the perfect chocolate experience, mixed with the juicy flavor of cherries. To prepare the cake, you need 1 2/3 cups all-purpose flour, 1 cup packed brown sugar, 1/4 cup cocoa powder, 1 teaspoon baking soda, 1/4 teaspoon salt, 1 cup water, 1/3 cup vegetable oil, 1 teaspoon vinegar, and 1/4 teaspoon vanilla extract. The next thing to prepare is the chocolate ganache with the cherries. You need 3/4 cup vegan semi-sweet chocolate chips, 3 ounces almond milk, 1/2 tablespoon vegan butter, 3 tablespoons cherry pie filling, and 1 1/4 cups cherry pie filling.