Born as Danielle Bregoli, Bhad Bhabie turned into a star overnight. She is one of the best examples of the term overnight sensation. The American rapper and singer reached fame after an appearance on the talk show, Dr. Phil. Since then, she has reached a couple of milestones and accomplishments. For example, the youngest female rapper to ever reach the Billboard Hot 100 charts.
Like many other rappers, Danielle loves tattoos. She has a couple of inks on her body. And they all have special significance to her.
Danielle is still in her teenage years but has already acquired an impressive collection of ink. Her celebrity status attracts tattoo artists that want to put their ink on her. And Bhad is a selling machine. Any ink on her body is a great reference for tattoo artists. With her popularity soaring, her body will attract even more people that want to get a tattoo on her. Luckily, Bhad loves them too.
Danielle first appeared in an episode of Dr. Phil alongside her mother. There, she said the phrase, "Catch me outside, how about that?" It turned into a viral video meme and catchphrase, with memes turning it into "Cash me outside" and so on.
Her debut single, These Heaux made it into the Billboard Hot 100 chart, making her the youngest female rapper to appear on the chart.
Here is a guide to some of her best and most significant tattoos.
Young Boy Cover Up
Location: side of the hand
A few years ago, fans noticed the name "Kentrell" tattooed on the side of her hand. But she denied the reports, saying the tattoo reads "Kentucky". However, a few months later, she came clean and defended getting the name of rapper NBA YoungBoy tattooed on her hand.
Fast-forward a bit, and she covered the tattoo up with a bold black butterfly. You can still see the red underneath, though.
B
Location: left side of her ring finger
The letter B stands for the name of her mother, Barbara Bregoli. Her parents Ian Peskowitz and Barbara Bregoli dated for a year before Barbara got pregnant. But Ian left her mother when Bhad was just an infant.
Her father has Polish Jew descent and her mother has Italian descent. Bhad Bhabie spent her childhood in a Catholic household with her mother. She loves her with all her heart.
Bhad even got famous thanks to her mother. In September 2016, they took part in a segment of Dr. Phil's episode, "I Want to Give Up My Car-Stealing, Knife-Wielding, Twerking 13-Year-Old Daughter Who Tried to Frame Me for a Crime". In the show, they discussed Bhad Bhabie's behavior.
After getting irritated at the audience's laughter, Bhad responded by saying, "Catch me outside, how about that". Jokingly challenging them to a fight outside the studio, the phrase grew into an internet viral meme and video. The rest is history.
Playboy Bunny
Location: left wrist
We do not know the meaning of it, but many women have the Playboy bunny logo tattooed on them. No, Bhad Bhabie hasn't appeared in Playboy, yet. Whether she likes to do it or not, she hasn't revealed it yet.
Zandalee
Location: outer side of the left ring finger
The tattoo is a tribute to Zandalee, aka ZeZe, her former best friend. The two had a close relationship and bond. As respect to her friend, Bhad got a tattoo. ZeZe took care of Danielle while her mother was not around.
But they have since gone separate ways. In one interview, ZeZe revealed Bhad's hard persona and how she copies everything from her. ZeZe even released a video of Bhad's mother beating her. We can bet Bhabie will cover up or remove that tattoo in the near future.
Cherub statue
Location: the back of her left forearm
In August 2018, Bhad got a tattoo depicting the face of a cherub statue. The cross on the forehead is a symbol of allegiance to God. It is inspired by several passages of the Christian Bible. For example, in Ezekiel 9:4, you can read, "God says to put a cross on the forehead of people who are saddened by the abominations committed so that they will be spared".
And Revelation 7:3, reads that the angels put a seal on the foreheads of servants of God.
Heart
Location: top of the left ring finger
As you can see by now, Danielle has a lot of tattoos on her fingers, especially her ring finger. The heart is a symbol of love, but we do not know the person she loves.
F
Location: right index finger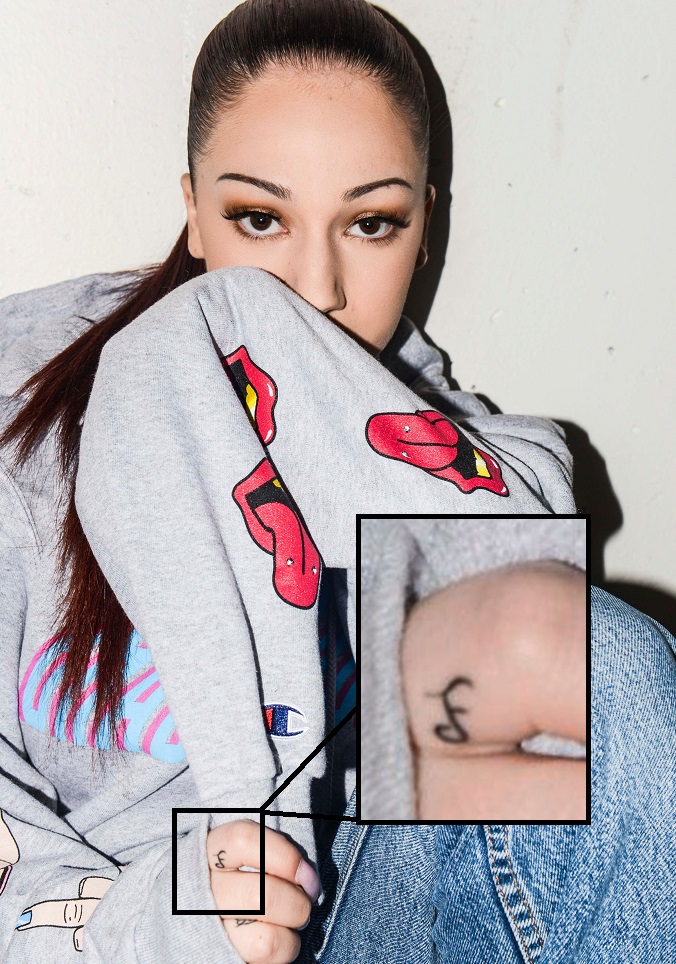 No, this F does not stand for F***. It stands for Frank, her grandfather on her mother's side. She has said she has a close relationship with him. Born and raised in Boynton Beach, Florida, Danielle spent her childhood in a Catholic household.
Lilies
Location: outside side of the right foot
This is another cover-up. The three lily flowers cover up the Loyalty tattoo Danielle once had. Fun fact: the word loyalty is her first tattoo. We can assume it has a deep meaning for her. Bhad Bhabie got her first tattoo at the age of 12. She says "it was handwritten on her foot and looked rather sloppy and childish".
Josephine
Location: vertically above her right heel
Danielle has a lot of appreciation for her family. She has a tribute to her mother, grandfather, and her grandmother as well. Josephine is the name of her great-grandmother.
Numb
Location: right forearm
We finish off our list of tattoos by Bhad Bhabie with her special tribute to XXXTentacion. She got the word "Numb" inked on her right forearm. It matches the tattoo that the late rapper had on his face.
XXXTentacion got murdered in June 2018 at the age of only 20. Many rappers around the world mourned for his death and paid their tributes.
On the day of his death, Bhad Bhabie shared a long post on her Instagram account. And a few days later, she revealed her new tattoo. She also included the three black dots X had just below his Numb tattoo.
She already had three dots on her finger but wanted to stay as close to the original as possible. After all, it is a tribute to a close friend and important person in her life.