Did you know that originally the word "vintage" derives from a wine bottle's dating, where the vintage date gives information about the value that the vine has? Parallel to this, what we think of when someone mentions vintage is the 50's, the way people back then dressed, decorated their houses, their whole lifestyle.
Nowadays, it's easy to find items that look like they are from this age, and that's because are many old bazaars and stores where you can buy vintage items. Then, many companies make furniture, carpets, and curtains with vintage themes and last, but not least, our very own grandparents can be the source!
So, before buying anything, make sure to check out their attic or garage. There is something really charming about this style, no wonder that even decades later is still so popular. If you want to refresh your home with decorations in vintage style, check out the list below on how you can do it.
1. Floral Is a Must
via homedecorclub.org
Yes, the floral theme is essential! You can find it almost everywhere – the curtains, the carpets, the wallpapers, the tea set. It's your choice to decide which part of your home you will decorate with a floral theme, and you have many choices to do that. For example, if you want to decorate your bedroom, setting floral wallpapers is an expensive option, then searching for nice bed sheets that give away a vintage look.
2. The Vintage Furniture
via lushtoblush.com
If you are thinking about purchasing a new piece of furniture and want it to look vintage, google search the furniture back then to have a better image of what kind you are looking for. You don't have to buy everything, from sofa to armchair, but only one piece instead. It will; be enough to give away a vintage look to your room.
3. Wooden All The Way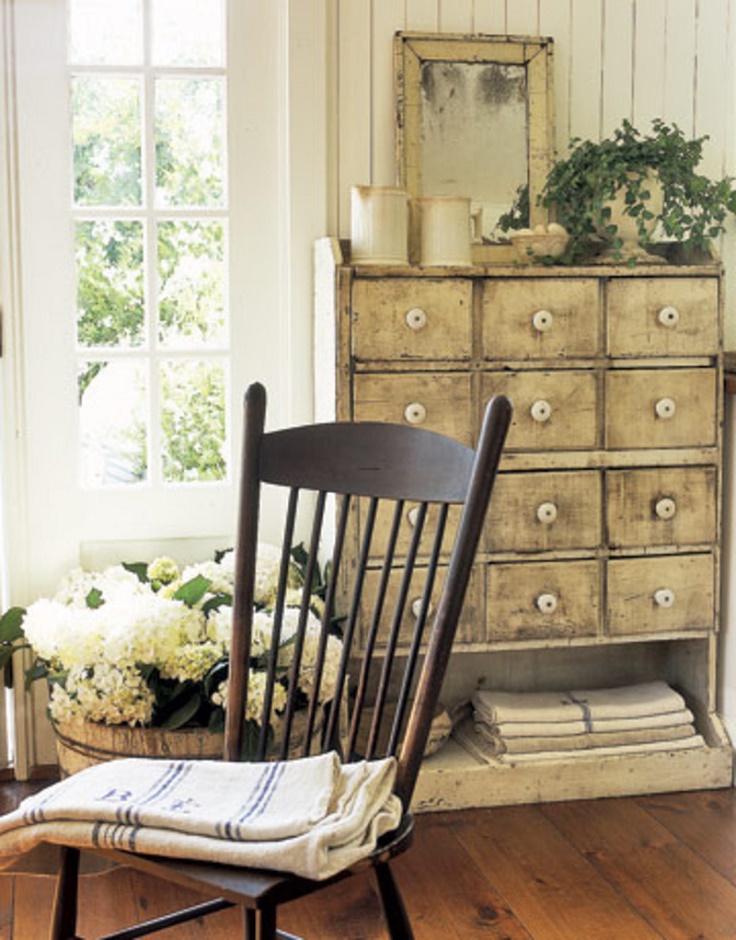 via davinong.com
The more wooden everything is, the better! But of course, you should make balance everything and still be careful. If you're able, try advising with a house interior consultant about it. For some, it will be charming to have a wooden floor, wooden dining tables, and wooden chairs, so if you are one of those, go for it.
4. The Vintage Wallpaper
via cristacrista.com
Who can say "no" to such a fantastic wallpaper? Again, the floral theme is on. This image proves that the wallpapers, in this case, the floral, vintage ones, can even look beautiful in your bathroom. So, if you were wondering how to decorate your bathroom without putting too many decorations in it.
5. The Vintage Bike
via abeachcottage.com
It's so hard to resist this charming, white bike! Especially the part with the flowers in the basket. If you go for a bike as decoration, you don't have to keep it inside your home, but in your garden instead. That way, you can make your garden look a little vintage too.
6. It's Vintage O'clock
These clocks may look very old fashioned for some people, but for those who like vintage style, these time tellers would be a must have! It definitely reminds us of something that used to wake up our grandparents back in the days! It would fit perfectly on our bedside tables.
7. Art Matters Too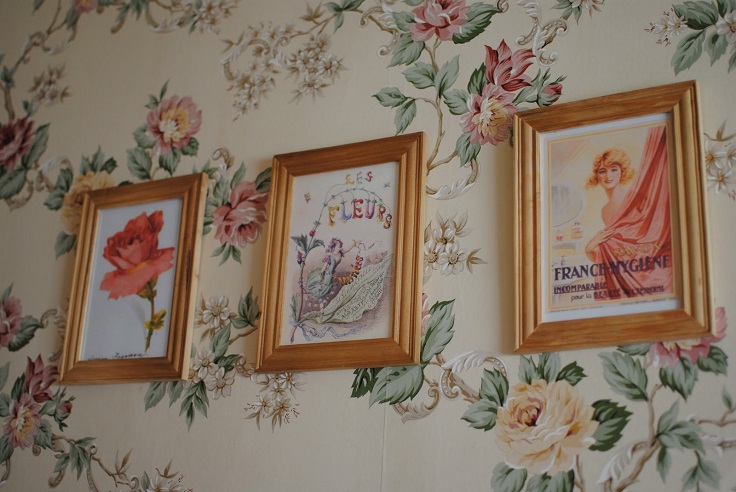 via room-ideas.com
It's all in the details, right? Art is not an exception, so choose it wisely. You can easily find vintage posters and pictures and then just frame them. They can perfectly fit in any room, so put them where you feel there's a lack of creativity – it can be even the bathroom!
8. Oldie But Goldie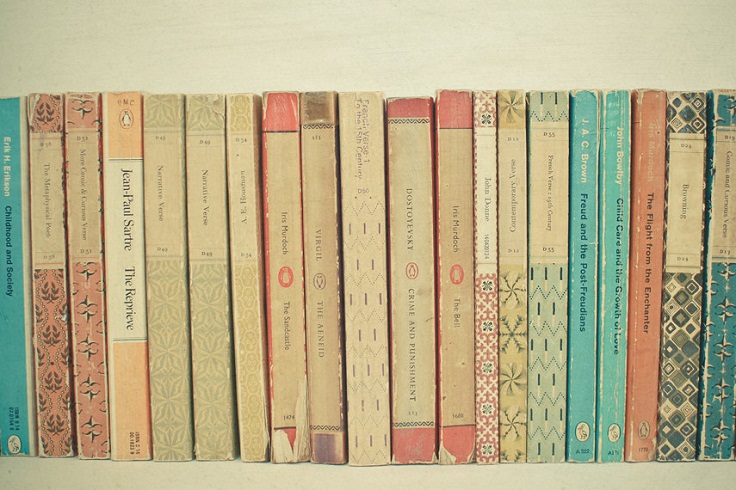 via junkinthetrunkvintagemarket.com
Except for the reading, books can be quite useful too when it comes to decorating. The older publications definitely have covers with some vintage charm. Almost every old bazaar or antique shop has some old books, so check out. If not, there's always the attic of our grandparents!
9. Oldie But Goldie pt. 2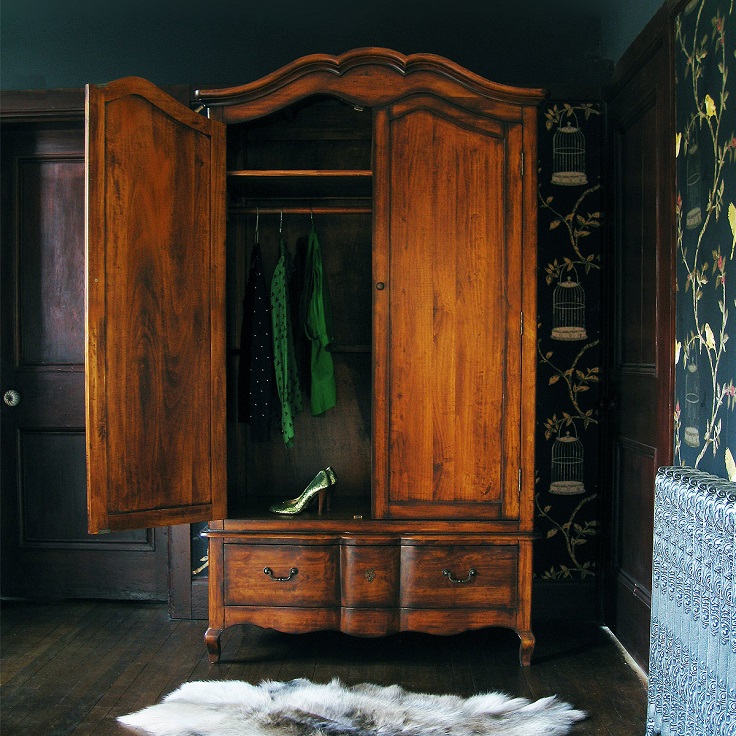 via bridalmarriage.wordpress.com
It's all about the wooden. Luckily many companies sell these models of wardrobes, so you will be surprised at how many choices you have. But, if you already have something similar, then you should try repainting it. That way, it can look new and still be vintage.
10. The Polka Dots Theme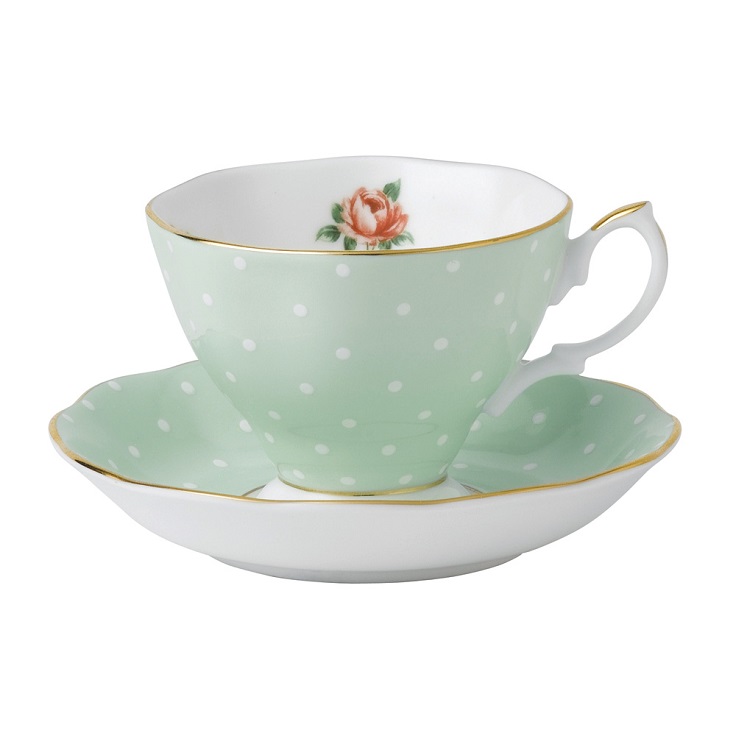 via wwrd.com.au
Not being a fan of the floral theme is fine, and here's something that you can try instead of it. You won't have any problem purchasing, because there are many items with polka dots and many that are so cheap. If you think polka dots are cute, go for them!