Guitar players are an essential part of any band. You cannot imagine a good rock band without a talented guitarist. Guitar players can play a variety of instruments in the guitar family, including classical guitar, acoustic guitar, or electric guitar. Our list includes notable guitarists famous for their guitar playing.
They had a distinctive style. We all know most of them, but how much do you know about their style?
Jimmy Hendrix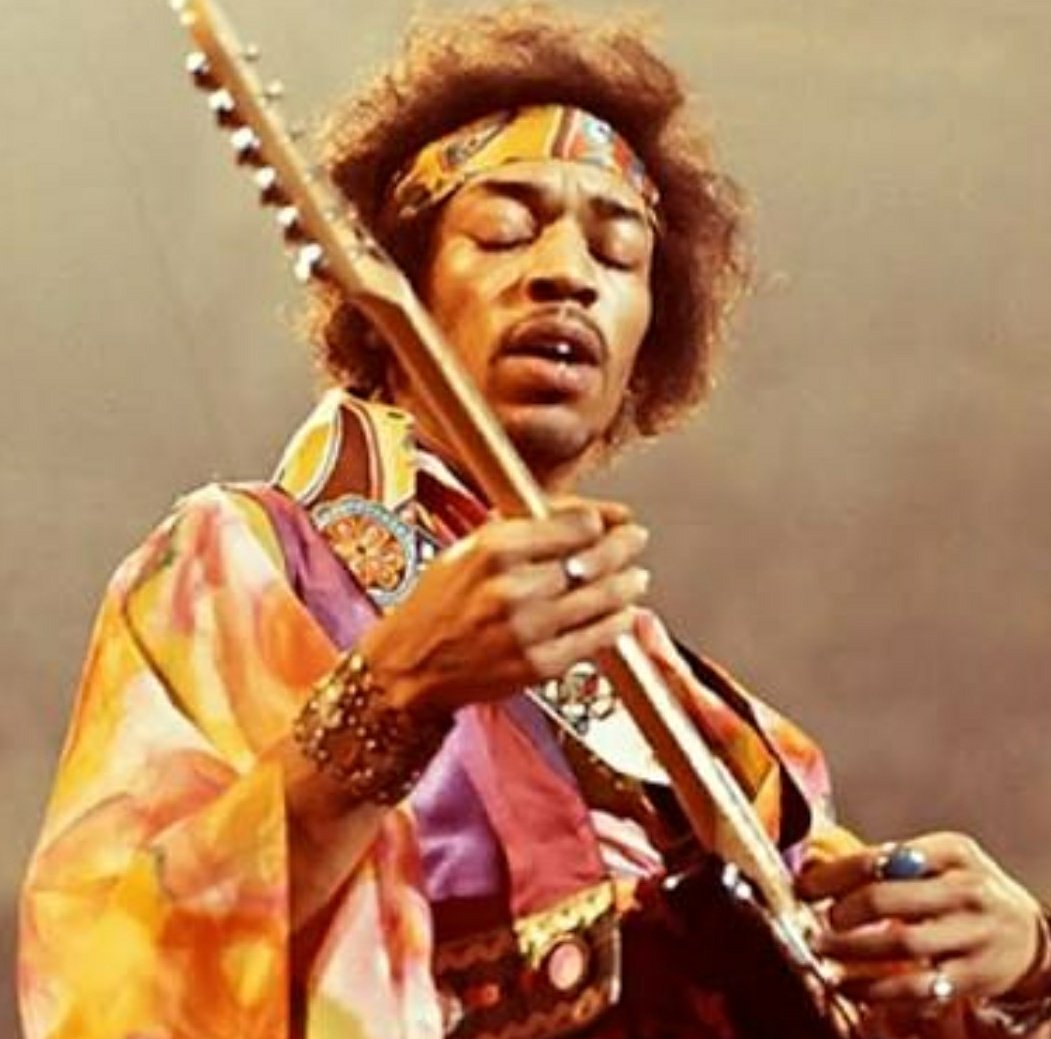 Considered by many the best guitar player of all time, Jimmy's mainstream career spanned only four years. Yet, many consider him the most influential electric guitarist in the history of music. The Rock and Roll Hall of Fame describes him as arguably "the greatest instrumentalist in the history of rock music".
Born in Seattle, Washington, he started playing guitar at the age of 15. He enlisted in the US Army in 1961, but then got discharged the following year.
Soon after he started playing gigs on the chitlin' circuit. But he didn't earn fame until 1966 when he moved to England. There, he got three Top 10 hits with the Jimi Hendrix Experience.
Inspired by American rock and roll and electric blues, he favored overdriven amplifiers with high volume and gain. Hendrix popularized the previously undesirable sounds caused by guitar amplifier feedback. He also popularized the use of tone-altering effect units in mainstream rock.
Eric Clapton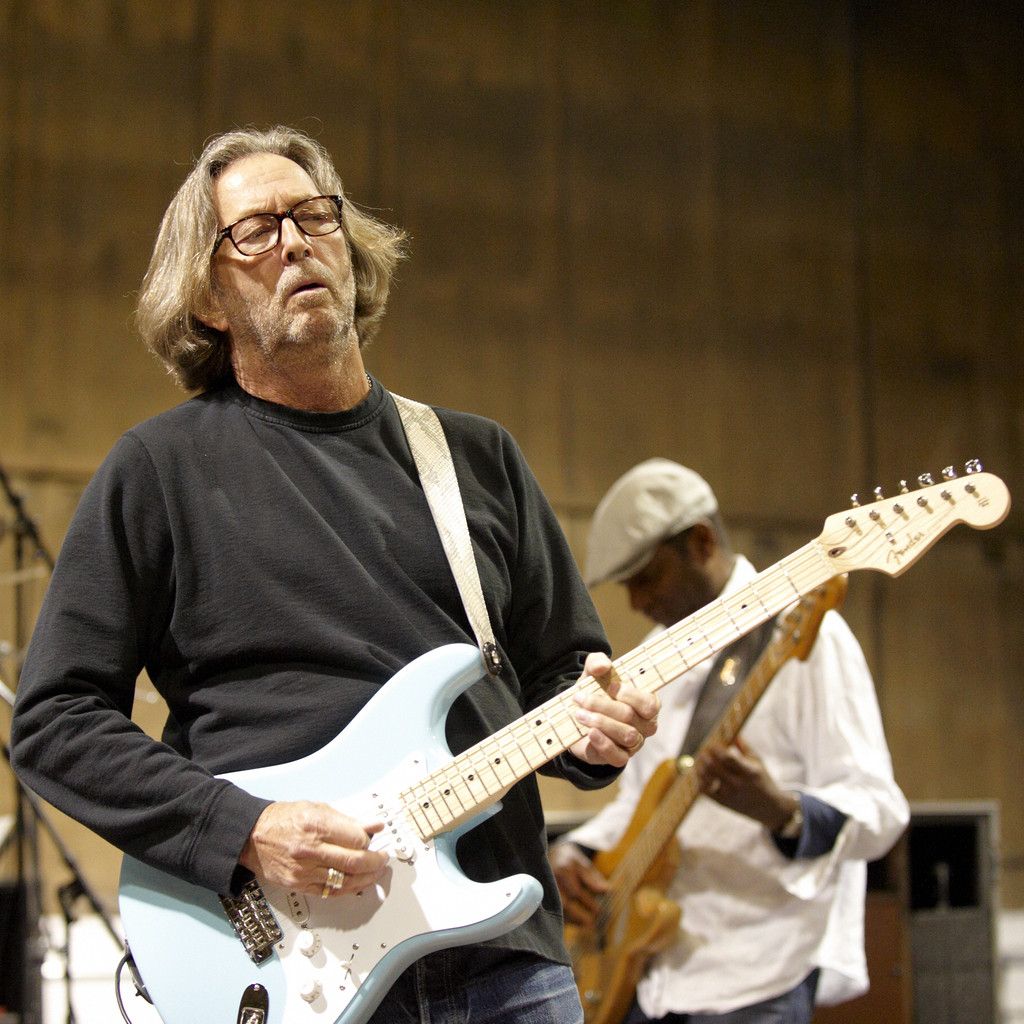 When you think of famous guitar players, you think of some rock and roll legends that absolutely set the stage on fire. But not Eric Clapton. More of a laid-back musician, he still managed to carve a path among the greatest guitarists.
The English rock and blues musician, to this day, remains the only three-time inductee to the Rock and Roll Hall of Fame. He got inducted as a solo artist, and as a member of The Yardbirds and Cream.
Experts refer to him as the most important and influential guitarist of all time. He joined Yardbirds in 1963, replacing founding guitar player Top Topham.
Because he didn't love their sound of blues rock and radio-friendly pop rock, he left the band. During his career, he won 18 Grammy Awards and many Brit Awards. His song Tears of Heaven expresses his grief for the death of his son, Conor, in 1991.
His choice of electric guitars helped him popularize particular models of the guitar. He played Fender Telecaster and Fender Jazzmaster with the Yardbirds. And then since the mid-1960s, he started playing a Gibson exclusively.
Jimmy Paige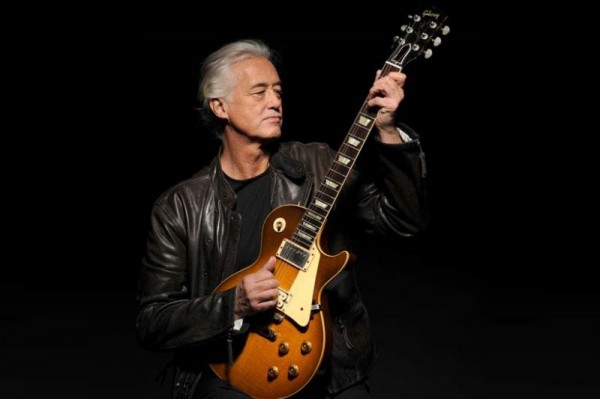 Born in January 1944, Jimmy Paige is an English musician, founder of the rock band Led Zeppelin. Famous as a prolific musician in creating guitar riffs, his varied style involves different alternate guitar tunings.
He combines technical and melodic solos with aggressive and distorted guitar tones. But he also uses folk and eastern-influenced acoustic work in his music. Paige got famous for playing his guitar with a cello bow, bringing a droning sound texture to the music.
He started as a studio session musician. Same as Clapton, Paige was a member of The Yardbird. And when the band broke up, he founded Led Zeppelin.
Rolling Stone magazine describes him as the "pontiff of power riffing". Many historians credit him for innovations in sound recording. Fun fact: he developed many of them initially as a session musician.
Eddie Van Halen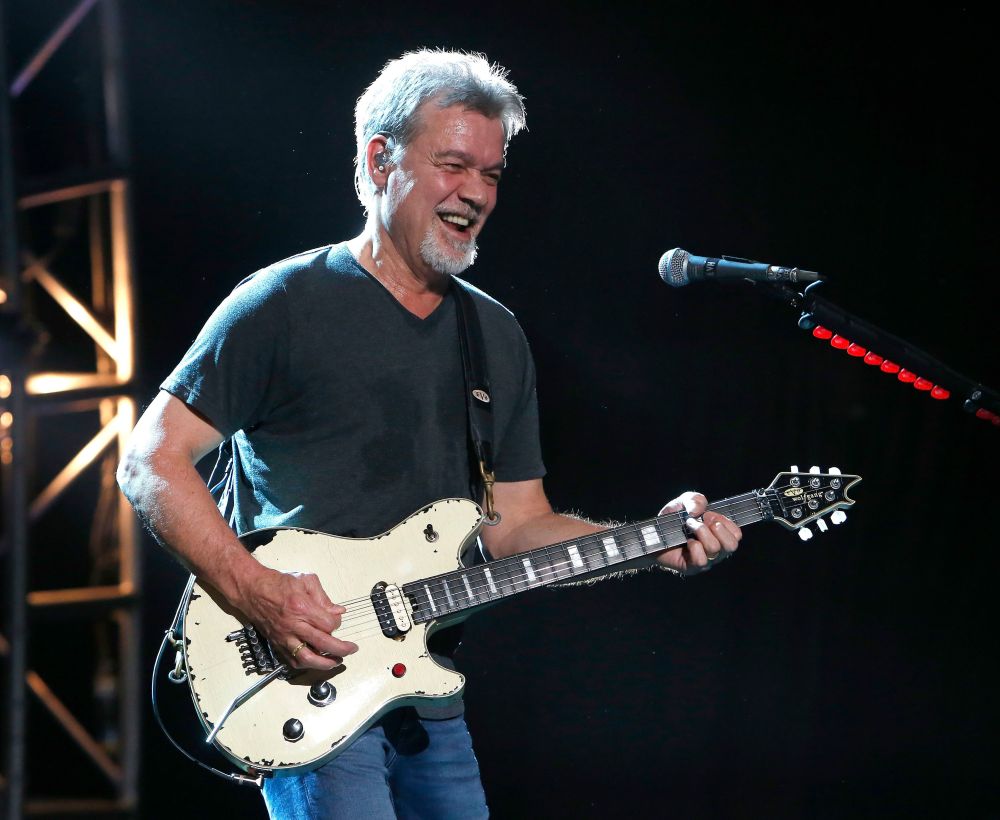 As the main songwriter and guitarist of American rock band Van Halen, Eddie co-founded the band with his brother in 1972. Regarded as one of the all-time greatest musicians in rock history, he popularized the tapping guitar solo technique.
This allowed him to play rapid arpeggios with two hands on the fretboard. Fans have voted his solo in Eruption as Number 2 on the Greatest Guitar Solos of all time.
This song showcased the solo technique tapping. With this technique, he used both left and right hands on the guitar neck. But he did not invent this technique, he just popularized it. Steve Hackett, the lead guitar player with Genesis in the 1970s, invented the technique.
He held a patent for a flip-out support device attaching to the rear of the electric guitar up until 2005. The device enables guitar players to employ the tapping technique by playing guitar in a manner similar to the piano.
Keith Richards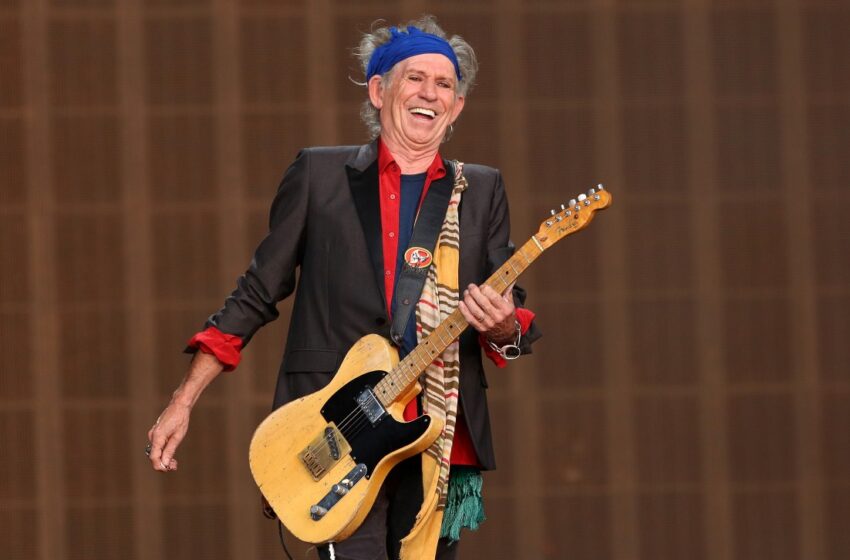 The English musician rose to fame in the 1960s and 1970s as founder and guitarist of The Rolling Stones. Many consider him the "creator of rock's greatest single body of riffs" on guitar.
Unlike most guitar players on this list, he could play both lead and rhythm guitar parts. And often, he did it in the same song. The band got famous for their guitar interplay of rhythm and lead, a technique recognizable as "weaving". They used it between Richards and other guitarists in the band.
In the recording studio, sometimes he plays all of the guitar parts.
The artist himself considers the acoustic guitar as the basis for his playing. Richards believes that the limitations of the electric guitar would cause him to lose the touch. He plays acoustic guitar on many Stones tracks including Play with Fire and Angie.
Slash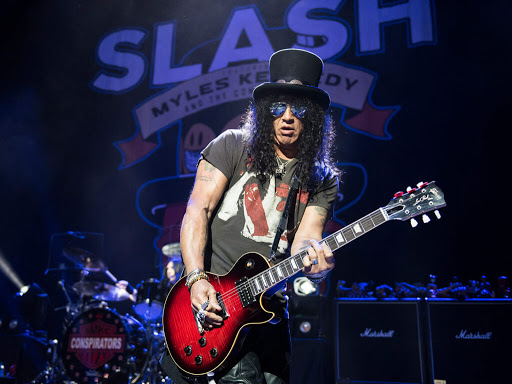 We all know him as Slash. Born Saul Hudson, he is a musician and lead guitarist of the hard rock band, Guns N' Roses. He achieved worldwide fame with the band in the late 1980s and early 1990s.
During his career, he also left Guns N' Roses, forming the supergroup Velvet Revolver. There, he re-established himself as a mainstream performer in the 2000s. He also has four solo albums.
He owns more than 100 guitars, with a total net worth of more than $2 million. He built his playing around his uncanny knack for melody. But he seasons his melodicism with a greasy and gritty quality.
We also have to mention his use of bent notes in the approach to soloing.
George Harrison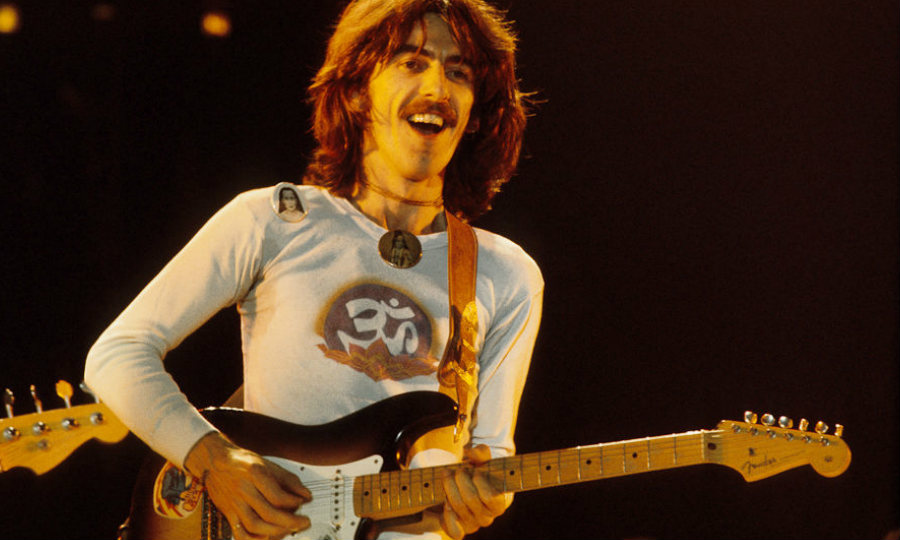 When you play the guitar for one of the most successful bands of all time, you have to make it to the list. Harrison played the guitar for The Beatles. Many refer to him as the "quiet Beatle".
He embraced Indian culture and helped broaden the scope of popular music. In his music, he tried to incorporate Indian instrumentation and Hindu spirituality.
Following the breakup of the band, he released All Things Must Pass. The critically acclaimed album produced one of his most successful songs, My Sweet Lord. In this album, Harrison introduced his signature sound as a solo artist, the slide guitar.
While his guitar work with The Beatles was not flashy or fast, his rhythm guitar was innovative. For example, he used a capo to shorten the strings on an acoustic guitar to create a bright and sweet sound. Eric Clapton once said that "Harrison was an innovator and took elements of R&B and rock and rockabilly, creating something unique in the process".
Brian May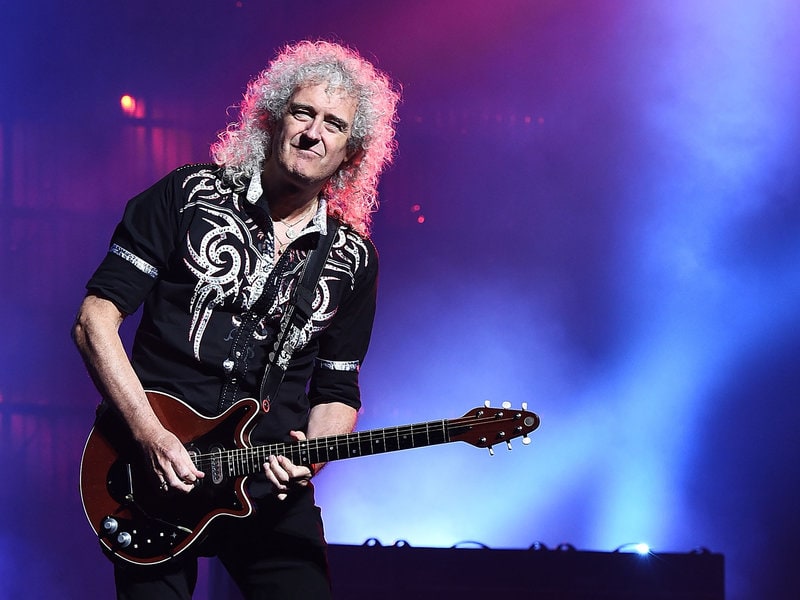 Most people cannot imagine the band Queen without Freddie Mercury. But what about Brian May? He has just as much responsibility as Freddie. The co-founder of Queen, helped the band reach status of one of the biggest rock bands in the world. Their album A Night at the Opera remains one of the most successful and critically acclaimed.
That album contains Bohemian Rhapsody, arguably one of the best songs of all time. Many regard him as a virtuoso musician, creating a distinctive sound through his layered guitar work. May used a home-built electric guitar.
But because he played in a band with Freddie Mercury, May doesn't get nearly as much credit as he deserves. Some of his solos rank in the Top 100 solos of all time.
Brian preferred to use coins instead of a traditional plastic plectrum. He felt the rigidity of coins gave him more control in playing.
Carlos Santana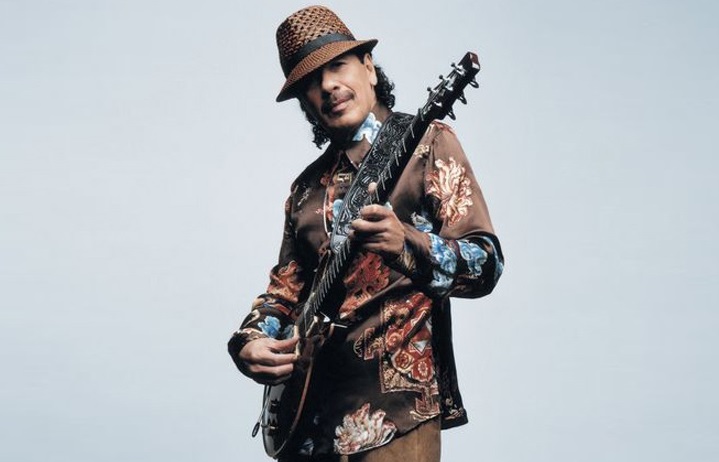 We have to have a Latin musician on the list of greatest guitarists. After all, Latin music has reached new heights in the past several years. And Carlos Santana played a big role in that.
He rose to fame in the 1960s and 1970s with his band Santana, pioneering a fusion of rock and roll and Latin American jazz.
His sound features melodic, blues-based lines set against Latin and African rhythms. Besides his unique guitar playing, his band played on percussion instruments you couldn't find in rock music before.
Frank Zappa
We finish off with the self-taught composer and performer, Frank Zappa. Considered an innovative rock guitarist and satirist, he brought nonconformity and free-form improvisation to rock and roll music.
His career spanned more than 30 years, playing music in genres like rock, pop, jazz, orchestral, and jazz fusion.
Today, he remains one of the most significant electric guitar soloists. He developed gradually his idiosyncratic style. His style matured by the early 1980s. By that point, he turned his live performances into special shows.
Zappa remains recognizable for lengthy improvised solos, sometimes sounding more like a symphony than a guitar solo. He repeated his main melodies with variations throughout his solos.