Bathroom decor is equally important as any other room decor! That's the place to relax and take a long bath after a stressful day at work… we know you can lie there for hours without the noise of your kid's voices! But, if you want the enjoyment to be better, you need to create a peaceful atmosphere with many stylish but unique details that will express you and your personality!
The best and the easiest way to warm up your bathroom decor is by using a bath curtain that comes in various designs, shades, and sizes! It can be pretty hard to make the right choice and to choose only one. But you should play smart and try to find the one that goes well with your bathroom style and the one that will bring out the best from that room!
As we know that this can be tough and difficult, we've tried to help, and that's why we've rounded up 10 ways you can use to include curtains in your bathroom! We assure you that here you'll find your solution and inspiration!
Feel Free and Play with Colors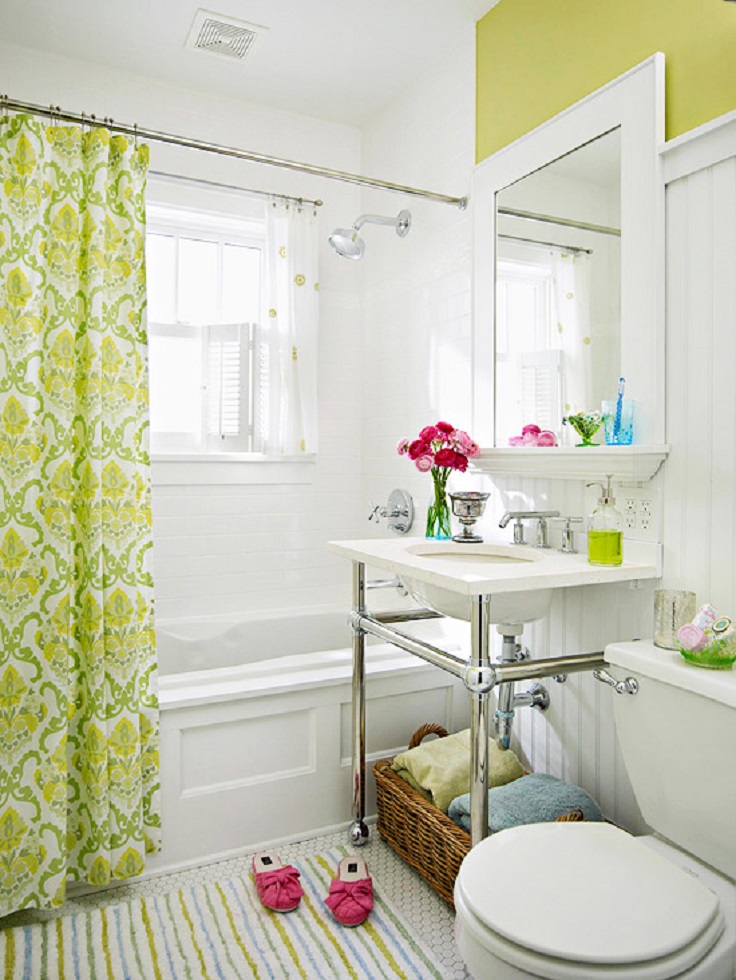 via bhg.com
Play smart with colors and use a colorful curtain if your walls and bathroom decor is neutral and natural. Find some curtain that's similar to your bath carpet like in the picture above. Shades of green and blue are a safe choice for any room!
Bring a Romance
via hearts-of-glass.tumblr.com
If you're a romantic and sensitive soul, then these white curtains are just for you! They look elegant and charming, and with a few candles, you'll enjoy a hot bath even more!
Go, Bright…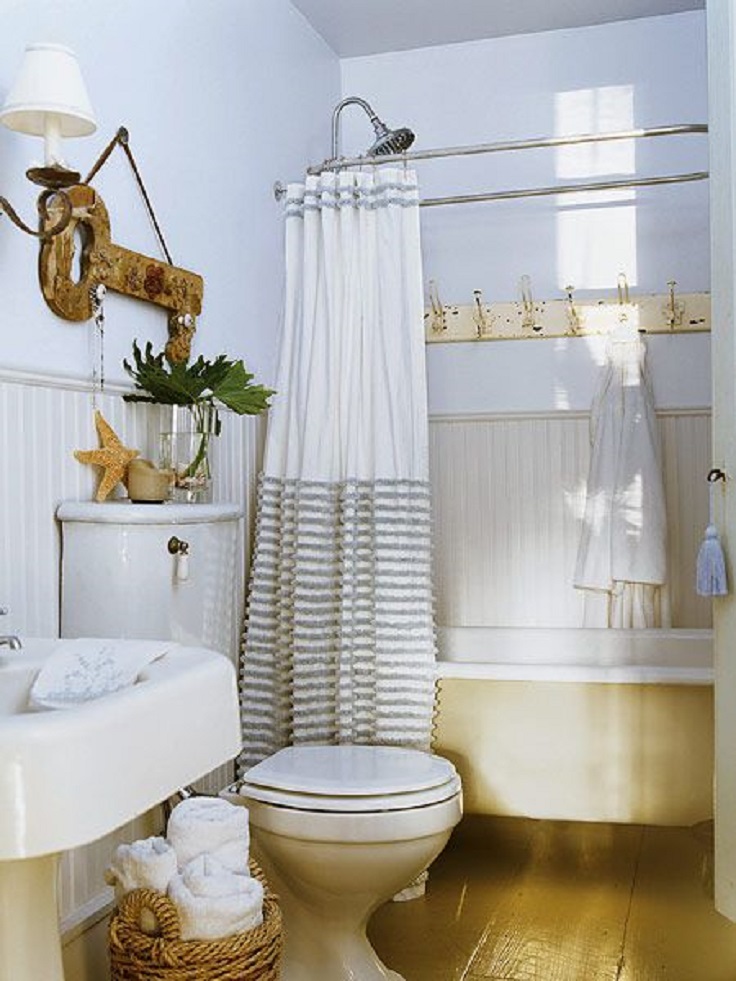 via myhomeideas.com
When you have a tiny bathroom, then bright colors are all you need. Mix them well and stay away from pink or red tones. This white curtain with grey details is perfectly incorporated in the bathroom, and you can easily find a similar one for yourself!
Or Go Pink!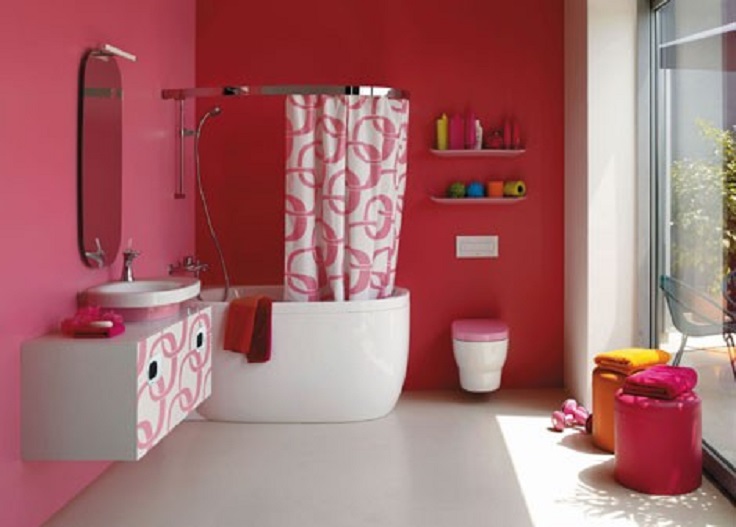 via hometalk.com
But, if you have a bigger bathroom, then go pink all the way, from walls to bath curtains! Use some curtain design where pink shade is mixed with white color, and be sure that space will look like a real designer masterpiece!
Hang a Curtain that Carries Out Your Bath's Color Scheme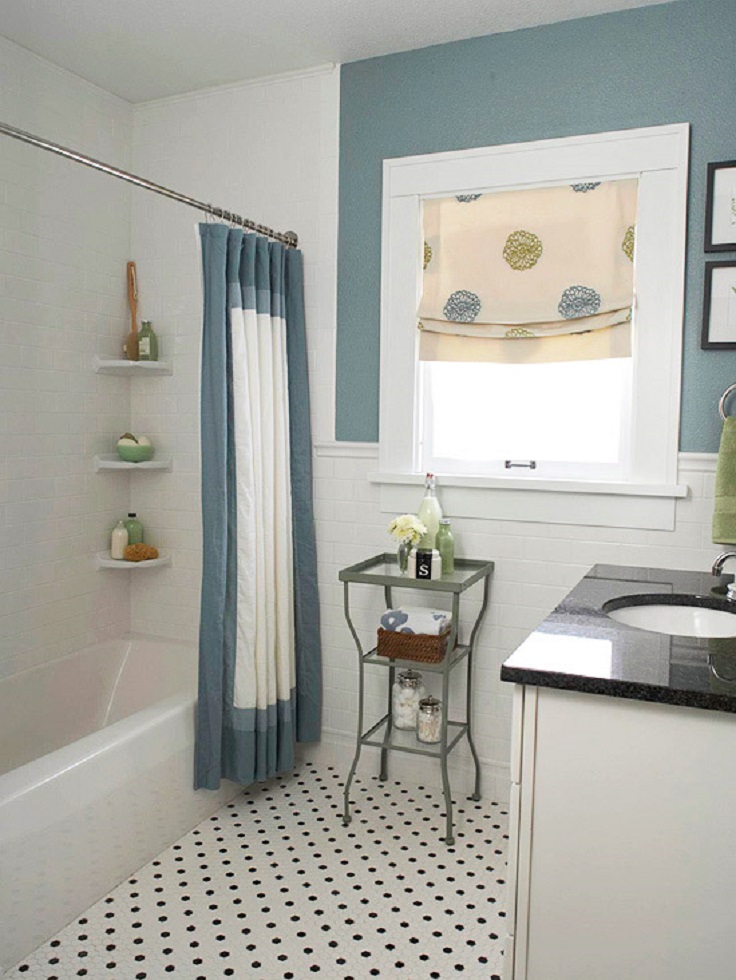 via bhg.com
One more way to create a small bathroom with a big impact – add accents and use framed items! If you've used the combination of blue and white for the walls, then do the same with a curtain, because if you don't follow your bath's color scheme, you'll get lost in space and designs!
Use the Power of Flowers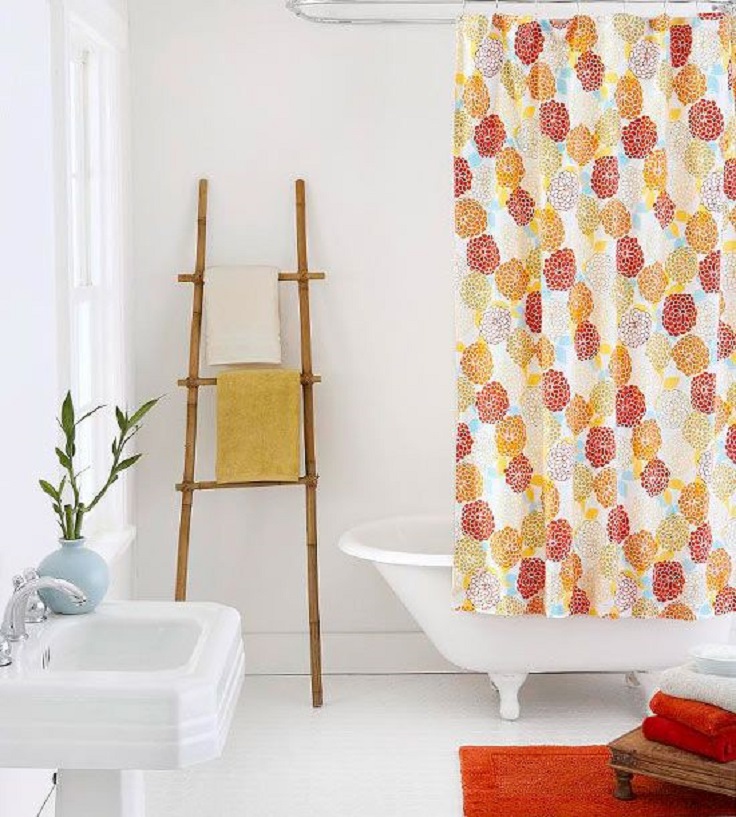 via bhg.com
We know the power of flowers – they fill us with positive energy! You can use them for any room decor, but be brave and use a bath curtain with colorful flowers… the next time you take a shower, you'll instantly have a happy mood!
Use Curtains as a Bathroom Door
via tacophile.com
If you want your bathroom to get a unique look, throw away your bathroom door and use wonderful curtains instead of it! The picture above is a real example of how stunningly elegant curtains can add a dose of simplicity to space. Not to mention how functional they are!
Intimate Bath Space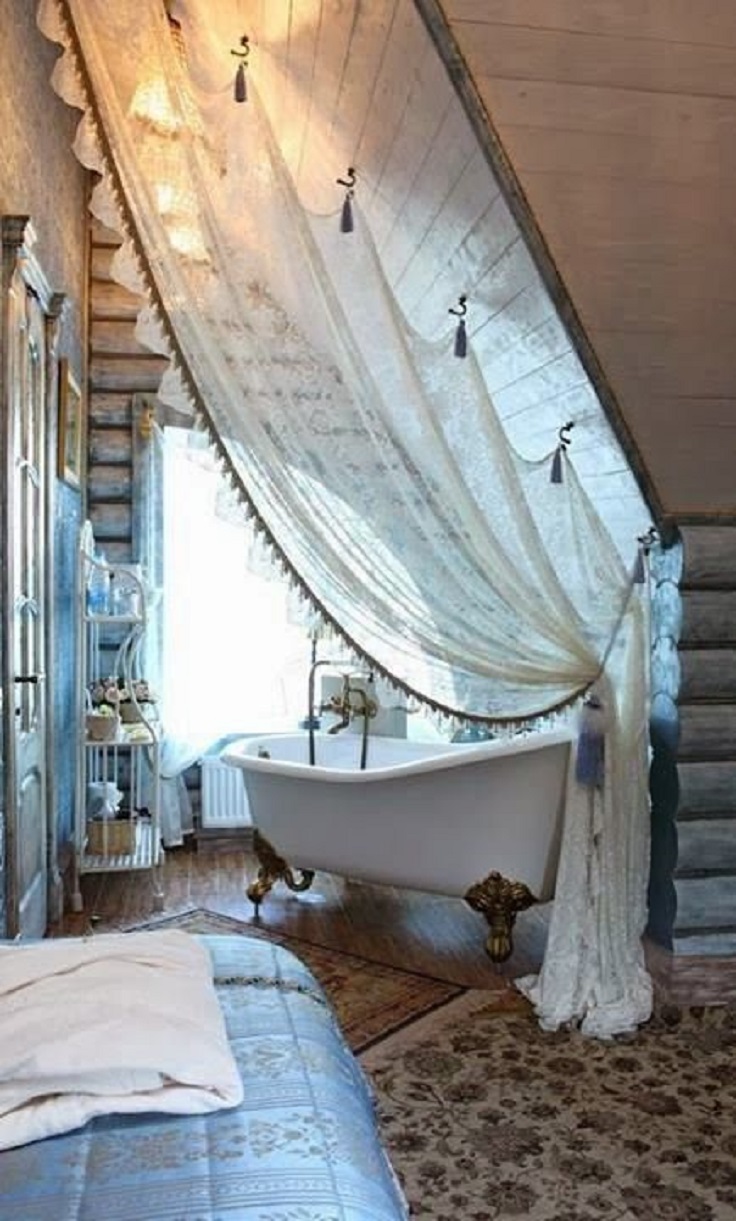 via pinterest.com
Every bathroom needs and deserves a touch of intimacy, and that mission can easily be accomplished if you add lace curtains around your bathtub! They will look old-fashioned and vintage but totally amazing at the same time. It's the right choice when intimacy is the goal you want to reach!
White Clean Curtain for an Elegant Touch in Bathroom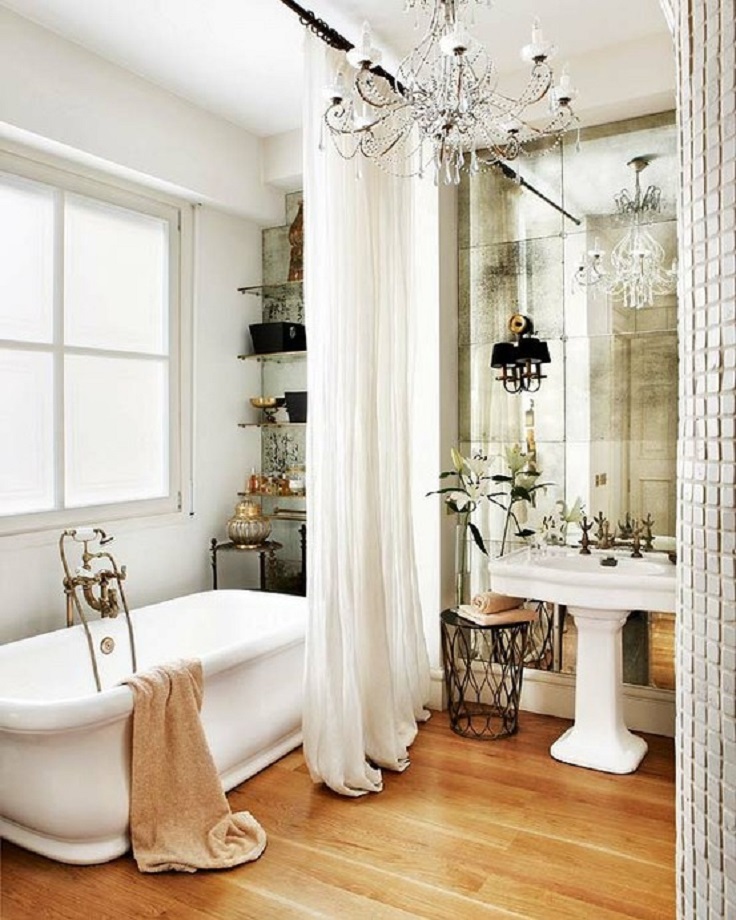 via alexandracampbellinteriors.files.wordpress.com
When it comes to the bathroom, you can't go wrong with white shower curtains. They'll look even more dramatic and romantic if they're clean, but this is not a good option if you live with kids or still with your parents!
Use Real Curtains as Shower Curtains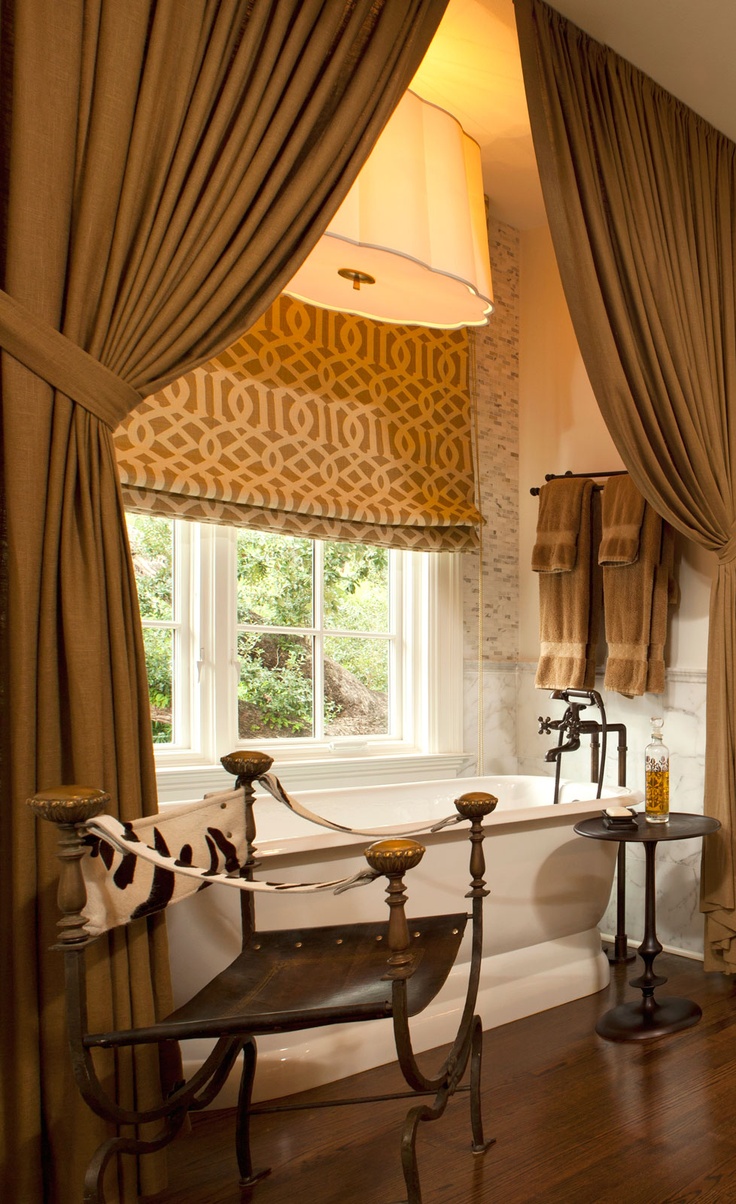 via pinterest.com
For a more glamorous bathroom atmosphere, don't use those plastic and boring shower curtains. Instead, hang real curtains in beige color, and you'll have a bathroom like those you see on the TV. It's a mind-blowing idea you should try!