It might take a while to fall in love with the spicy, garlicky, salty kimchi, but it will last forever once it happens. Kimchi is a traditional Korean dish, where each region and season has its own distinct kimchi ingredients and flavors.
Kimchi is not only tasty but also very healthy. It is a fermented superfood – along with sauerkraut, yogurt, kefir, and pickles full of beneficial probiotics. It is a superfood because it cuts cancer risk, lowers cholesterol, and aids digestion.
You can add it to salads or scrambled eggs, eat it alone, or serve it on top of any dish you choose. It is amazing as a wrap filling or to top your baked potatoes with! Pick it up in the refrigerated section of your grocery store or make your own. It is really simple, let's get to it!
Homemade Kimchi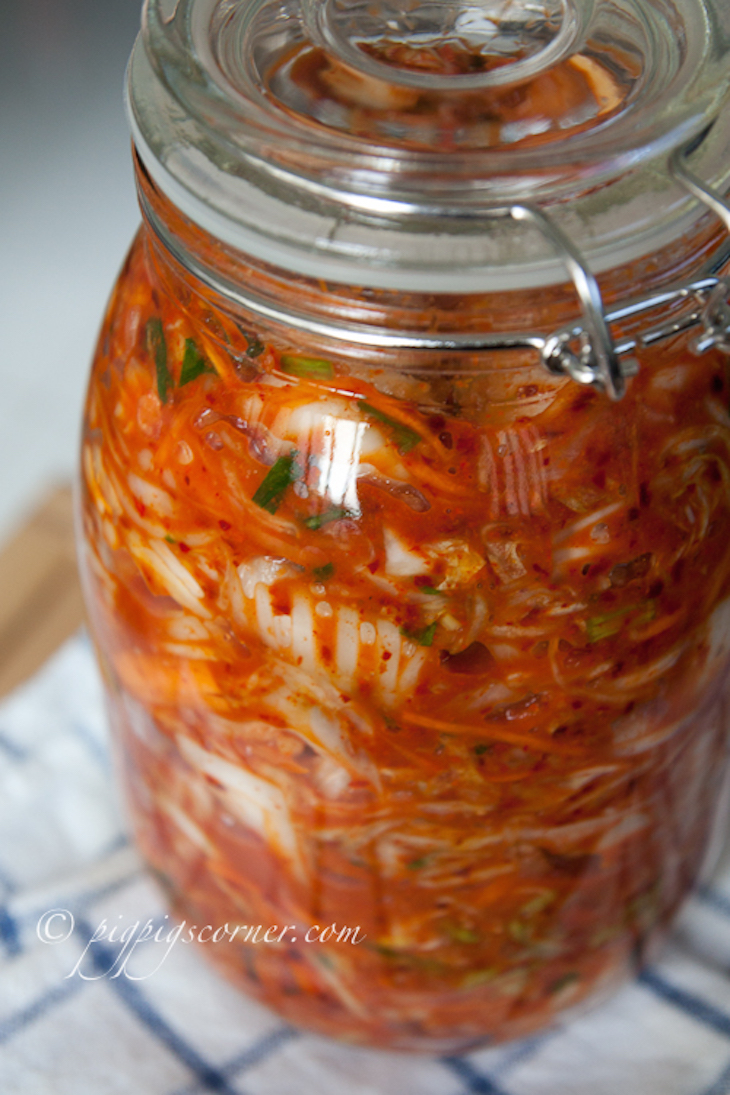 Recipe via www.pigpigscorner.com
Kimchi is super easy to make. Chopping up all the different vegetables such as napa cabbage, radish, spring onions, and carrots will take a while, but that will be the hardest part. Make a large batch, put it in air-tight plastic containers or jars, and let stand for one to two days in a cool dark place, at room temperature. Put it in the fridge; it will keep for ages. Remember to wear gloves when mixing the ingredients!
Kimchi Pancakes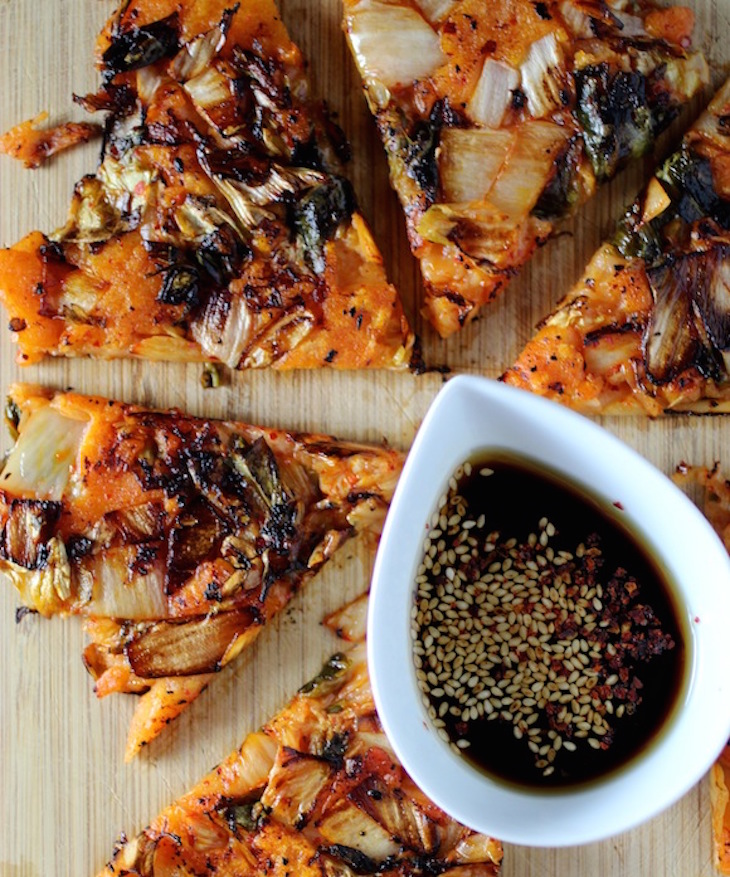 Recipe via www.tastewiththeeyes.com
Korean Kimchi Jeon or Kimchi pancakes are so simple and tasty. You'll need flour, water, kimchi, baking powder, and spices. It is an extraordinary snack, a perfect breakfast, or an interesting appetizer. Prepare the batter, fry it in a non-stick pan and dip it into your homemade sauce.
Kimchi and Cheddar Omelette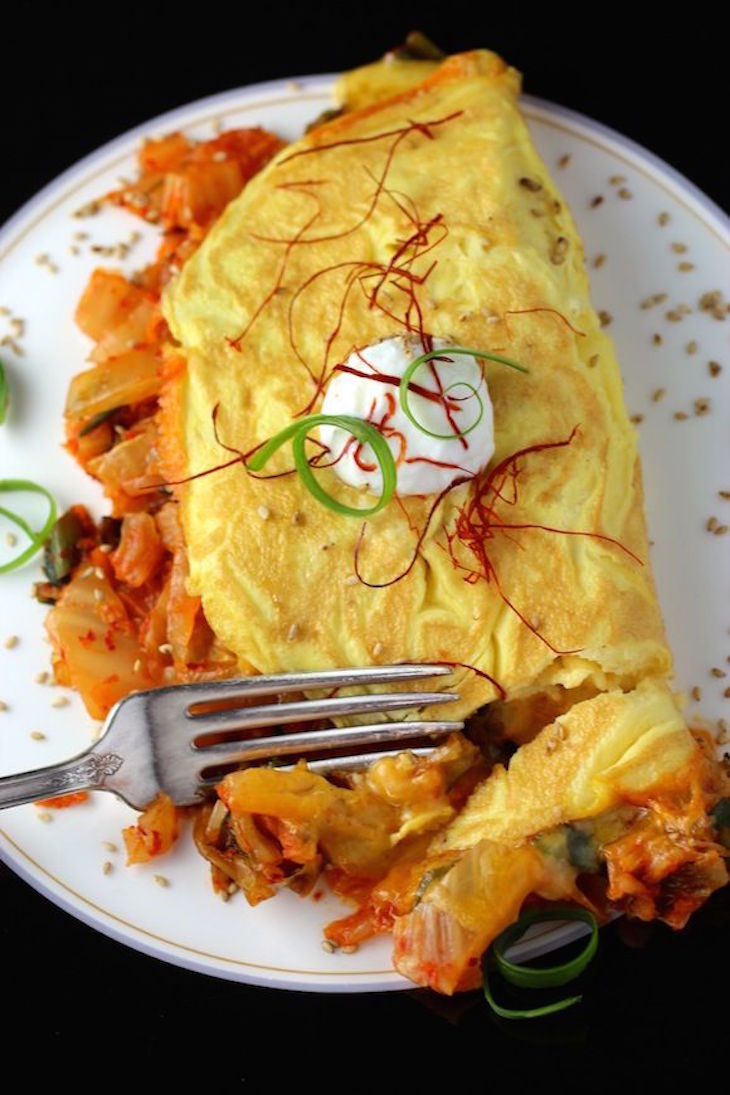 Recipe via www.tastewiththeeyes.com
If you are bored with the plain omelets and scrambled eggs, prepare the most flavorful egg breakfast with kimchi!  You will love the light, fluffy eggs, the melting cheddar, rich sour cream, and the spicy kimchi inside.
Kimchi Fried Rice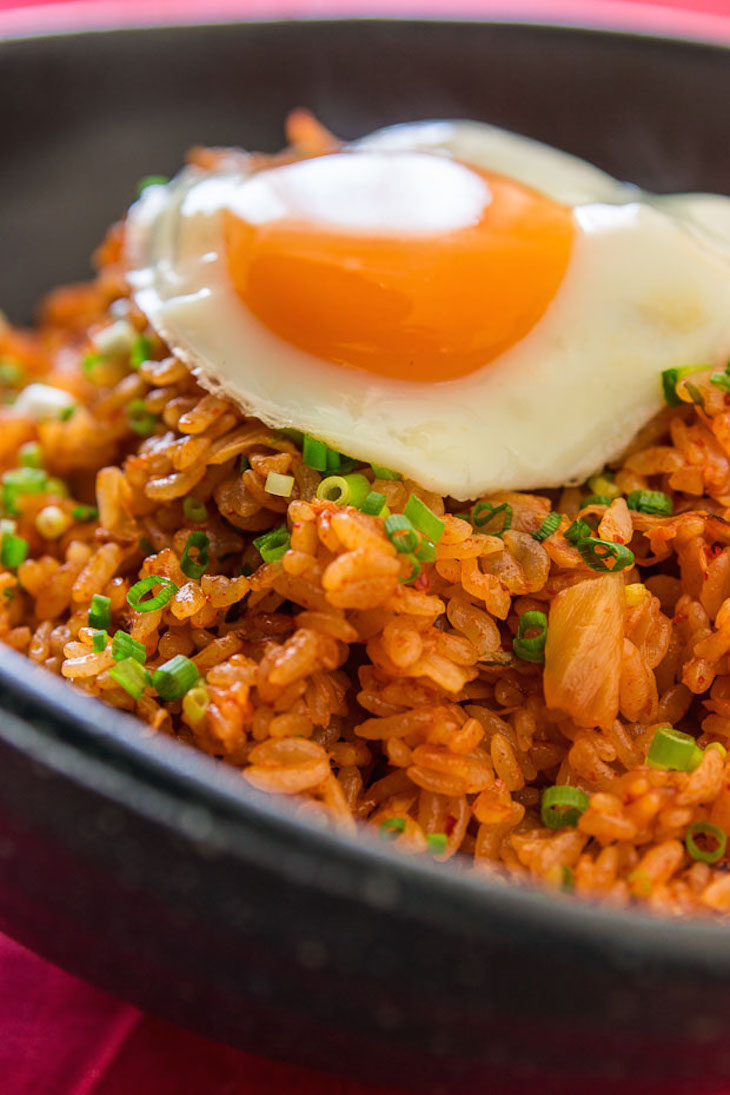 Recipe via norecipes.com
Fried rice is a simple and fast option for dinner or lunch. In Asia, rice dishes are eaten throughout the day, even for breakfast. This high-flavor, the low-effort recipe, is ready in 10 minutes. We love this recipe, especially with a sunnyside-up egg on the top!
Kimchi Stew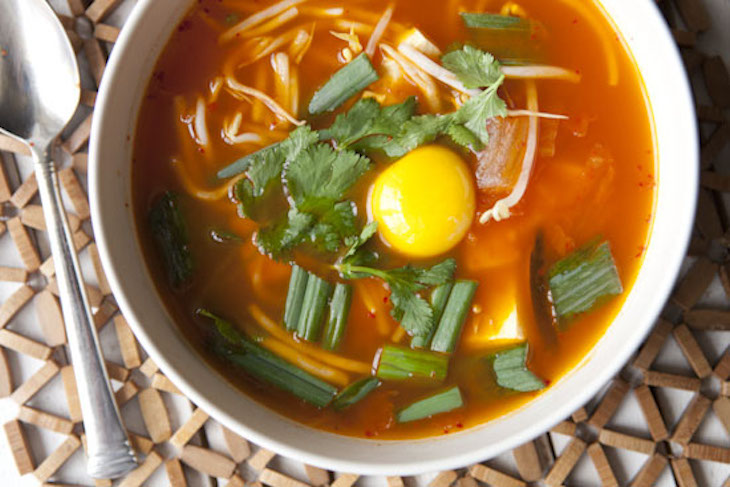 Recipe via www.macheesmo.com
This is a vegetarian recipe full of healthy goodness – tofu, shiitake mushrooms, kimchi, fresh scallions, cilantro, egg yolks, and bean sprouts. Beautiful intense flavors and fresh crispy sprouts, tender tofu cubes – delicious!
Spicy Cold Noodles with Kimchi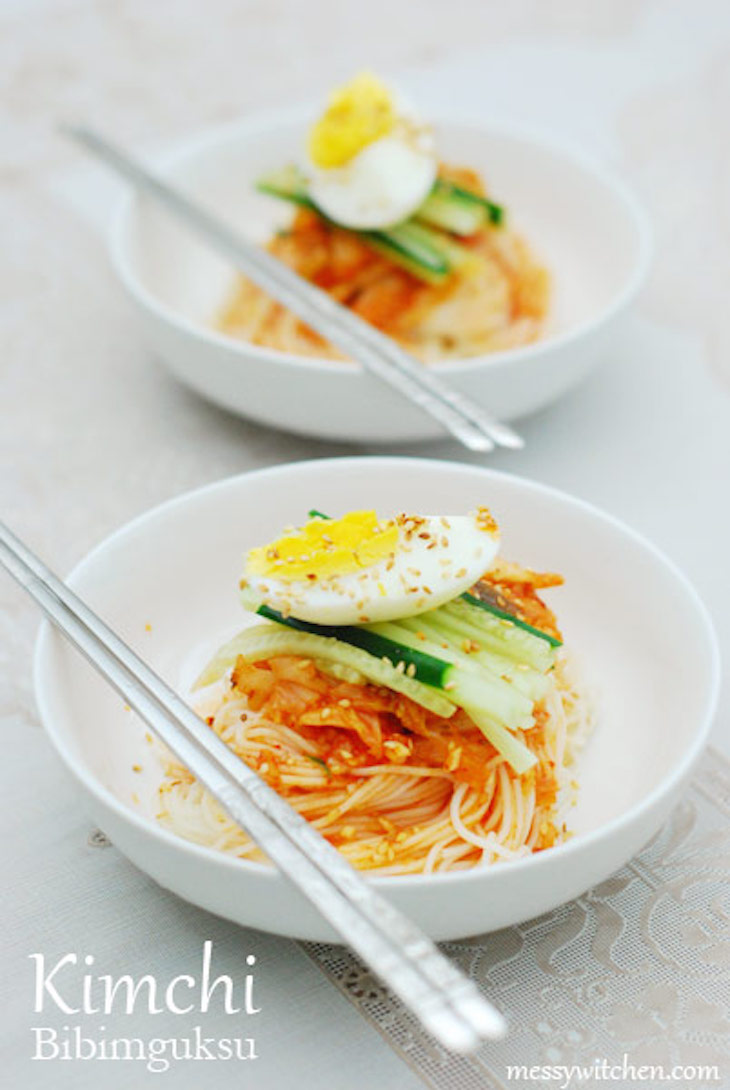 Recipe via messywitchen.com
Since this is a cold dish, it is perfect for warm summer evenings. It's spicy, sour, and sweet at the same time and ready in no time! Try this recipe and experiment with the new flavors it will bring into your kitchen.
Bok Choy Persimmon Kimchi Salad
Recipe via www.beyondkimchee.com
This salad is a perfect blend of crisp Bok choy, sweet persimmon, and the spicy and tangy chili vinaigrette. With a bowl of rice, it is great for dinner or lunch. If you don't find persimmons in the local grocery, replace them with other sweet fruit like peach or plums.
Kimchi Pizza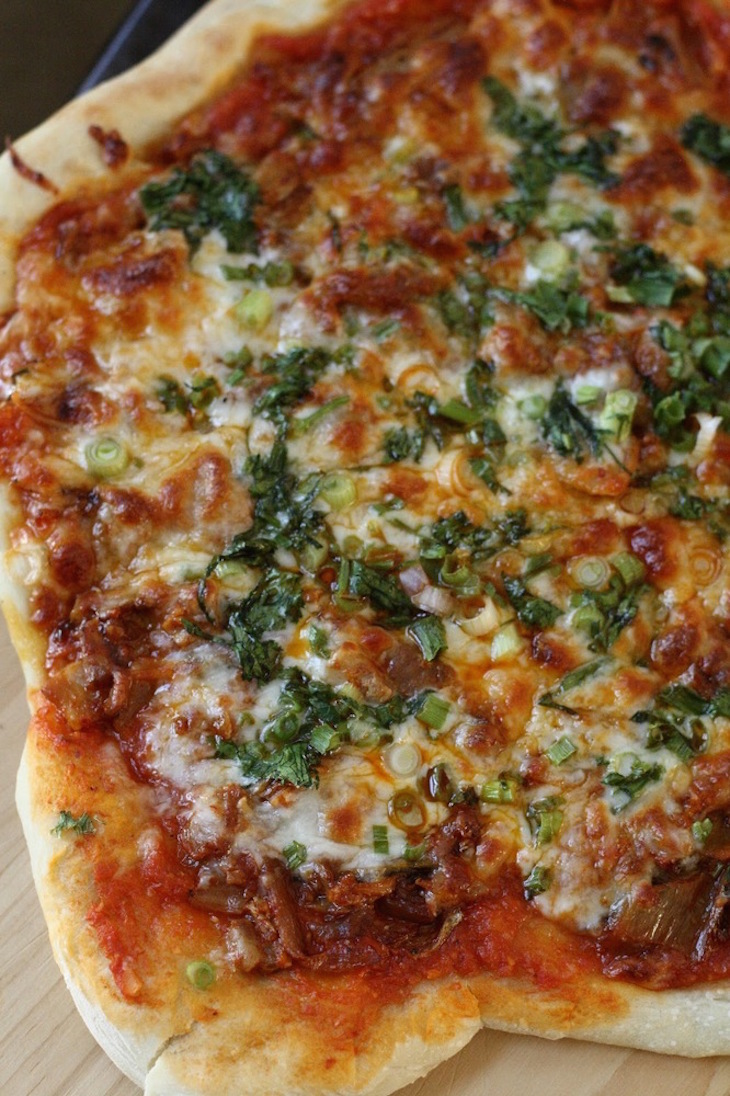 Recipe via weekofmenus.blogspot.ca
A seriously addictive pizza recipe that you must try! Also, the recipe is made with Sesame Oil Pizza Dough which you can use later for any other type of homemade pizza. The dough will keep refrigerated for up to 12 days. The topping has pork belly, garlic, ginger, and kimchi! Sprinkle with mozzarella, scallions, and cilantro.
Kimchi Ramen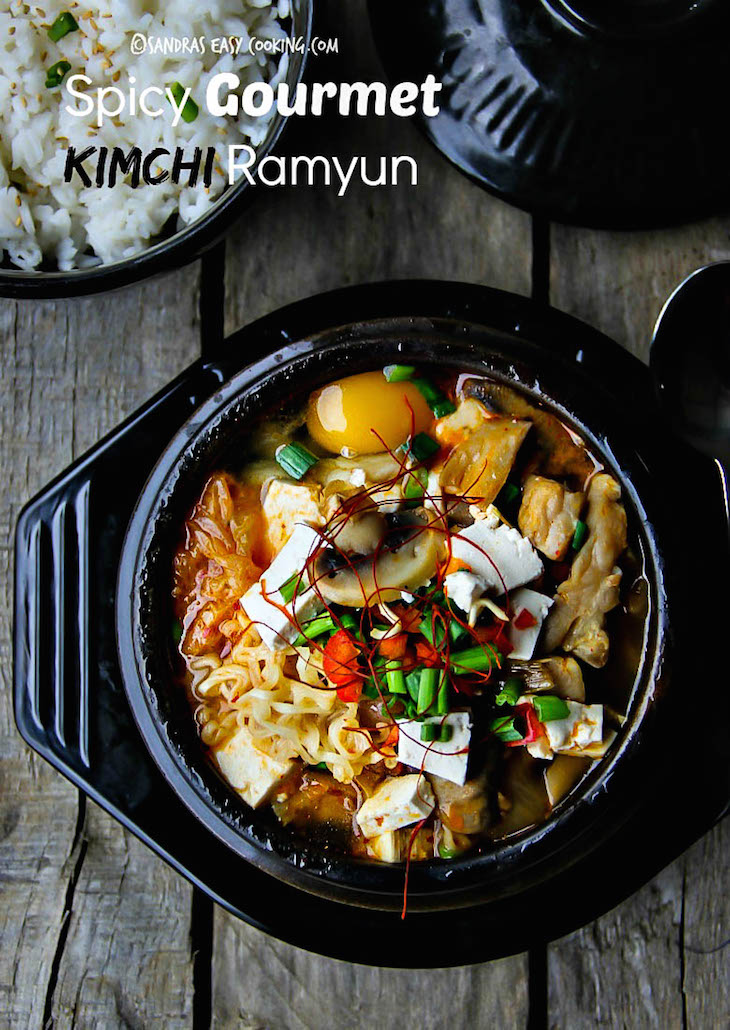 Recipe via www.sandraseasycooking.com
We all love the hearty Asian soups full of noodles, fresh herbs, and all that good stuff in them. This Ramen soup with kimchi is exactly like that. Tasty, colorful, and healthy. You can adjust the recipe if you are vegan or vegetarian.
Spicy Beef and Kimchi Stew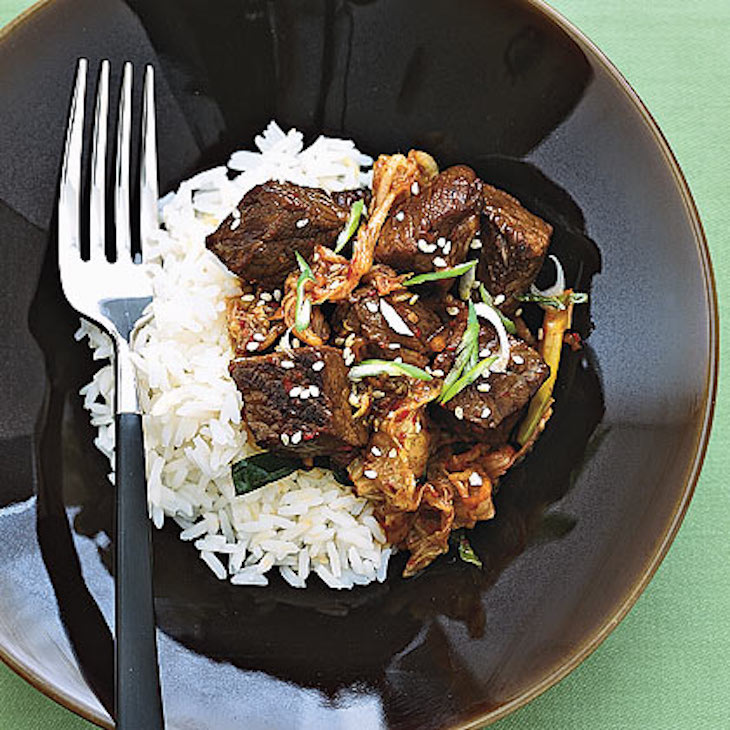 Recipe via www.health.com
You can't go wrong with the deliciously spicy, tender chunks of beef! The garlic, ginger, soy sauce, toasted sesame seeds, and of course, the jar of kimchi will make the tenderloin chunks very tasty. Serve it with rice and sprinkle it with sesame seeds and scallions; you will love it!