Scarves are gorgeous accessories all year round! But since it is winter, why don't you make one yourself? Not only you'll have fun, but you'll also get yourself a nice and warm scarf. If you're a beginner, here are some simple crochet patterns for you to make an amazing scarf easily.
You can combine different colors or make it in one color, but it would still be awesome. They go perfectly with any clothing and for any occasion.
Save some money by making a scarf by yourself instead of wasting time looking for something you would like and spending money. Every woman should learn how to crochet because it's a big advantage, plus you will love what you've done.
So, in addition to this post, you will probably get an idea for a scarf, and you will be satisfied with it. They're fashionable, and they will keep you warm. They make a perfect holiday gift too!
Check out these amazing crochet patterns for scarves and decide which one you like the most?
Lacey Scarf Crochet Pattern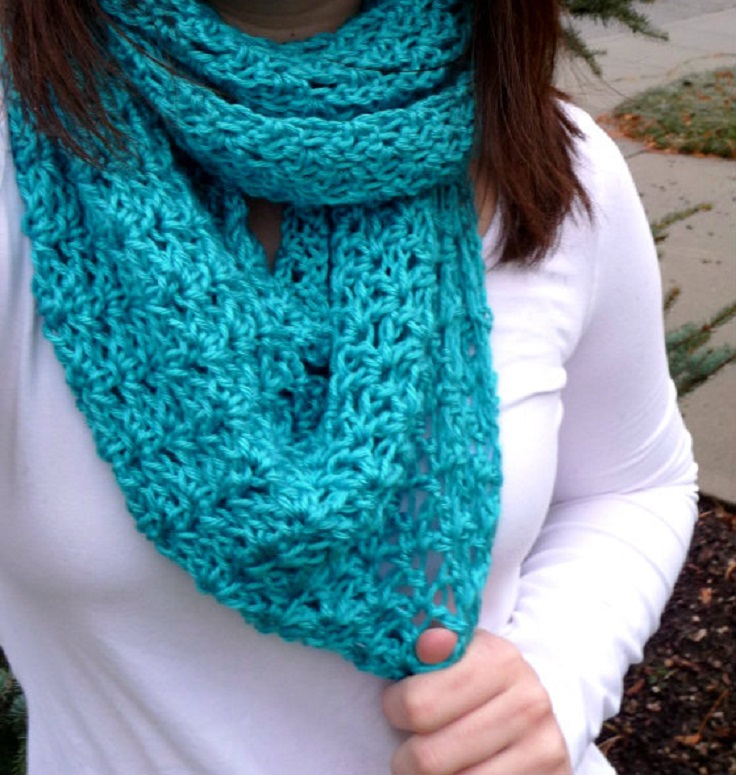 This is an easy crochet project, and it would be a great holiday gift for this season. Lace looks beautiful, this scarf is pretty light but it's still warm. Of course, you can choose different colors, but it would look absolutely gorgeous with everything you're wearing!
Laurel Leaf Scarf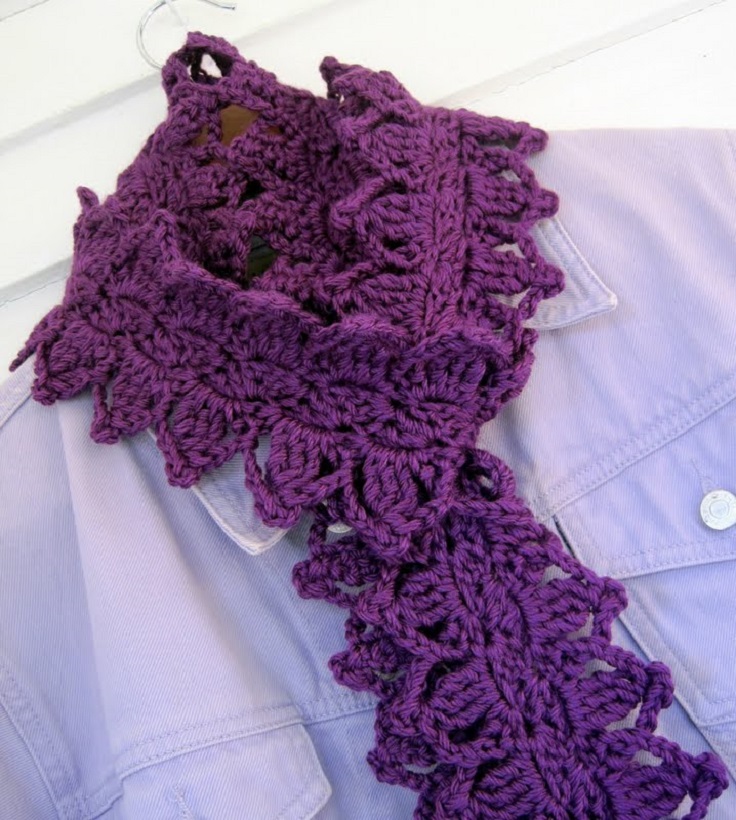 Interesting and unusual, this scarf is very easy and quick to make. It looks amazing! You can wear it every day, no matter the occasion. It goes great with every piece of clothing (you can certainly choose different colors). Walk the streets with your own style, let's talk crochet!
Pumpkin Infinity Scarf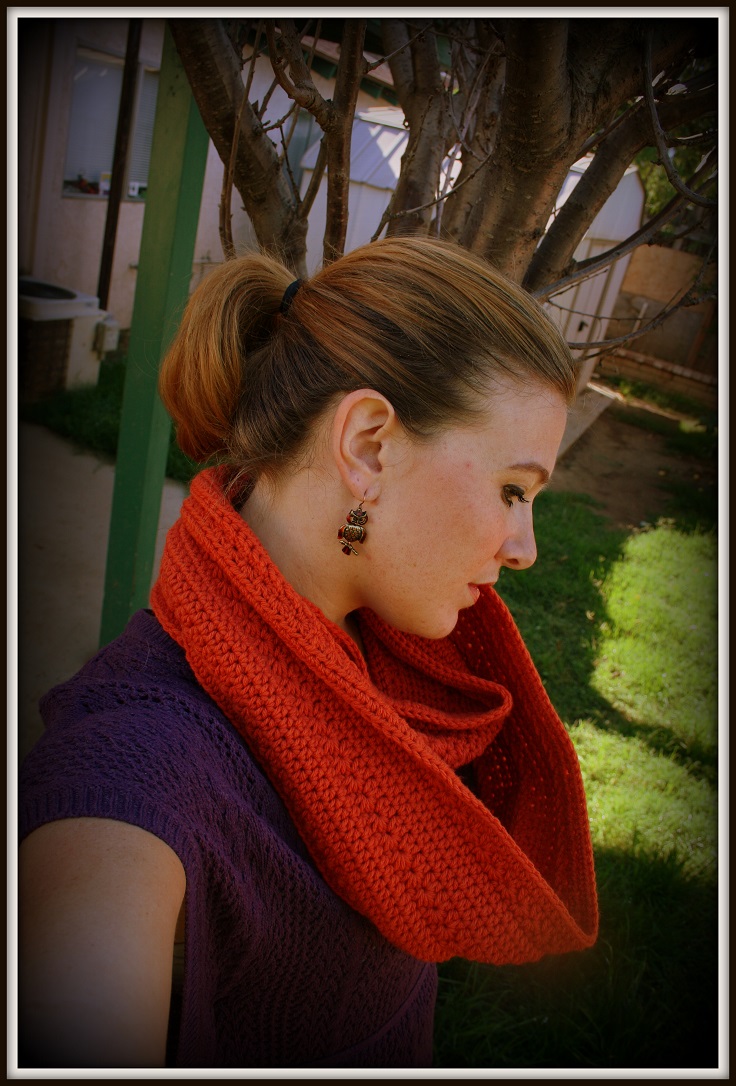 via dandeliondaze.wordpress.com
Absolutely amazing crochet pattern for a scarf. It's super easy to do and it looks very cool. Why don't you make yourself a simple, beautiful scarf instead of spending more money to buy one? You will be satisfied with your own work and stunned with the result!
Crochet Infinity Scarf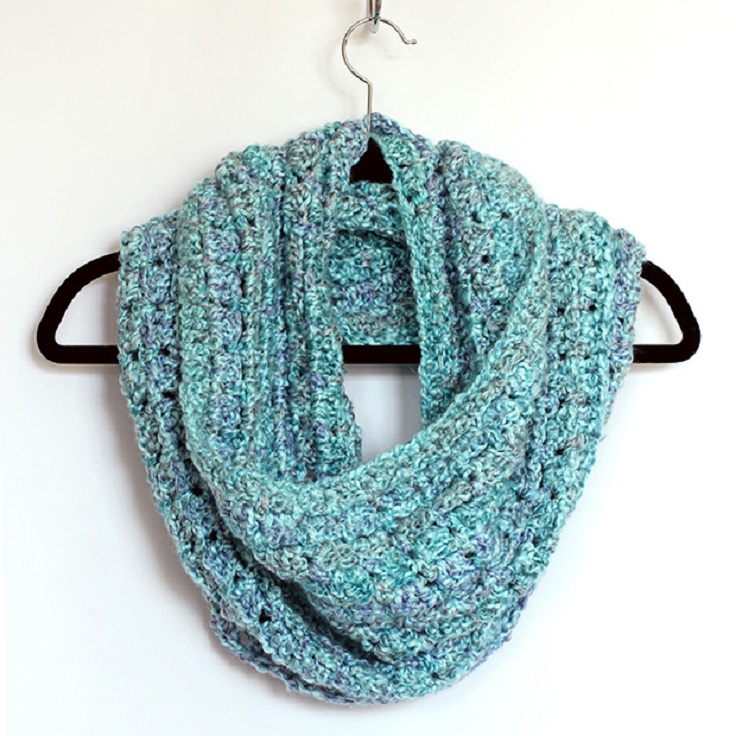 This pattern is also very easy. You will absolutely love this infinity scarf. The sizes can vary, depends on whether you like longer or shorter scarves. The making of this scarf has a really nice rhythm once things get moving along. Fun and very pretty!
Artfully Simple Scarf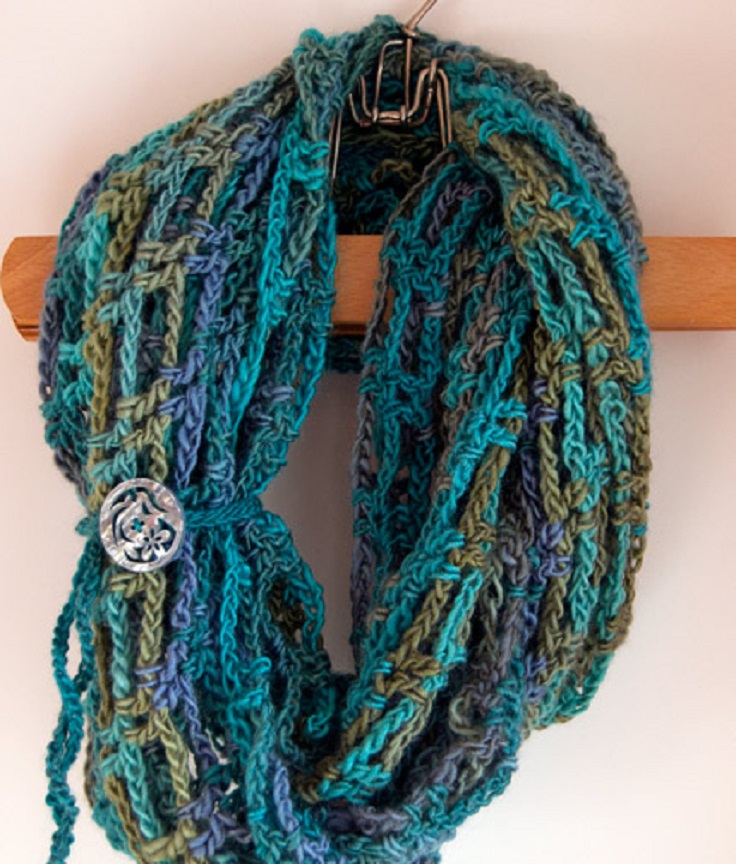 via mooglyblog.com
If you see beauty in simplicity, this is the perfect crochet project for you. You'll get yourself a very creative and outstanding scarf. It can be worn doubled as a cowl, you can wear it long or tied. Truly creative and amazing crochet pattern!
Large Scarf Crochet Pattern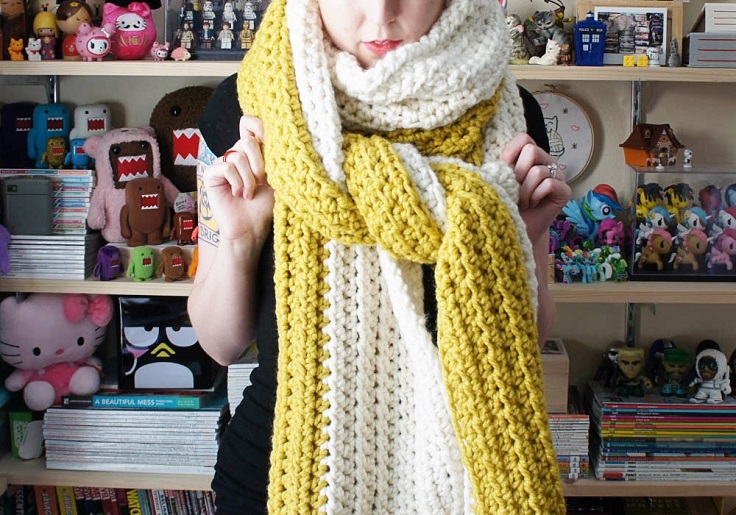 Lovely and amazingly large scarf, perfect for the cold winter! You'll have lots of fun while doing this. It can be worn in various ways because it's very long and that's the big advantage of this beautiful scarf. Get knitting and enjoy!
No Bobble "Bobble" Scarf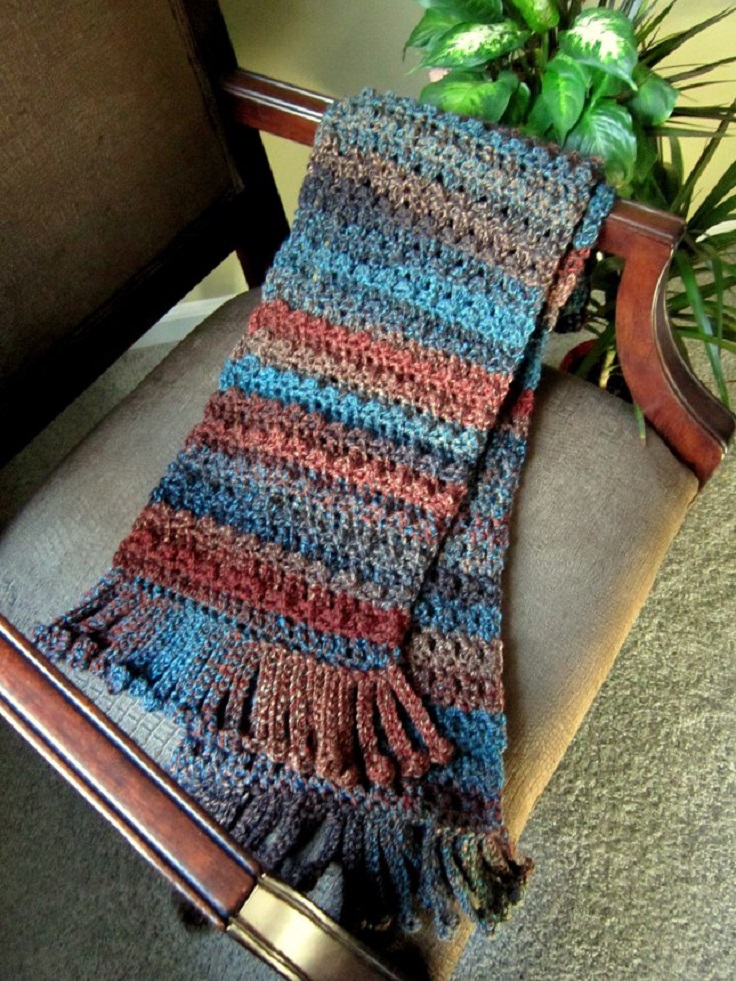 Very beautiful and simple, this scarf will definitely protect you from the cold. You can improvise with colors and designs depending on your taste. If you're planning to give someone a handmade gift, this would be perfect for that. Absolutely awesome!
Raspberry Buttercream Crochet Infinity Scarf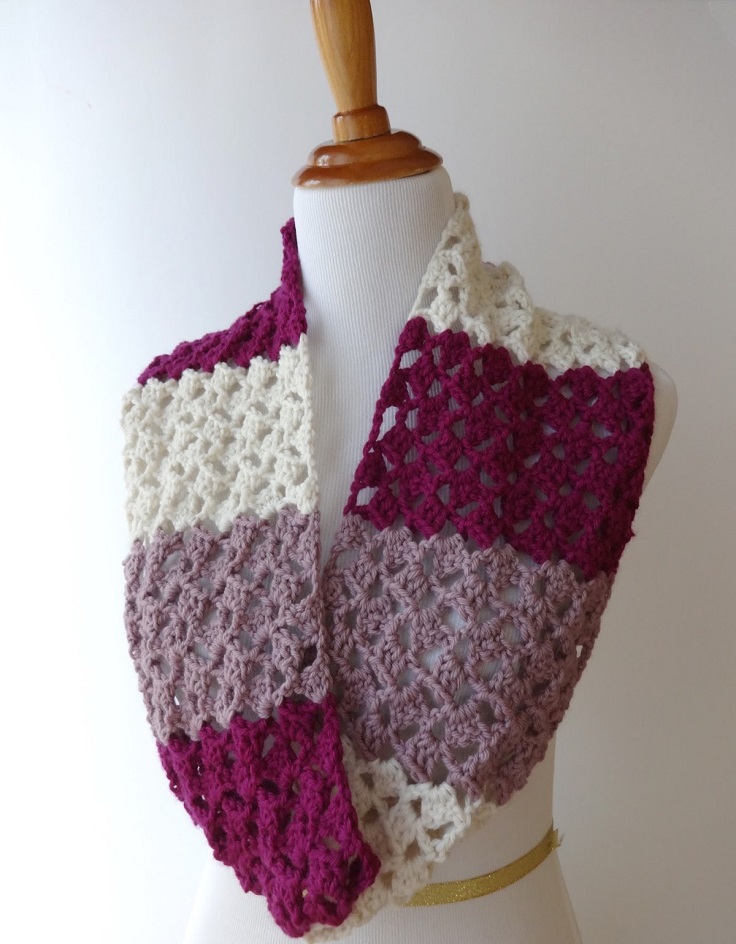 An interesting and easy pattern for scarf. You can combine two or more colors which you like and make yourself a pretty winter scarf. It looks amazing with everything you wear so that it can be worn everywhere. Try this fun crochet project and you'll have a colorful infinity scarf!
Spiral Scarf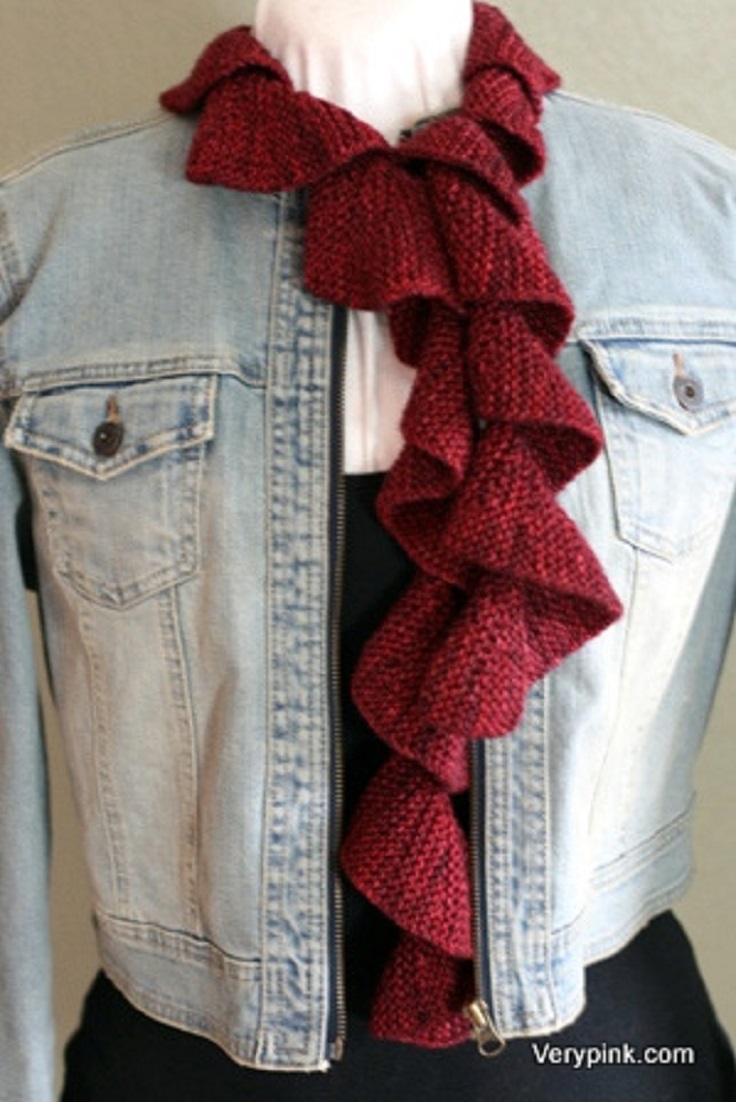 via verypink.com
This is a very creative and interesting crochet pattern. You can wear it long, tied or any other way you like. It's soft, warm, and modern, plus you'll save money by making it yourself. You should definitely try this project; it will be worth it!
Chevron Infinity Scarf Pattern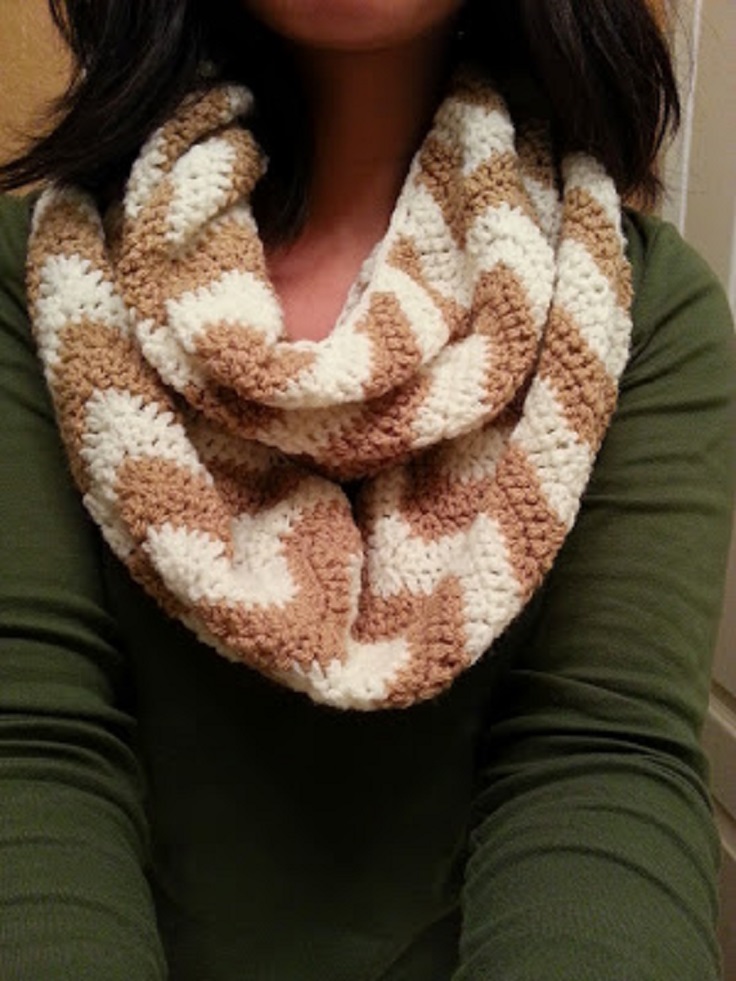 This would look pretty cool on you and your clothes. You can make it by yourself; you'll have lots of fun while doing it. Every woman would like to have a scarf like this because it's practical, it looks beautiful, and it will keep you from cold. Outstanding!