Welcome the shy spring sun with a cool suncatcher hanging on your porch or window. You can easily make one yourself. It is a great spring project, and you can even involve the kids as there are many easy ways to create a beautiful suncatcher.
We are sharing the best, easiest and coolest tutorials out there and all you have to do is decide which method and shape you prefer, choose your favorite colors, and start making your suncatcher. When done, relax and enjoy the sun. Happy crafting!
1. Make plastic bead suncatchers in an embroidery hoop frame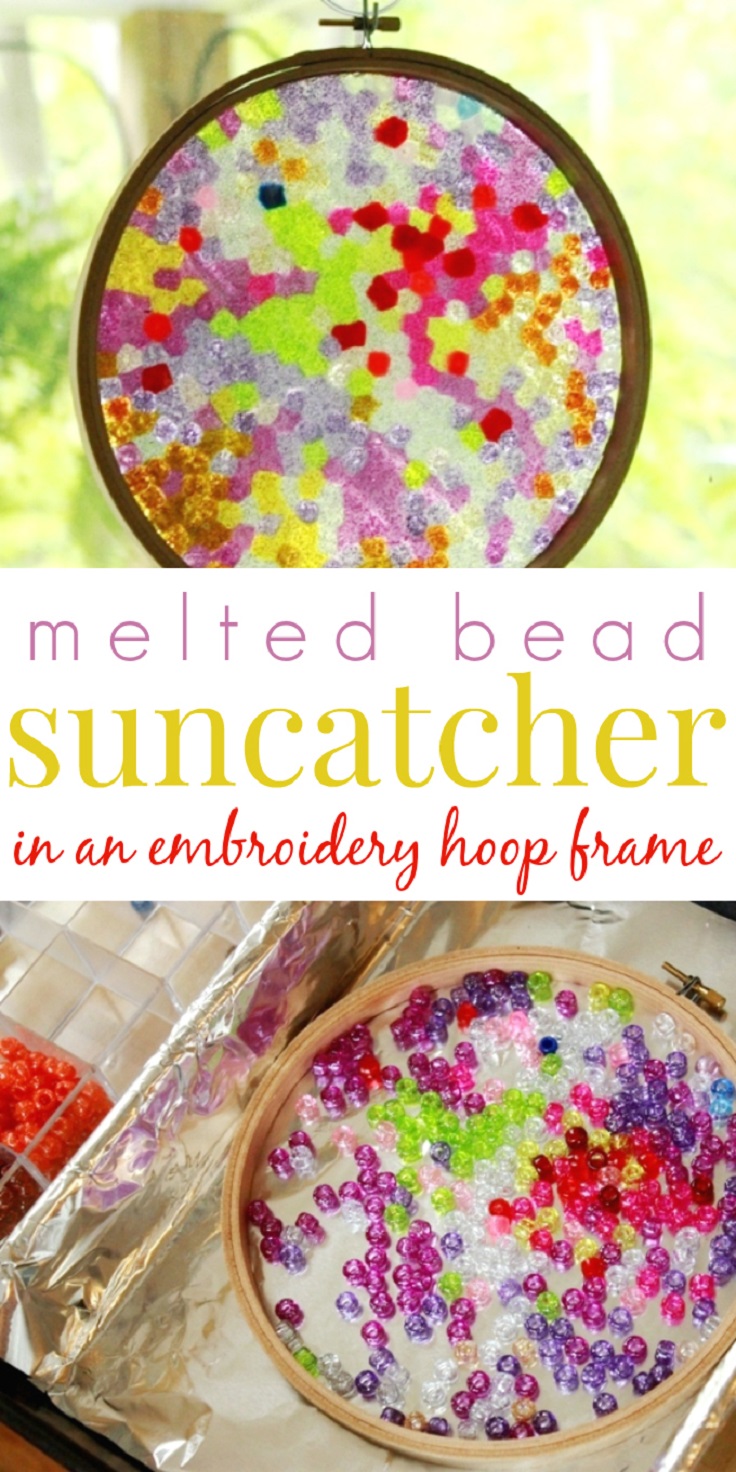 via artfulparent.com
Here is a beautiful plastic bead suncatcher in an embroidery hoop frame that is so easy to make. Translucent pony beads and glitter beads are used, and the base is a wood embroidery hoop. Feel free to choose the size of both the hoop and the beads.
2. Glass Gem Sun Catchers Kids Can Make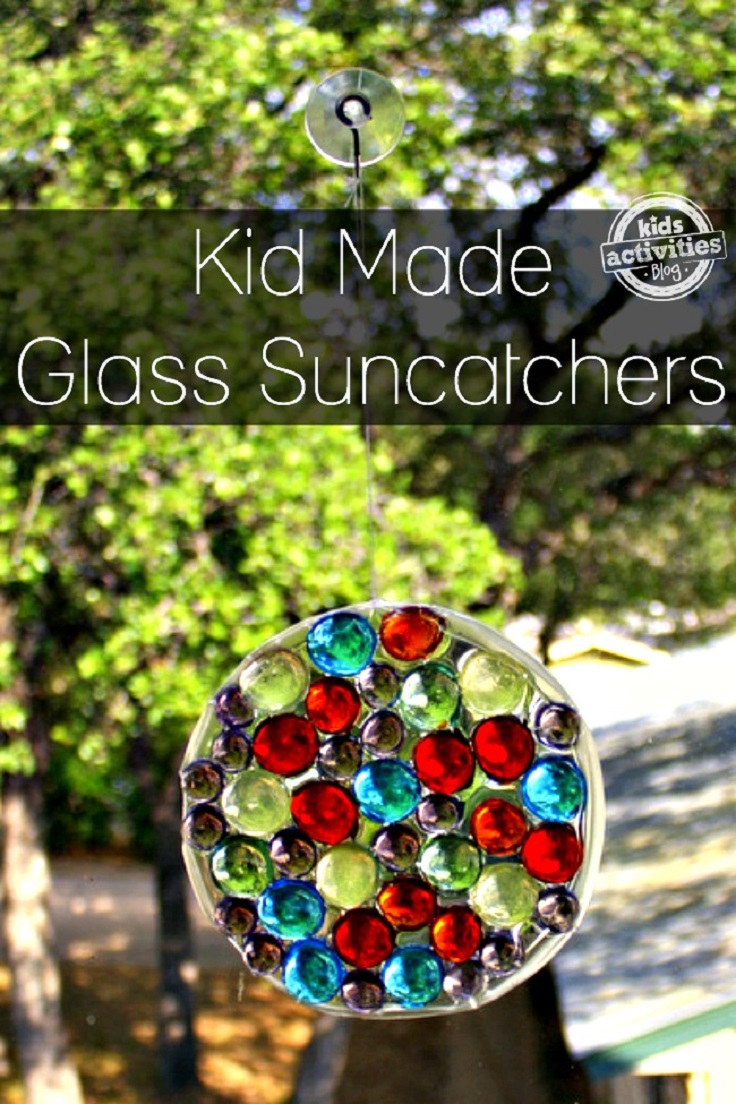 We love this method for making a cute suncatcher. It is so easy that even your kids can make it. You will need some glass vase gems, glue, string or thread, suction cup window hooks, and a plastic yogurt container. When you have everything, just follow the easy tutorial. Remember that you will have to wait 3-4 days for the final product as the glue needs to dry well.
3. The Coolest DIY Suncatcher You'll Make This Spring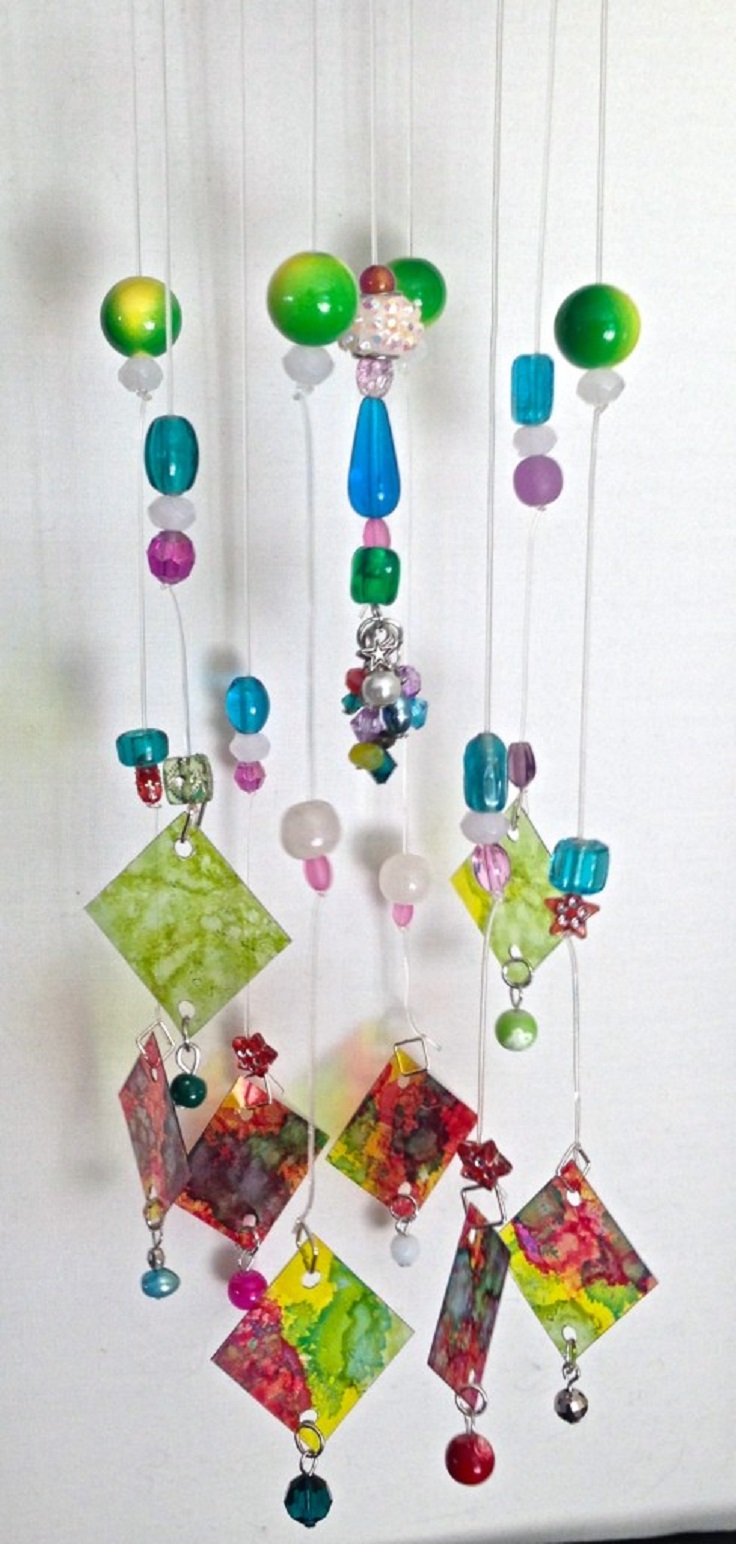 The title says it all-. This suncatcher is so cool that you will have to make it as soon as possible. It does require a bit of work, but the final result is totally worth it. And it is eco friendly as you will recycle plastic into colorful embellishments. Just pick your favorite colors and start making this spring-ready suncatcher.
4. Heart Suncatcher Craft for Toddlers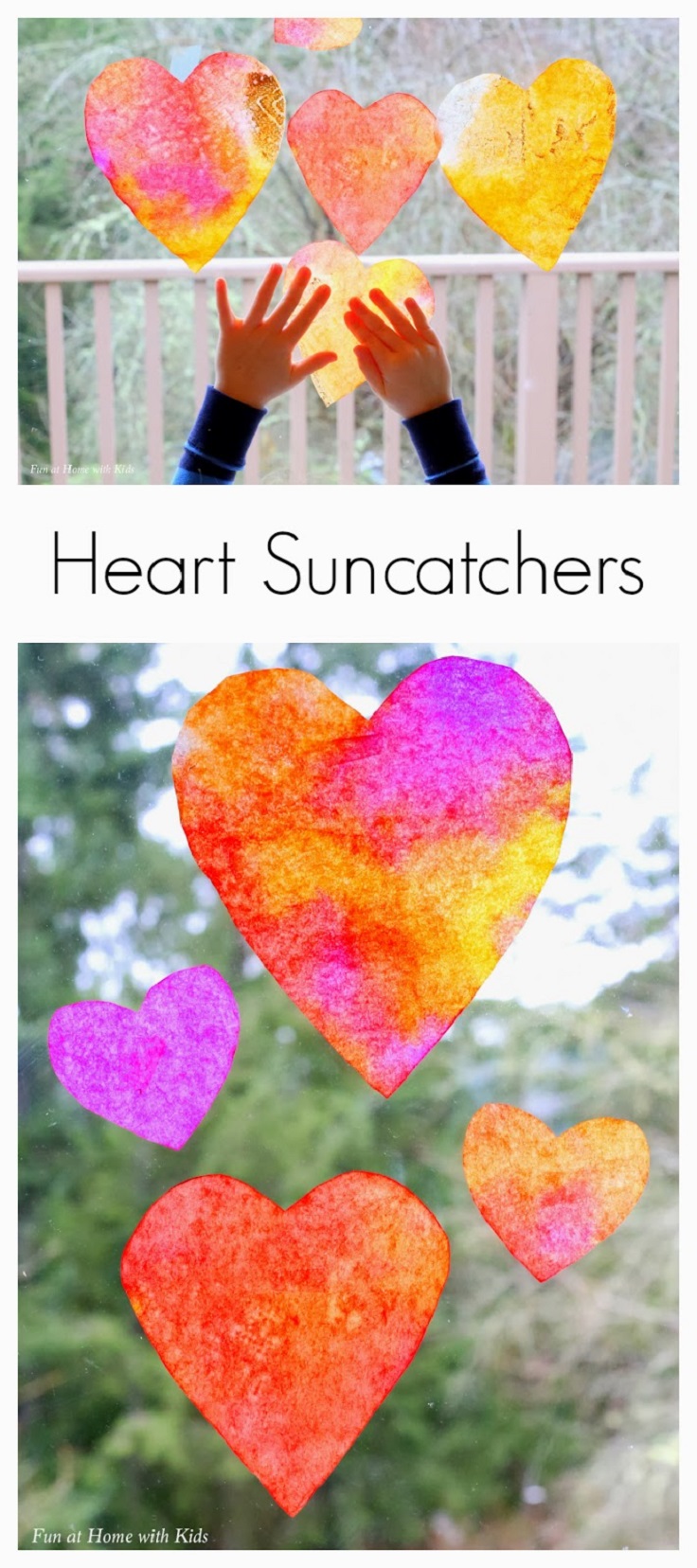 Keep your toddler busy with making this beautiful, vibrant heart suncatcher. They can totally help with this project by filling the hearts made out of large white basket coffee filters with watercolors. Give them an eyedropper, and they will do the task with ease. When done, all you need to do is carefully pull the heart from the pool of watercolors and place it on a paper towel-lined cookie tray to dry.
5. Ladybug Suncatchers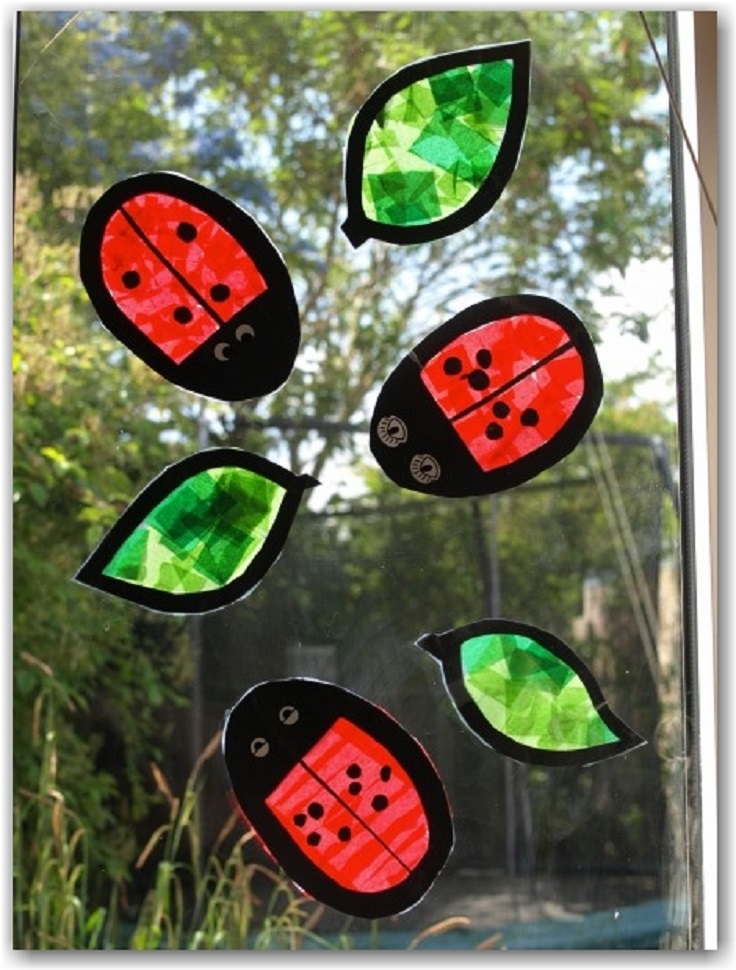 via herecomethegirlsblog.com
Get prepared for the ladybug season with these cute suncatchers you can make with your kids' help. You will need contact paper, a black card, red tissue paper, green tissue paper, and googly eyes for the project. Make your ladybugs and green leaves as shown on the tutorial and stuck them on your window.
6. Cosmic Suncatcherseat
This simple cosmic glue suncatcher is a great spring project for you and your kids. All can be done in only 5 minutes, so your kids will be very happy to finish the project so fast and yet have an awesome final product in the end. Not to mention that this is an eco-friendly kids craft, as well as recycled materials are used.
7. DIY Suncatchers with Clear Glue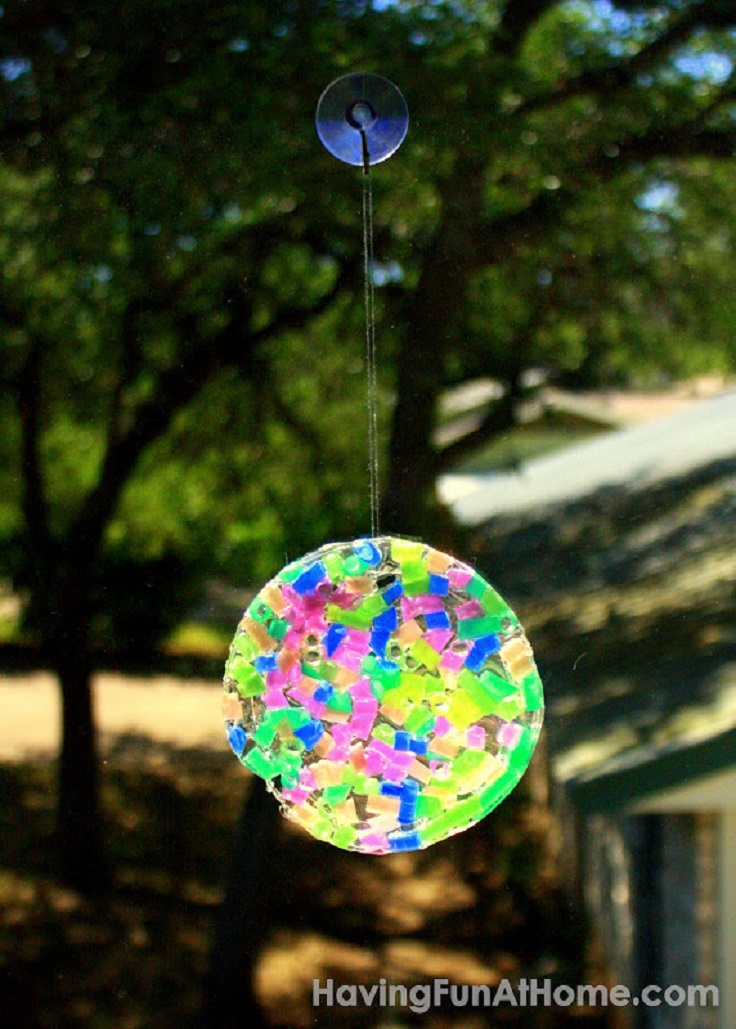 This is so easy to make! Just get a plastic yogurt container lid and fill it with clear glue. Cut colorful straws into small pieces and arrange them into the glue. Fill as much of the lid as possible. Leave a couple of days to dry, then remove the suncatcher from the lid. Using a needle push a thread through your suncatcher and attach it to a suction hook so that you can hang it on a window.
8. DIY Wire Suncatchers

via diy.1woodworks.com
Make beautiful heart-shaped sun catchers using wire coat hangers and tissue paper. Follow the video tutorial, and you will be pleasantly surprised by the final result. What makes this project even cooler is that it uses recycled materials.
9. A Mobile from Melted Plastic Bead Suncatchers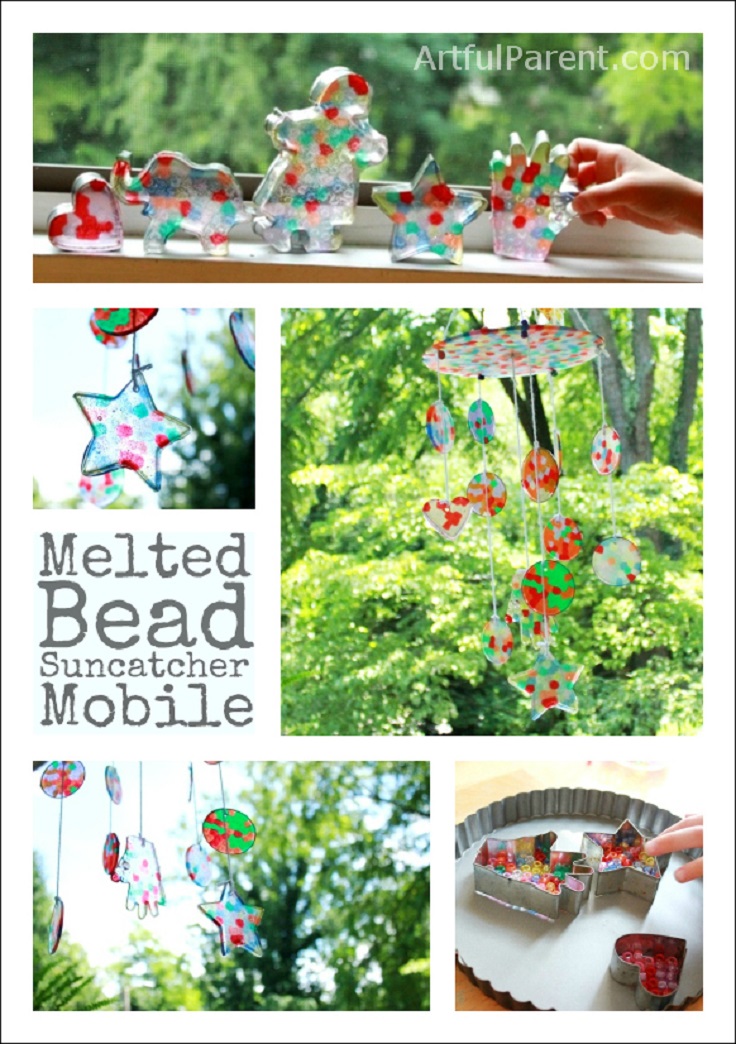 via artfulparent.com
You probably haven't even thought that you could use those Christmas cookie cutters for making something other than cookies. We will show you how to use them in spring or summer to make an interesting mobile from melted plastic bead suncatchers. Just arrange some pony beads into the suncatcher shapes (the cookie cutters, that is) and then melt them as shown in the tutorial. When done, remove them, drill holes and assemble the mobile.
10. Citrus Berry Ice Suncatchers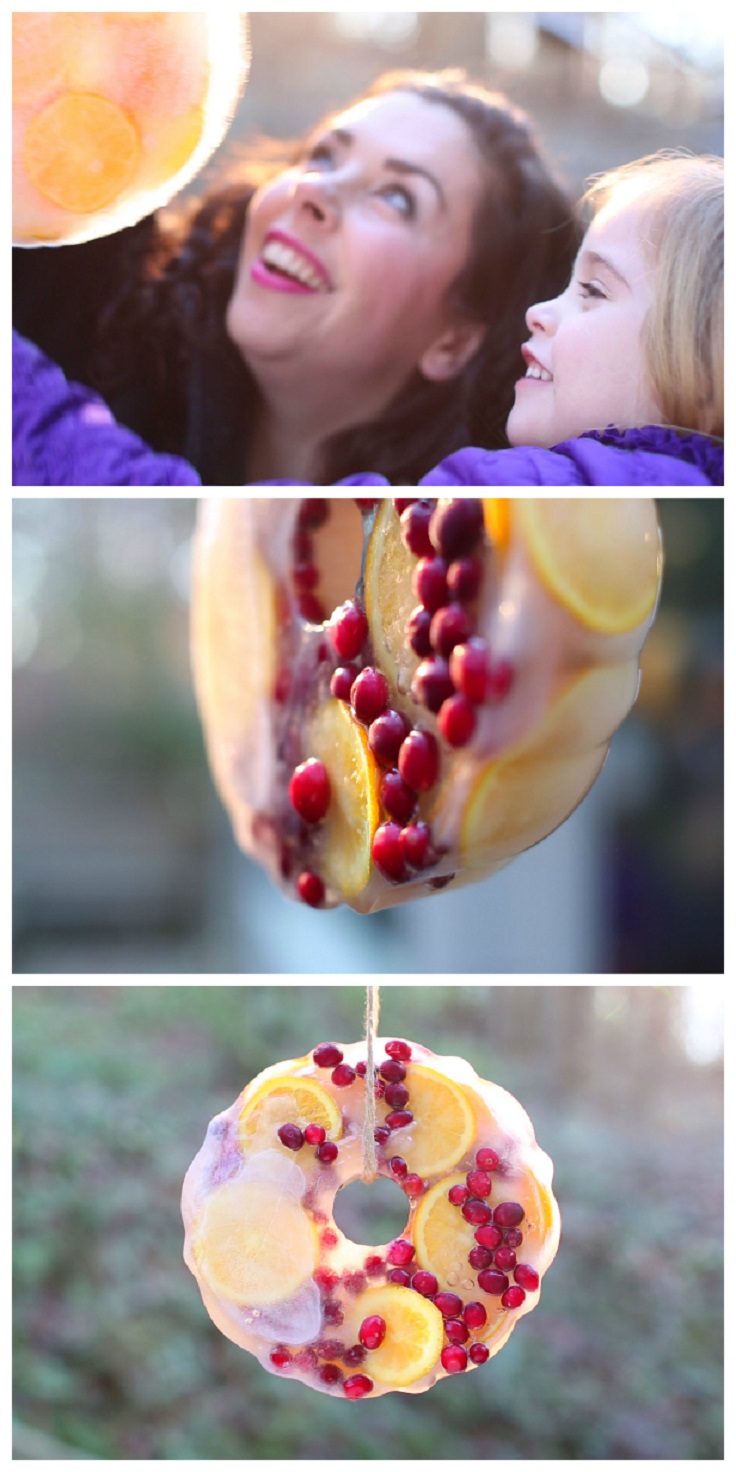 via blog.hgtv.com
Freeze your flagging citrus fruits into a beautiful ice suncatcher to decorate the outside of your home. Watch the easy video tutorial to see what we are talking about. It is a great and unique idea, and you can involve your kids in making it.