You all know Jenny from the block. She grew out to be quite the fashion diva, wearing outfits that are daring and courageous. She had very much show ups this year and was the center of attention in many occasions. She obviously likes to wear popping colors and short outfits that elongate her legs and shows her worked out stomach.
She is the style icon slash Latino diva. As one of the jury's in the "American Idol" show you were able to see her in many outfits and styles from show to show. We've gathered some of the hottest, best-looking outfits that marked her fashion image for this year.
Check them out, what do you think?
Annual Hollywood Film Awards
via cosmopolitan.com
This picture was taken while Jennifer was speaking onstage during the 18th Annual Hollywood Film Awards at the Palladium on Nov. 14, 2014, in Hollywood, California. She is wearing this slim, high-waisted white skirt with shirt that looks almost invisible while the black flower patterns cover her chest area.
2014 LACMA Art + Film Gala
via cosmopolitan.com
Absolutely stunning! That is how she looked at the  2014 LACMA Art + Film Gala Honoring Barbara Kruger and Quentin Tarantino on Nov. 1, 2014, in Los Angeles. Wearing this long,glittery Gucci dress.
American Idol, Green Outfit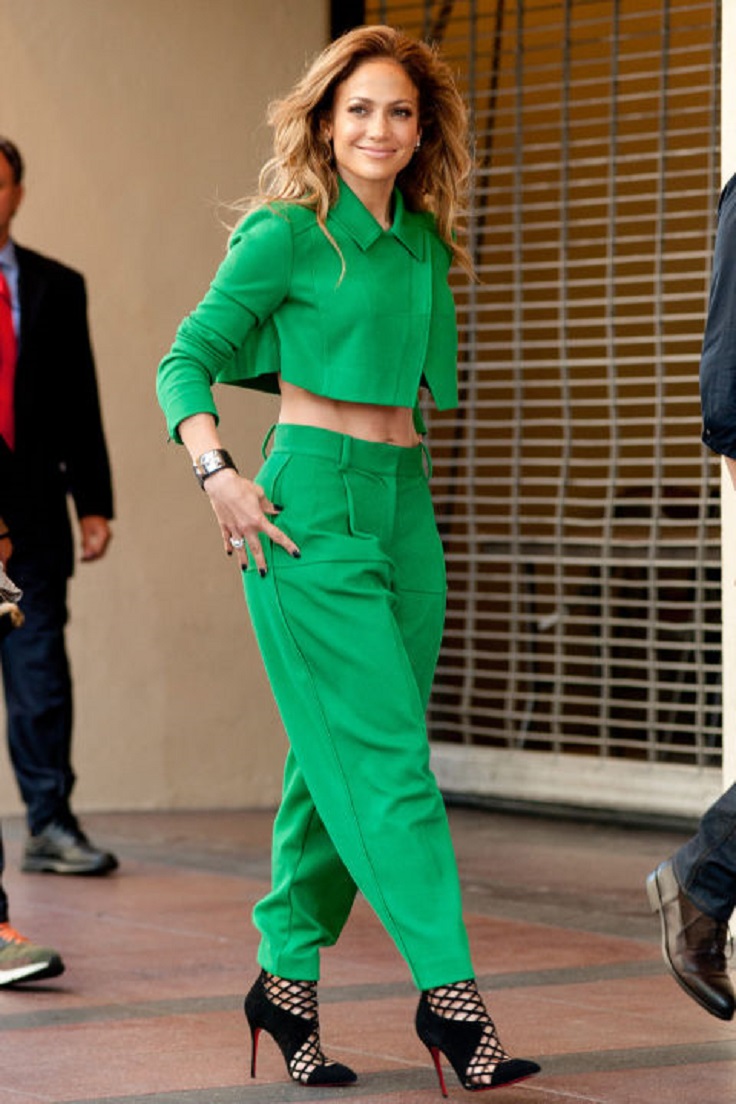 via cosmopolitan.com
Lopez showed up in this beautiful green match outfit with a little space in between the cropped top and the pants to show her obvious abs. Was this outfit "the outfit of the year"? It's up to you.
Teen Choice Awards
via cosmopolitan.com
This diva made a surprise appearance at the Teen Choice Awards in Los Angeles on Aug. 10, 2014 wearing a long-sleeved lace, green mini. With casual make up and a popping peach lipstick she was the main star.
In Paris
via cosmopolitan.com
While in Paris on July 5, 2014, J.Lo was spotted leaving her hotel in this rocking street-style outfit. Loosen pants, ripped jean jacket and gorgeous black heels. Her make up casual and her hair in a tight ponytail. She's got style.
The Tonight Show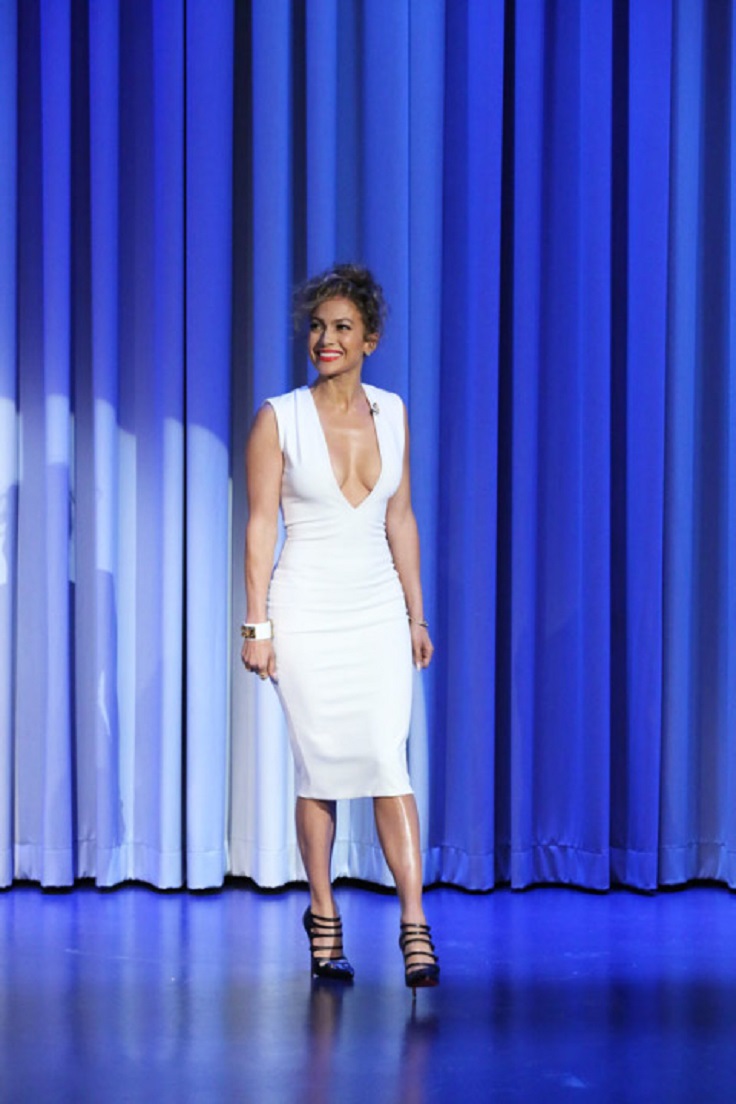 via cosmopolitan.com
Instead of her well known thigh area this time she is showing off her chest in a long white dress combined with black stripped shoes and her hair unusual in bun on Jimmy Fallon's The Tonight Show  on June 16, 2014.
Billboard Music Awards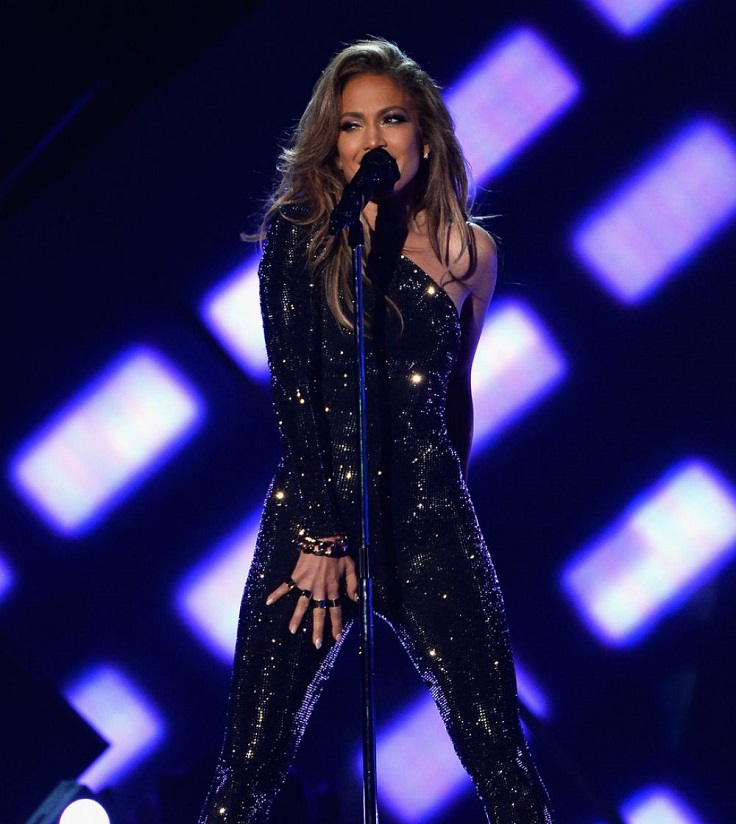 via celebmafia.com
This glittery jumpsuit was perfectly suited for the time and place, she rocked this outfit on the Billboard Music Awards that happened in  Las Vegas on May 18, 2014. The golden chains and golden rings fit perfectly with the style.
American Idol, Geometric Pattern
via cosmopolitan.com
Picture taken in the backstage at American Idol on April 30, 2014, J.Lo stuns in a mint green geometric pattern dress combined with beige/nude heels. Her hair voluminous as ever and her make up darkened-eye with pink nude lips.
American Idol, Hot Pink
via cosmopolitan.com
Some of the best outfits from J.Lo were definitely spotted at the American Idol. This one particularly was taken while taking a selfie with her fans on April 3, 2014.  She is wearing hot pink jumpsuit with golden accessories.
American Idol, Metallic
via dailymail.co.uk
This metallic outfit is showing off her perfect tan don't you think? The skirt is high-waisted and the shoes are absolutely stunning. Who would have thought that she is 45. Wow