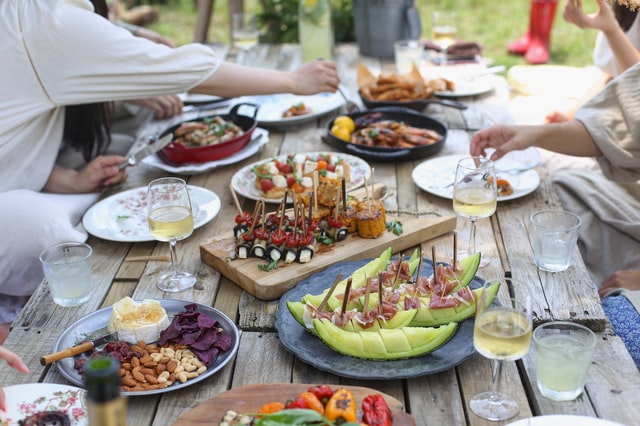 Being in the garden in the summer months can be the perfect way to unwind after a long day at work. In the winter, we are more cooped up in the home, and those moments outside are more fleeting.
But you can make your outdoor living more enjoyable in the summer with these five tips.
Patio or decking
Having your outdoor furniture on a patio or on decking makes it easier to serve food, keep drinks steady and tidy up afterward, too. You can add a pergola to give you some extra coverage too. It is a small touch and easy to install yourself if you want to.
Lighting
During the day, natural lighting is the best thing; enjoying all the sunshine for extra hours can feel pretty luxurious. But you can increase the amount of time you can spend outside when you have the right lighting.
Fairy lights wrapped around any structures like a pergola or in hedges and parasols means you have some twinkly lights that add a magical touch. Scented candles can help keep many insects away when you opt for citronella or other outdoor candles.
Ensuring your path is lit up and can be seen in the evening is also important for safety (and it looks cool). This can be achieved by adding some decorative solar garden lights.
Potted Plants
You don't need to fence off areas or build walls to create sections in your garden. Using a variety of containers with herbs and fragrant flowers, you can section off the seated area. Opt for flowers that offer some scents like lavender, jasmine, and orange blossom. Their sweet fragrance becomes more pronounced in the hot weather.
Herbs are a great choice, too, for any area that you will be eating in; you can pick your choice of herbs, rinse them and add them to the delicious food you have on the table.
Comfort
Gone are the days when you were destined to sit on uncomfortable plastic chairs. There are so many great options for outdoor seating now. Not to mention that since outdoor living is becoming more popular, cushions, rugs, and beanbags are all made with the outdoors in mind. They are hardwearing and still comfortable – perfect for having long cozy moments outside.
As well as more traditional seating options, things like a hammock offer a great way to relax and even take a little snooze in the heat of the summer.
Decor
Just like you decorate the interior of your home, you can get creative outside. If you love vases, bright colors, and trinkets – you can find some to match your taste and add them in. You can decorate your outdoor space however you want! Most of the time, people skip out on the decor, but you can extend your indoors to the outside with ease.
Perhaps you are looking to add some plants that have a lot of character into the garden, in which case consider a tree! Trees are a great addition to any garden and offer the perfect shady spot in the sunshine: Top 6 Trees That Will Thrive In Your Garden.