Are you ready to experience the captivating beauty and ancient culture of Greece? From breathtaking beaches, vibrant cities, and archaeological sites filled with history from the 5th century BC – Greece truly offers a picture-perfect paradise for vacationers.
Whether it's lounging on the warm sand or exploring the remains of historical civilizations – embracing the allure of Greece is something unforgettable. Here are our top 6 ways to enjoy this mesmerizing country and make some magical memories that will last a lifetime!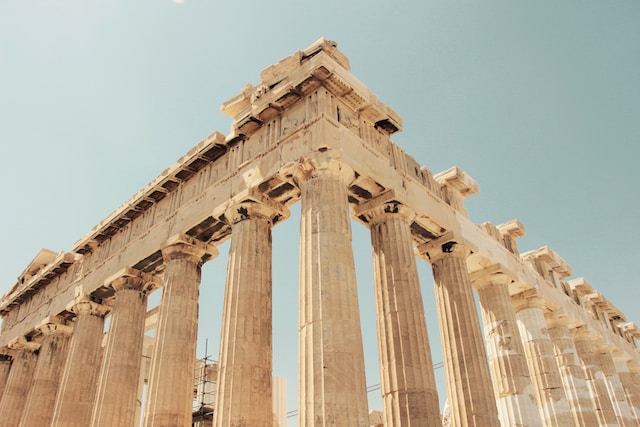 Image Source: https://unsplash.com/photos/DELDTYAjPrg
Visit the Acropolis of Athens
Standing tall and proud atop a rocky hill is the magnificent Acropolis of Athens, one of the most iconic archaeological sites in the world. Its timeless beauty and grandeur continue to charm visitors from every corner of the globe. Taking a tour of this ancient citadel is a unique experience that transports you back in time to witness the glory of Ancient Greece.
Immerse yourself in the rich history and stunning architecture of the Parthenon, the Erechtheion, and the Propylaia. Marvel at the intricate details in the carvings and sculptures that tell stories of a bygone era.
Whether you are a history buff or simply looking for an awe-inspiring sight, a visit to the Acropolis of Athens is an incredible journey that you will never forget. You can research a hop on hop off bus Athens to ensure a convenient and comfortable way to explore the Acropolis. Plus, the stunning views of the city from above are absolutely breathtaking!
Explore the Ancient Ruins
Step back in time and delve into the history of Greece with a visit to some of its most famous ancient ruins. Explore the enchanting ruins of Delphi, once a sanctuary for the god Apollo, and be mesmerized by the stunning views of Mount Parnassus.
Wander through the labyrinthine ruins of Knossos, the capital of the Minoan civilization, and marvel at the mysteries it still holds to this day. Lastly, marvel at the dramatic ruins of Thera, a former Bronze Age settlement with striking architecture that still captivates visitors today.
Take in the Views from Meteora
The beauty of Meteora is something that needs to be seen to be believed, and there's no better way to appreciate it than by climbing up the rocks for a bird's eye view of the countryside below.
The dramatic landscape, with its towering pillars of rock and ancient monasteries perched precariously atop them, is truly awe-inspiring. As you gaze out, it's easy to imagine yourself transported back in time, imagining what life must have been like for the hermits and monks who once lived here.
Swim in Clear Blue Waters
Picture yourself surrounded by crystal-clear blue waters as far as the eye can see. With sunny skies and a cool breeze in the air, you dive into the refreshing Mediterranean Sea, feeling weightless as you swim through the gentle waves.
If that sounds like the perfect way to spend a vacation, then Greece's gorgeous island beaches are calling your name. Whether you're looking for a peaceful oasis or an adventurous snorkeling spot, there's something for everyone to enjoy.
Taste Traditional Greek Cuisine
Experience the flavors of Greece with traditional dishes that have been passed down for generations. Start with mezes, small plates of various appetizers ranging from grilled octopus to stuffed grape leaves. Then, savor the cool and refreshing tzatziki, a yogurt-based dip infused with garlic and dill.
For the main course, indulge in the hearty and savory moussaka, a layered casserole of potatoes, eggplant, ground beef, and creamy béchamel sauce. Finish off your meal with the sweet and flaky baklavas, a pastry made with layers of phyllo dough and honey-soaked pistachios or walnuts.
Shop for Souvenirs
Traveling to a new place is an incredibly exciting experience, but it can be easy to forget the small details that make your trip truly unique. That's why shopping for souvenirs is so important!
Firstly, you can pick up handmade products such as colorful ceramics and intricate jewelry for your loved ones. Alternatively, browse through stores offering local Greek delicacies like olives, olive oil, honey, feta cheese, and more to take home with you.
No matter what you choose to bring back with you from Greece – it will be a reminder of all the wonderful memories that you made during your visit!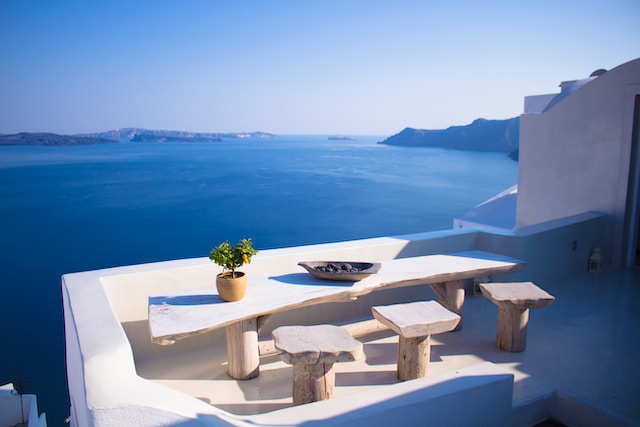 Image Source: https://unsplash.com/photos/YC8qqp50BdA
There's so much that Greece has to offer, and that's what makes it such an incredible destination. You can explore ancient monuments like the Acropolis of Athens, take in the stunning views of Meteora, and even shop for some unique souvenirs. And of course, don't forget to try some classic Greek dishes like mezes, tzatziki, and moussaka while you're there! Whether you make it a day trip or plan a longer excursion, be sure to take the time to embrace and experience all the allure that Greece has to offer.