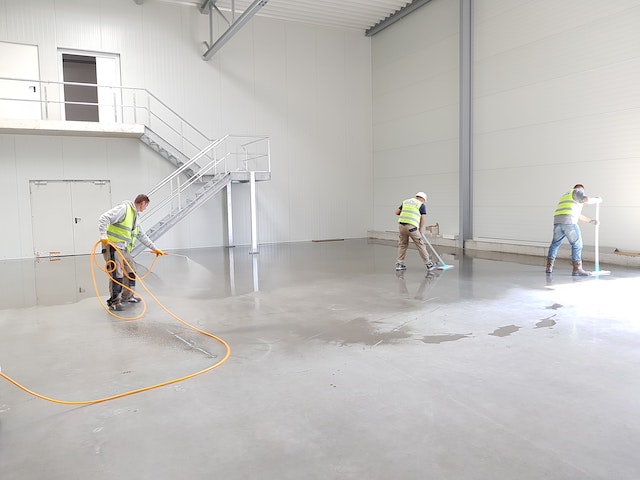 If a list of tedious cleaning jobs is ever made, cleaning walls will absolutely make it to the top of the list. Having dirty or unclean walls can result in a dull and dampened effect on the rest of the room.
Walls are like an art canvas, which means making sure they are clean and well-maintained is a necessity. But don't you worry, because we at Mastermaid are here to make that easy for you by providing you with what you came looking for, the top wall cleaning hacks you should know
.A list of the top 5 wall cleaning hacks you should know is given as follows:
1. Dusting your walls beforehand
First and foremost, lay down towels or old bedsheets across your floor to protect them from dust particles. You can use a broom, a sweeper with a rectangular end attachment, or even your vacuum cleaner with a brush attachment for dusting your walls.
A new dense paint brush or microfiber cloth like an old towel is perfect for cleaning the corners of your walls. Make sure to get yourself a step ladder to be able to reach those pesky corners properly.
2. Practice safe cleaning
Yes, wall cleaning also has a few health hazards as well, mostly electrocution. Every wall has outlets, light switches, and thermostats which are more scarce being seen on only one wall.
These are areas you should indeed clean to get rid of built-up grime but don't get them wet because there is a risk of electrocution. If your outlet covers or switch plate covers are dirty and you need to clean them, turn off the power in your house momentarily before using any kind of liquid.
A solution of dish soap and salt should suffice in cleaning these areas. The use of a soft cloth is also advised for easier cleaning.
3. Spot-test your cleaning supplies first
Although it is an extra step, you can never go wrong with a little spot test whenever you're doing anything you haven't done before. This rule also applies to wall cleaning because walls have different paint finishes.
It is always a safe bet to use a gentle or mild cleaning solution because they are compatible with most paint finishes on walls. If your cleaning solution is too harsh, it can sometimes leave light streaks and stains, especially on flat or matte paint finishes.
4. Choose your cleaning supplies based on your walls paint finish
Now, there are many types of wall paint finishes that you can have on your walls. And there are specific ways to clean different wall paint finishes.
Out of all wall paint finishes, eggshell, flat and, satin wall paint finishes are the weakest so, with these finishes, restrict your choice of cleaning solution to the softest and mildest with a sponge, as you can never use harsh chemicals or commercial degreasers; otherwise, you'll end up removing paint from your walls.
As for durable wall paint finishes like gloss or semi-gloss, you can safely use mild commercial degreasers. Even though these paints are durable and made for use in high-traffic areas like the kitchen, avoid using harsher tools and stick to a sponge to minimize the risk of scratches.
A more uncommon type of wall paint finish is latex, which requires a different approach in its cleaning process. With a soft sponge and an all-purpose cleaning solution like dish soap, vinegar, water, and baking soda emulsion, you can easily clean your latex walls and then wipe them down afterward to eliminate the vinegar odor. 
Lastly, another type of wall paint finish that requires special care is an oil-based wall paint finish. With this wall paint finish, avoid the use of white vinegar at all costs in your all-purpose cleaner as it can cause dullness and lasting damage instead, just use the all-purpose cleaner with a soft sponge discarding the vinegar.
5. Keep up regular maintenance and hire a maid to do so
It is easier to keep your walls clean with regular basis dusting rather than monthly cleaning. However, not all of us have the time to maintain our walls regularly.
So, the best choice would be to hire a Maid for condo or apartment for cleaning to keep your walls clean and stain-free. Getting a maid will not only help to clean your walls but will also help in keeping the rest of your house clean and tidied up. 
In conclusion, if you follow all of the hacks provided above, you are guaranteed to have clean and perfect walls; whether you use the DIY all-purpose or commercial cleaning solutions doesn't matter at all as long as you make use of the hacks.