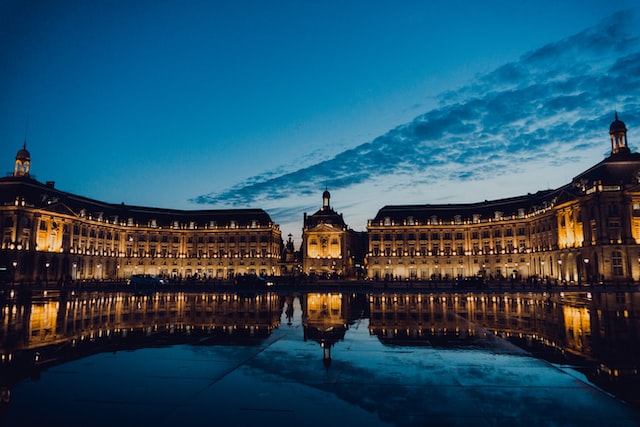 Are you finally planning your long-longed trip to France? Are you a bit confused with all the cool places that you see online and you would love to see in real life?
We know that there is never enough time to visit all the breathtaking cities in France during a short holiday. However, we strongly recommend that you devote at least one day to Bordeaux.
Bordeaux is a sophisticated city in the western France, and it will leave you speechless with all its beauty and coolness. What are a few fun things you can do in Bordeaux?
1. Place de la Bourse
The number one place you must visit, admire and photograph when you go to Bordeaux —for the first or the millionth time— is Place de la Bourse. This is an emblematic square that represents the whole city. This square started being built in 1730, and it became a symbol of the growth of the city. The buildings all around follow the architecture style of the 18th century. There is also a fountain with a sculpture of de las tres Gracias, or of the Three Graces as the daughters of Zeus are called in English.
2. La Grosse Cloche
Another important monument in Bordeaux is the grand La Grosse Cloche. This is a bell tower which was built in the 15th century. It is located in the centre of the city, and it dazzles people with its majestic and romantic appearance. It is worth noting however that besides its impressive exterior, this tower was also used as a prison at some point. You can get inside and learn all about its history and admire the belfry. Nowadays, the bell is dormant, but there are some special celebrations during which it breaks its silence, like on Bastille Day.
3. Visit Vineyards
Bordeaux is mostly known for its high-quality wine. Wine production in Bordeaux has a long history, and there are many businesses that have been passed on from generation to generation over the centuries. You can learn all about the actual processes of wine making and taste exquisite wine right from the barrel. There are two steps that you need to take in order to have this fun experience. First, you need to have a car to get to the vineyards. You can hire the best car for your trip on Enjoy Travel as you not only ensure that it checks all your requirements but also can book it online in no time. Secondly, visit vineyards where you are certain that tours are offered because it is not polite to disturb and stop people from their work.
4. Jardin Public
A list with the best parks in the world is hard to compose because every city does their best to provide its citizens with green spaces that will make their lives easier and brighter. Bordeaux does the same, and its citizens are more than satisfied with their Jardin Public. It is a public garden created in 1746. People can wander around old trees and have a picnic next to a beautiful pond. The Natural History Museum, a botanic garden, a playground and restaurants are some of the coolest spots in the park.