For many, it's a dream come true to have a piece of real estate by the sea. Imagine walking out the front door and be immediately greeted by the calming sound of the waves, fresh air, and the tropical view that you can't seem to get enough of. Beach houses have that enchanting and irresistible appeal that can effortlessly take your breath away. Needless to say, not everyone gets to experience such a view and feeling on ordinary days.
But if you're already living in one, well, aren't you one of the chosen few! It's forever summer, and the tropical vibe is probably always cruising in your home. However, that doesn't mean you should leave the property as it is. If it's been so long since you last redecorated or did a makeover for your beach house, don't you think it's about time you come up with trendy interior design ideas to spruce it up?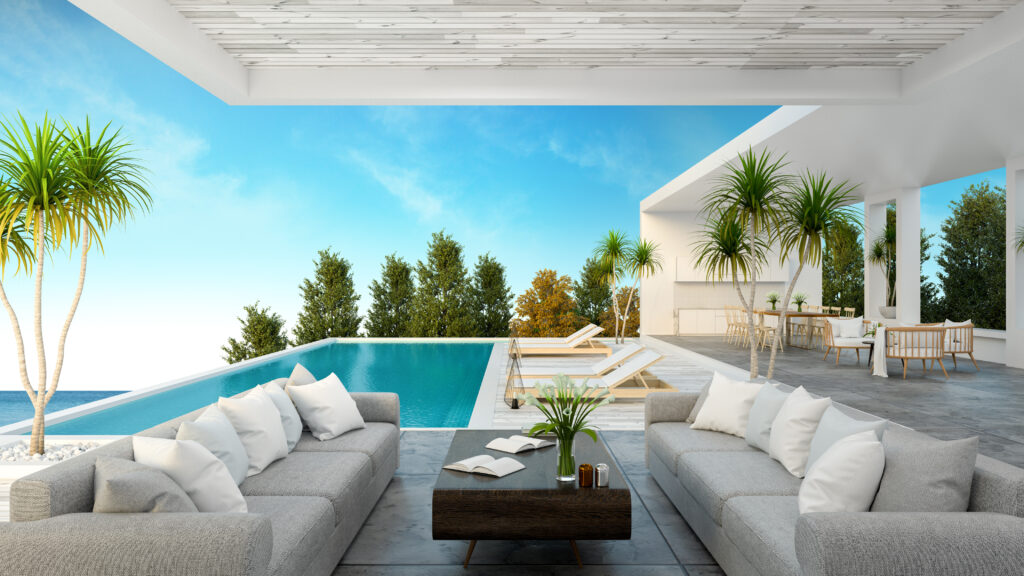 Endless Summer Is Here To Stay
Even if you're not staying all year long in your beach house, it's still a good idea to give it the transformation it truly deserves. You'll never know if there's a future event or a special occasion that'll bring you, your friends, and select family members together by the beach. If so, your sea-view property should always be ready to wow your guests.
Or it could also be that you plan on renting out the house and want to increase its value. Seriously, there needs to be no reason at all to justify your yearning for a makeover for the property. As such, here are some trendy interior design ideas you can try to spruce up your cozy beach house:
1. Create A Dreamy Dining Area
If there's one thing that a vacation at the beach could tell you, it's that dining is always laid back, cozy, and do-what-you-want kind of vibe. There's no hard rule that'll tell you what you should and shouldn't do. You make the rules, especially if you own the place. Enough of those indoor dining with fancy tablescapes and dinnerware. This time, why not set up a dreamy dining area with a perfect view?
How to do this? If your beach house has a front (or back) porch or deck where you can put outdoor furniture, that should be more than perfect. For the dining table, it could be as simple as a long wooden or rattan table. It doesn't even need to match the chairs because you can always opt for bean bags and floor cushions for a cozier feel. This is one beach house décor idea that you and your guests would surely love at any given time of the year.
Other outdoor furniture you can add to your dreamy dining space are:
Outdoor lounge chairs;

Pillows and cushions;

Sectional sofas;

Porch swings;

Hammocks;

Firepit;

Picnic tables;

Outdoor rugs; and

Patio umbrellas and canopies.
There's no limit to what you can add to your outdoor patio or porch because aside from setting it up as the dining area, it can also be an outdoor space where you can lounge all day, read a book, or take photos by the sunset. Just be sure to give it enough shade so you can stay protected from the sun any time of the day. Get the best outdoor umbrella for your patio for a warm summer experience!
2. Turn Up The Retro Volume
Aside from a tropical or laid-back interior décor, you can also consider giving your beach house a retro charm that'll wow anyone the moment they walk through the door. The kitchen, in particular, would look stunningly beautiful in a retro theme. Think pin-up style with everything looking antiquated yet delightful in a unique way.
Throw in some cherry red furniture, checkerboard floors, and quaint appliances—can you say retro one more time, please? No matter how small the kitchen space may be, this retro theme could work without a doubt. Add a good number of pink accessories. And if you want to go for a subdued yet pleasantly shabby look, you can match the color of the cabinetry and to the counter tiles.
If you have a tiny kitchen island at the center, it could probably use some print and patterns; covering it with retro wallpapers would make it look instantly relaxed and vibrant. Install a statement pendant light just right above your vintage dining table and wicker chairs for a finishing touch.
3. Go Nautical
Cliché as it may be, but a nautical theme is a tried and tested beach house design that everyone loves and appreciates at first glance. If you don't fancy the idea of giving the whole house a nautical makeover, you can select just a few rooms to accommodate this design idea.
Bedrooms, for instance, can make use of a nautical touch especially guest rooms. Start with a clean slate by painting the wall and ceiling in bright and crisp white color. No matter the size of the room, maybe, you'll see that the white paint can instantly give it an uplift that no other color can give.
When you're done painting, it's time to add your seafaring themed accessories and furniture. You can think of stripes of red and blue for the pillows and bedsheets. Closets could use a splash of red or blue paint and you can hang a nautical tapestry just right above the headboard. The door may also be painted in your preferred color, or leave it as it is.
4. Try The Minimalist Look
If you've tried decorating your beach house using the tips above, there's still one trendy idea left—the minimalist look. Nowadays, a neutral and seamless appeal seems to be all the rage, not just in condos for sale but even in beach houses. Perhaps it's because people who go on vacation hope to calm their nerves and ease their minds. As such, they want a place that doesn't look cluttered or overwhelming. The minimalist design is what you need for such an interior design, then. 
For your beach house, try creating a sense of openness, which should not be too difficult to achieve, considering the open space you have as your workroom. Keep the large windows open and always inviting for a warmer and cozier appeal. Stick with simple yet classic furniture pieces that'll make your house feel subdued and elegant at the same time.
5. Glam It Up
For people who are naturally glam, it's tough to shy away from anything luxurious and indulging. If you're one to embrace their natural style and love for allure, don't try any further to run away from it. Your beach house could definitely use a bit of glam and poshness, especially if you don't fancy the idea of going on a vacation without a hint of style.
Lavishness will always have a room in a beach house, no matter how breezy or tropical the ambiance may be. To start with, you can redesign the living room and transform it into an elegant nook. Consider adding the following accessories and furniture:
Mirrored coffee tables;

Wall accents with vintage framing;

Elegant chandeliers;

Warm lighting to highlight certain areas;

Victorian-style sofa; and

Equally fab throw pillows.
Don't forget to adorn the floor with lavish rugs and carpets to complete the glamorous feel. You can also consider installing a vintage fireplace near the television to make it look even more straight from a magazine's page.
6. Don't Hesitate To Add Fun And Popping Colors
Summer will forever be associated with vibrant colors and splendid hues of happiness and charm. If you're to keep this in mind, decorating your beach house with a series of eye-popping colors would surely make it look even more summery than it already is. What's more, the summer feel will stay all year long, which is what everyone almost dreams of, right?
Think bright orange, warm yellow, vibrant corals, and even soft hues with cool undertones. You can also add roses to bring some even more colours. No need to ask yourself how often to water roses because they are super easy to take care of. Just imagining the colors is already bringing you a rush of tropical fun. Your beach house is surely set to be a venue for colorful and vibrant memories that'll last for a lifetime.
7. Give It A Nice And Natural Contrast
When you've got your heart set for a particular color for the beach house, why not consider adding a pleasant and natural contrast to it? For example, suppose you've chosen white to be the dominating color of the property. In that case, you can add contrasting details by using natural materials for key areas such as vent hoods in the kitchen, ceilings, and counter island.
You can use water-friendly materials such as wicker, bamboo, and rattan to give the house a nice contrasting texture. This idea works well with a minimalist, retro, or boho theme. Not only will it give the home an appealing and crisp contrast, but it'll also make the place look cozier and more relaxing than it already is.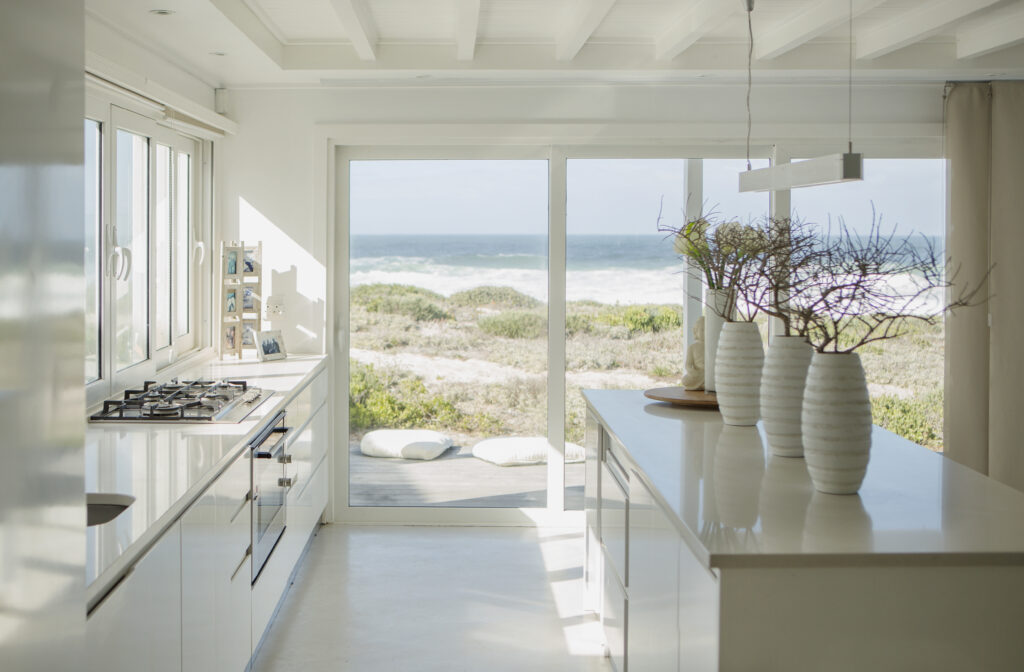 A Dreamy And Beachy Home Sweet Home Is Well Within Your Reach
Decorating and sprucing up your beach house is quite a fun thing to do. With so many interior design ideas you can come up with, it's not even a far-fetched idea to consider revamping the property every year or so. You'll have something to look forward to each year, and you can boast your lovely beach house to everyone you know.
The calmness and relaxation that a beach view can give are truly remarkable. Having your own place by the great blue is even more enchanting because it means being able to enjoy the view and vibe anytime you want. Don't let the excitement wear out just because your beach house is no longer looking glam and cozy. Give it a makeover today and see for yourself how a few tips and tricks could go a long way in transforming your favorite haven.