Accent Wall Ideas – The best DIY projects for your home
If there is an otherwise dull and boring space in any of your rooms, some of these accent wall ideas will be the perfect solution to bring new texture and color into your home. It is the best way to emphasize a great architectural feature, to bring attention to a piece of furniture or art; or simply to apply a sense of the extraordinary in a completely ordinary space.
Often, accent walls are just painted with a coordinating color but there are many other ways as well to add a new decor to your home. Create remarkable accent walls with wood, wallpaper, pallets and other materials. If you like DIY crafts and feel like transforming your kitchen, living room or bedroom you will love these projects.
Here are some unique twists on the old accent wall!
Wood Rings Accent Wall
We just love this idea, because wood always brings warmth into our home and also because you can do it yourself! It is basically disks of sliced birch poles glued to plywood panels that create a graphic wall mosaic. If you leave longer pieces they can be used as hooks for bags and clothes or artwork. Click on the link for the detailed tutorial.
Concrete Accent Wall
With a touch of concrete you can add rough and industrial feeling to your home, like in this living room. The wooden floor contrasts nicely the cold wall. For DIY concrete wall tutorial click here. Or paint a faux concrete wall finish – click here to see how.
Stone Accent Wall
via hgtv.com
Stone walls are simply beautiful. They look pretty in living rooms, bathrooms and hallways as well. It is not the cheapest option but the good news is that you can do your own! There is a product called Airstone, a composite ultra-light material that can be adhered directly to drywall and easily cut using just a regular hacksaw. No special tools or mixing are needed to create your stone wall with veneers.
Chalkboard Accent Wall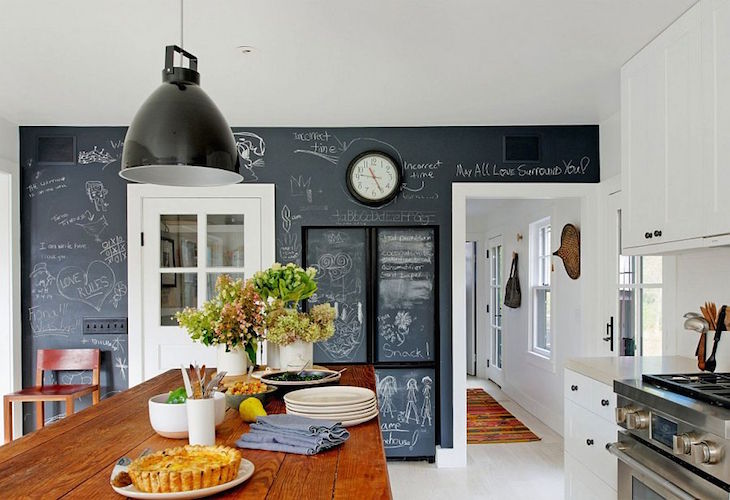 via www.decoist.com
Chalkboard walls are fun for the whole family and they don't only look good in the kid's room. They are one of the greatest Accent Wall Ideas. It looks gorgeous just about everywhere. A huge advantage that it will allow you to change your room appearance from time to time. Draw a personalized art, write an inspirational note or write your shopping list on it! With latex chalkboard paint you can simply create your chalkboard wall. Here is how.
VIDEO: DIY: Make your own CHALKBOARD Wall
via Kisha Jaggers
Color Accent Wall
One of the most common solutions and Accent wall ideas is the color accent wall. Pick a bright and vibrant color and instead of using it on four walls – that would be way too much – just apply it on one wall. Just one wall will give you a strong element, without being overpowering.
Pallet Wood Accent Wall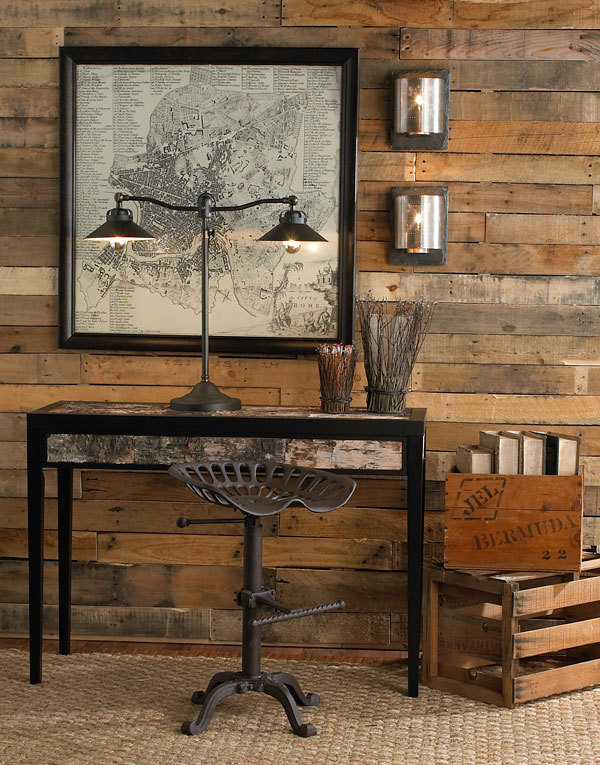 via www.shadesoflight.com
via www.decoist.com
This is a fantastic idea if you are looking for a new DIY project! Use wooden pallets – cheap and easy to work with – to create a beautiful warm atmosphere in your living room or bedroom. It's up to you if you want to leave the natural color or create a multi-colored wall or just stain it all one color. To see the DIY project click here.
Instax Wallpaper
We all have favorite photos. Some, who are more into photography perhaps have hundreds of favorite shots. Create a wallpaper of your Instagram shots to have them always around you. Click on the link for a step-by-step tutorial.
Map Wallpaper
Old fashioned or any other maps give the room a special character especially if you add rustic furniture and pieces you have collected on holidays. Self-adhesive wall murals are a simple and affordable way to brighten up any space in your home or office. Click here to see or order wall murals.
Damask Stencil Wall Decor
Damask wallpaper adds an elegant look to walls with the beautiful patterns and rich design. However if you want a much cheaper and no-wallpaper solution, use damask stencil. Damask stencils are great for DIY decor. You can create elegant and sophisticated patterns on your accent walls. For more ideas click on the link.
Exposed Brick Accent Wall
via www.slipnet.org
Most of us are just dreaming about the beautiful exposed brick walls that provide high style, rustic accents or a modern, industrial feel to any home. If you are not so lucky to have brick walls in your apartment, there are faux brick walls available on the market. However you will never get the same results. We have not found any really good faux brick wall solutions unfortunately. Please leave a comment if you have recommendation.
SaveSave
SaveSave
SaveSave
SaveSave