A commercial property for lease is a property used solely for business-related purposes or as a workspace. These properties are leased to people to carry out income-generating activities. This wide real estate category can include everything from a single storefront to an enormous shopping center.
Commercial property for lease also includes several categories, such as hotels and resorts, office space, malls, restaurants, and healthcare facilities. This article will discuss commercial properties, finding the right commercial property for lease, and the benefits of leasing a commercial property for your business.
What Are Commercial Properties?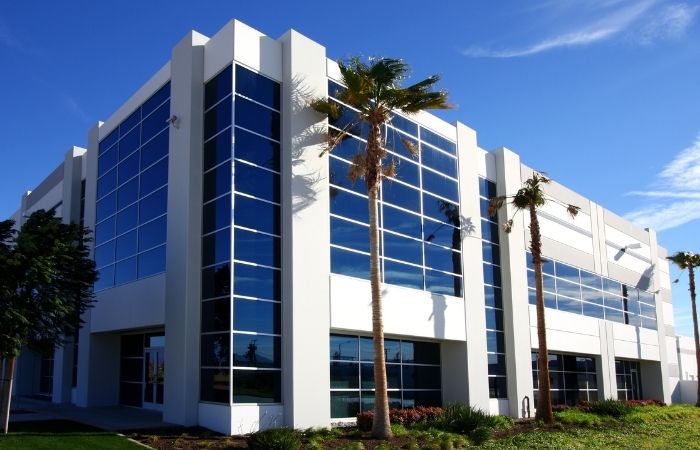 Commercial properties are any real estate used by businesses, such as shopping malls, office complexes, restaurants, and service stations. It might be bought outright by a developer for future projects or leased with the help of a real estate broker. This kind of property falls somewhere between industrial and residential property.
Investing in commercial real estate can be profitable and serve as a hedge against the flexibility of the stock market. Real estate investors can profit through property appreciation when they sell, but most profits come from tenant rents. However, you'll need to use an effective commercial real estate marketing plan to maximize your profit.
Adding your property to a listing that is connected with an NTREIS server can be very beneficial as you can connect with a range of realtors. If you are new to IDX, learn What Is NTREIS? and how it can boost your business.
Finding the Right Commercial Property for Lease
With so many commercial real estate listing platforms on the internet, finding the perfect commercial property that suits your specific needs has become easier. Here are some guidelines to help you find commercial real estate for sale:
1. Location and Accessibility
The location of your commercial property is one of the most crucial factors to consider. It'd be best to choose a space that's easily accessible for your staff and clients, such as commercial properties beside major roadways. Be sure to evaluate local traffic patterns and employee commute length. Your commercial property should also have abundant parking space.
2. Size and Space
Your business type will affect the exact amount of space you need. Do you need an open workspace, or do you prefer private offices? How many conference rooms does your business require? How large of a reception area is required to accommodate your customers? Will you need storage space or a warehouse?
If your business is a franchise, you'll have compulsory space requirements. Your commercial property broker can help you find out the appropriate amount of space you need for your business.
3. Surrounding Area
Consider evaluating the property's neighborhood before signing a lease. Crime reports and other information about a region's reputation can be gotten online. You will also need to walk around the neighborhood at different times of the day.
If you don't feel safe, your clients and employees probably won't. Also check if the commercial property is in an area at risk of flood or any other natural disasters.
4. Amenities
Nearby amenities can make a major difference for your business or organization. Proximity to eateries benefits your workers on their lunch breaks and provides suitable locations for drinks and lunch meetings with clients.
A location near shopping areas and banks enables the team to run errands on their breaks easily. Your employees can also easily purchase needed supplies for your office with nearby amenities.
5. Room for Business Growth
When you pick a commercial property, look beyond your urgent need for space. Consider opportunities for growth and other factors that might affect your space requirement throughout the lease. If you can't presently afford the cost of more space, do your best to negotiate for a more abrupt lease term. Another alternative is to add a clause to the lease to get the first right of negotiation on any available neighboring space.
6. Operating Costs
Consider the operating costs of the commercial property before you lease. These potential expenses include taxes, utilities, janitorial service, and maintenance fees. Your commercial real estate broker should be aware of comparable buildings' regular charges and help you determine how a specific space will affect your bottom line.
7. Landlord
Ensure to carry out a background check on the property management company and the landlord. You can search online or talk to existing tenants to learn about the landlord's reputation. The right landlord should be responsive, communicative, and professional in every interaction with them.
8. Lease Terms
Determine your desired lease length and budget ahead of time. When evaluating various properties, find out if the rent rate is gross or net. Gross leases include these costs in your monthly rent. The tenant is often liable for paying for utilities, parking, and other fees separate from the actual rent in net leases. The commercial real estate broker you choose will help you negotiate lease terms, including tenant improvements, rent reductions, and rent-free periods.
Benefits of Leasing a Commercial Property for Your Business
While several small business people dream of buying their buildings, most of the largest and savviest companies choose to take advantage of commercial real estate for lease. Choosing to stay a tenant doesn't just lower upfront costs, it also reduces ongoing expenditures while also giving your business more flexibility. Here are five great reasons to lease a commercial property:
1. More Liquidity
You tie up less of your cash because you don't have to make a down payment to move into the property. However, you'll pay upfront fees for a broker attorney, prelease inspection, and security deposit.
2. Fixed Monthly Cost
When leasing, you won't have to pay for any major maintenance, repairs, or upkeep to the property, though you might be expected to pay for minor repairs.
3. Tax Breaks
You might deduct these costs as incurred: property insurance, property taxes (depending on the lease type), lease payments, utilities, and maintenance. In contrast to a mortgage's interest-only deduction, you can take out your whole lease payment.
4. More Flexibility
Qualifying for a lease is easier than qualifying for a commercial real estate loan, so you have more alternatives when choosing a space. You can also move out when the lease is done without selling the property. You might be able to afford to lease a property that's too expensive to purchase, which can help you get into a strategic location.
Bottom Line
On the other hand, commercial property for lease leaves you in the driver's seat every time the lease expires. If your needs change, better and newer properties come along, or you can move out if the location becomes unpleasant; this leaves the owner taking the real estate risk.
But if you negotiate your lease with renewal options, you can stay in the commercial property, frequently at a pre-agreed rent. In either case, you control your destiny, leaving the owner with the renewal risk.
Are you feeling overwhelmed by your business choosing the perfect commercial property for lease? Kindly visit our website at buyNNNProperties.com. Our experienced team can assist in your property search.