According to traditional Ayurveda teachings, regular mealtimes are essential, but snacks are not really recommended between meals. Ayurveda advises to have three balanced meals a day and fast in between meals, encouraging the body to digest. The reason behind it is that each meal takes 3-12 hours to digest, depending on the ingredients. So if we eat something before the previous meal is digested, the digestion gets prolonged. It will slow down, eventually causing bloating and constipation.
However, most of us prefer to have more meals and have a light snack in between meals. If we do so, the best is to choose belly-friendly snacks. Stay away from fried foods, dry nuts, and sugary cereal bars. Ayurveda recommends eating healthy and warm snacks with fruits and vegetables and using healing spices. Drink plenty of warm water or tea to help digestion.
We have selected ten easy-to-digest snacks that won't cause bloating and only take a short amount of time to be digested.
Soaked and Peeled Almonds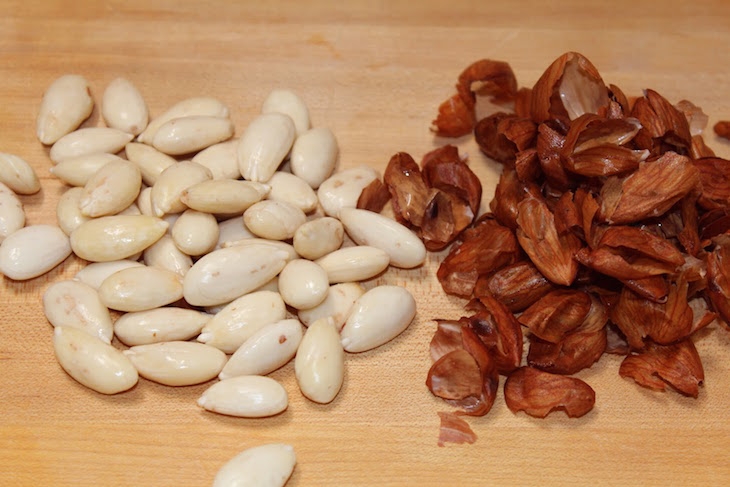 Photo credit ticketyboohealthcoaching.blogspot.com
Almonds, just like other nuts, are nutritious and good for us. However, dry nuts have a drying effect, and this is the last thing your body needs when suffering from gas or constipation. Therefore we need to make nuts more digestible by re-hydrating them. Soak organic almonds for 8-36 hours in good quality water and peel them. The skin will come off easily.
Avocado Dip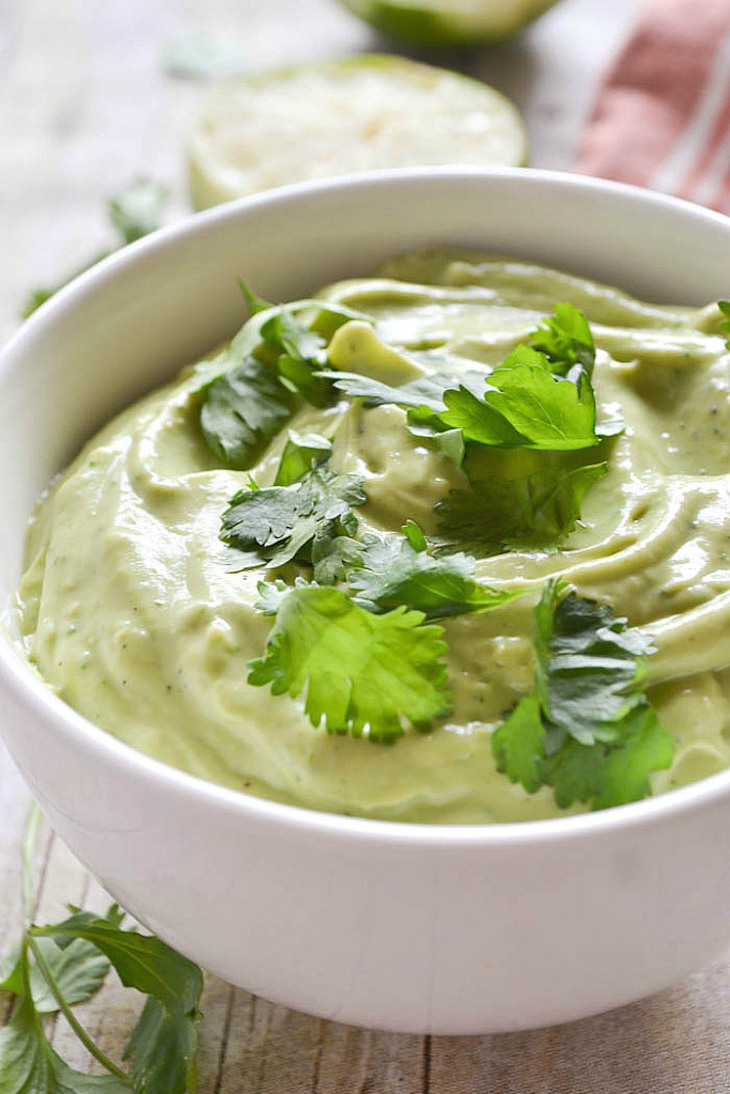 Photo credit www.motherthyme.com
Avocado is a nourishing fruit extremely rich in protein and fiber. Add lime, a pinch of salt, and cilantro, pepper, and mash it with a fork. It is  gentle on your stomach. Use it as a dip with celery sticks, cucumber, or green beans to have a more filling snack.
Warm Apple Sauce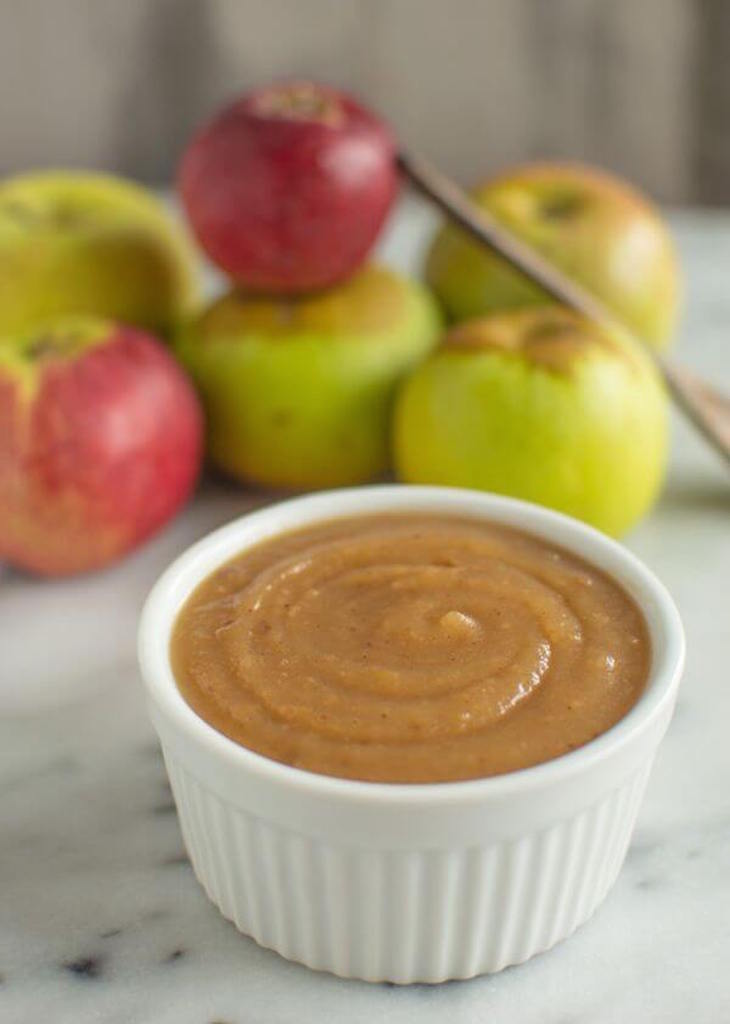 Recipe via healthynibblesandbits.com
Try this warm, homemade applesauce with no added sugar cooked in a slow cooker. All you need are some apples, spices, your slow cooker, and a blender. It is a light snack between meals or a healthy post-dinner treat. Add some ginger and plenty of cinnamon for a more intense taste and more health benefits.
Dates With Shredded Coconut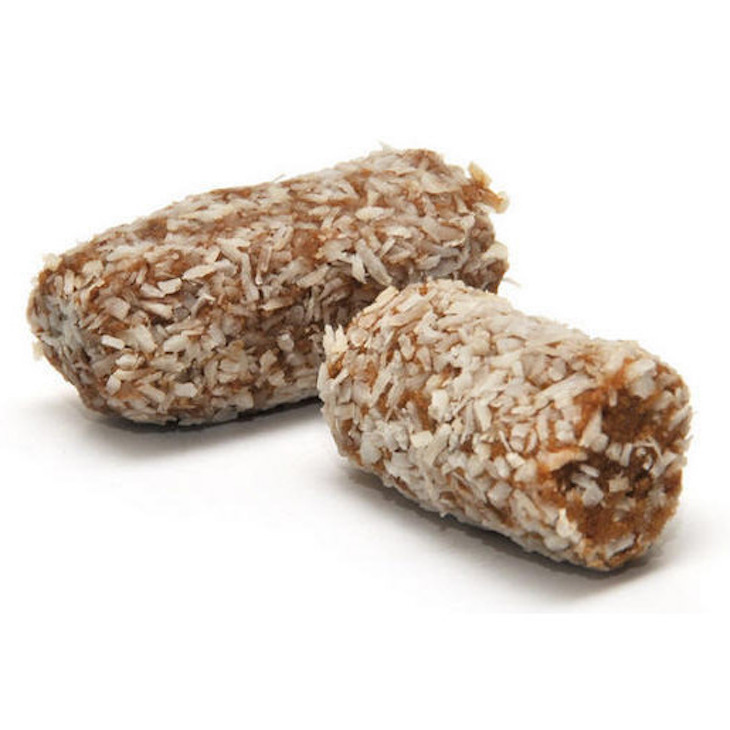 Recipe via www.joyfulbelly.com
This is a super-quick and healthy snack when sugar-cravings hit. Dates have been used for centuries; it is also a perfect sweetener and sugar substitute. See our ideas on how to use dates instead of sugar. To make these sweet bites, you just have to split the date, turn it inside out, and mash with a finger. Roll in coconut flakes and done!
Mustard and Honey Glazed Roast Sweet Potato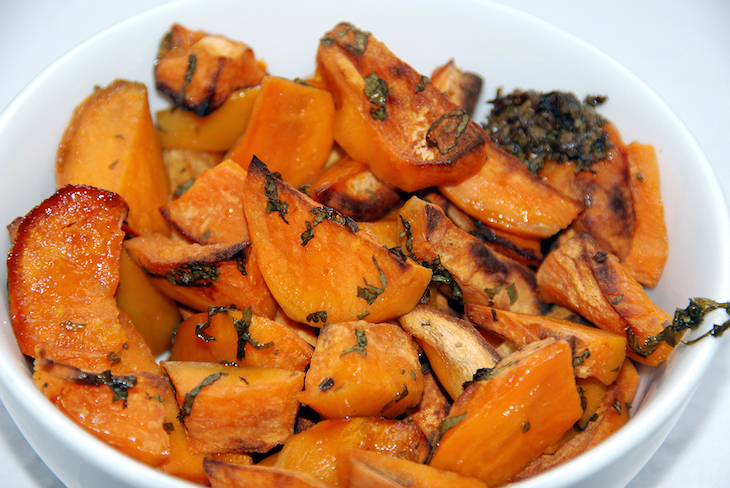 Recipe via www.spicesofindia.co.uk
Sweet potato is easy to digest and filled with fiber that supports digestion and encourages good elimination. It is also rich in complex carbohydrates, which means these roots can satisfy the appetite for longer hours. This delicious Mustard and Honey Glazed Roast Sweet Potatoes make a meal on their own or a delicious side dish that can be served with any main dish of your choice. Experiment with spices such as cumin, coriander, cardamom, cinnamon!
Cinnamon Raisin Sunflower Seed Butter
Recipe via arismenu.com
Sunflower seeds offer easy to digest protein for vegetarians. This is an amazing recipe with all the health benefits of roasted seeds, cinnamon, and raisins. This thick, creamy, slightly sweet butter is perfect with wholemeal crackers or fresh fruits or veggies.
Beets and Greens with Coconut
Recipe via www.joyfulbelly.com
Beets are the unique source of betalains that provide antioxidant, anti-inflammatory, and detoxification support for the body. The mild laxative qualities of beets help clean the digestive tract. Try this is a great clean-eating recipe that you can use as a side dish or main meal.
Banana, Vanilla, and Coconut Water Smoothie
Recipe via www.includingcake.com
Bananas are smooth and moist, great for the mucus lining of the stomach. They are also an effective aid for acid reflux. To make this vegan smoothie, you'll need bananas, coconut water, pure vanilla bean powder. Add some cardamom and lime to help digest the banana.
Mixed Berries With Coconut Oil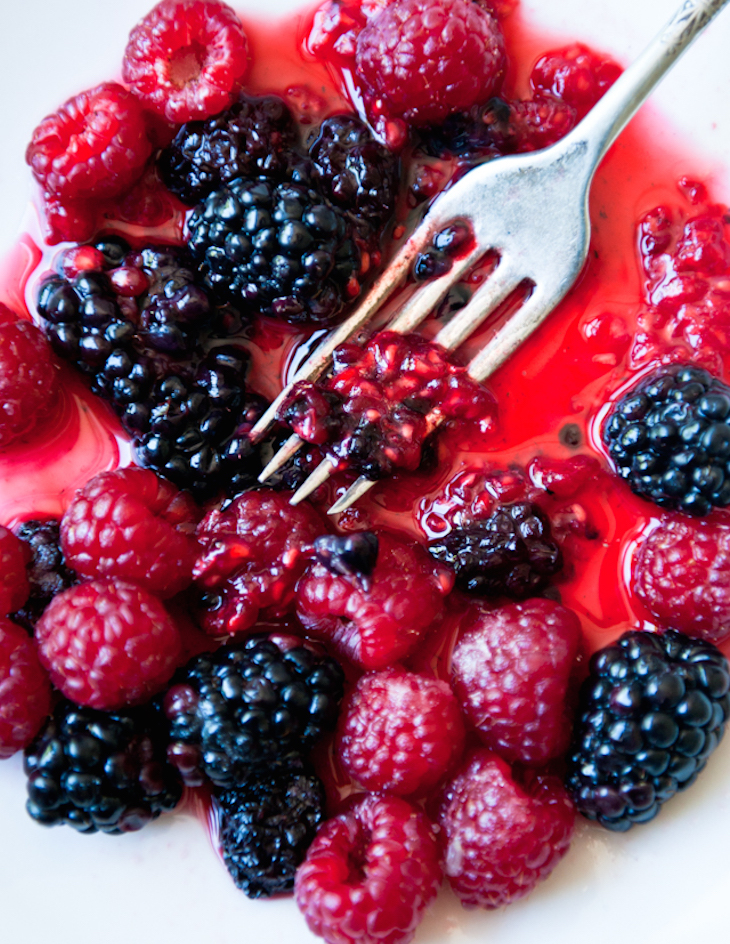 Photo credit www.dessertsforbreakfast.com
Berries – like blueberries, strawberries and raspberries have a high water content, which helps decrease bloating. Because they are high in fiber, it supports food to move through the intestines more quickly, thus decreasing abdominal pressure and bloating.
A great way to eat berries is to prepare stewed berries with coconut oil and cardamom. Put a bowl of berries with coconut oil and cardamom in the oven for ten minutes. Warm, slightly cooked fruits are easy to digest!
Spiced Raisin Muffins
Recipe via www.helladelicious.com
Sometimes you really want something deliciously soft and sweet treat. Like muffins!? Here is a great recipe. A healthy gluten-free muffin, packed with aromatic spices – cinnamon, allspice, cloves, and cardamom – sweetened with honey and raisins.