Pomegranates are one of the healthiest foods in the world. They are known as heart-healthy fruit, they can help us lose weight, and they also have anti-inflammatory properties. These are just a few of the ingredients you get from eating this fruit, and we must say, it tastes delicious too!
Like many other fruits, pomegranates can be used in the preparation of desserts. You can use many ways in your cooking, and in this article, we are showing you ten great recipes that will help you make your mind. Whether you want more cakes or custards, here you will find recipes for everyone's taste!
1. Lychee and Pomegranate Panna Cotta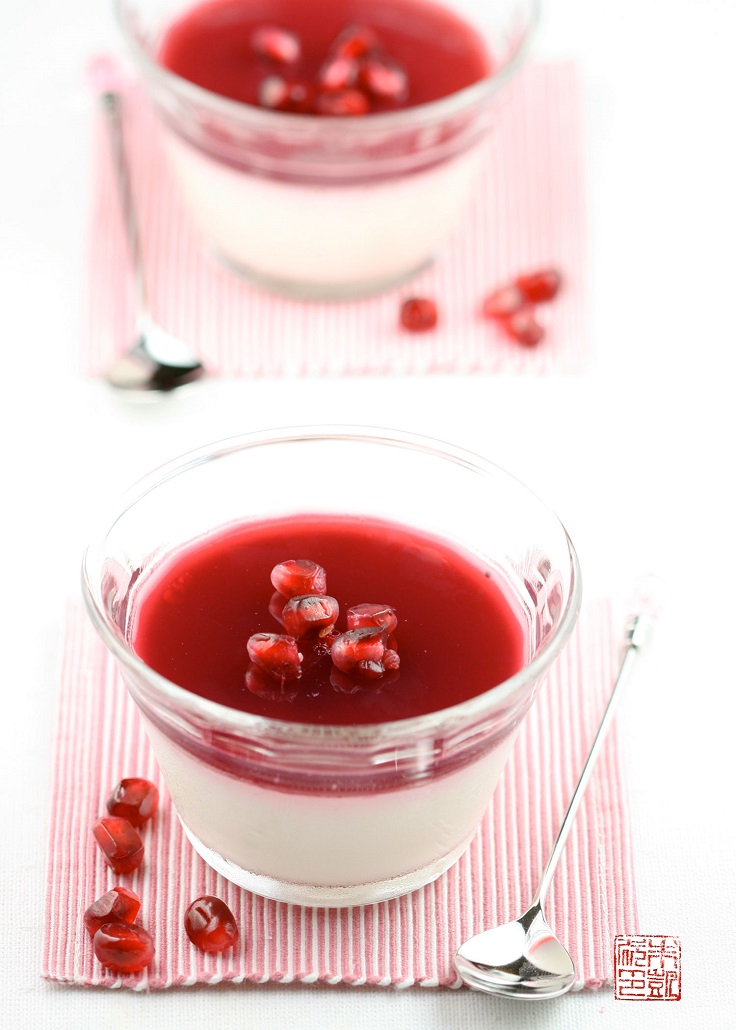 The panna cotta is one of the most delicious desserts from Italian cuisine, and we definitely recommend you try it with pomegranate jelly. Here are the ingredients that you need to prepare it: 1½ teaspoons powdered gelatin, 1 cup pomegranate juice, and ½ cup sugar, while for the panna cotta, you need 1 can (14 oz) lychees in syrup, 2 teaspoons powdered gelatin, 1 cup heavy cream, 1 cup whole milk and 2 tablespoons sugar
2. Applesauce Cake with Pomegranate Glaze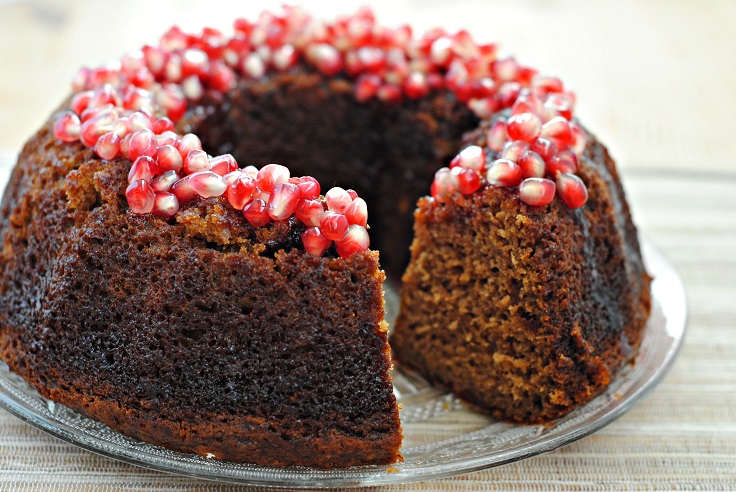 Ready in one hour, this bundt cake is ideal for anyone who is a fan of moist, spongy cakes. This one is one of the best desserts that include cinnamon, applesauce, and pomegranates. No matter which season is or what is an occasion you're cooking for, this cake is going to be the real deal. It takes one hour to have it all ready, and you will get 12 servings out of it, which makes it perfect if you're expecting guests or want to save some for the following days.
3. Pomegranate White Chocolate Mousse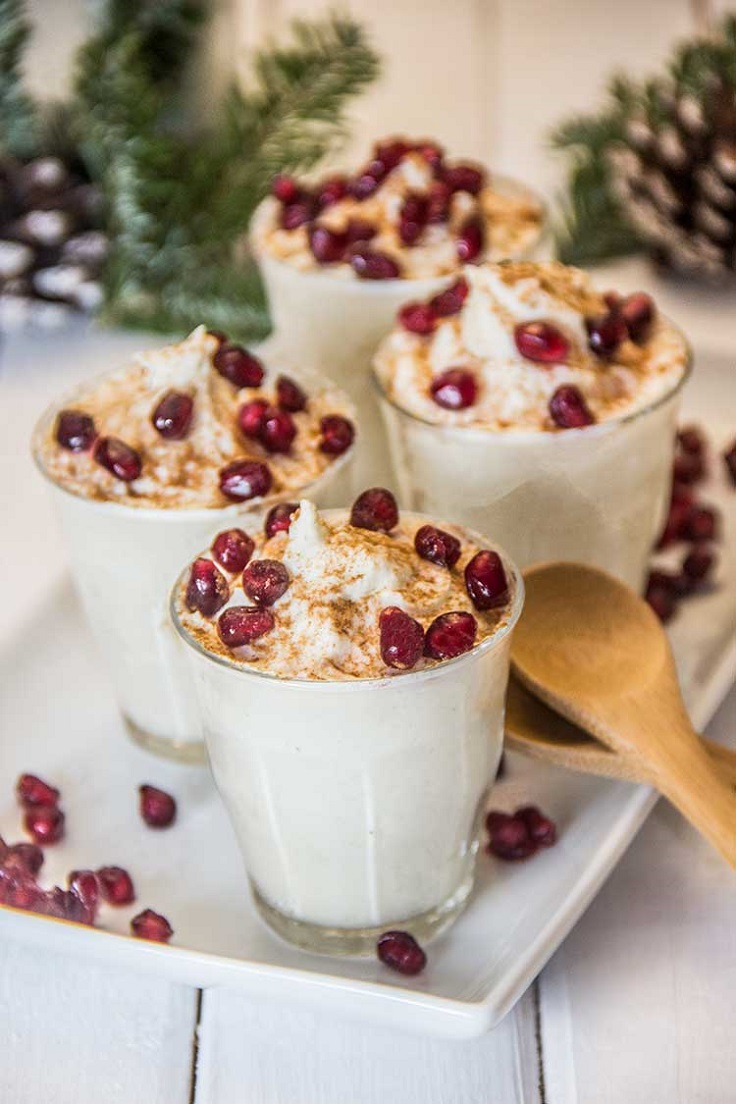 This dessert is one of the easiest on the list and certainly one of the quickest ways to get to a dessert. It is ready in 15 minutes and requires just a few ingredients – 13.5 ounces unsweetened coconut milk, 3 tablespoons orange juice, 1½ teaspoons vanilla extract, 5 ounces organic fair trade white chocolate bars, ground cinnamon, and ⅓ cup pomegranate seeds. Make sure to place the coconut milk 36 – 48 hours in the fridge before making the mousse because the think layer at the top of the milk is required for the recipe.
4. Pomegranate Bark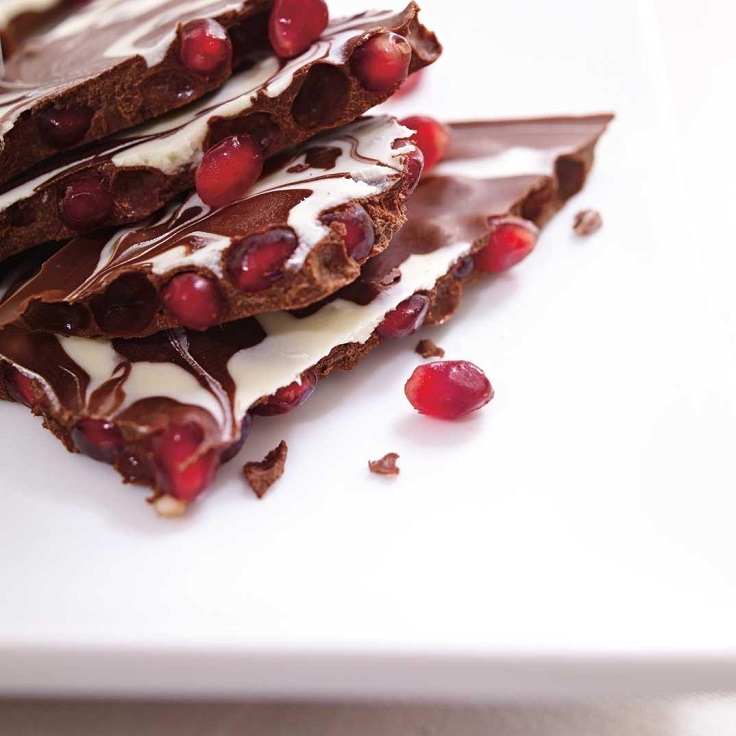 Here's another recipe that is very easy to prepare and is also very budget-friendly, as all you need are three ingredients: 1 oz (30 g) melted and tempered white chocolate, 7 oz (200 g) melted and tempered dark chocolate, and 1/2 cup (125 ml) pomegranate seeds at room temperature. Since you're using fresh fruit for the chocolate barks, that means that they won't last long – pomegranates are short-lived, so your chocolate barks will be good for about two days.
5. Pomegranate Cake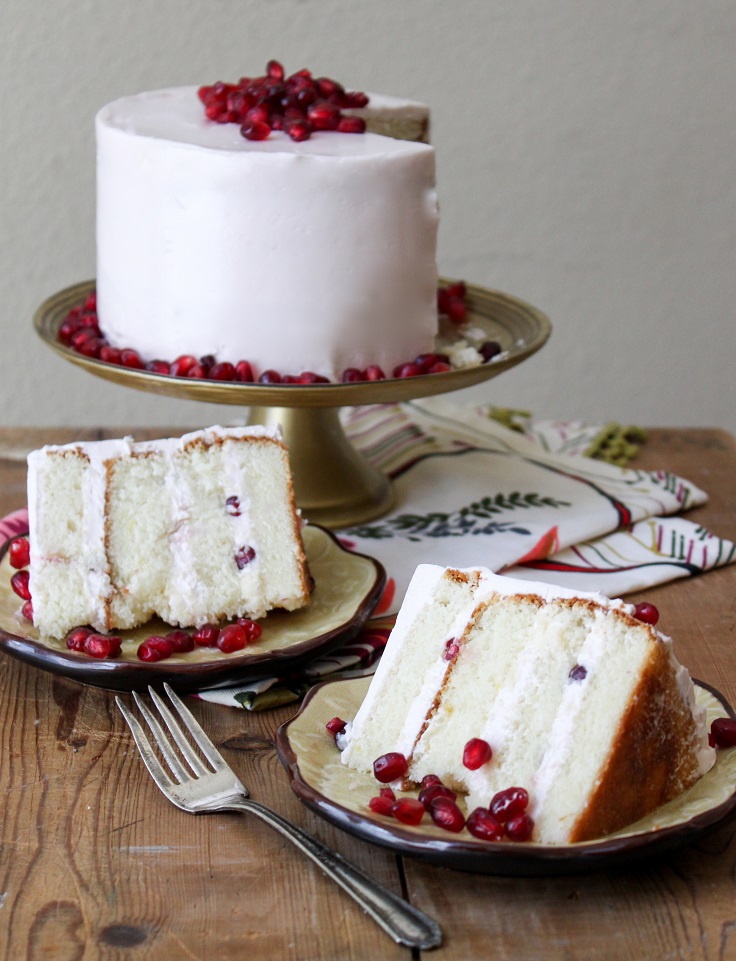 This cake looks so good it makes us want to have a slice of it right away. It's going to be a great choice if you're preparing it for birthdays or other celebrations. It is made of white layer cake, buttercream, and toppings. For the cake layer, you need 1 2/3 cup cake flour, 1 1/2 cup granulated sugar, 1 tbsp baking powder, 3/4 tsp fine sea salt, 10 tbsp unsalted butter, cut into tablespoons, 4 large egg whites, 3/4 cup whole milk, 1 tsp vanilla extract and zest of 1 lemon. When it comes to the pomegranates, you can add juice to the buttercream, but it's optional.
6. Raspberry Pomegranate Cake Slices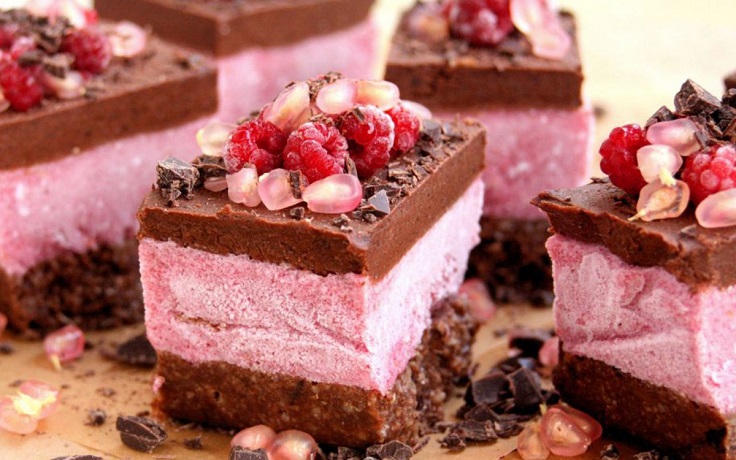 The raspberry pomegranate cake slices are prepared with cookie crust and lots of chocolate! They are ideal for all the lovers of the fruit & chocolate match. This is a vegan recipe, but everyone would love to have at least one slice of this cake – it's still chocolate we're talking about! The cake is made of three layers – cookie crust, raspberry pomegranate layer, and chocolate frosting. One of the best way desserts you can eat is exactly this one!
7. Pomegranate Rose Meringue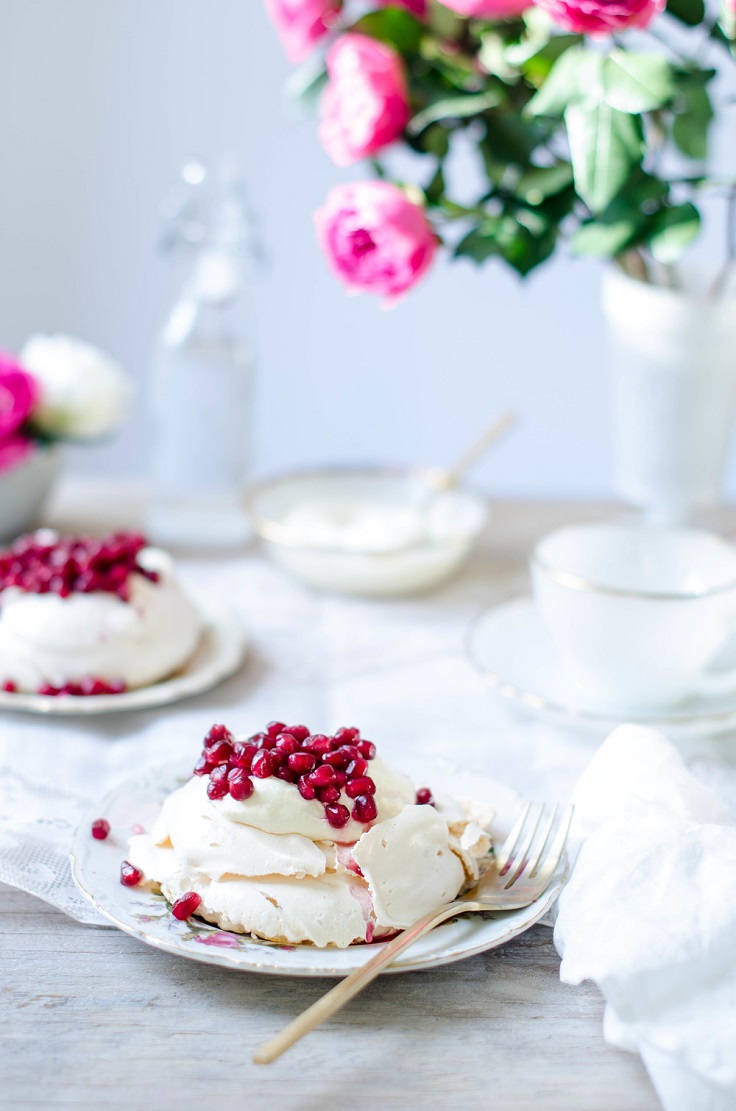 Meringues are one of the classiest desserts ever. Not only do they taste great, but they also look so nice! They have a specific taste, which is why they're not everyone's favorite (hinting at you, chocolate lovers). Still, they're definitely worth the try, as meringues are really easy to prepare. You need 6 egg whites, 1 tablespoon corn starch, 1 1/4 cup sugar + 1 tablespoon more, 1 pomegranate, 1 tablespoon rose water, and 8 ounces whipping cream.
8. Pomegranate Pecan Breakfast Parfait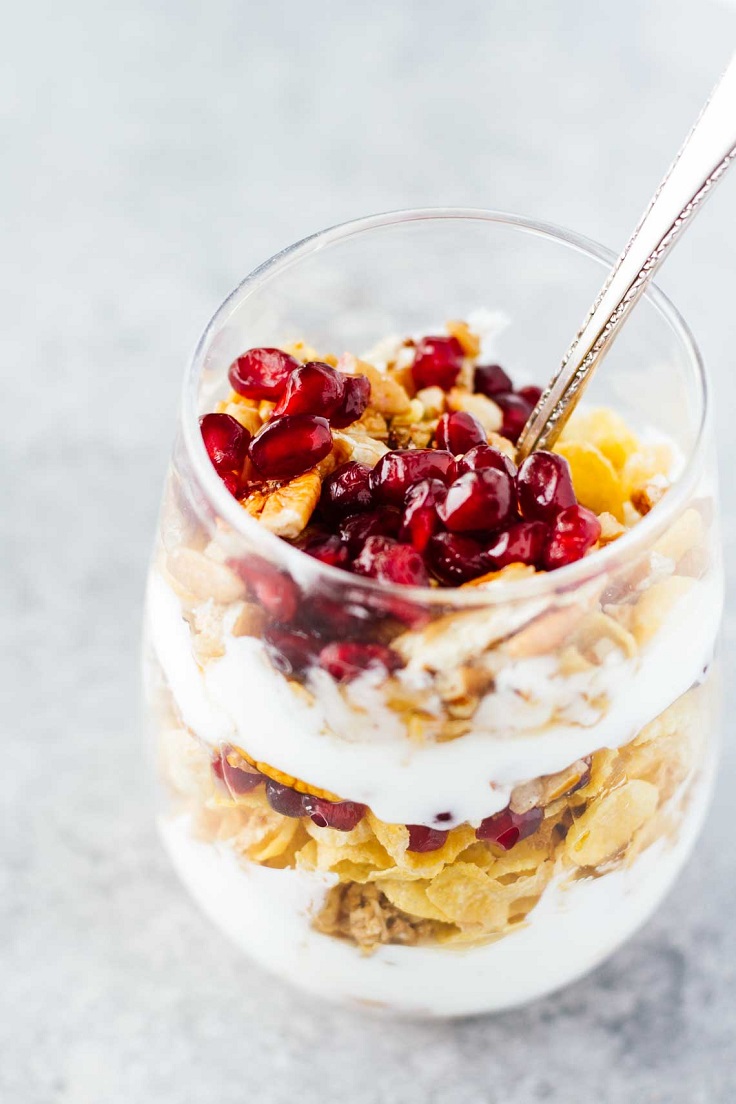 via jaroflemons.com
If you were looking for a less guilty pleasure option, then we have this recipe to offer. Breakfast parfaits are super easy to prepare, as you don't need any cooking skills to prepare them. It will take you literally 5 minutes and maybe even less, and just a few ingredients – 1 cup plain Greek yogurt, 2 tbsp maple syrup, 2 cups of oats or cereal you like, 1/2 cup pomegranate arils, and 1/4 cup halved pecans.
9. Coconut Pomegranate Chocolate Chia Seed Pudding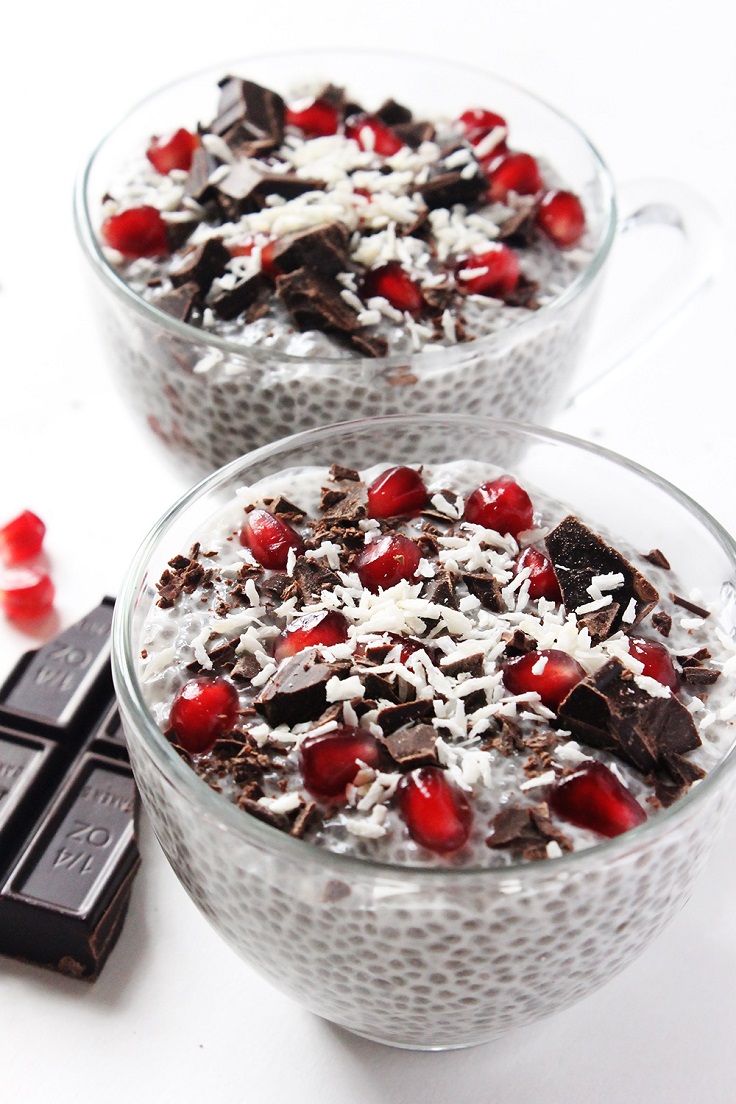 via naturalchow.com
Chia puddings got really popular in the past few years. Even though they are always served at vegan restaurants, the chia puddings are so delicious that they are becoming a treat in many other restaurants. If you haven't tried one yet, you can prepare your own at home. For that, you need 2 cups coconut milk, 2 tablespoons maple syrup, ½ teaspoon pure vanilla extract, and ½ cup organic chia seeds. You can use unsweetened coconut shreds, chopped semi-sweet chocolate, and pomegranate seeds for topping.
10. Crackers with Cream Cheese and Pomegranates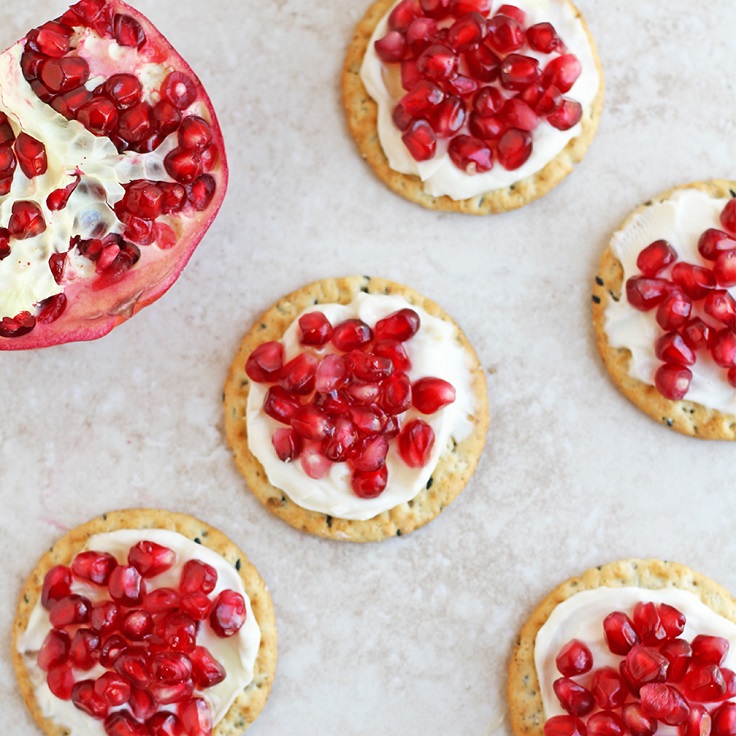 Ready in 15 minutes, you are going to love this cracker because they're a quick and easy way to satisfy your sweet tooth! Plus, they're not as high in calories as a piece of chocolate cake, so that you can consider these as less guilty pleasures. To prepare the dessert, you need 10 crackers, 3/4 cup Philadelphia cream cheese, 1 Tbsp. Honey and 3/4 cup pomegranate arils. You can serve these as finger food at any party as well.