Since the muffin tin was invented, cooking has become a lot easier. Muffin tins are multifunctional molds in which muffins or cupcakes are baked. There are many ways to use these little tins, the most common way is baking desserts.
Here you have the top 10 easy desserts you can make in a muffin tin. They are quick to make and are very simple too. If you have a sweet tooth, grab your muffin tin, and improve your baking skills by preparing something delicious and easy.
1. Mini Berry Pies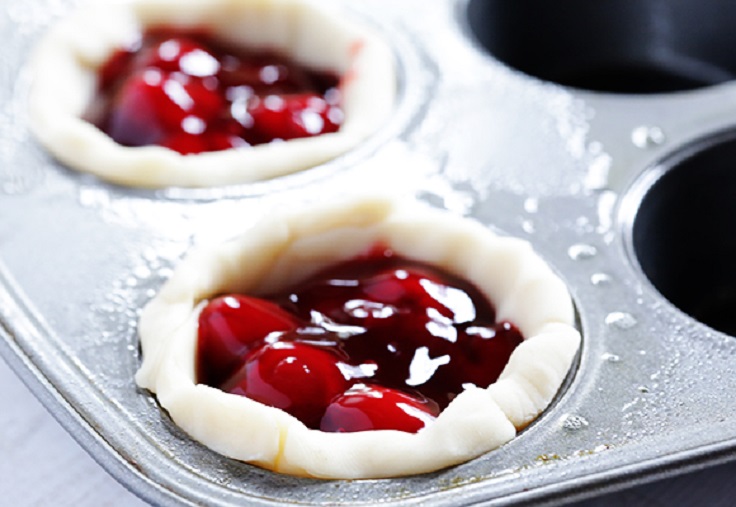 via tablespoon.com
Make a mini-me version of your favorite pie. Pick a filling and make your pie with only 3 ingredients: 2 packages pie crusts, 4 cups pie filling (cherry, blueberry, apple, peach, etc.) and 1 egg. Preheat oven, using a small bowl make little circles of dough. Place the circles in the muffin tin, fill each cup with the filling and cover the tops with the remaining pie crust. Brush the pies with the egg and bake for 25-30 minutes.
2. Nutella Cinnamon Rolls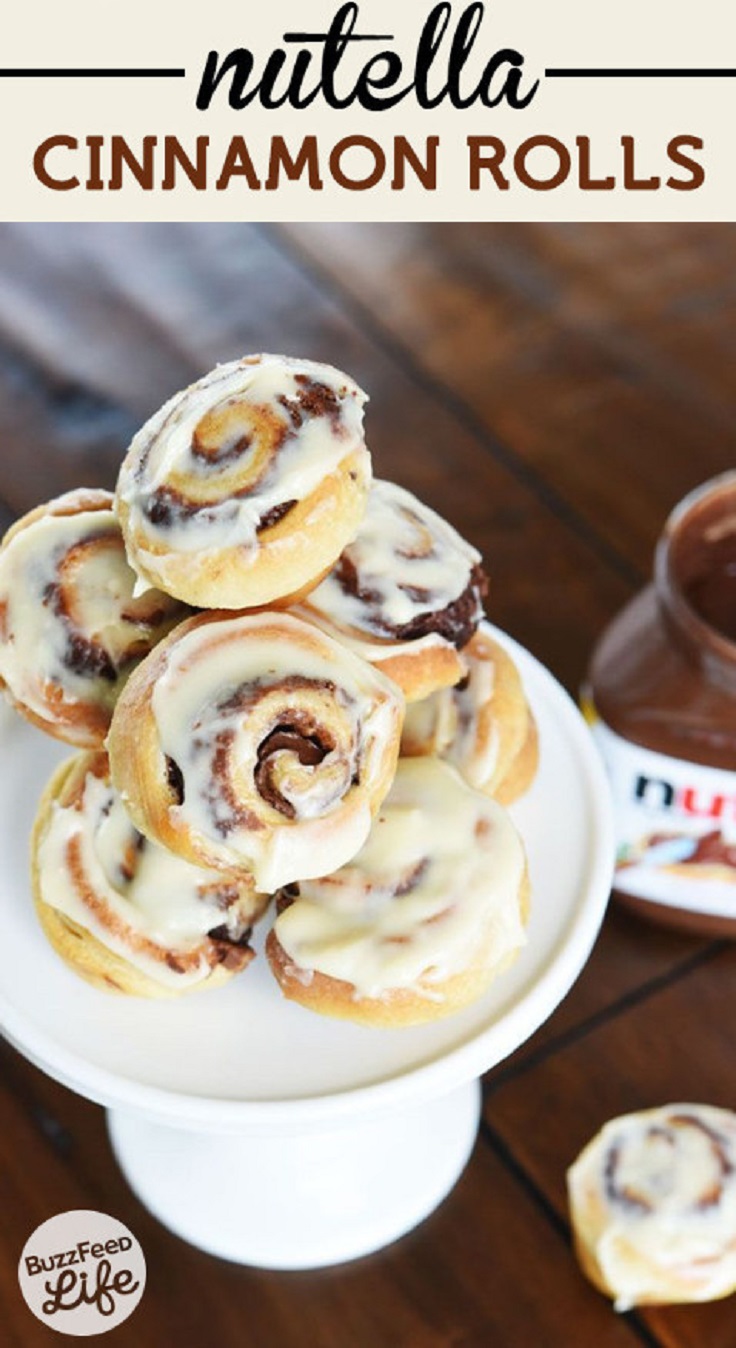 via buzzfeed.com
Everybody loves cinnamon roles, spice them up by adding wonderful nutella. You will need: crescent dough, some nutella and butter, cream cheese, sugar, and vanilla for the icing. Simply spread nutella on the dough, roll it and place it in the muffin tin. Make the icing by combining the butter, cream cheese, sugar, and vanilla.
3. Lemon Oreo Cheesecake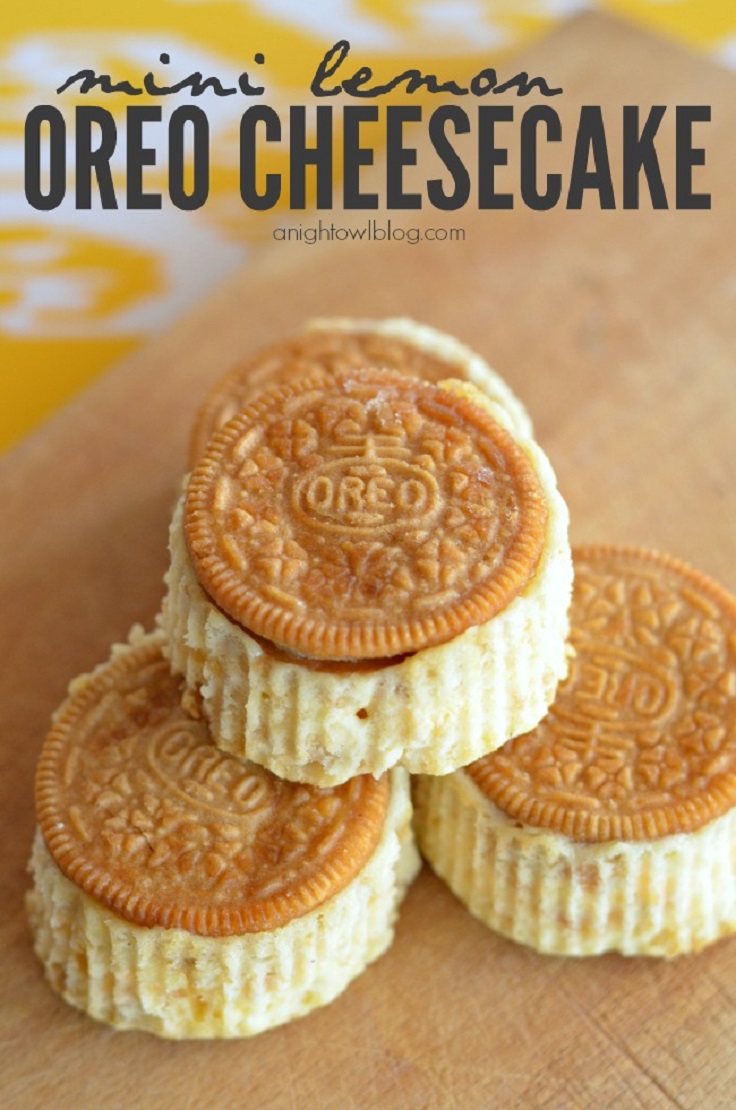 Boy oh boy, do these cupcakes taste heavenly! Ingredients: 12 lemon Oreos, 8 oz. cream cheese, ¼ cup sugar, ¼ cup sour cream, ¼ tsp. vanilla and 1 egg. Blend together the cream cheese, sugar, sour cream, vanilla and egg. Chop the Oreos in little peaces and add them in the mixture. Add Oreos at the bottom of the muffin tin, add the creamy mixture and bake for 25-30 minutes.
4. Peanut Butter Cup Brownies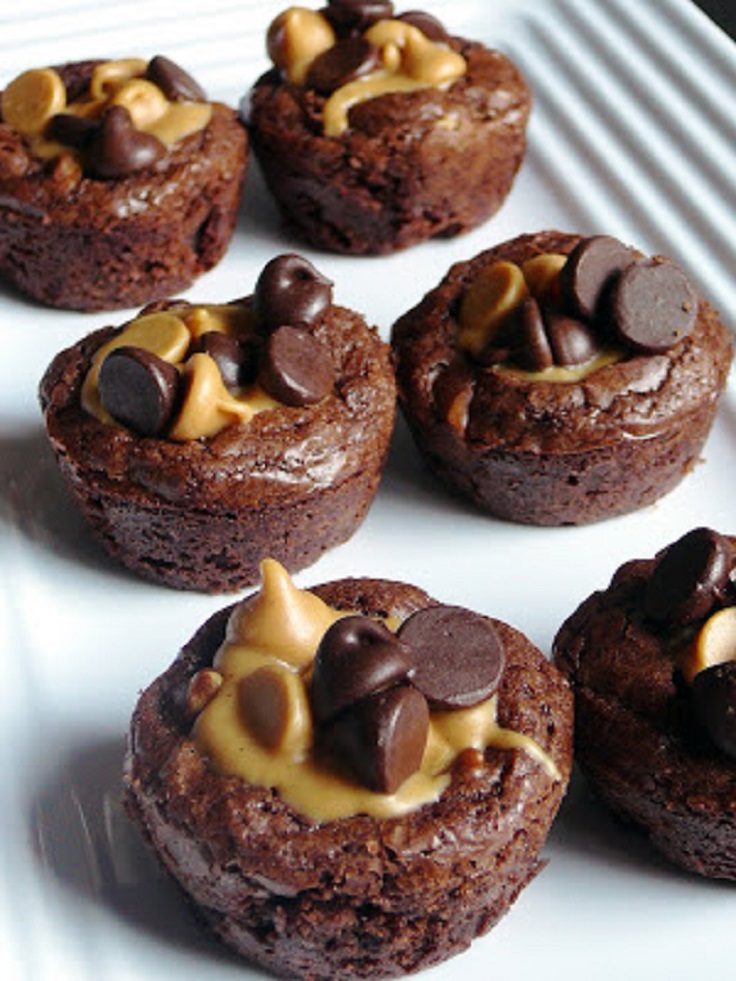 If you are the brownie-person then check out this plain simple recipe! Ingredients: 1 box of your favorite brownie mix, 1/2 cup peanut butter chips, 1/2 cup semi-sweet chocolate chips and 3/4 cup creamy peanut butter. Place batter in to the muffin tins and bake for 15 minutes. While still warm, spoon peanut butter on top and sprinkle with peanut butter chips and semi-sweet chocolate chips.
5. Clementine Cakes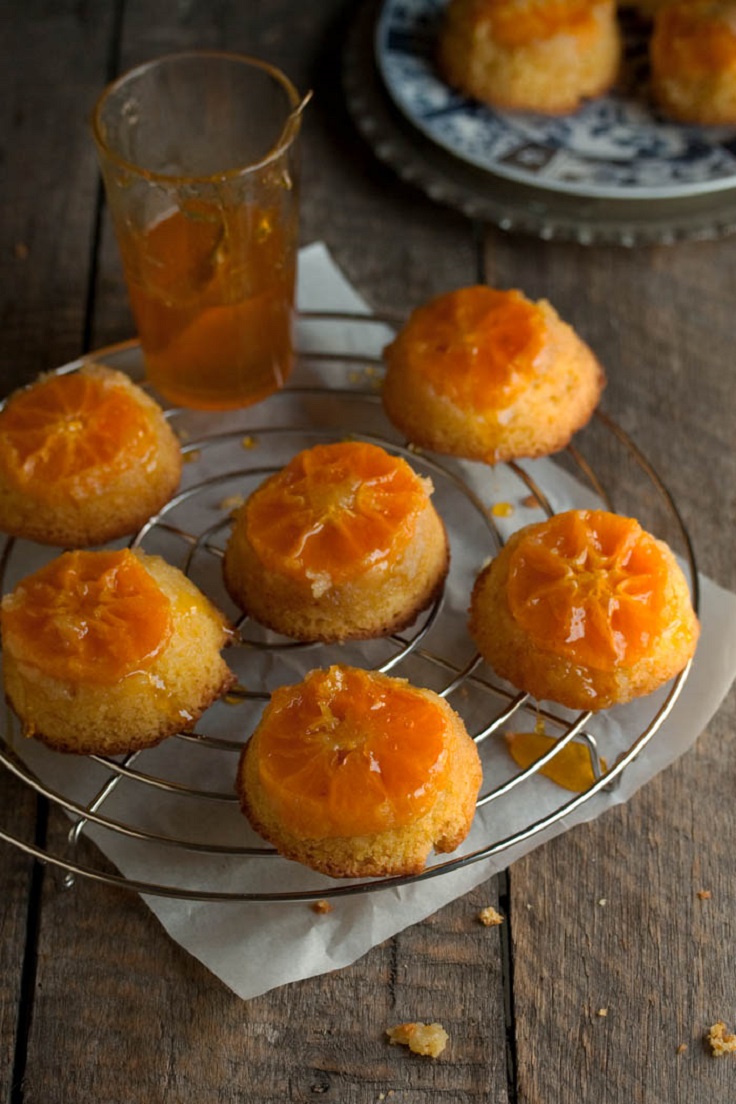 These upside-down clementine cakes are the perfect spring treats, you will need: 225 g butter, 225 g caster sugar, 225 g flour, 2 t baking powder, 4 large eggs , finely grated zest of 2 small Clemengold's, about 1/2 – 1 t of brown sugar for each cake, 15 slices of peeled clementines (1 slice per cake), 1/2 cup of clementine juice and 1/2 cup sugar. In a bowl mix the butter, sugar, eggs, clementine zest, flower and baking powder. Add a slice of clementine at the bottom of the muffin tin, scoop and fill the muffin tins with the mixture and bake for 25-30 minutes.
6. Monkey Muffins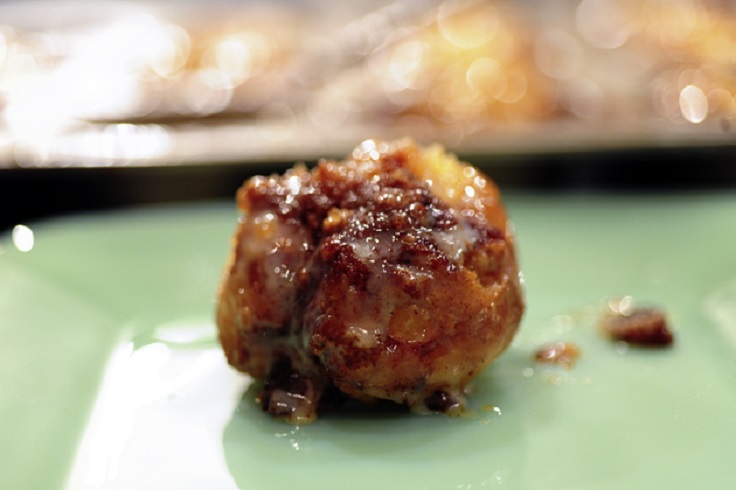 These monkey bites are absolutely adorable and ready in 20 minutes! Ingredients: leftover bread dough, butter, sugar, ground cinnamon and some milk. Add butter to the muffin tins, roll dough and place. Top with butter, sprinkle with sugar and cinnamon. Bake for 15 minutes. After baking, immediately sprinkle with condensed milk.
7. Mini Banana Cookie Cream Pies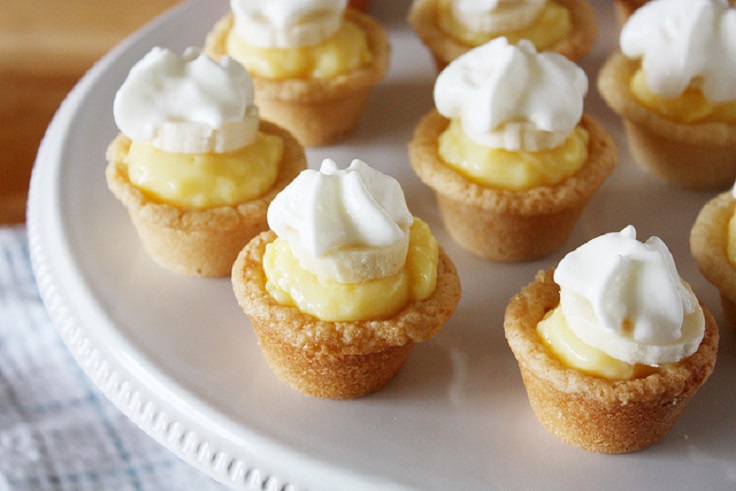 The banana is one of the most used fruits when cooking desserts. This time prepare the banana cookie cream pie using the following ingredients: 1 roll refrigerated sugar cookies, 1 box banana cream pudding, prepared according to package directions and chilled, 1 banana and some whipped cream for topping. Preheat oven, place the dough in the muffin tins and bake for about 15-18 minutes. Remove cookies from the tin, spoon pudding and add slices of banana on top of each cookie. Top with whipped cream.
8. Salted Caramel Cups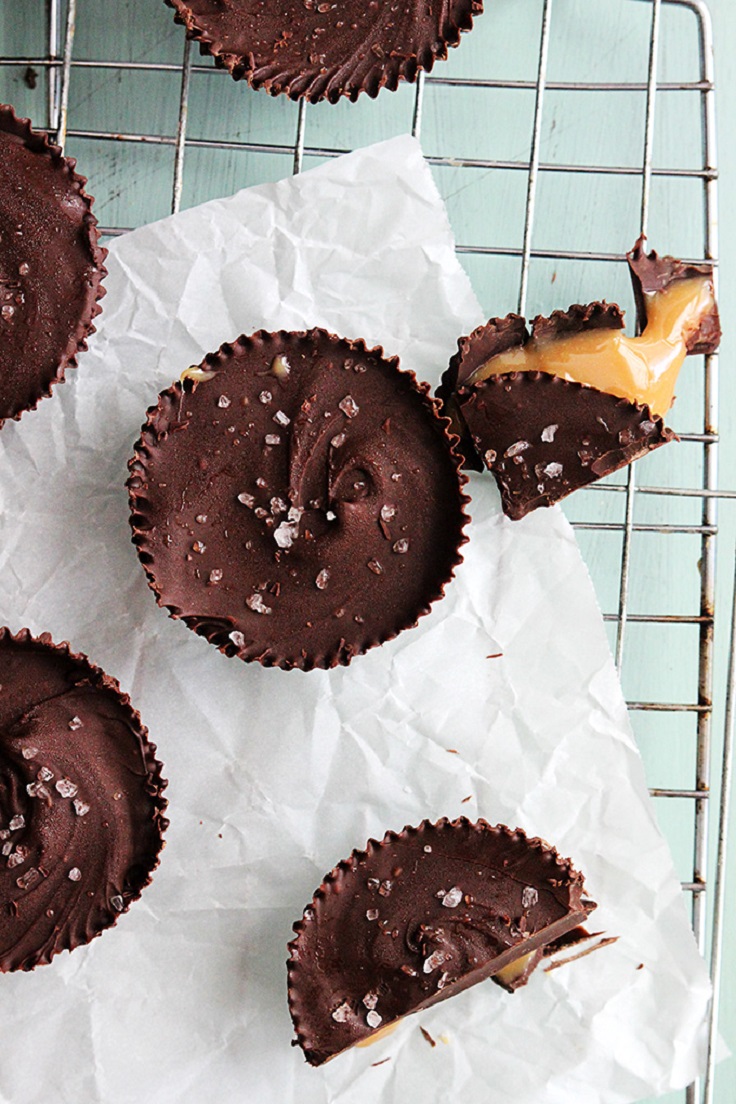 Salted caramel is becoming more popular in the world of sweets and desserts, check out this recipe! Ingredients: 4 cups semi sweet chocolate chips, 2 cups caramels, 3 tablespoons milk or heavy cream some coarse sea salt. Melt the chocolate, pour about 3 tbs in the muffin tins, freeze for 5 minutes. While freezing the chocolate, melt the caramel. Pour the caramel on top of the chocolate and freeze again for 5 minutes. At the end fill the tins with the remaining chocolate, sprinkle with sea salt and freeze for 30 minutes.
9. Muffin Doughnut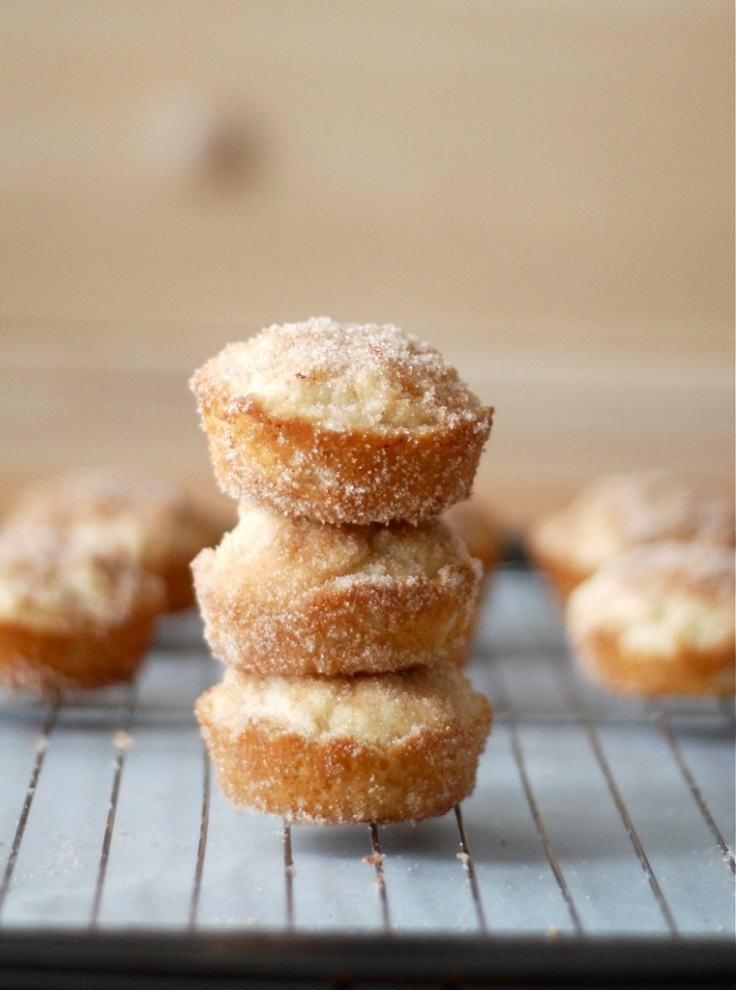 via thecherryontop.blog.com
Try making these cute little doughnuts in your home with these following ingredients: 1/2 cup white sugar. 1/4 cup margarine or butter, 1/2 teaspoon ground nutmeg, 1/2 cup milk, 1 teaspoon baking powder, 1 cup all-purpose flour; for the topping use: 1/4 cup margarine or butter, 1/4 cup white sugar and 1/2 teaspoon ground cinnamon. Mix the first 6 ingredients, place in the muffin tins and bake for 15-20 minutes. Dip each doughnut in melted margarine and roll in sugar and cinnamon.
10. Chocolate Peanut Butter Banana Bread Mini Doughnuts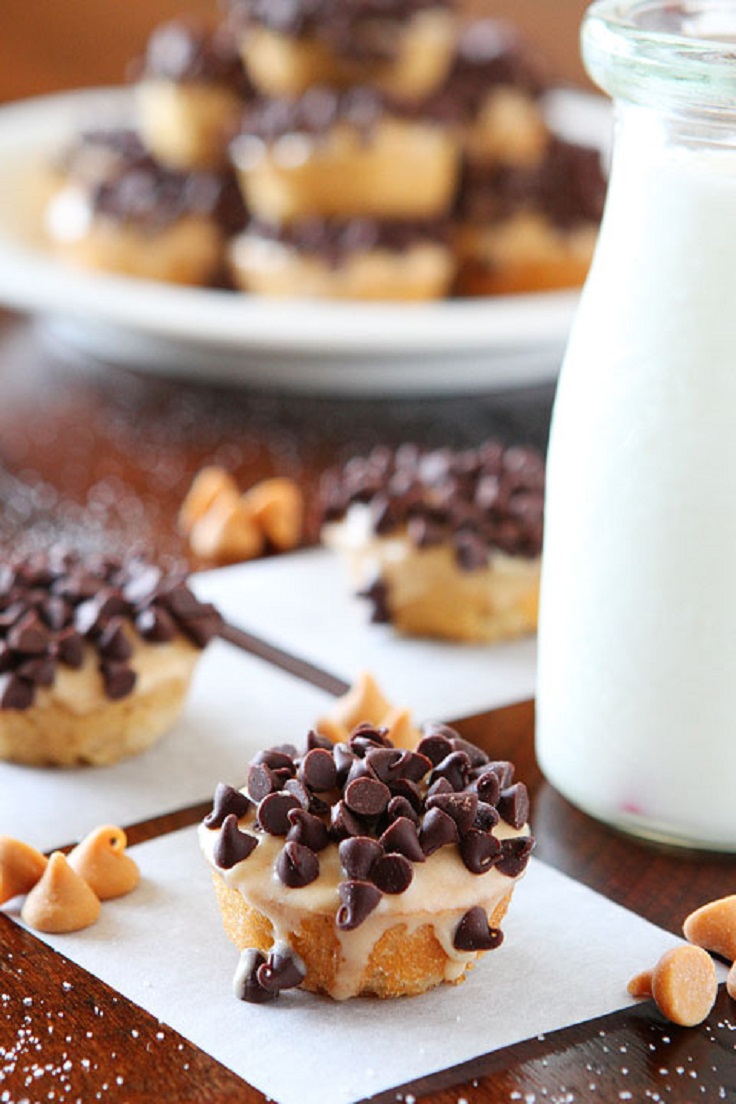 As the name suggests these doughnuts are filled with delicious ingredients, such as: 3/4 cup all-purpose flour, 1 teaspoon baking powder, 1/2 teaspoon cinnamon, 1/4 teaspoon salt, 1/2 cup granulated sugar, 1 large egg, 1/2 cup mashed banana , 1/4 cup vegetable oil, 1 teaspoon vanilla extract; for the topping: 2 tablespoons creamy peanut butter, 1/2 cup + 1 tablespoon powdered sugar , 1-2 tablespoons whole milk and 1/2 cup mini chocolate chips. Mix the first 9 ingredients and bake for 9 minutes. In a small bowl combine the topping ingredients except the mini chocolate chips. Dip the doughnuts in the topping mixture and sprinkle chocolate chips.